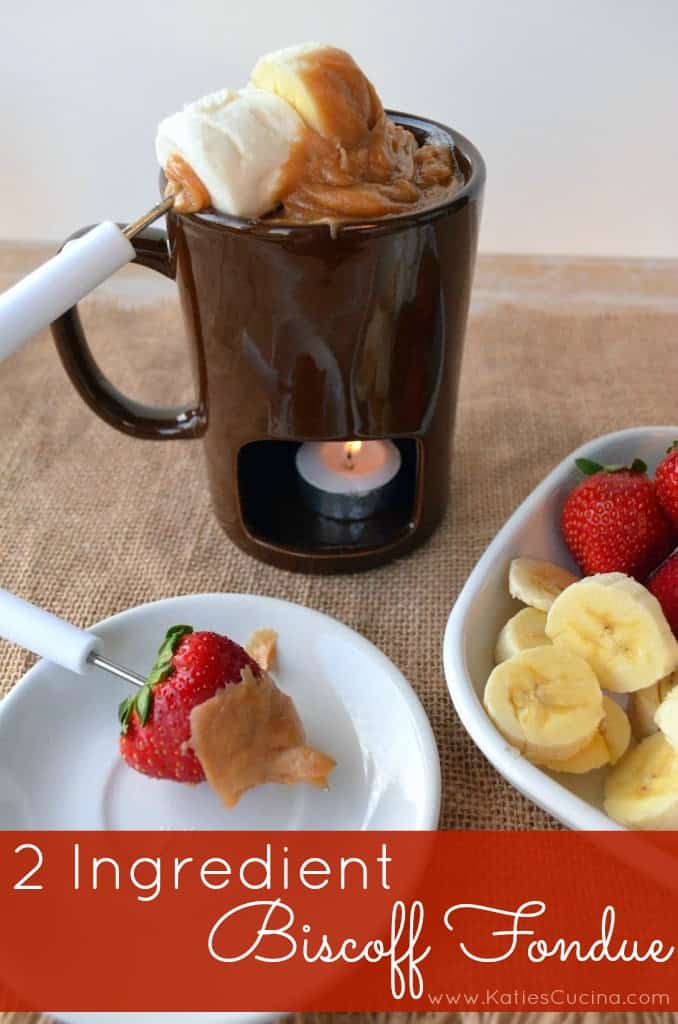 Happy 5th day of Fondue week! Today, I'm sharing a sweet treat that only requires two ingredients: Biscoff Fondue!
OK… by now everyone knows my love for all things Biscoff. When I first started brainstorming for Fondue Week the first thing that popped into my head was making a biscoff style fondue. Now, let's get one thing straight. It doesn't have the super smooth silky fondue like dipping texture. It is a little more like a caramel thicker warmed up dip. But still equally delish. And like I said above this Biscoff Fondue recipe only requires 2 ingredients! How cool is that?
You can use just about anything under the sun to dip with… however, I choose fluffy marshmallows, sliced bananas, and fresh strawberries to dip with. I'm not normally a marshmallow and banana person, but let me tell you that this worked so well with my Biscoff Fondue. Oh and these cute little mugs… I got these as a gift two Christmas' ago from a family friend! I found a similar set online here. Just make sure if you use these mugs that you keep the candle facing to you. I've had multiple people try to pick it up and tilting there mug to get whatever contents were inside and instead either the candle falls out or wax goes everywhere. So a fair warning for all those who might run out and go buy these. Oh and they also work great for melted butter when you broil a lobster or steam crab legs!
Make sure you don't forget to enter in our fondue week giveaways and head on over to Christine's blog to learn How To Spice Up Your Chocolate Fondue Recipe!
Katie Original Recipe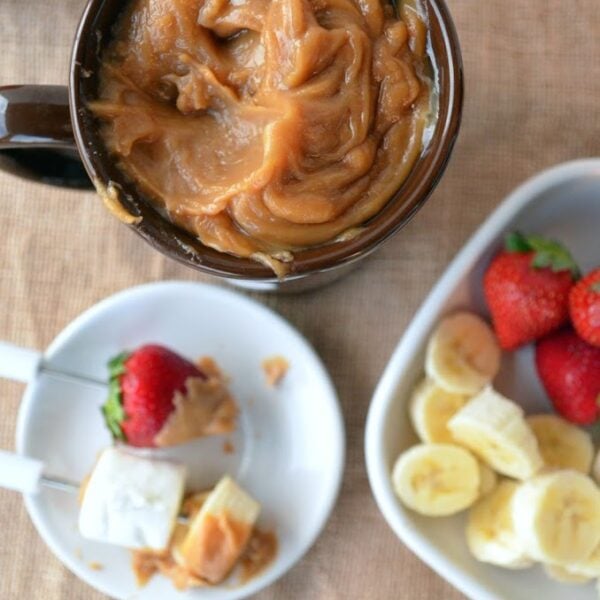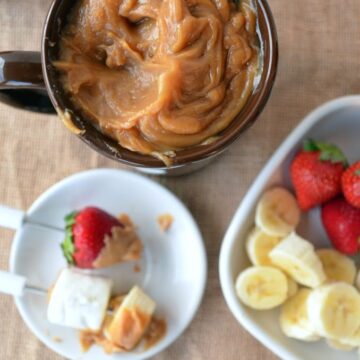 Ingredients
½

cup

Heavy Cream

¼

cup

Biscoff Spread
Serve with:
Strawberries

Bananas

Marshmallows
Instructions
Pour heavy cream into pot. Place the pot on high-heat and heat the cream until it is warm (but not boiling). Remove the pot off the burner and mix in ¼ cup Biscoff Spread. Mix until smooth. Pour into individual fondue servings or one small pot. Serve with bananas, strawberries, and marshmallows.
Disclosure: this post contains affiliate links.