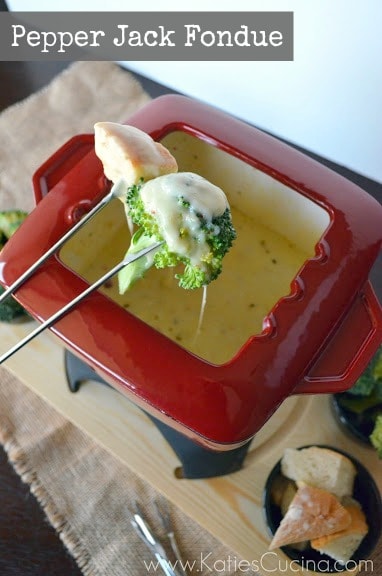 Are you ready to put a little kick in your step? Day 4 of Fondue Week and today I'm sharing a savory fondue recipe for Pepper Jack Fondue. If you like it spicy this is the fondue for you. I mean you really have to like spicy food to like this ferocious dip!
This Pepper Jack Fondue It pairs well with so many things too. I paired it with fresh broccoli (which I then steamed after I thought my husband was going to have a heart attack because I handed him raw broccoli) and french bread (that I made myself at bread class a few weeks ago). This would also be great with grilled shrimp or chicken. Eat it as an appetizer or serve this Pepper Jack Fondue as the main entree.
Last night, Christine and I chatted with Chef Shane from The Melting Pot about Fondue. Don't worry if you miss it I'll have the video up on Friday for you to watch. I learned so much from him!!! One thing that I learned that I want to share today is that he mentioned that all fondue should start with a Gruyere cheese base. Well, minor fail here. Because this recipe does not, but he also mentioned that there are no real rules for fonue. Just more like guidelines you would want to follow. And most importantly follow your taste buds! So even though I didn't use Gruyere cheese as a base for this Pepper Jack Fondue I did toss it in a little cornstarch before it hit the pan to begin melting! I can't wait to share our Google+ Hangout with everyone on Friday. Everyone is bound to learn something new about fondue!
Head over to Christine's blog Cook the Story and read about her recipe for Raclette: A Simply Delicious Romantic Dinner Idea.
Katie Original Recipe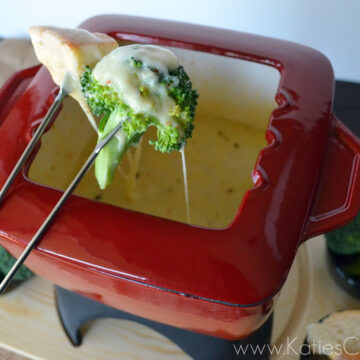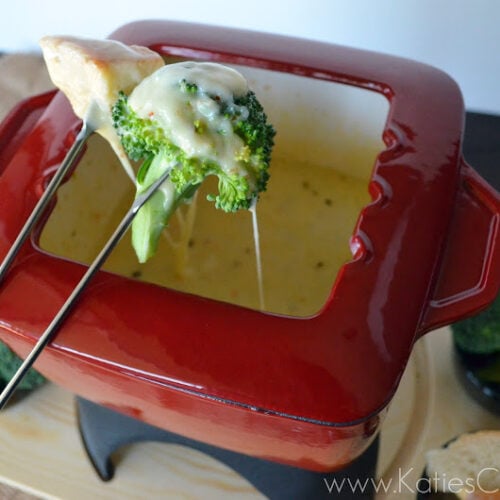 Ingredients
4

cups

Shredded Pepper Jack Cheese

1 8oz + 4oz block of cheese

⅓

cup

white wine

1-½

teaspoon

cornstarch

⅓

cup

Chicken Broth

salt & pepper
Serve with:
Broccoli Florets

French Bread
Instructions
In a cast iron fondue pot bring white wine to a simmer. While wine is simmering toss cornstarch with the shredded cheese.

Once the wine is simmering mix the cheese in the pot. Once the cheese is semi-melted add ⅓ cup chicken broth. Salt & pepper to taste. Serve with steamed broccoli florets and french bread.