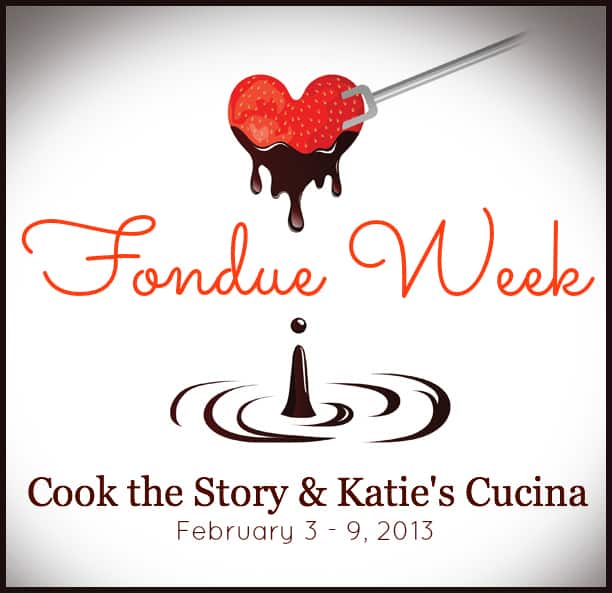 Surprise! It is fondue week on Katie's Cucina, and I've partnered up with my friend Christine from Cook the Story. All week long we will be sharing decadent fondue recipes, we will "hangout" with a chef from The Melting Pot, and of course have some pretty amazing prizes.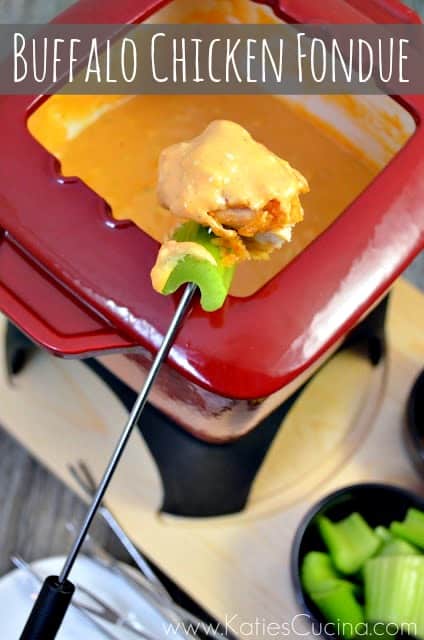 Since tonight is the Super Bowl I figured I would kick off the week with Buffalo Chicken Fondue. Yesterday, I mentioned yesterday with the Buffalo Chicken Stuffed Mushrooms… we love buffalo sauce in my house. So when I started brainstorming about fondue recipes I knew I wanted to some-how incorporate this firey sauce!
The night I made this recipe my husband happened to be on an HOA board meeting call. So after I took a few pictures I put the fondue set with all the fixings right in front of him. He began to devour the buffalo chicken fondue. And then when he got off the call I told him I was almost done with dinner and he looked at me in disbelief. He thought the buffalo chicken fondue was dinner! He crammed so much down that he had no room for dinner. I couldn't stop laughing. So I ate dinner last week by myself, well I did make him sit at the table with me. So as you guessed someone had a buffalo chicken fondue upset stomach… you got it the dip is that good!
Oh and lets take a moment to take a look at this sexy fondue pot. This isn't any fondue pot. It is a Swissmar Mont Blanc 15-PC Meat Fondue Set. The pot is cast iron and can be cooked right on the stove top and brought to the fondue station all in one swoop! You get four black ceramic dipping dishes with it (so if you're sharing the fondue with others everyone can dish out their own sauce and double dip until their heart desires) or you can put some of the dipping items in it like I did. And tomorrow… you guessed it. One of my lucky readers will get to win one of these beauties!!!
Don't forget to go visit Christine and take a look at the Fondue themed Valentine's Day Card she created! You can even download it for free!
Buffalo Chicken Fondue Inspired by EveryDay Rachael Ray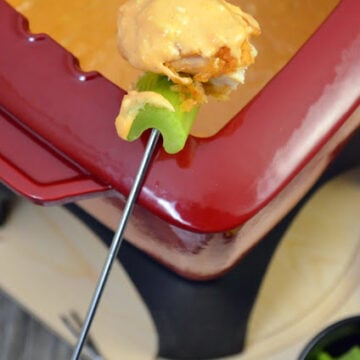 Ingredients
3

tablespoon

buffalo sauce

4

oz

cream cheese

softened

1

cup

monterey jack cheese

shredded

1

cup

cheddar cheese

shredded

4

oz

blue cheese

⅓

cup

milk

celery sticks

fried chicken strips
Instructions
In a cast iron fondue pot (or a regular pot) melt cream cheese and buffalo sauce on medium heat until melted; stirring to ensure it doesn't burn (about 5 minutes).

Once you have a sauce like substance in the pot then add the three cheeses. Mix well and add the ⅓ cup of milk. Mixing until everything comes together.

Serve with celery sticks and fried chicken strips