Treat your baby to homemade Peach Baby Food made in minutes with just two simple ingredients. You can use a food mill, food processor, or even high power blender to yield a smooth peach puree that can be enjoyed by baby or adult in various recipes.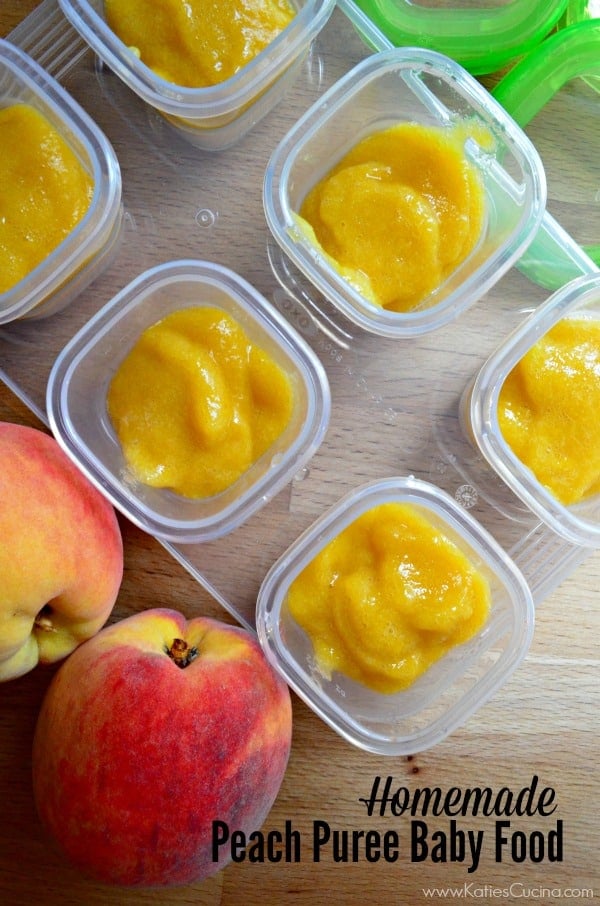 When my son was just 3 months old I started making homemade baby food from fruits and vegetables that were in season. One of the first recipes I made was this Peach Baby Food.
We took a road trip up to Georgia his first summer alive. On our way home, we stopped by Lane Orchard to pick up a case of sweet juicy Georgia peaches. We do this every year during peach season when we drive through Georgia. We share a dozen or so peaches to our parents and coworkers, and then I take the rest and make all things peach.
I love to make my skillet peach cobbler, Grilled Peaches with Caramel Sauce and Whipped Cream and even peach mojitos. The year that Ryder was a newborn I knew I needed to make a batch of homemade peach puree baby food for him. Although he had to wait a few months to try the puree he did enjoy the sweetest juiciest peaches around during the off season.
In this post you will learn the following information.
Ingredients
Directions
FAQs
Tips & Tricks
Recipes
Ingredients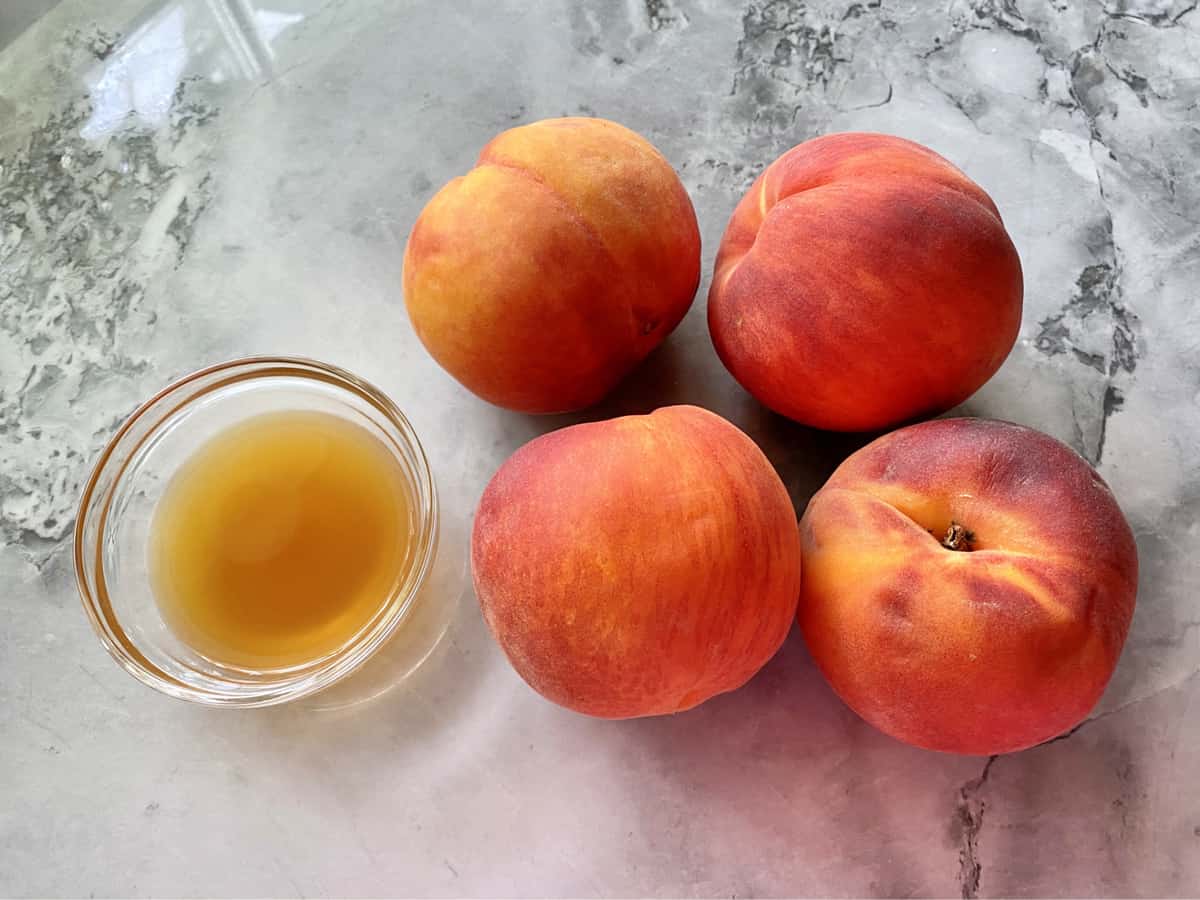 Organic Peaches – Organic is always best as they contain much less pesticides and other harmful fertilizers.
100% Baby Apple Juice – this apple juice has much less sugar then traditional apple juice and is the only type of juice that should be used for babies.
Directions
Making homemade baby food is actually very easy and so much more affordable than buying pre-made baby food. Plus, you know exactly what is in the food you are feeding your child.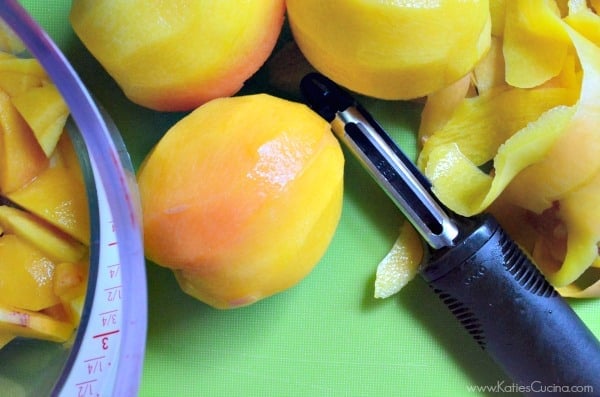 To make homemade baby food. I first removed the skins from the peaches. You can choose from one of two methods.
Simply boil water, blanch peaches in the hot bubbling water for 2 minutes. Removed the peaches, and placed them in an ice bath. The skins come off oh-so easy doing this method.
Grab a peeler and peal the old fashion way!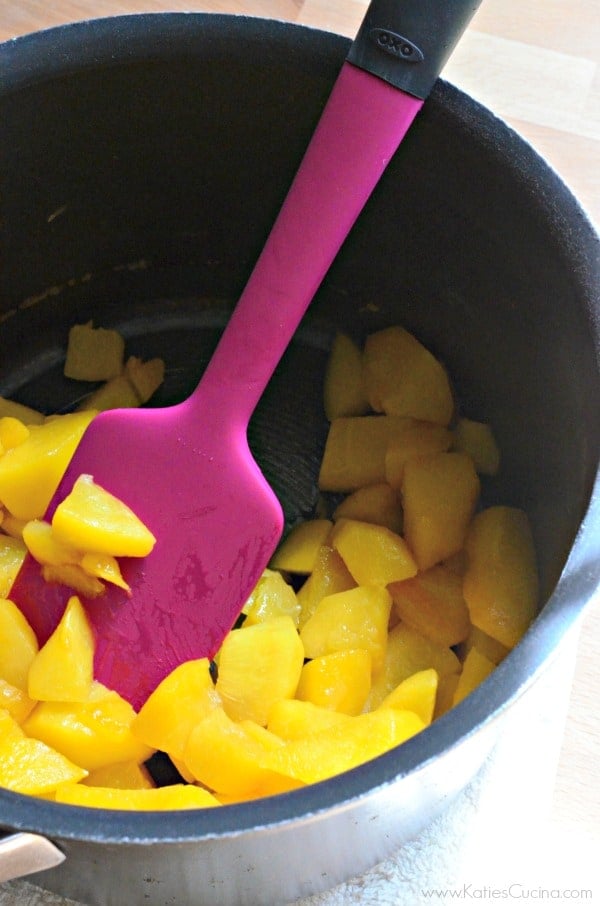 Once my peaches were pealed, I chopped them up (4 peaches = about 4 cups) and cooked them in a little bit of 100% baby apple juice for 10 minutes until they were soft. If you are a breastfeeding mama and have a little breast milk on hand you can use that instead of apple juice.
Because I chose to cook the peaches on high I found myself stirring constantly. Not a big deal, just maximizes the cooking time. My peaches were not mushy. They still were a bit firm yet soft when I taste tested one of them.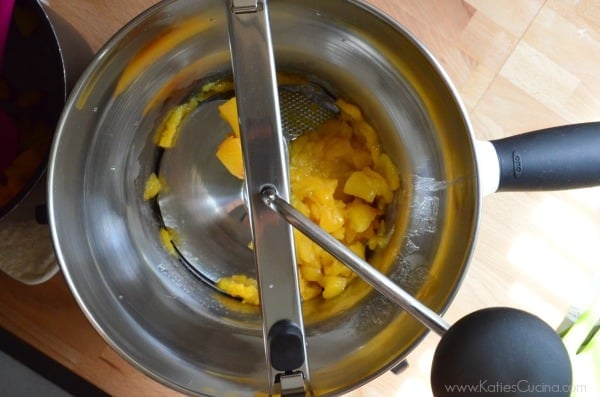 Then I ran it through my OXO Food Mill. I started with the fine disc and gradually changed to the medium and coarse disc. this was my first time using a Food Mill. You turn the knob clockwise to run the food contents through the mill and counter-clockwise to pull up the fruit. You keep repeating this process until you have peach puree.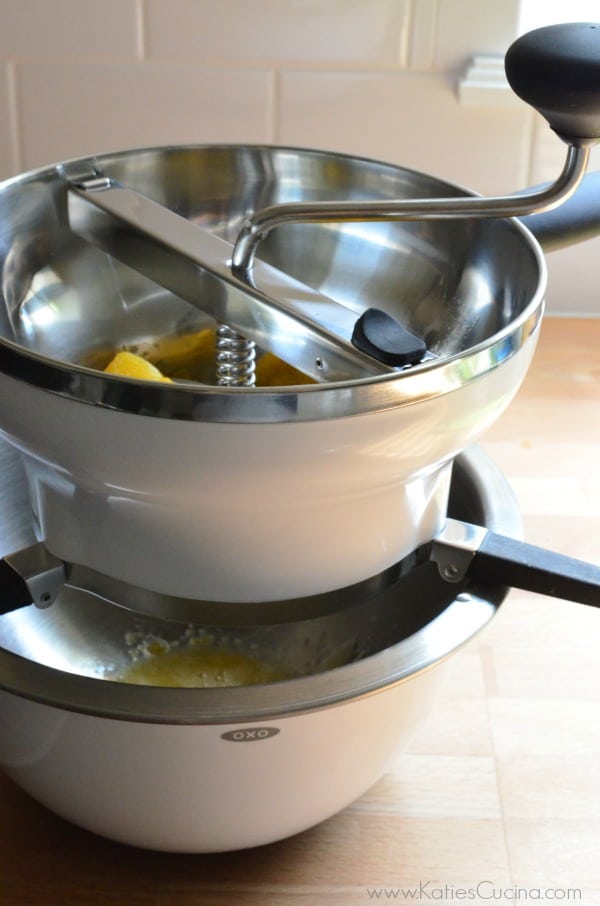 Make sure you place your food mill on a sturdy surface. I used my OXO Mixing Bowl that has a grip on the bottom to ensure that the bowl wouldn't slip away.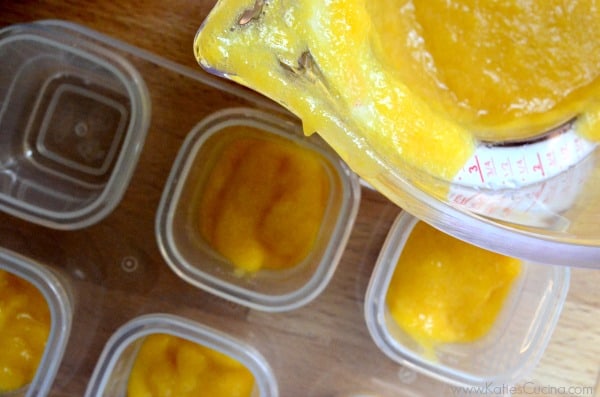 Using an angled measuring cup, I carefully poured the puree into the Baby Blocks™ Freezer Storage Containers – 2-Ounce Set.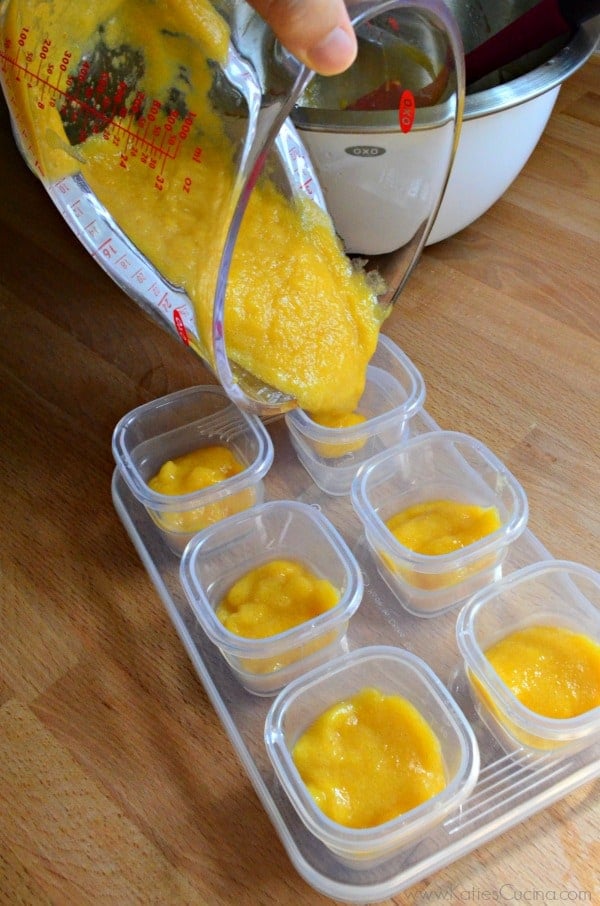 OXO Tot Baby Blocks give homemade baby food the same care you put into preparing it. Easily portion, store, freeze, heat, and serve the meals you've cooked especially for your baby using Containers in convenient two-ounce sizes.
Each container fits into the freezing tray, and has measurement markings to make portioning a snap. On the go? The containers are airtight, watertight and leakproof. Peek at the clear Containers to identify the contents, then pop one into your bag for simple defrosting and feeding when you're out and about with your tot. An easy-open, easy-shut lid makes the Containers a carefree choice.
FAQs
Can babies eat pureed peaches?
According to the American Academy of Pediatrics babies can start to try pureed foods between 4-6 months of age. Peaches are an easy-to-digest first food and on the naturally sweeter side. Remember to always consult your pediatrician before starting any food.
Do you have to cook peaches for baby food
The answer is yes! Cooking peaches for puree will help break down and soften the peach allowing you to easily puree. Always peel the peaches, cut into equal size pieces and boil until soft. Then strain and puree.
What baby food should I introduce first?
I always started with avocado, green peas, and sweet potatoes as first foods then branched out to bananas, green beans, and peaches. I reserved some of the naturally sweeter foods until my child had enjoyed quite a few other flavors first.

-Baby Cereal
-Avocado
-Sweet potato
-Banana
-Apples
-Peaches
-Pears
-Green beans
-Butternut squash

You want to balance the sweet and savory flavors typically alternating them so your child can experience both flavor profiles. Always stay with the same food for 3-5 days even if they don't seem to like it. Remember, food before one is just for fun! It's all about introducing the baby to new flavors and textures.
Can you use frozen peaches for peach puree?
Yes! You will just need to defrost then cook until soft per instructions below.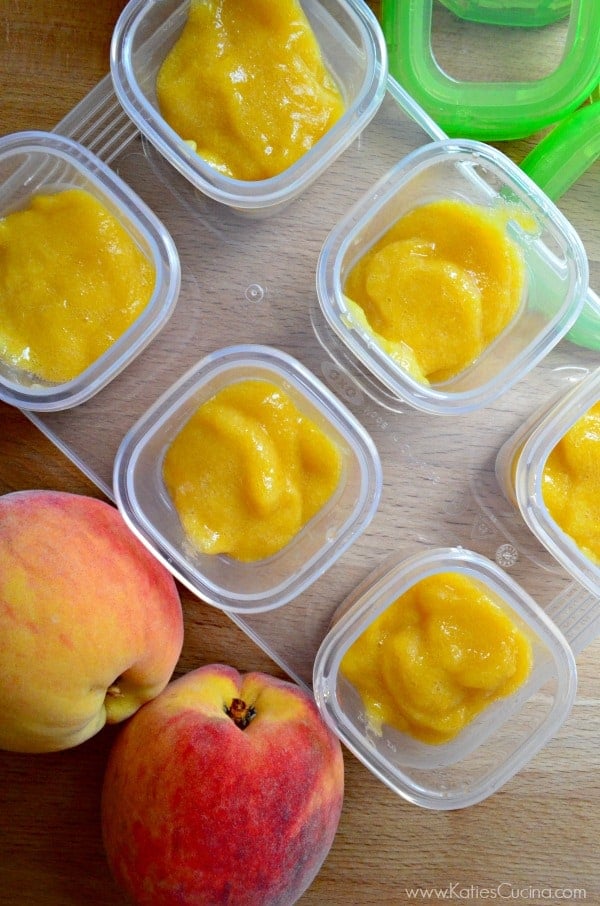 Tips & Tricks
Here are a few of my favorite tips and tricks I've found helpful when making this recipe.
Puree Hacks – You don't need a fancy new baby food maker to make your own baby food. You can puree using a food mill (as shown in this post), a food processor, or a blender. OXO has also come out with the OXO Tot Mash Maker Baby Food Mill
Peeling Peaches – Using a serrated peeler makes peeling soft fruits much easier.
Storage – I like to use 2 oz. storage containers. These are perfect to freeze, thaw, and reheat at a later date. If you don't have the containers you can freeze in an ice cub tray. Once frozen, pop out of ice tray and store in a freezer bag.
Freezing – If you choose to freeze baby food, you can freeze for up to 3 months. This will allow you to make a few different types of baby food and easily thaw and let baby enjoy a variety (once introduced).
Baby Recipes
Here are a few more of my baby and postpartum recipes I found helpful during the first year!
Stonyfield YoBaby- No Sweetener Added
If you make this peach puree recipe, I would be honored and love for you to take the time to leave a star rating and comment! I spend hours developing and testing these recipes, and always love to hear feedback and user experience!
Don't forget to FOLLOW ME on Facebook, Pinterest, and Instagram, and subscribe to my email list!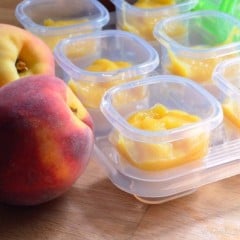 Homemade Peach Puree Baby Food
Treat your baby to homemade Peach Baby Food made in minutes with just two simple ingredients. You can use a food mill, food processor, or even high power blender to yield a smooth peach puree that can be enjoyed by baby or adult in various recipes.
Print
Pin
Rate
Equipment
Sauce Pot

Stove Top

Food Mill
Ingredients
4

Organic Peaches

3

tablespoon

100% Baby Apple Juice
Instructions
Peel the peaches and cube. Place peaches in a stock pot with 100% Baby Apple Juice. Cook on high, stirring frequently for 10 minutes until peaches are soft.

Place peaches in a food mill *see notes below for other methods. Begin to crank the food mill using the fine disc of the food mill followed by the medium and coarse disc. Scrape the bottom of the food mill using a silicone spatula in to the bowl.

Pour the peach puree into an angled measuring cup. Divide homemade peach puree baby food into 1-2 ounce portions into storage containers.

Store in refrigerate and consume within 3-5 days or freeze up to 6 months.
Notes
Substitute the baby apple juice for breast milk, formula, or even water!
You can use ice cub trays to freeze into 1 ounce portions. Once frozen place in a freezer bag for up to 3 months.
Puree in a food mill, food processor, or even blender.
Nutrition
Serving:
1
oz
|
Calories:
32
kcal
|
Carbohydrates:
8
g
|
Protein:
1
g
|
Fat:
1
g
|
Saturated Fat:
1
g
|
Sodium:
1
mg
|
Potassium:
148
mg
|
Fiber:
1
g
|
Sugar:
7
g
|
Vitamin A:
245
IU
|
Vitamin C:
5
mg
|
Calcium:
5
mg
|
Iron:
1
mg
Disclosure: There are affiliate links present in this post. That means if you click on a link and purchase something. I will receive a small percentage of the sale at no additional cost to you. Thank you for your continuous support of Katie's Cucina!