Grilled Honey Bourbon Glazed Ham Steaks
This is a sponsored recipe on behalf of STOK® Grills. As always, all opinions are my own.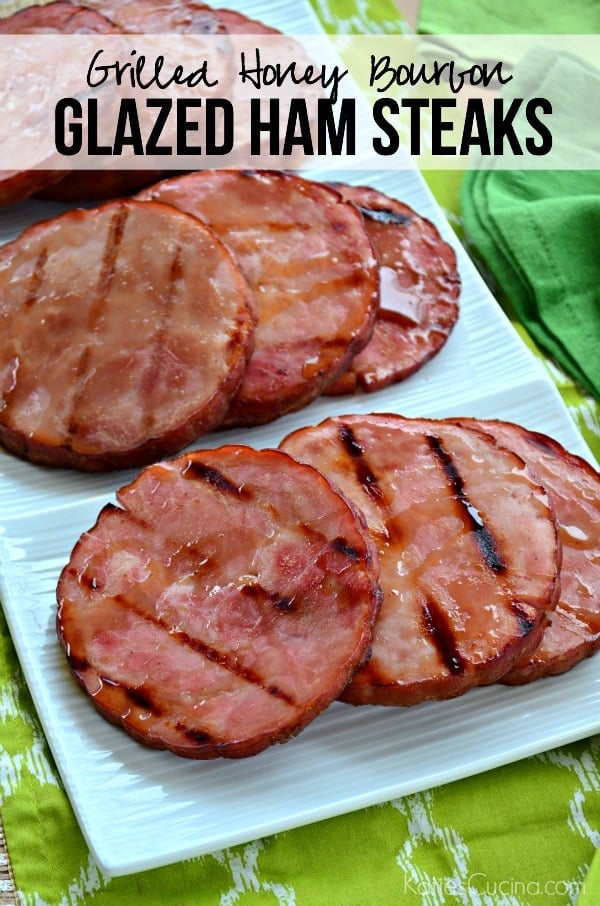 Christmas is next week. Have you decided on your menu? Did you know that you could cook your entire Christmas dinner on your grill? Including dessert. Yep, I know—your mind might be blown right now. But you totally can. We love to grill, and of course, living in Florida we have the privilege of grilling year round. I partnered with my friends at STOK grills to share a few holiday-grilled recipes with my readers.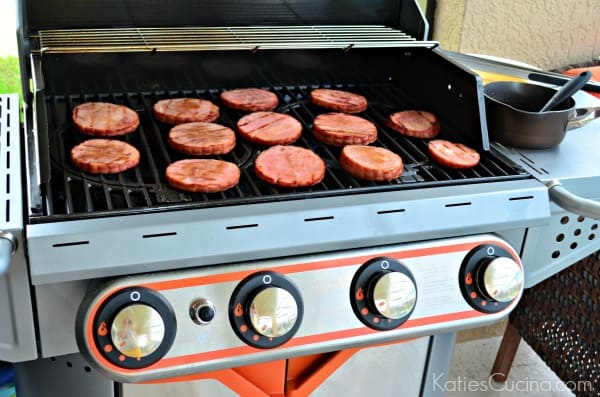 I love today's recipe. These Grilled Honey Bourbon Glazed Ham Steaks are super easy to make and even better you can have it cooked in under 30 minutes! Who says ham has to take a long time to cook! The secret to my quick cooking ham is getting a Hickory Smoked Boneless Ham—it's precooked but still has all the slow cooked ham flavors. I used my STOK® Quattro™ 4-Burner Gas Grill for this recipe (and all my other grilling recipes). In case you aren't familiar with STOK I have to tell you how awesome STOK® Grill's are. They have Grill Inserts allow you to change the Grill Grate to a Pizza Stone, Griddle, Vegetable Tray or any other STOK® Grill Insert.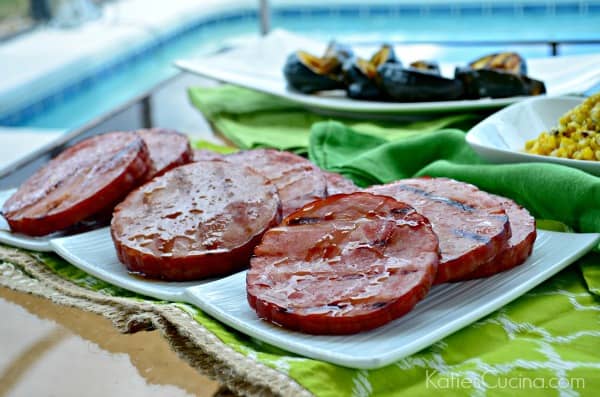 This recipe only takes a whopping 15 minutes! Most of your side-dishes will take longer to cook than the holiday ham this year. Can you imagine only having to be in the kitchen for 30 minutes on Christmas? I think that is a gift in its-self!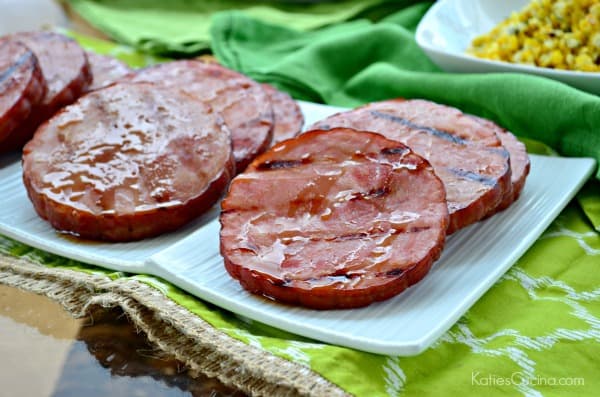 So crank up your STOK® Quattro™ grill; spend less time in the kitchen and a little more time outside. Make my recipe for Grilled Honey Bourbon Glazed Ham Steaks this holiday season!

Grilled Honey Bourbon Glazed Ham Steaks
Yield: 4
Prep Time: 5 minutes
Cook Time: 10 minutes
Total Time: 15 minutes
Ingredients:
3lbs. Hickory Smoked Boneless Ham
¼ cup Bourbon
¼ cup brown sugar
¼ cup honey
1/8 teaspoon ground clove
Directions:
Preheat the grill to high heat (internal temperature should reach between 400-500 degrees).
While grill is preheating, make the glaze. Combine the bourbon; brown sugar, honey and ground clove in a saucepan. Bring to a boil, mixing well, and then remove from the heat. Place in a bowl.
Slice the boneless ham in half-inch slices. Brush with the honey bourbon glaze.
Low the heat on the grill to low heat, then place the ham steaks on the grill. Grill on each side for 3 minutes, until hot. Remove from the grill and brush additional glaze on the steak. Enjoy immediately.
Warning
: Use of undefined constant rand - assumed 'rand' (this will throw an Error in a future version of PHP) in
/home/kjasiewicz21/webapps/katiescucina/wp-content/themes/katiescucina/single.php
on line
74
9 Responses to "Grilled Honey Bourbon Glazed Ham Steaks"
Trackbacks/Pingbacks

Leave a Comment