Enjoy my easy recipe for Instant Pot Spinach Tortellini Soup in 15 minutes time. This quick cooking soup is perfect for a weekday lunch or a hearty quick dinner!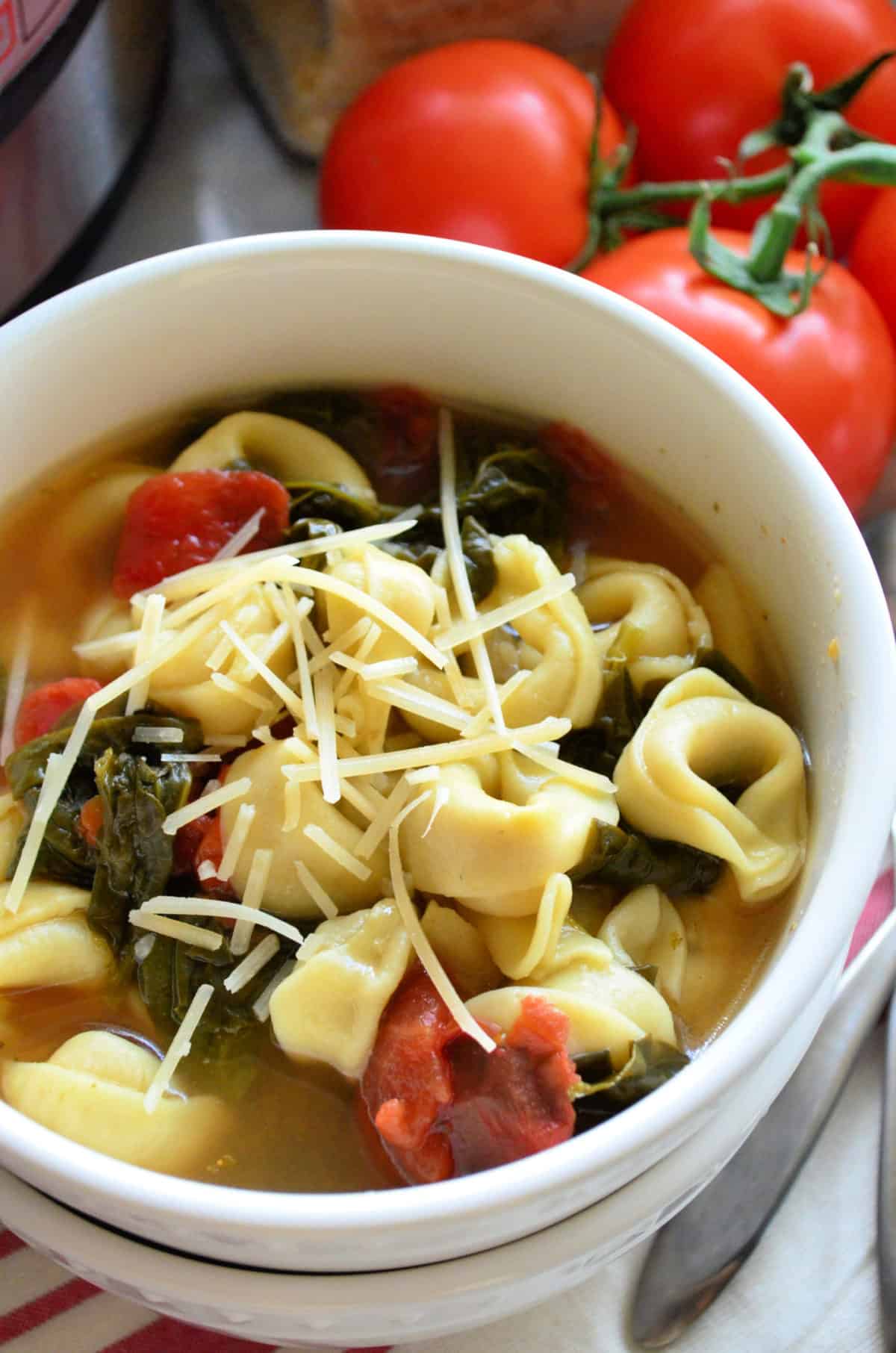 I've been making different variations of spinach tortellini soup for as long as I can remember–well before I started this blog some 10 years ago. Although it's always been quick cooking and an easy stove top soup recipe. I've been wanting to convert this soup recipe to an Instant Pot recipe. Anytime I can make my life a tad bit easier I will!
Everyone in my family loves soup, so during the winter months you will find soup, salad, and bread on the menu once a week.

What is the soup setting on Instant Pot?
Whenever I make soup I always use the "soup/broth" setting on the screen. The Instant Pot will know to bring the soup to a slow simmer verse a hard boil. Whenever you are making a soup, stew, or even a bone broth you want to use this setting.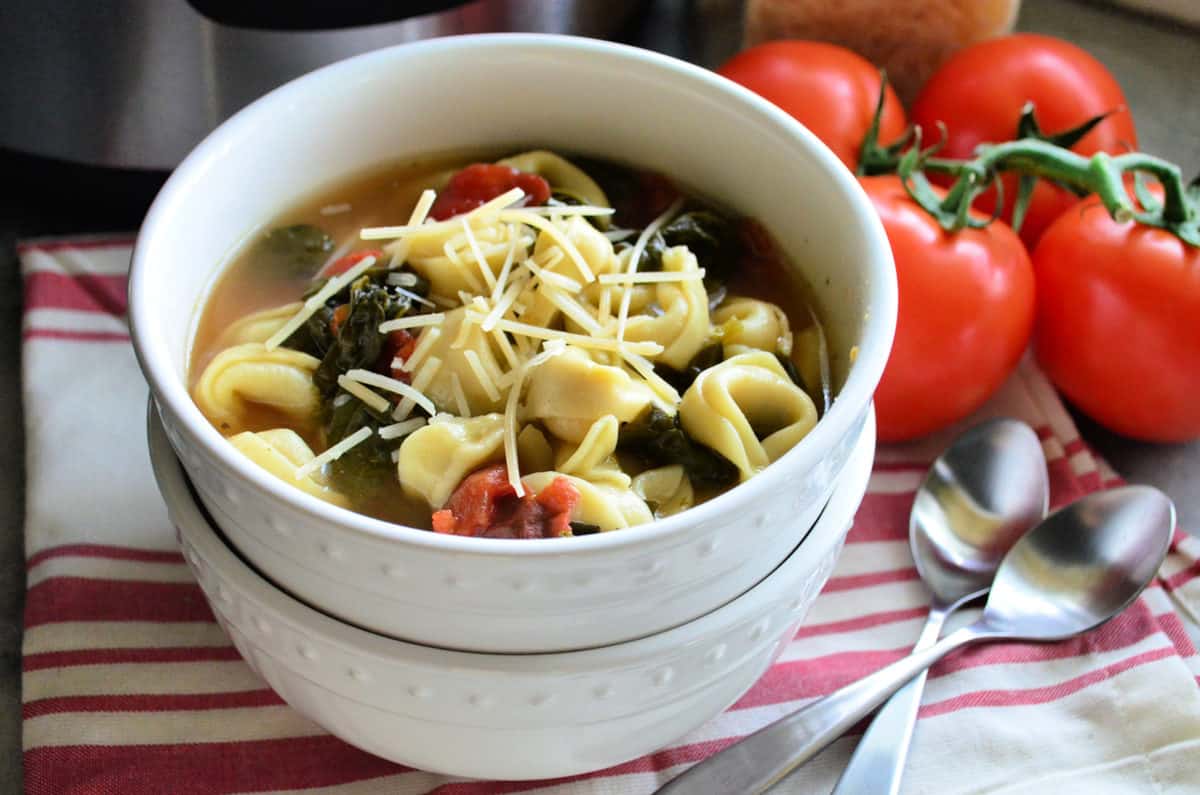 How do you make Spinach Tortellini Soup in the Instant Pot?
Making this tortellini soup is very easy to make on the stove-top, but if you don't want to sit by the stove to watch it simmer you can make it in the Instant Pot in just a few minutes time.
First you'll place the canned diced tomatoes at the bottom of the Instant Pot. I like to fill the can with water and pour into the Instant Pot. Then add in the fresh spinach, pack it in firmly then add the minced garlic, and Italian seasoning on top. Add the dried cheese and spinach tortellini, then begin pouring the chicken broth on top. The tortellini should be almost submerged.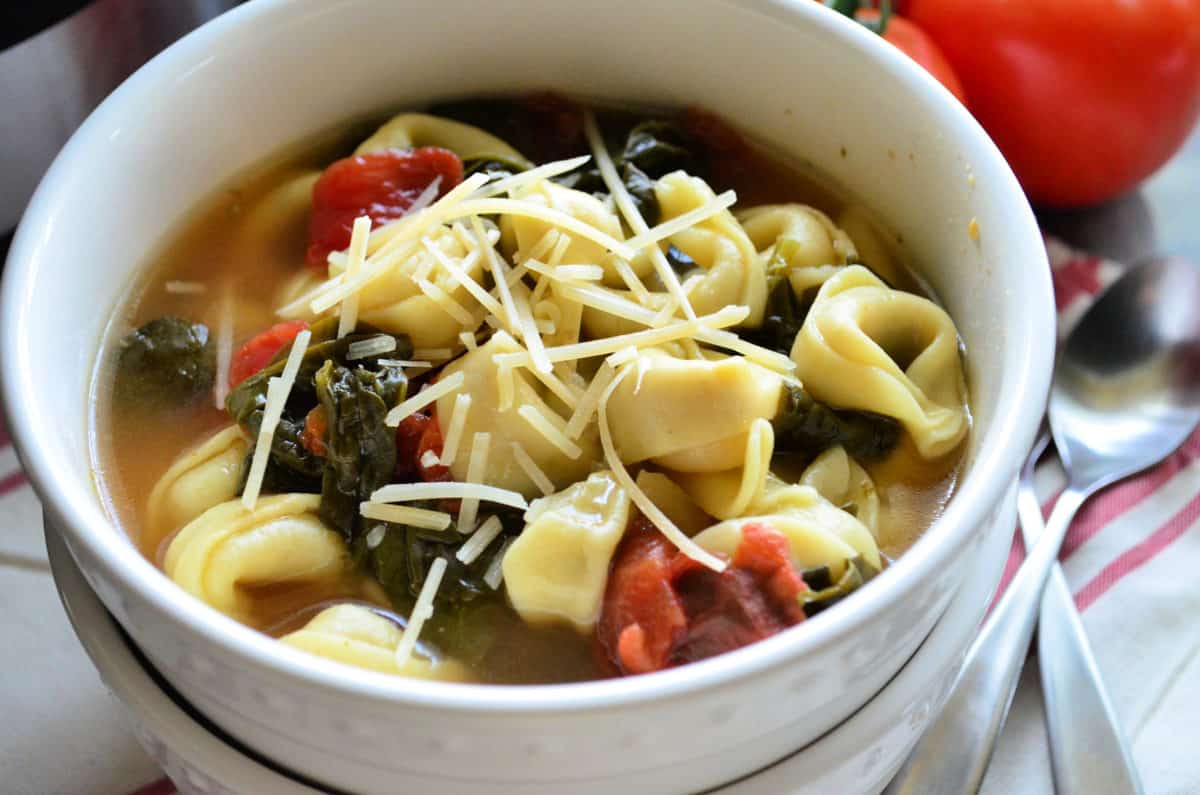 Next, close the lid, making sure the valve is set to "sealing" and then set on "soup/broth" setting for just one minute. Once the soup is done cooking let it naturally release pressure for 10 minutes. *This is key–so that you won't have hot broth spewing out the sides and through the valve when you release pressure.
Once the 10 minutes are up, carefully, force the remaining pressure out of the pot. I like to do this by placing a kitchen towel over the valve and a pot holder on top. This will catch any broth/water that could potentially boiling out. The lid might be hot, so be extra cautious and remove the lid. Give the soup a good stir, and serve. Season with salt and pepper if desired and top with Parmesan cheese.
Like it spicy? My hubby and I also like to add in a few dashes of red pepper flakes to our bowls!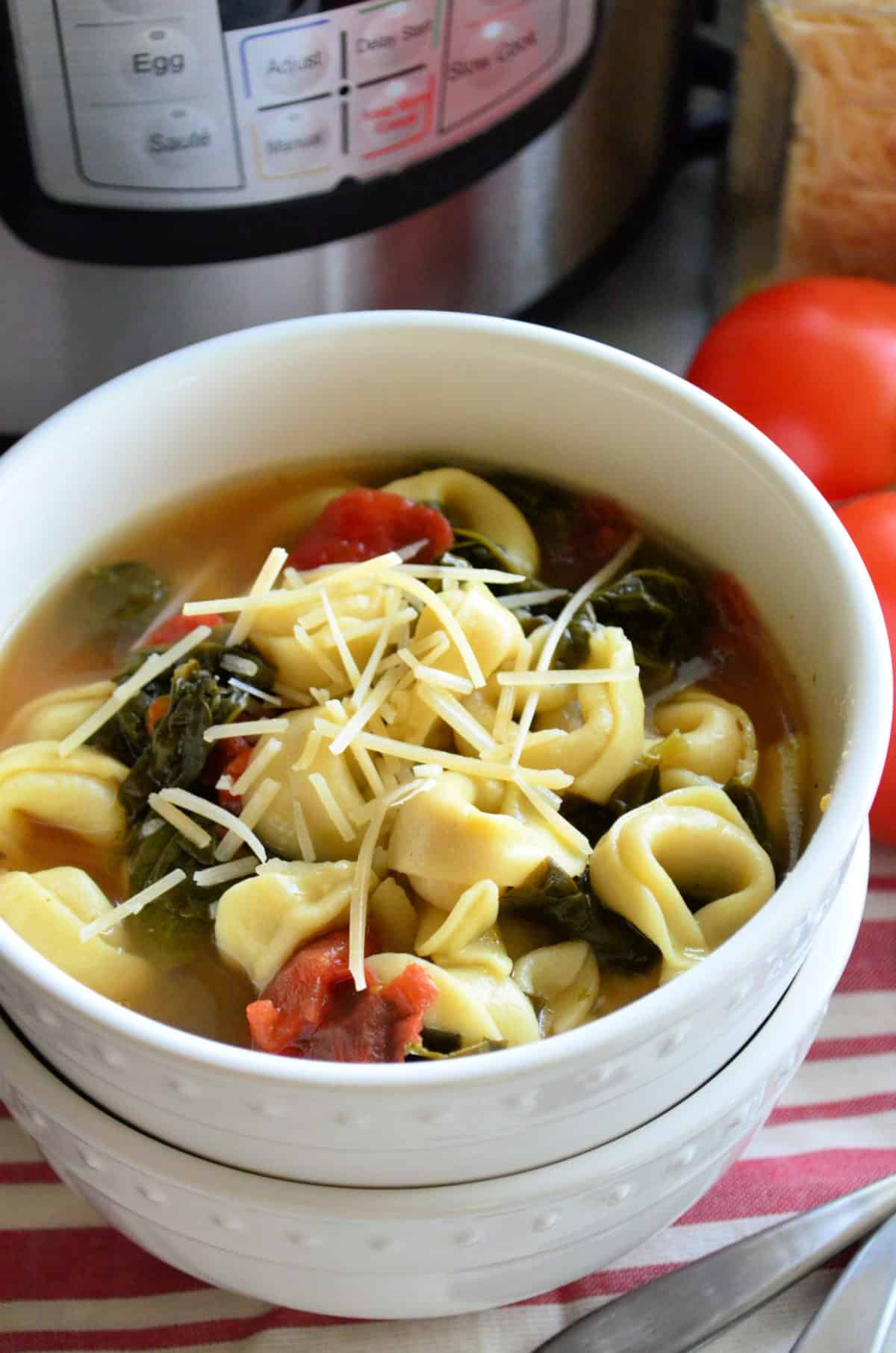 What do you serve with soup?
Here are a few of my favorite items to serve alongside a big bowl of soup.
If you are looking for an easy and comforting meal to make I hope you'll make this recipe for Instant Pot Spinach Tortellini Soup. It's delicious and chocked full of veggies and cheese stuffed tortellini's!