I am a soup lover at heart–no matter what time of year it is. In the summer months, you will still find countless containers of homemade soup stored neatly in my refrigerator. While browsing through the May issue of Everyday Food I stumbled across this tortellini soup. As I've been told by friends tortellini in broth is a very traditional soup in Italy. I love tortellini in broth. One of my favorite soups is Spinach Tortellini Soup–I make it almost monthly. So when I saw this recipe I was instantly intrigued.
I had all intentions of making the recipe exactly as instructed until I was in the grocery store and saw Sweet Italian Sausage Tortelloni in the refrigerated section. I knew instantly I wanted to make it with this instead of the traditional cheese tortellini the recipe was calling for. Since I was making it with sausage–I wanted to change up the broth as well. Upon my first couple of bites I dubbed this the Italian version of Won Ton soup! It has gorgeous pork style dumplings, just enough vegetables to make it filling, and broth that has been infused by the sausage within the tortelloni.
At this point, you may be wondering what is the difference between tortellini and tortelloni. Tortelloni is simply a larger form of the traditional stuffed tortellini. The "ini" ending indicated they are smaller while the "oni" ending means it is larger.
Did you know you were going to get a little Italian lesson today? Probably not. But you did.
This is an extremely quick soup to make and great to have on hand in the refrigerator to add to mundane lunches and/or a nice before dinner soup. Heck, just eat it as is for whatever meal you would like it for–even if it is for breakfast. If you are a soup connoisseur like me–you must try this soup.
Inspired by: Everyday Food, May 2012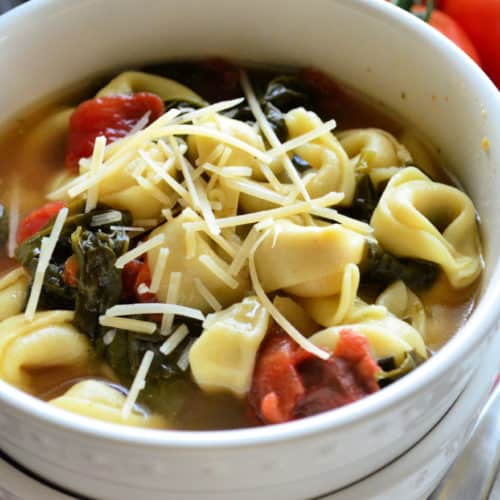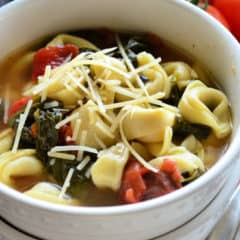 Ingredients
64

oz

beef broth

20

oz

fresh Sweet Italian Sausage Tortelloni

1

cup

frozen peas

2

cups

spinach

coarsely chopped

Coarse salt and ground pepper

Grated Parmesan and lemon wedges

for serving
Instructions
In a large stock pot, pour the 2 boxes of beef broth in the pot and bring to a boil (about 5-10 minutes depending on your stove).

Add tortelloni and cook for 2 minutes (still on a boil). Then add peas and spinach. Cook for 2-4 more minutes or until the spinach is just wilted.

Season with ground black pepper and squeeze one wedge of lemon over the soup prior to serving. Serve with grated parmesan cheese and additional lemon wedges if desired.
Nutrition
Calories:
337
kcal
|
Carbohydrates:
45
g
|
Protein:
19
g
|
Fat:
9
g
|
Saturated Fat:
3
g
|
Cholesterol:
36
mg
|
Sodium:
1544
mg
|
Potassium:
278
mg
|
Fiber:
5
g
|
Sugar:
4
g
|
Vitamin A:
1123
IU
|
Vitamin C:
12
mg
|
Calcium:
168
mg
|
Iron:
4
mg