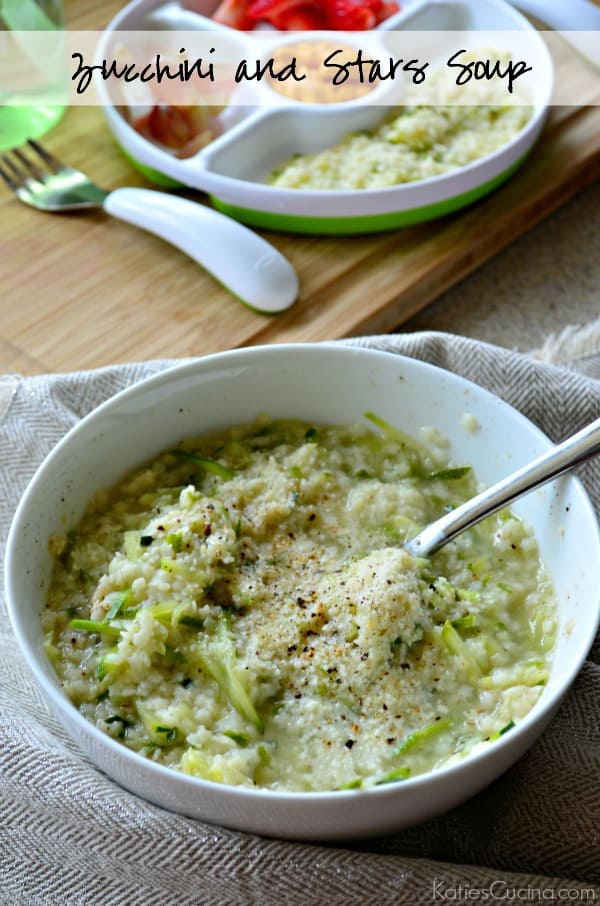 Get ready for the easiest soup recipe on the planet. Sometimes easy and simple is just plain delicious. I've been making this zucchini and stars soup forever. I even blogged about it five years ago; however, since blogging about it I've tweaked the recipe a little to make it a little more toddler friendly. This is one of my sons favorite meals, and not to mention it's mine too! I like to add a lot of black pepper and Parmesan cheese to the adult version. It gives it a spicy nutty kick that your not prepared for. This soup is comfort in a bowl, and cooks very quickly!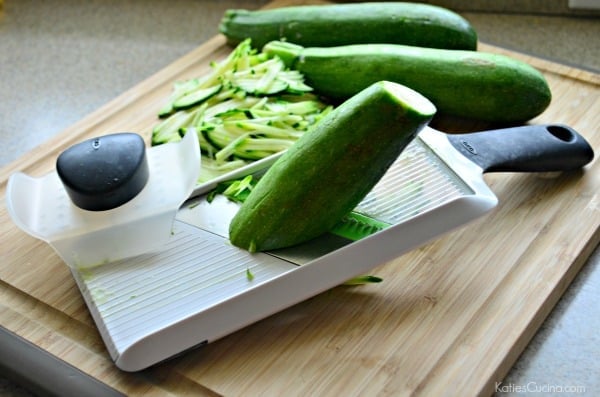 For this recipe I use the OXO Hand-Held Julienne Slicer. If you have a traditional mandolin with a julienne feature on it you could use that or even a peeler would work too! The goal is to get tiny strands of zucchini. My son doesn't always eat his veggies, so making them teeny tiny allows me to sneak them in.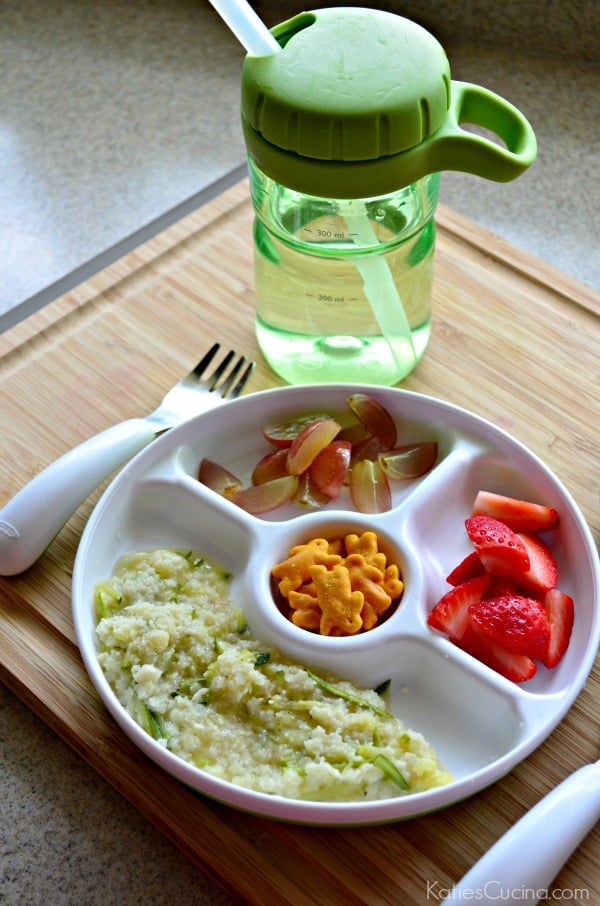 Although this Zucchini and Stars Soup is a bit messy for tots (what isn't messy for them) I know my son loves it and he has really started doing much better using his utensils! I love the OXO Divided Plate, Ryder is starting to become big into dipping his food in sauces so the middle compartment is perfect for that. Or offering a tiny little bit of an item you know they might want to over indulge-in. He hasn't hit the age yet where he can't let his food touch one another yet–but when he does this plate will be used at every single meal! This plate also has a ring that can be attached on to the top (for photo purposes I did not attach it), but it helps toddlers in using there silverware, so the food doesn't just fall off the plate.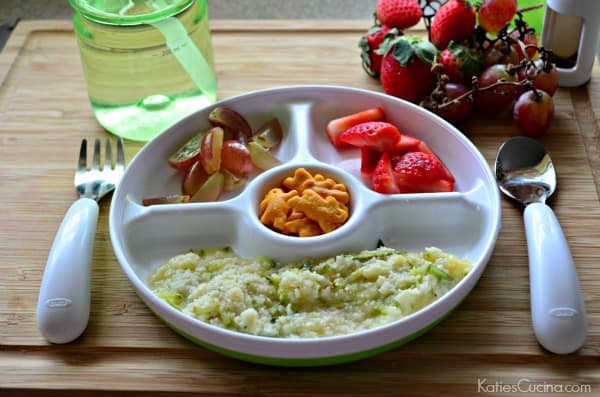 The OXO Fork and Spoon Set is perfect for little hands. I've found that the fatter/thicker handles work better in his small hands. Also pictured in the far right corner is the OXO Grape Cutter–this tool is a lifesaver! And Ryder loves his OXO Twist Top Water Bottle (it's just like mama's so he thinks he is just as cool–which of course he is)! Can you tell we love OXO Tot products?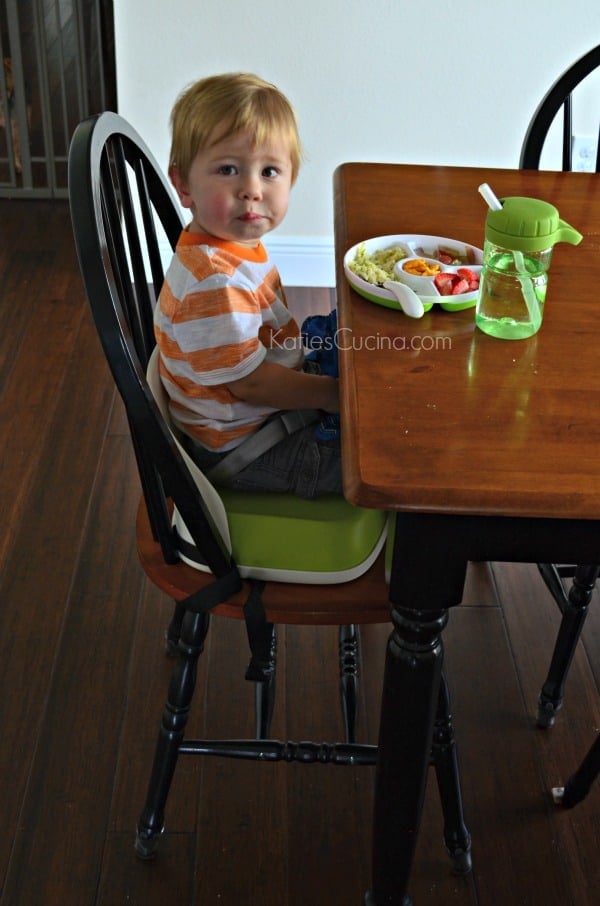 We love the Perch Booster Seat with Straps it's compact and easy to take with us when visiting the grand parents or even going out to eat. There is nothing I hate more than going to a restaurant and them either not having any highchair or booster seats available or just simply not having any for kids. It baffles me that some places do not have anything for kids (even though it's a family friendly restaurant).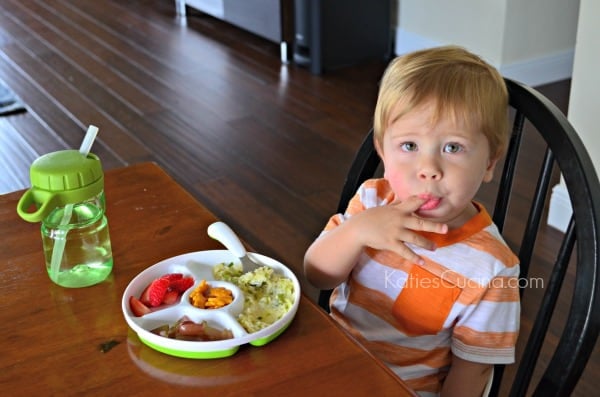 Now get ready for toddler photo overload. We had a little mini-photo shoot of him eating lunch.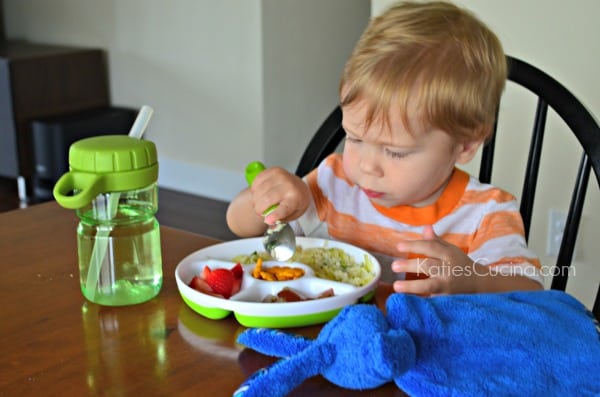 And he had just woke up from a nap so he insisted that bunny sat with him at the table.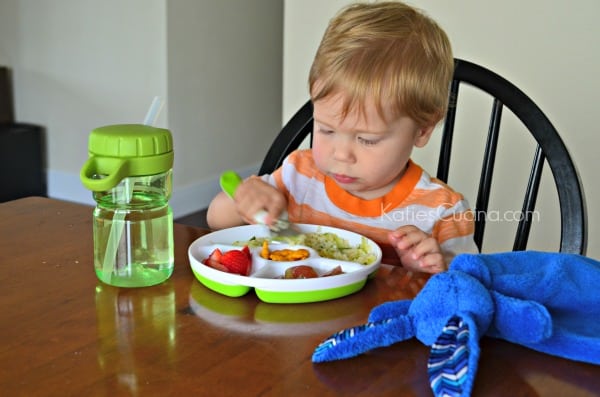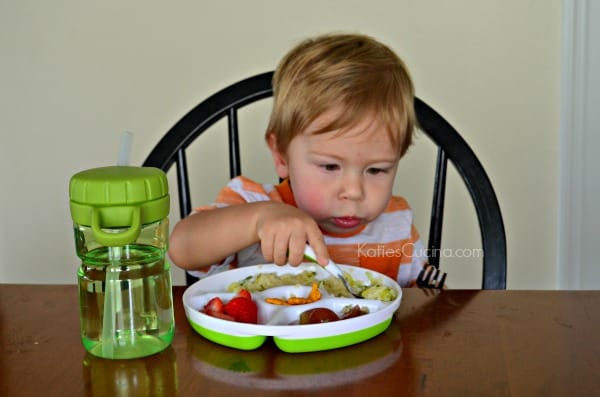 So proud of him scooping his zucchini and stars!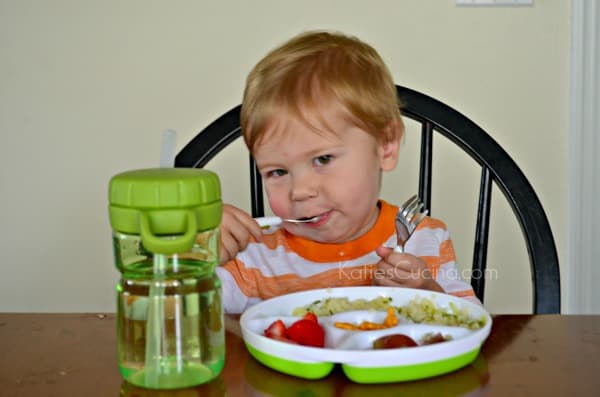 And then feeding it to himself with very little spilled (that time)!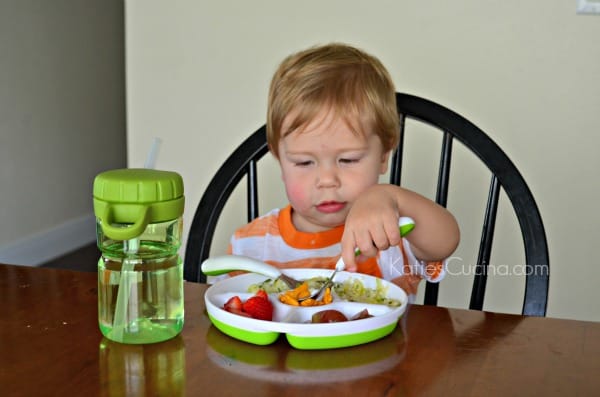 You know… it's totally normal to fork a cracker!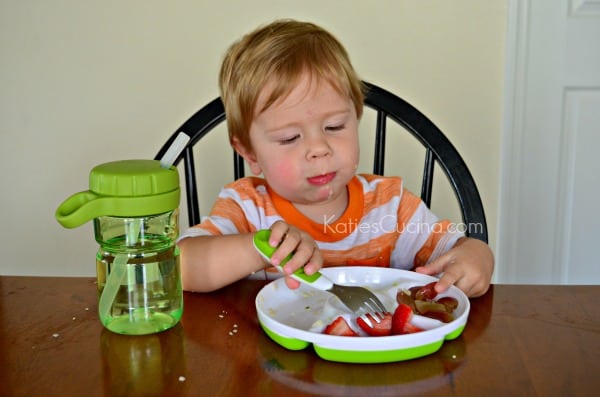 I didn't have to tell him lunch then dessert he did it on his own!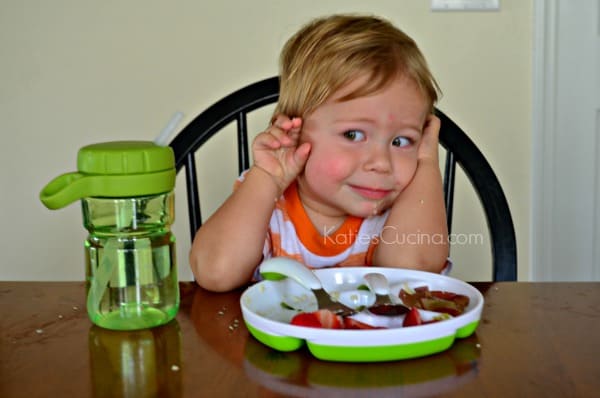 Taking a break from eating and looking cute!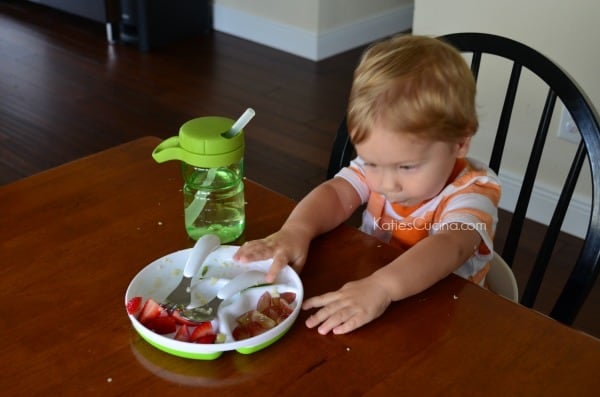 We've taught Ryder to place is silverware on the plate and push the plate to the center of the table when he is all done. Followed by telling us he is all done. He does this after every meal! So if your looking for an easy lunch to make for yourself and your toddler I welcome you to try my zucchini and stars soup!
Disclaimer: This is a sponsored post on behalf of OXO. I received product in exchange for a blog post about the product. As always all opinions are my own.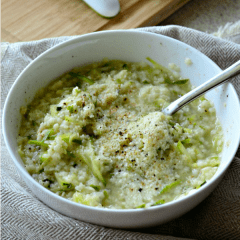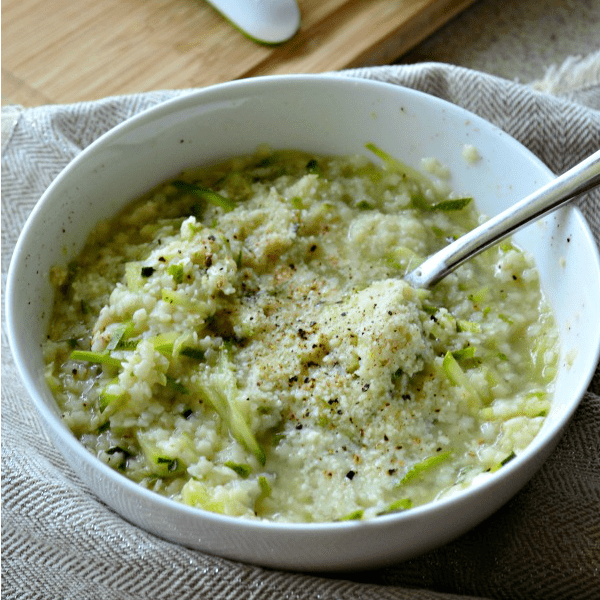 Zucchini and Stars Soup
Get ready for the easiest soup recipe on the planet. Sometimes easy and simple is just plain delicious. I've been making this zucchini and stars soup forever.
Print
Pin
Rate
Ingredients
1

tablespoon

olive oil

1

teaspoon

minced garlic in water

2

zucchini

julienne sliced

¼

teaspoon

Italian seasoning

½

cup

pastina

tiny-star shaped pasta

32

oz.

vegetable or chicken broth

salt and pepper to taste

¼

cup

grated Parmesan cheese + more for topping
Instructions
Heat a large pot on high heat. Add the olive oil and the minced garlic, mix well for 30 seconds then add in the julienne sliced zucchini, Italian seasoning, pastina and broth. Add salt and pepper to taste. Mix well and cook for 10-15 minutes until the pastina is tender. *Reduce heat if the broth begins to boil over the pot.

Mix in ¼ cup of the grated Parmesan into the soup. Ladle into bowls (or strain broth for tots) and top with additional cheese.
Notes
Use any tiny pasta here, such as alphabet.
Nutrition
Calories:
162
kcal
|
Carbohydrates:
20
g
|
Protein:
7
g
|
Fat:
6
g
|
Saturated Fat:
2
g
|
Cholesterol:
6
mg
|
Sodium:
934
mg
|
Potassium:
437
mg
|
Fiber:
2
g
|
Sugar:
3
g
|
Vitamin A:
250
IU
|
Vitamin C:
34
mg
|
Calcium:
99
mg
|
Iron:
2
mg