Learn all about my top 10 lunch box essentials for grades k-2 including sandwich cutters and the ever so famous Bento lunch box kids. This list will help get you through the entire school year with the coolest and most delicious lunches.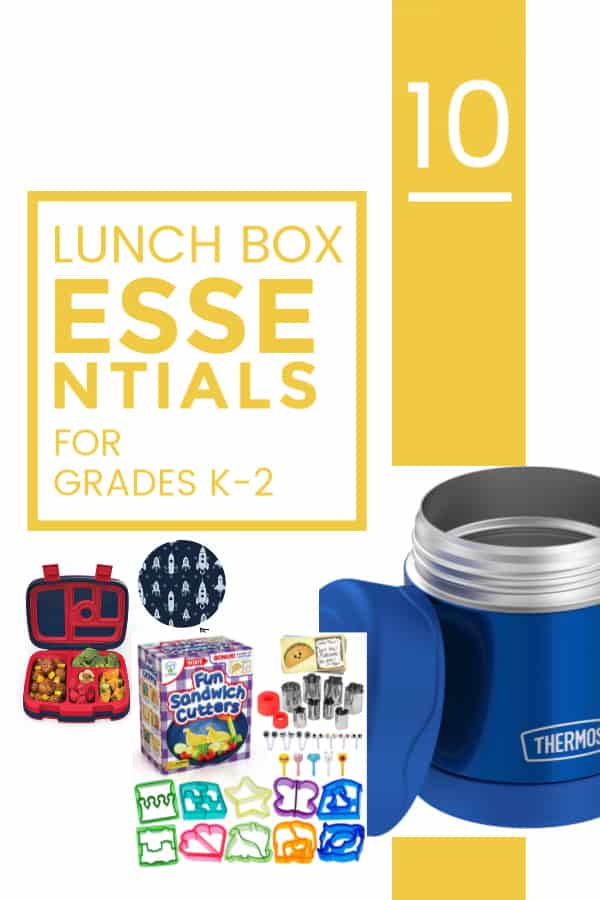 Eek! School is less then a week away where we live in the South. Now, that my son is entering Elementary school I feel like my life is about to revolve around packing school lunches forevvvvveeeeerrrrr. Since I had a slight practice round when he was in preschool I've learned what works and what doesn't. Here are a few of my favorite tools to make lunchtime a breeze for the younger kids in your life.
UpChefs Sandwich Cutters for kids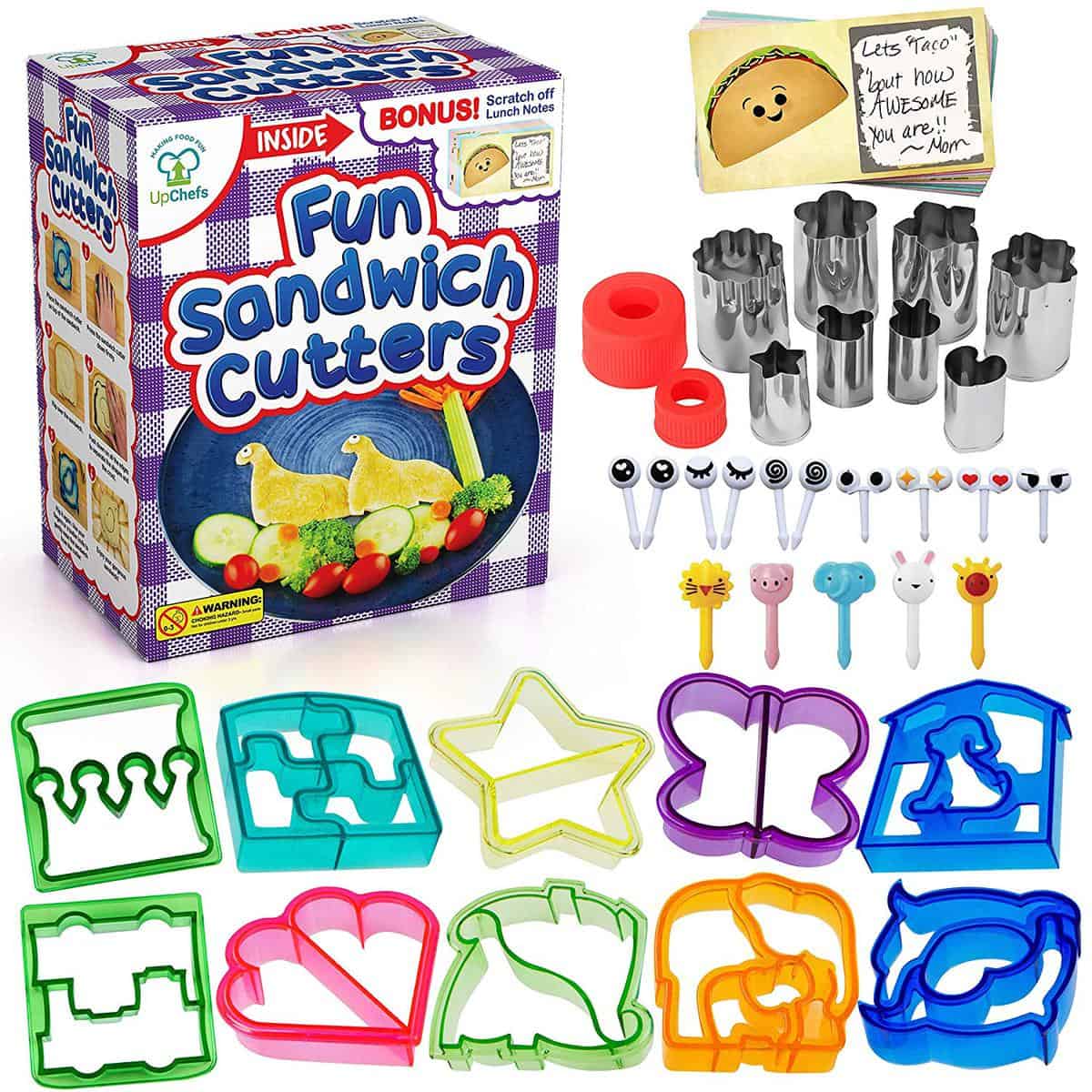 Create Healthy School Lunches in Minutes with These Fun Bento Lunch Box Accessories – Includes Fruit and Vegetable cookie cutters – Food Picks Plus Scratch Note! I was looking for a wide variety of sandwich cutters plus eyeballs and fruit/veggie cutters and found this pack. It has everything I needed and only for $20!
The Pampered Chef Cut-N-Seal Sandwich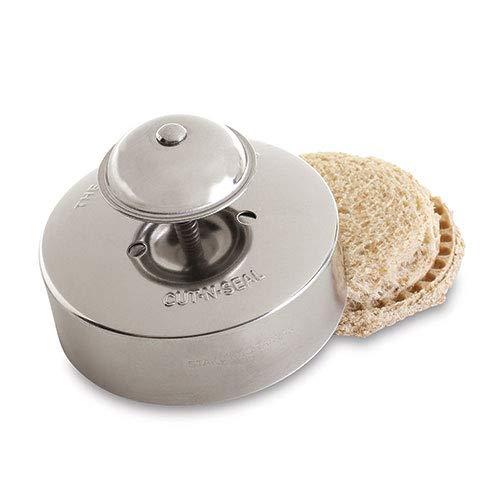 Do your kids love Uncrustables? If so–this is the tool for you! For $14 you can make them every single day of the year! Put a new twist on pocket sandwiches and tarts. Hot or cold pocket sandwiches, appetizers, pastries and tarts are made fun and easy with the Cut-N-Seal. Simply place filling between two layers of bread or dough, then cut and seal. 3.5″ (9 cm).
I've used this a few times and it definitely takes time to learn how to use it well. I'm finding you need to roll out your sandwich bread. Nothing fancy either–like the bagged bread in the bread aisle (not the fresh bakery bread).
Bentgo Kids Prints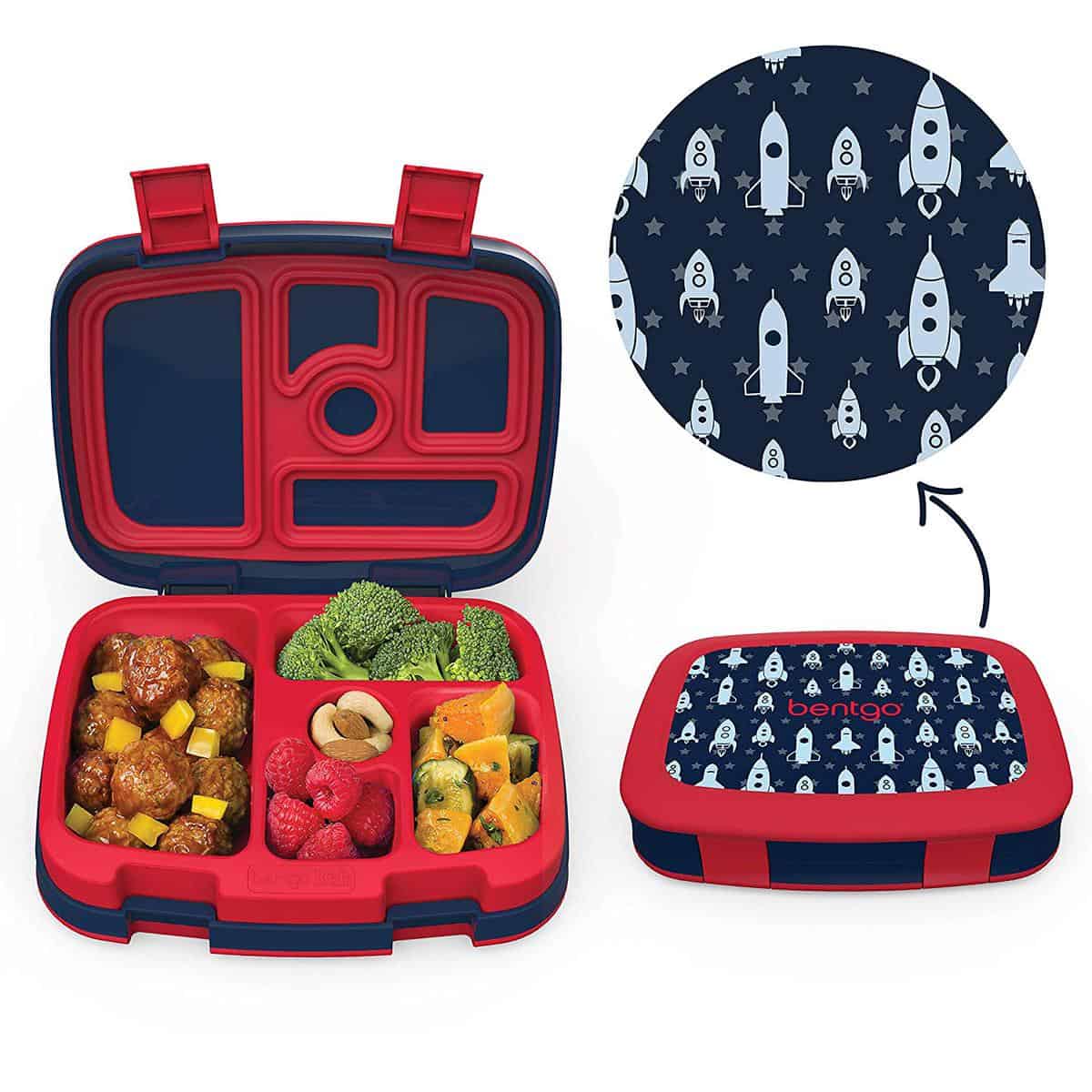 I bought a Bentgo Kids Box when my son started preschool and haven't looked back since! This is the best little compartment meal box around! It's leak-proof, and has 5-compartments for wide variety of items for lunch. It's the ideal portion size for Ages 3 to 7. The Bentgo is BPA-Free and made of Food-Safe Materials, and that tray is top-shelf dishwasher safe!
Bentgo Kids retails for $30 but think about all the plastic bags your saving from the landfills (and money your wasting). Totally worth the investment and super durable! Plus, puts my mama mind at ease knowing he's not gonna be starving in a lunchroom somewhere because he couldn't open up a package of food in his lunchbox.
My son has the solid colors, but my daughter has the prints! Every now and then it goes on a flash sale for half off. After 4 years the Bento lunch box kids have held up great.
CamelBak Podium Bike Squeeze Bottle

Although this CamelBak Podium Bike Squeeze Bottle is meant for a biclyce it's one of the only squeeze bottles I've found on the internet. My son doesn't use the sippy type CamelBack kid-cups and insisted on a squeeze bottle after receiving one as a party favor from a Birthday party. I needed to find more squeeze bottles that don't spill and this one does the job!
Pottery Barn Kids Cold Pack Mackenzie Lunch Box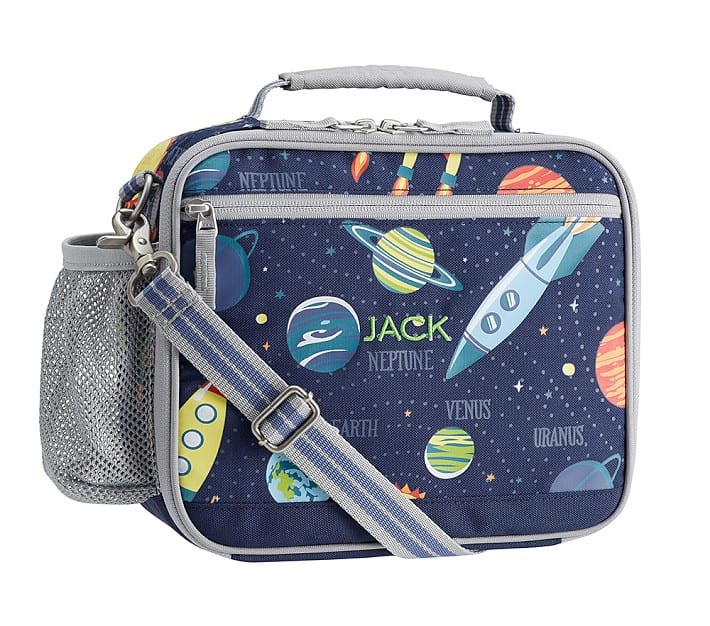 Both of my children have used the PBK lunch box. My son's is still in perfect condition since I first bought it 4 years ago. My daughters lunch box is 2 years old and still looks perfect. It's insulated and the "cold pack" style fits the Bentgo Boxes, plus slim ice packs, and a milk or juice box! Right now, they are on sale for $25! This lunch box features a water-resistant exterior, an easy-to-clean molded interior and straps on the back that attach to the Mackenzie Backpacks. Plus, a removable ice pack fastens to the interior to create compartments so their food and snacks are neatly organized.
Fit & Fresh Cool Coolers Slim Ice Packs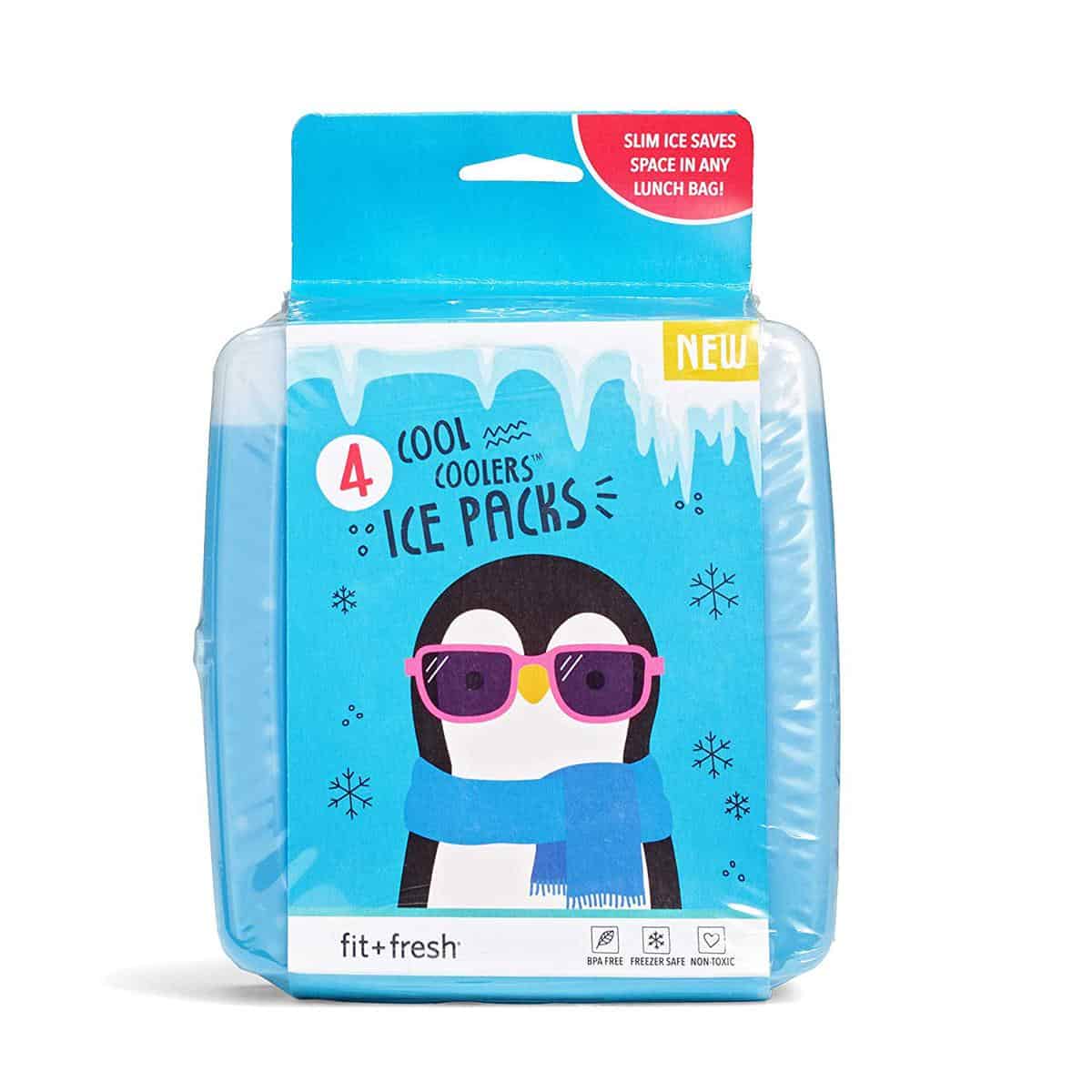 I bought my son a Pottery Barn Kids lunch box with food storage containers two years ago and it came with a slim ice pack. It's perfect for the lunch bag plus the Bentgo box. However, one ice pack doesn't seem to keep everything super cold. Since I'm a stickler on food safety I wanted a second slim ice pack. That's when I found these! You can order a pack of these for just $8!
Silicone Cupcake Baking Cups Reusable Food-Grade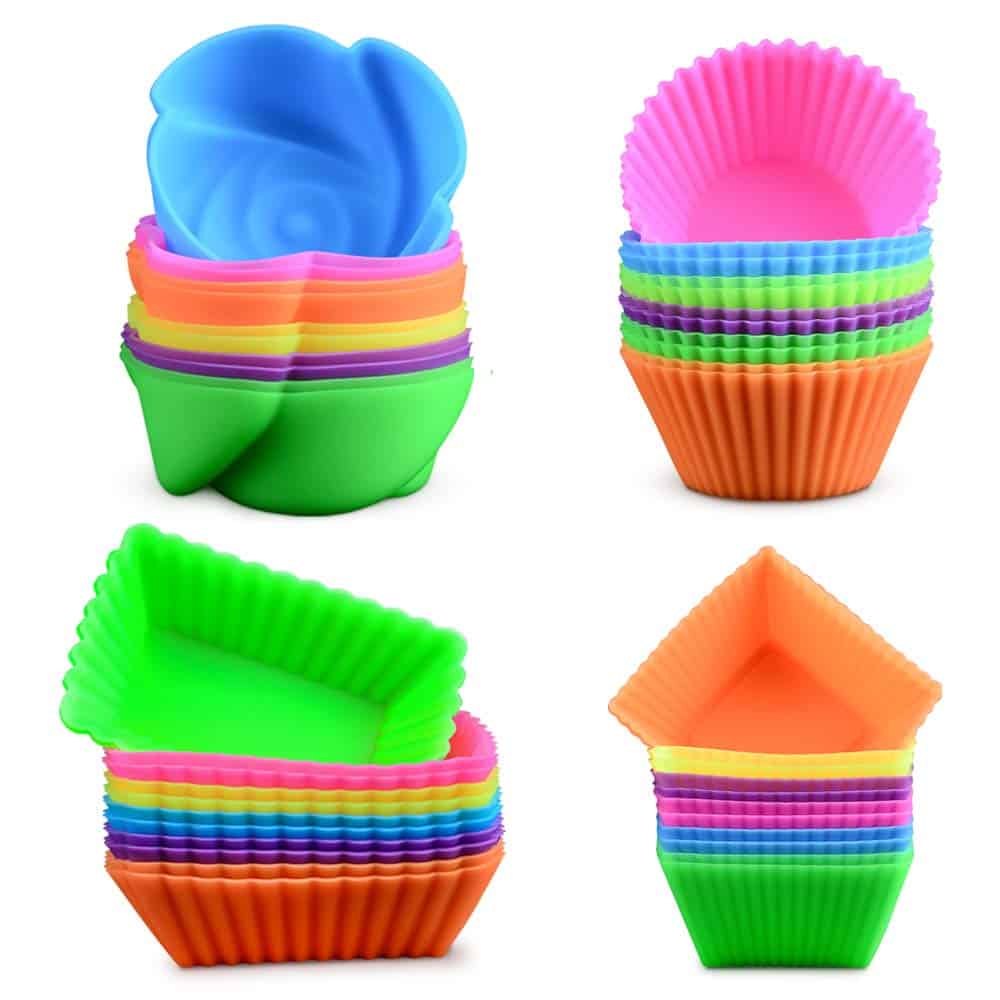 Looking for a way to neatly divide food without having to worry about paper liners getting soggy? Silicone baking cups are the solution! You can grab this pack of 48 for $12 and use them all year round.
No rust, no hand drying, no scrubbing, no mess! IPOW standard sized silicone cupcake baking cups are made from FDA certified food grade silicone, NO chemical coating or paint, NO fillers, NO BPA. Time to abandon traditional disposable paper cups and upgrade your kitchen with these reusable silicone cupcake baking cups!
Animal Fruit Food Picks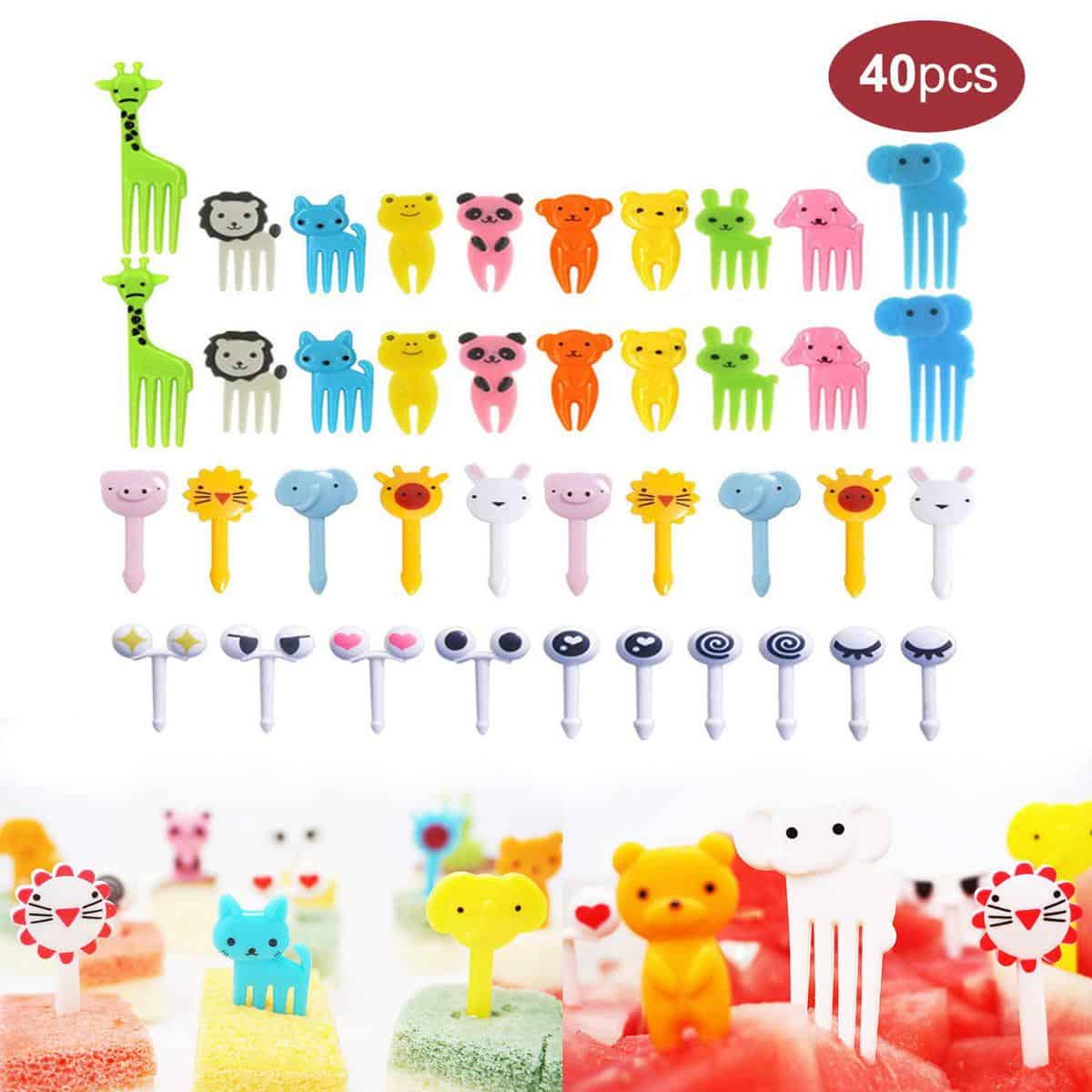 Perfect option if you don't want to pack a fork but want them to use something other then their fingers! These animal food picks are the cutest, and my son absolutely loves them. You can grab this set of 40 for $9.50!
They are great for fruit, pastries, desserts, snacks, easy to use, convenient health. Good choice of gifts: Decorate your food and make her look more delicious. It is a good way to encourage your children to enjoy food. If there are any problems, please contact us WITHOUT HESITATION for free.
Thermos Funtainer 10 Ounce Food Jar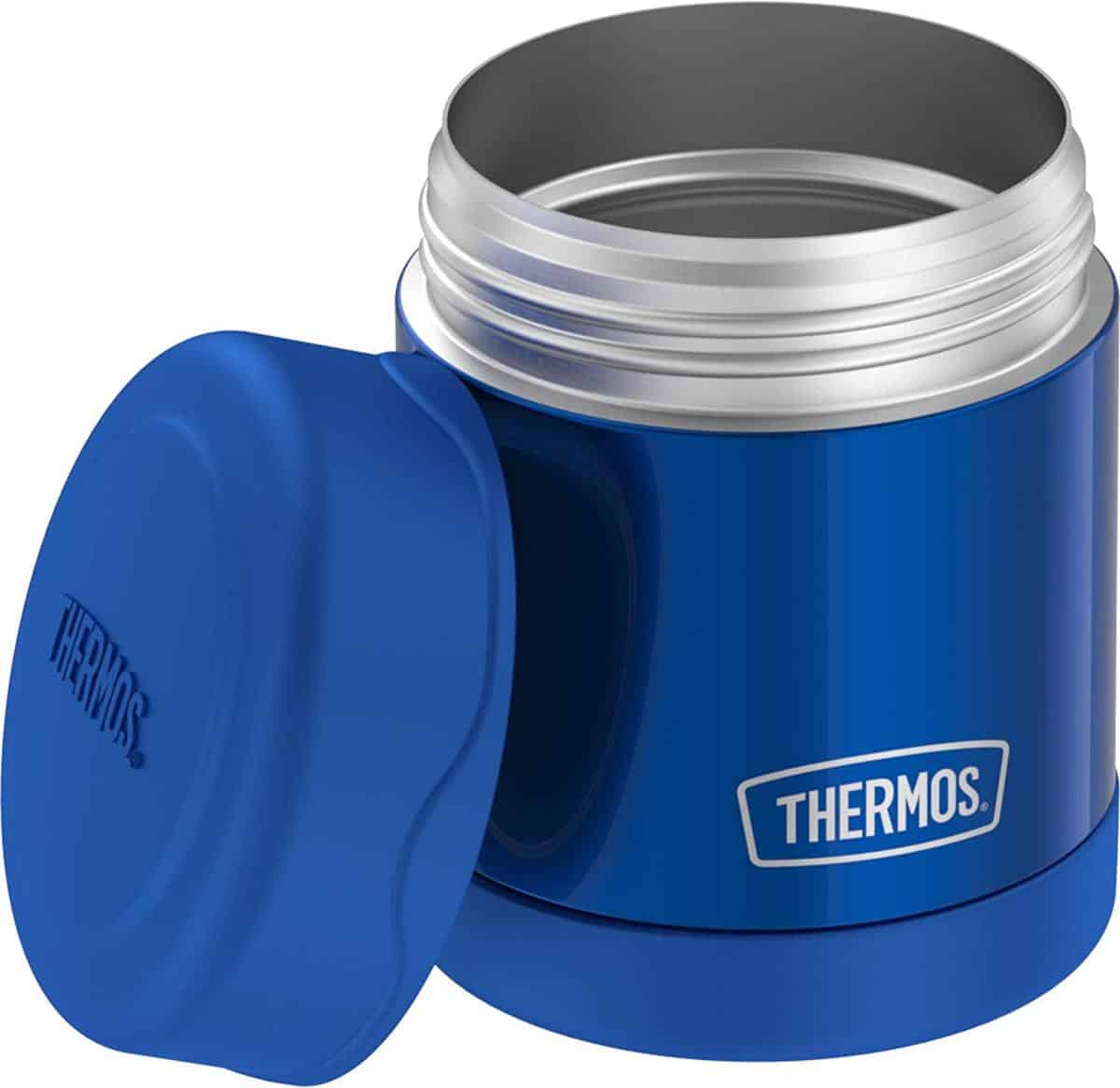 Once it gets cooler out you might want to pack your child a bowl of chicken noodle soup or maybe even some mac and cheese! Keep the food warm with a thermos! These come in a variety of kid prints as well as solids. $14 for a 10 oz. food jar.
60 Lunch Box Notes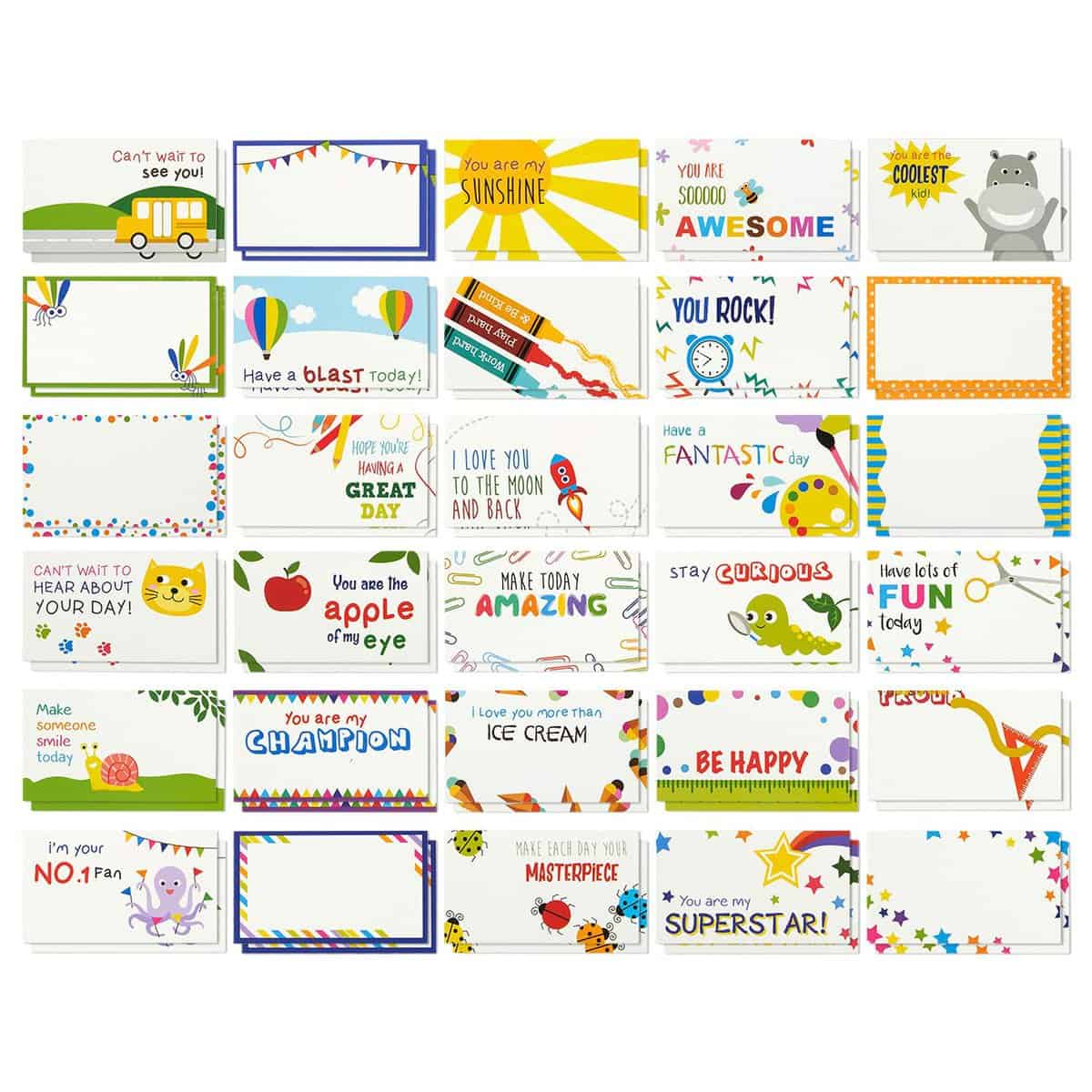 I fondly remember my mom writing me notes in my lunch box. I expected that little post-it size note every day and if I didn't get one I was thoroughly disappointed. Gone are the days of the simple post-it. Someone decided to print cute notes to help simplify the busy parents life. Grab 60 notes for $9!
Lunch Box Foods
I couldn't help but not share a few of my favorite lunch box foods at the end of this post. After-all–now that you have all this fancy lunchbox tools you need to amp up your game.
So if your charting into new territories like me or simply want some new ways to spice up the boring old lunch box I hope you found my recommendations helpful!
Disclosure: There are affiliate links present in this post. That means if you click on a link and purchase something. I will receive a small percentage of the sale at no additional cost to you. Thank you for your continuous support of Katie's Cucina!