Chewy Chocolate Chip Granola Bars
Make my easy no bake Chewy Chocolate Chip Granola Bars with the kids! Perfect for an afternoon snack or school lunch boxes!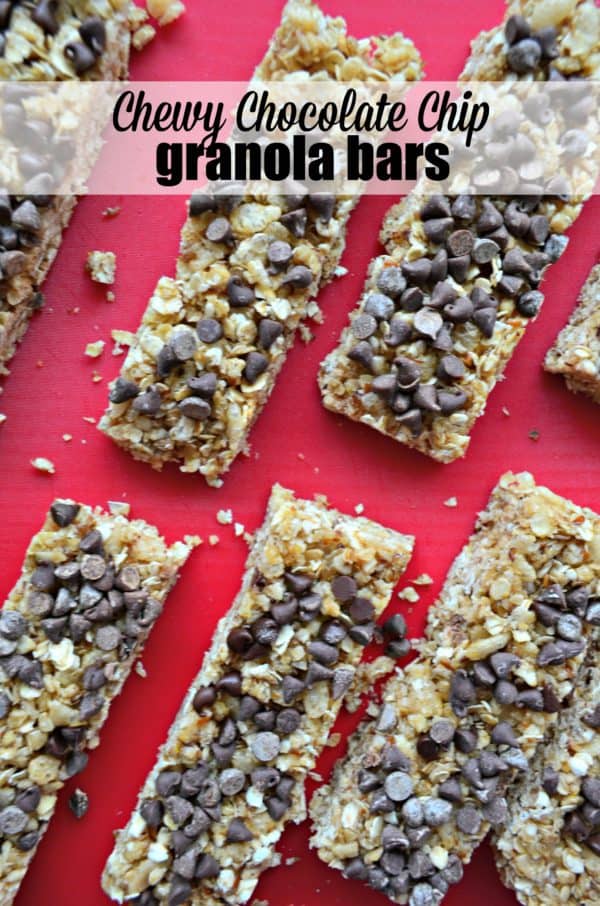 The kids are home for summer break and it's crazy hot out. What better way to get them involved in making a delicious afternoon snack then to make Chewy Chocolate Chip Granola Bars together. Whether your experiencing a rainy day inside and going a little stir-crazy . Or maybe you live here in Florida, where it's 100 degrees with 100% humidity and have no desire to venture out–these bars are the ticket. Or maybe your starting to already think about back to school and wanting to change up the lunchbox routine. I'm here to help!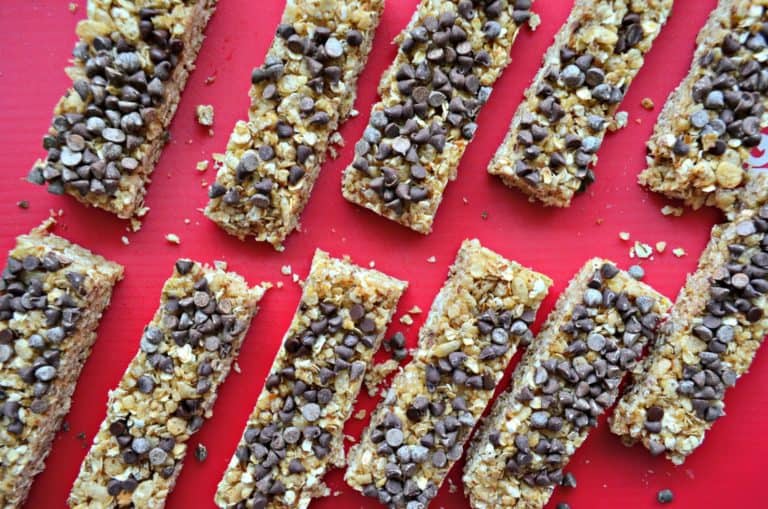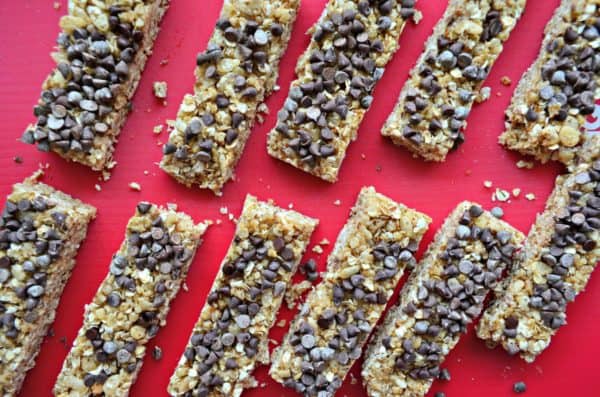 I first made these bars back in 2012. I've altered the recipe a tad over the years adding in ground flaxseed meal to the bars to give them an extra boost of nutrients.
Parents, you'll want to do the first step and then let them add in the dry ingredients like the quick-cooking oats, Rice Krispies cereal, and ground flaxseed. This is when you put them to work and let them work on building there muscle mass as they mix the oat mixture. Then together you can both pour the mixture into a 9×12 aluminum foil lined baking dish. Help them by patting down the mixture firmly with a rubber spatula. Then let them sprinkle on the mini chocolate chips. Ok, and maybe let them eat a few too! These Chewy Chocolate Chip Granola Bars are also a great snack to make for school lunch boxes. Make them on the weekend, wrap them individually in parchment paper and store them in an airtight container in the refrigerator. Then, when it's time to pack lunches you pull out the homemade Chewy Chocolate Chip Granola Bars.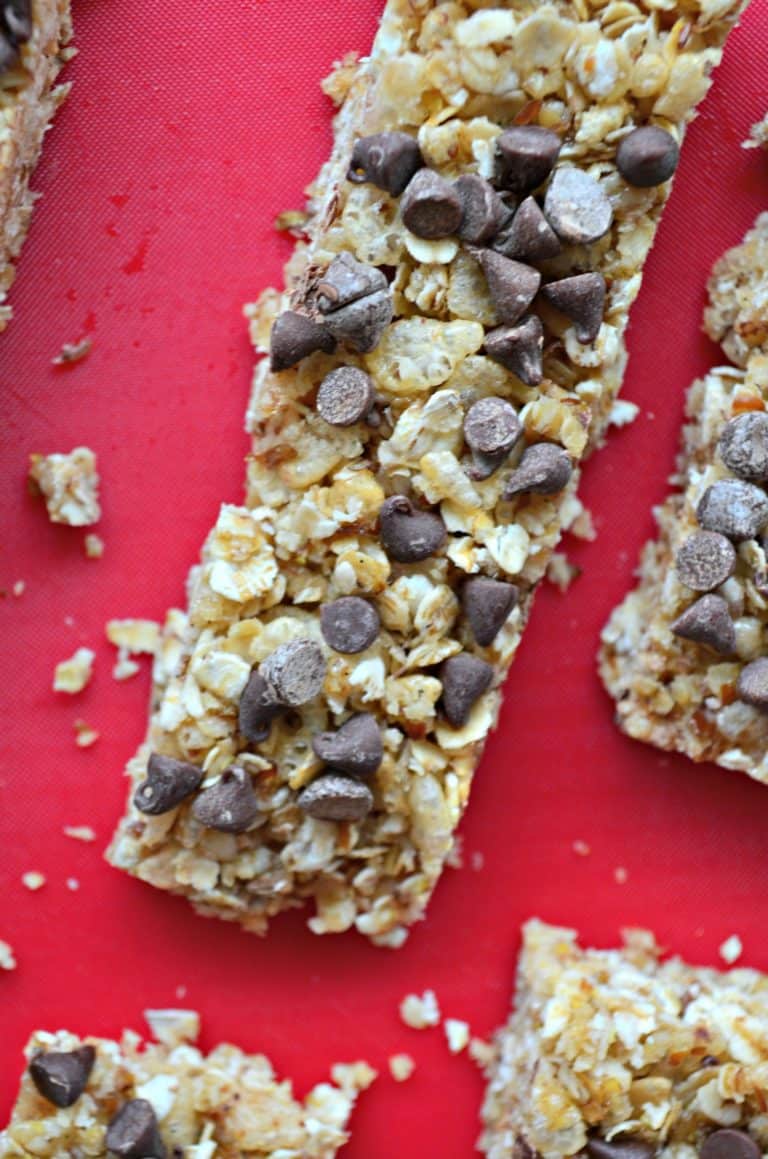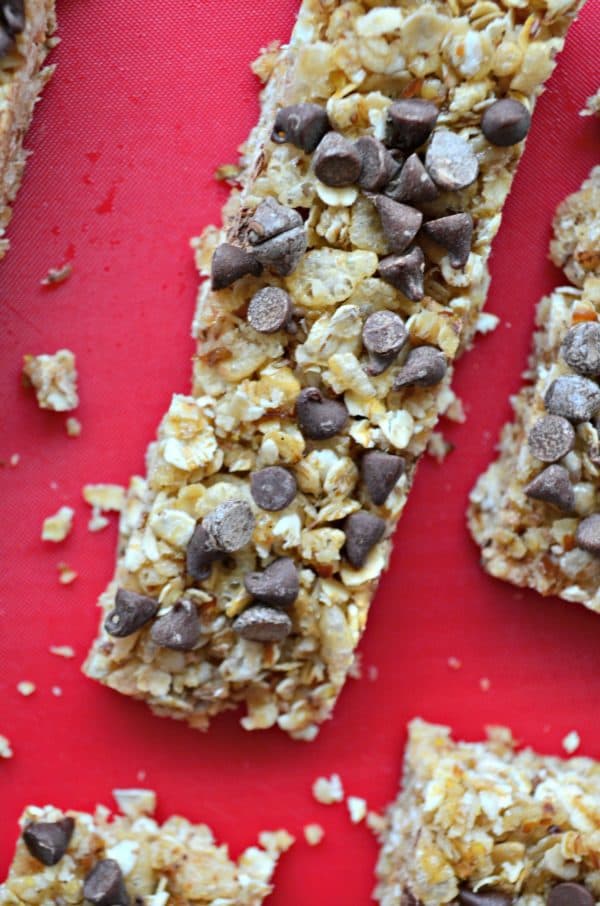 You can also add in sliced almonds or dried fruit to the granola bars. The sky is the limit as to what you can put in them. Since I know my toddler he has quite the texture issues, so I left out the sliced almonds in this batch. But hopefully one day I can make a granola bar chocked full of nuts and dried fruit. And of course a sprinkling of mini chocolate chips for good measure. So be the hero this hot summer (or at the start of the school year) and make my easy recipe for Homemade Chewy Chocolate Chip Granola Bars.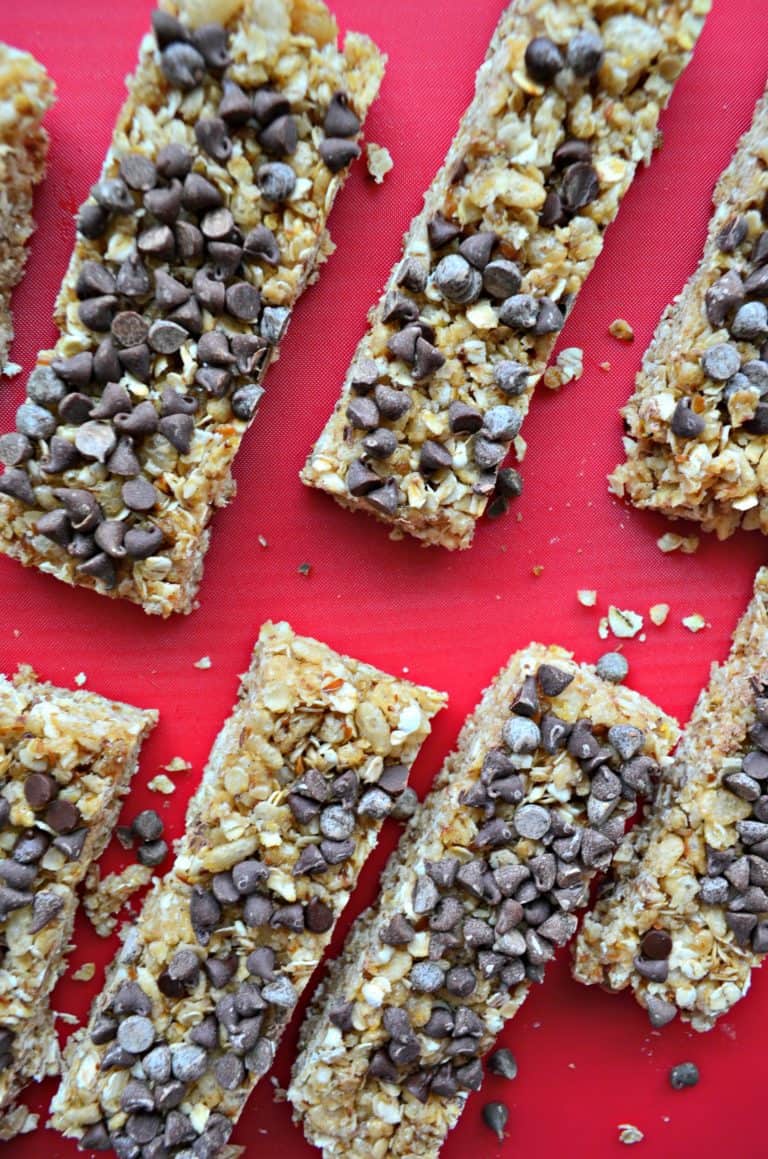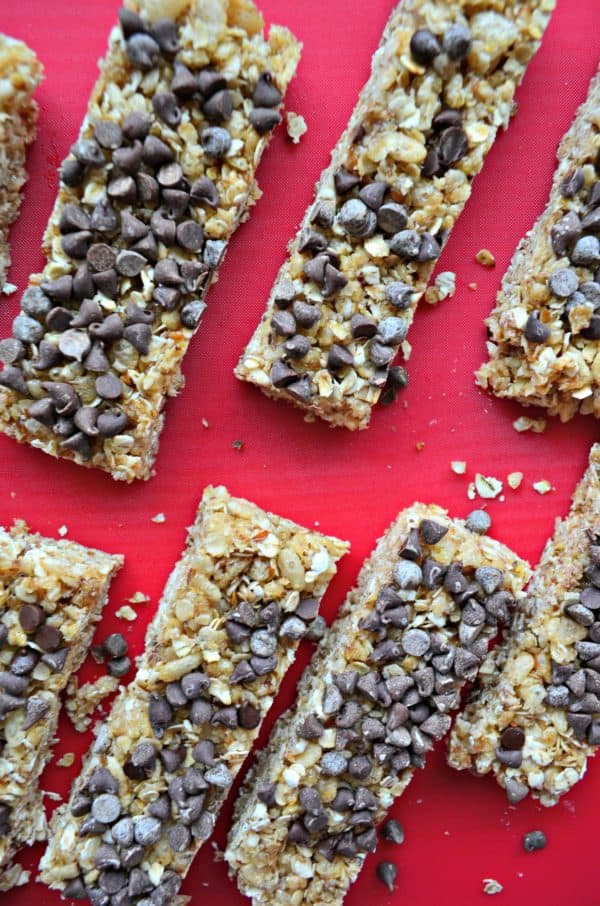 Chewy Chocolate Chip Granola Bars
Yield: 20
Prep Time: 2 hours, 5 minutes
Cook Time: 10 minutes
Total Time: 2 hours, 15 minutes
Ingredients:
6 tablespoons unsalted butter
1/3 cup brown sugar
1/4 cup honey
1 teaspoon vanilla extract
1/8 teaspoon salt
2 cups quick-cooking oats
1-3/4 cups Rice Krispies cereal
1/4 cup Forti-Flax (ground flaxseed)
1/4 cup mini chocolate chips
Directions:
In a large pot, melt the butter, brown sugar and honey on medium-high heat, mixing constantly, until it's boiling. Lower the heat to low and continue to stir for 3-5 minutes until the mixture thickens and has the consistency of caramel sauce. Remove the pan from the heat and stir in the vanilla extract and salt.
Mix in the quick-cooking oats, Rice Krispies Cereal, and ground flaxseed and mix until fully combined.
Line a 9x12-baking pan with aluminum foil. Spray the foil with coconut oil cooking spray. Then, transfer the oat mixture to the pan. Press firmly with a rubber spatula. Sprinkle the mini chocolate chips on top; press down again until the oats are tightly compacted. Cover with plastic wrap and refrigerate for 2 hours.
Once the bars are cool, remove from the refrigerator. Use the foil overhang to transfer the granola bars to a cutting board. Use a sharp knife and cut into 18 rectangles. Wrap each bar with a tiny sheet of parchment paper. Store in an airtight container in the refrigerator.
You can add in 1/2 cup of sliced almonds into the oat mixture or dried fruit of your choice.
Disclaimer: There are affiliate links in this post. As always, all opinions are my own.
Save
Save
Save
Save
Warning
: Use of undefined constant rand - assumed 'rand' (this will throw an Error in a future version of PHP) in
/home/kjasiewicz21/webapps/katiescucina/wp-content/themes/katiescucina/single.php
on line
74
2 Responses to "Chewy Chocolate Chip Granola Bars"
Leave a Comment