Pepperoni Pizza Popcorn
Thank you Barleans and Lékué for sponsoring today's recipe. As always, all opinions are my own!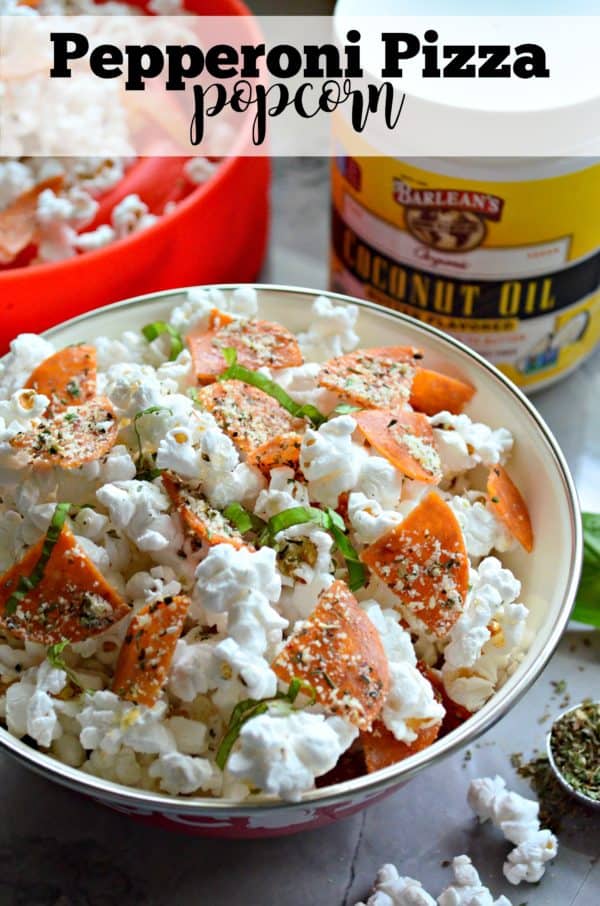 Pepperoni Pizza Popcorn is perfect for the pepperoni pizza lover. A fun twist on a classic food turned into a delicious and easy-to-make popcorn snack!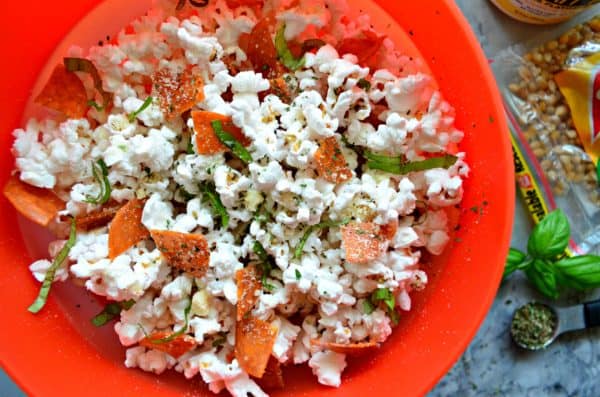 Just about daily we snack on a bowl of popcorn in my home. Until recently, we used the brown bag method. That was until my friends at Barleans sent me a Lékué popcorn maker. Instant. Game. Changer. It's the simplest way to get your popcorn fix and is easily storable in your kitchen or even your office at work. I use this popcorn maker daily and plan to take it on our beach vacation with us this summer! I'm officially popcorn obsessed (again).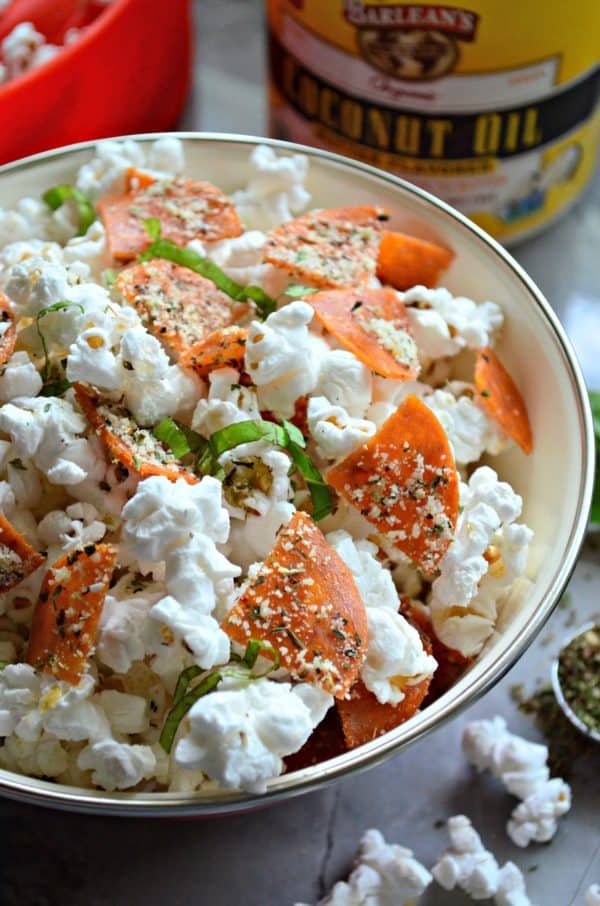 Most days we eat the classic popcorn combo – Barleans butter-flavored coconut oil and a sprinkle of sea salt. Other days, I get crazy and come up with some pretty fun combinations. This pepperoni pizza popcorn was inspired by my pizza loving toddler. Buttery popcorn with Italian spices, Parmesan cheese, slices of pepperoni and a little fresh basil! He asks for this popcorn often.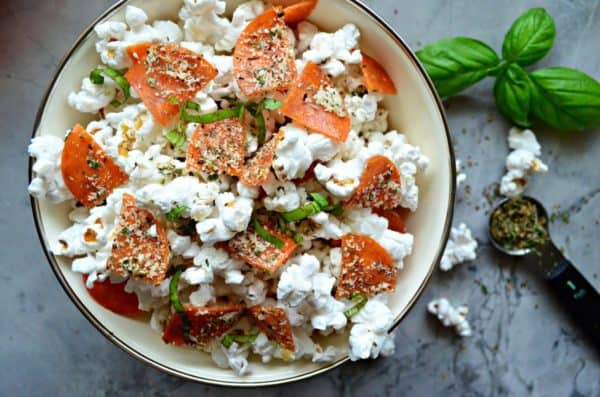 Let's talk a little bit about Barleans Butter Flavored Coconut Oil. I use it on just about everything. It's the perfect butter substitute. And even better when we pop popcorn using it our home smells like the movie theater (but sans all those calories). This make our popcorn obsession even healthier with the Butter Flavored Coconut Oil.  You get the flavor of butter AND the health benefits of coconut oil. Oh, and it's vegan, non-GMO and organic. Of course when you start adding on my crazy toppings it's no longer vegan, but that's okay.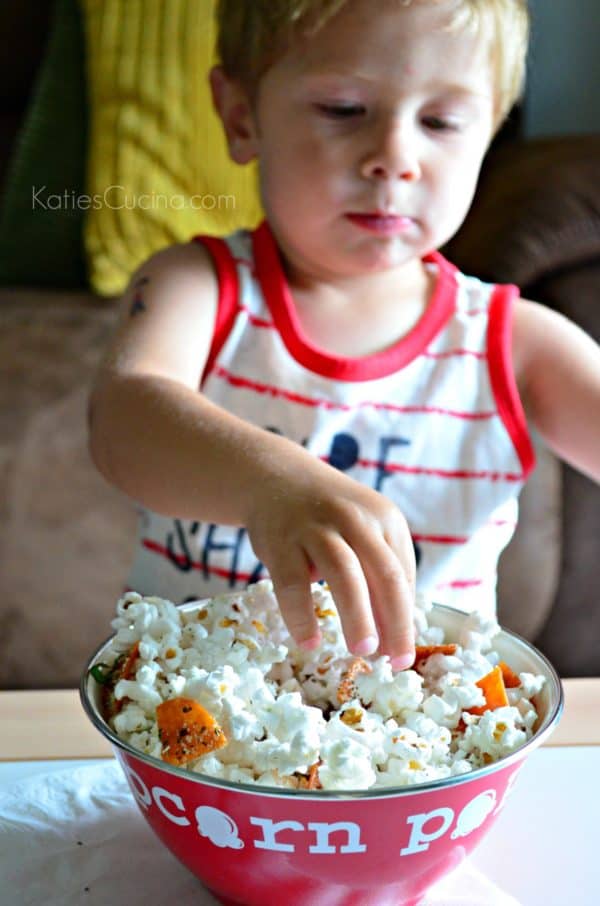 To assemble this pepperoni pizza popcorn you'll simply pour in the popcorn kernels of your choice, followed by a tablespoon of Butter Flavored Coconut Oil and a half teaspoon of salt. Place the lid on and pop in the microwave until the popping starts to slow (between two and three minutes depending on your microwave). At least 90% of the corn kernels will pop! Then once the popcorn is done just sprinkle on the Italian seasonings, grated Parmesan cheese, and chopped pepperoni. For an extra flair you can add in a little fresh basil if you have it on hand! Whether your a kid or an adult–if you love pepperoni pizza you'll love this fun twist on a classic food turned into a delicious popcorn snack!

Looking for more creative popcorn recipes?

Pepperoni Pizza Popcorn
Yield: 4
Prep Time: 5 minutes
Cook Time: 2.5 minutes
Total Time: 7.5 minutes
Ingredients:
Lékué PopCorn Maker
1/4 cup JollyTime Organic Popcorn Kernels
1 tablespoon Barleans Butter Flavored Coconut Oil
1/2 teaspoon salt
1/4 cup grated Parmesan cheese
1/4 teaspoon dried basil
1/4 teaspoon dried parsley
1/4 teaspoon dried oregano
1/8 teaspoon garlic powder
24 slices of pepperoni, diced
6 fresh basil leaves, chiffonade
Directions:
Using a Lékué PopCorn Maker; place 1/4 cup of JollyTime Organic Popcorn Kernels, 1 tablespoon Barleans Butter Flavored Coconut Oil and 1/2 teaspoon salt. Place the lid on the popcorn maker and microwave for 2-3 minutes or until popping slows.
Carefully remove popcorn maker from the microwave. Begin sprinkling on the Parmesan cheese, dried basil, parsley, oregano, and garlic powder. Give the popcorn a good shake then add in the pepperoni slices and fresh basil. Toss again and enjoy immediately.
Save
Save
Save
Save
Warning
: Use of undefined constant rand - assumed 'rand' (this will throw an Error in a future version of PHP) in
/home/kjasiewicz21/webapps/katiescucina/wp-content/themes/katiescucina/single.php
on line
74
One Response to "Pepperoni Pizza Popcorn"
Leave a Comment