Baked Baby Back Ribs are the perfect no-fail way to make fall off the bone pork ribs in about two hours time. This rib recipe will be the most popular and requested entree at your next barbecue!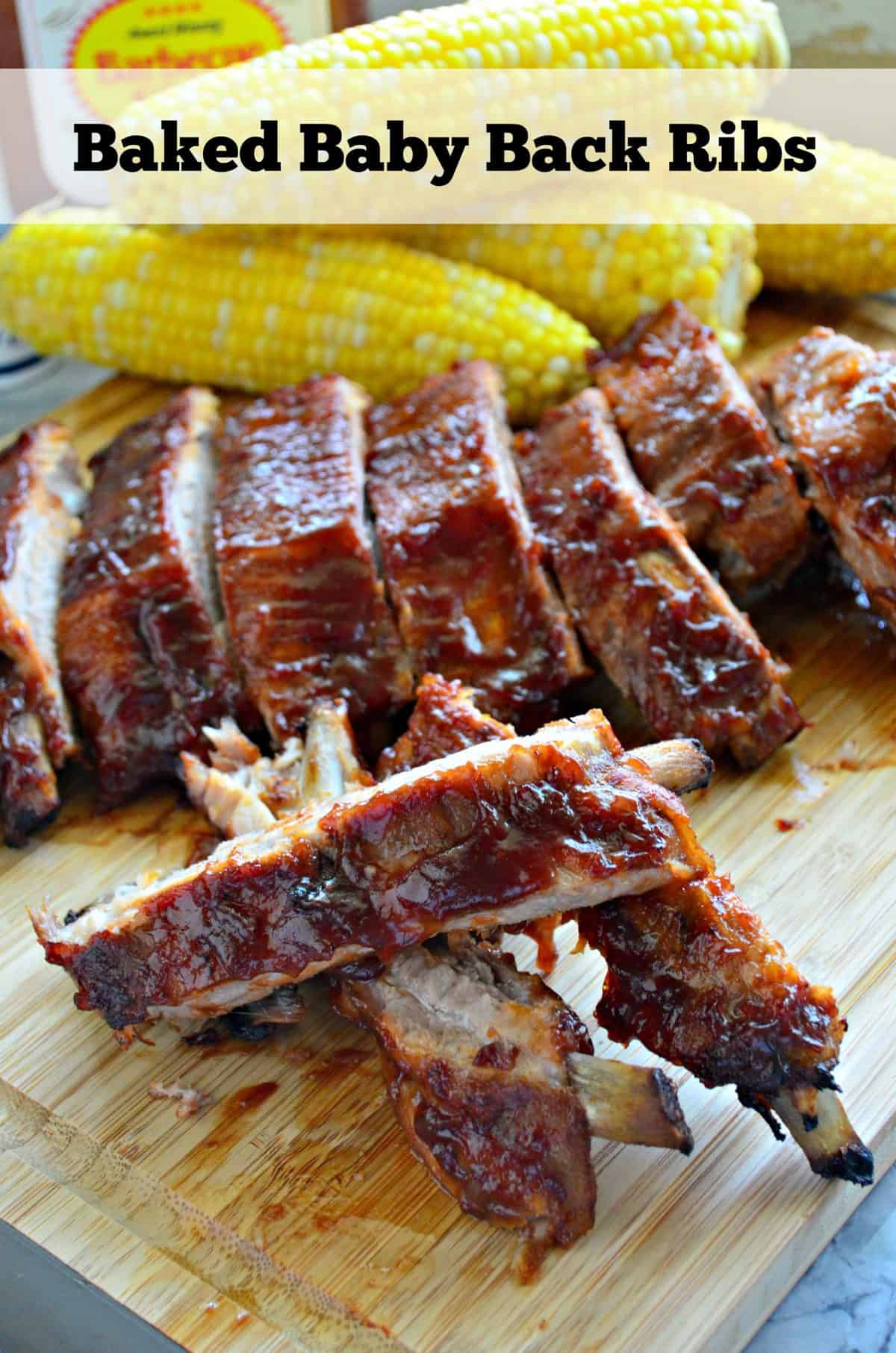 My mom makes the best baby back ribs on the planet. Truth. Whenever we are craving ribs, we call my mom and beg her to make them. My cousin drove up from South Florida over the weekend and we were all craving ribs. Since my mom works on Saturdays it was up to me to bake them. I'll be honest… I've never made ribs until this past weekend. I've always left it up to my mom.
For some reason, baby back ribs have always intimidated me! Yes, little old me… intimidated by cooking ribs! The fear of overcooking and drying the juicy meat out would be the culprit for my fear. After making my mom's Baked Baby Back Ribs I no longer fear the thought of making pork ribs. They are so easy to make, and actually makes me laugh in hindsight now after making them. They pair perfectly with baked beans, potato salad, and my mandarin orange coleslaw.
Jump to:
Why this Recipe Works
Convenience – Using the oven to cook baby back ribs offers convenience and simplicity. Unlike grilling, which requires tending to an open flame and monitoring the heat, oven cooking allows you to set the temperature and time and then let the ribs cook without constant attention. You can also easily control the heat distribution in the oven, ensuring even cooking throughout. This convenience is particularly beneficial when you have other tasks to attend to or want to prepare a meal without having to constantly monitor the grill.
Tender and Moist Results – Cooking baby back ribs in the oven can yield exceptionally tender and moist results. The oven's controlled heat helps to slowly cook the ribs, allowing the connective tissues to break down and the flavors to develop. You can also wrap the ribs in foil or place them in a covered baking dish, creating a sealed environment that helps retain moisture and infuse the meat with flavor. The result is succulent, fall-off-the-bone ribs that are sure to impress your guests or satisfy your own cravings.
Consistency – The oven provides a consistent and reliable cooking environment, ensuring that your baby back ribs are cooked to perfection every time. You can experiment with different marinades, rubs, and sauces, knowing that the oven's even heat distribution will cook the ribs uniformly.
Versatility – This rib recipe is very versatile. You have the flexibility to adjust cooking times and temperatures based on personal preferences or recipe requirements. Whether you prefer your ribs with a caramelized glaze or a smoky bark, the oven allows you to achieve the desired result consistently.
How to Wrap Baby Backs Ribs in Foil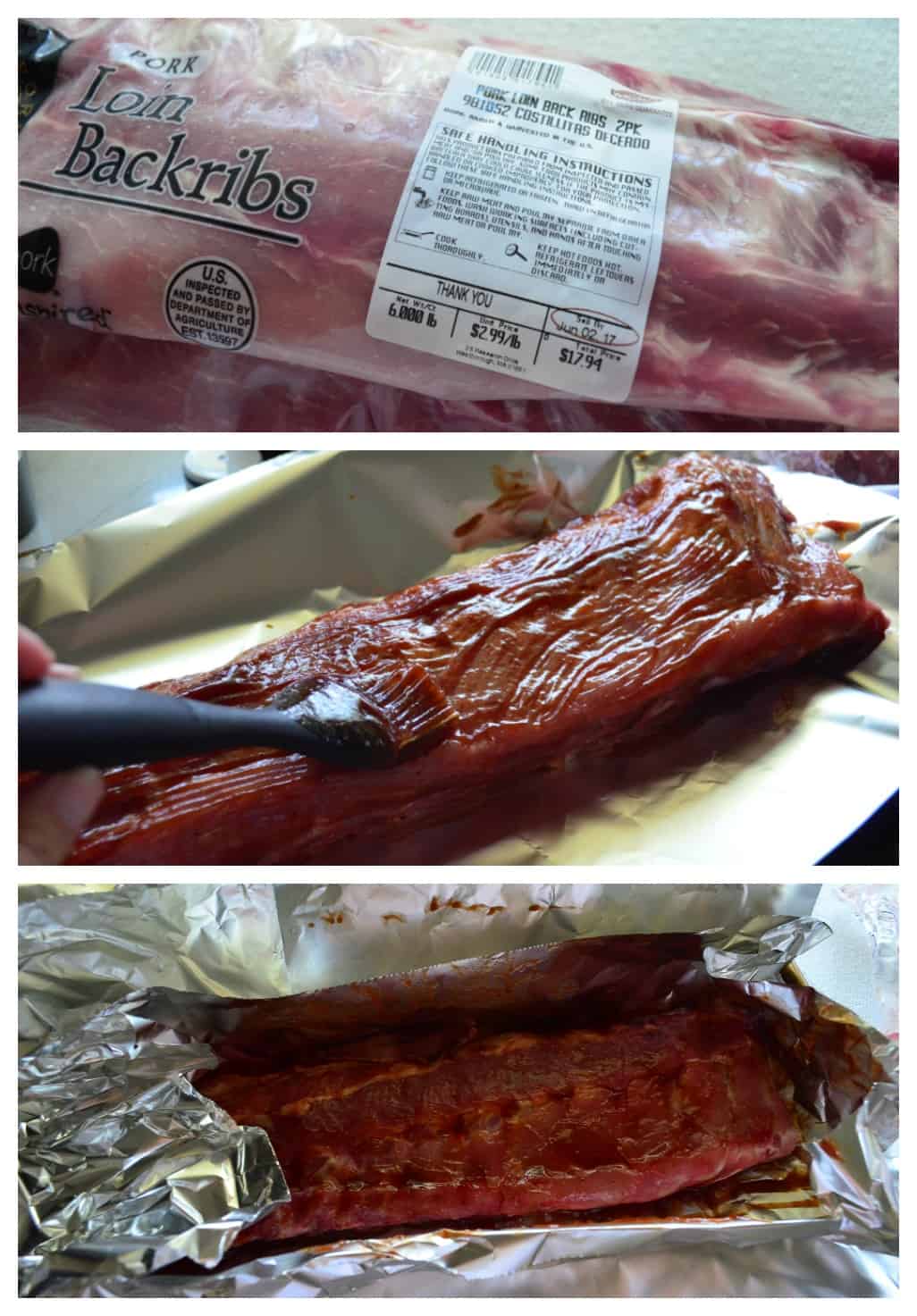 I place two sheets of foil vertically on the horizontal sheet pan and then a long sheet of aluminum foil down the length of the baking sheet. You'll want to pat the slab of ribs dry with a paper towel. Then place barbecue sauce on one side and transfer rib side down to the aluminum foil. Then brush on additional barbecue sauce on the top of the ribs.
Now it's time to wrap them. I wrap the long piece first folding the sides of the foil in first (as pictured above) and then folding over the foil. Then to ensure they are wrapped tight with no ribs exposed I wrap the other two pieces around the ribs. Creating the ultimate foil pack to ensure no meat is exposed to the oven. In the oven they go to bake for a good 90 minutes.
You'll want to add additional barbecue sauce during the cooking process and let the ribs bake uncovered for the last 45 minutes of the cooking process. That way the skin will crisp up.
This is why I like BJ's Wholesale Club. I can get the extra-large bottles of barbecue sauce and don't feel guilty using a whole 40 oz. bottle of sauce on racks of ribs. I typically have a little leftover to serve on the side with the ribs for those who like it really saucy!
How to cook ribs in the oven
The secret to these fall off the bone ribs is a simple technique of baking. First, make sure you have a baking sheet that is long enough to fit the ribs. You want to make sure you have a little extra room in the even that your ribs leak the baking sheet will catch the liquid. I like to triple foil wrap my ribs.
Best place to buy baby back ribs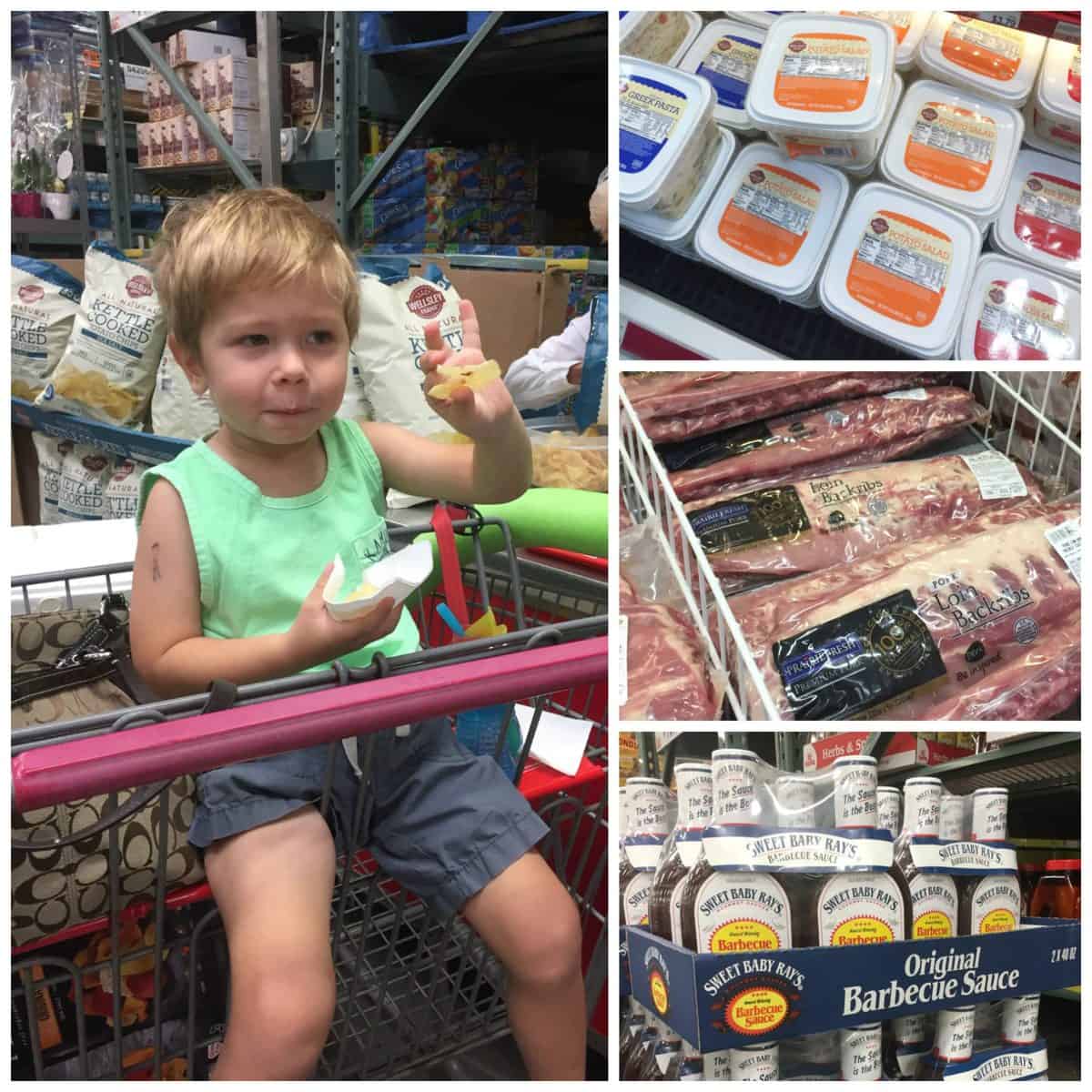 Since it was Memorial Day weekend and we had family in town (and friends who came over) I headed to my local wholesale club to grab everything I needed for dinner plus easy lunch supplies and pool supplies. I love that it's a one-stop shop and I can get everything I need!
I'm a big advocated of whole sale clubs (the savings can be incredible), and clearly my three year old has been shopping at them since he was born. The kid can spot a sample cart from a mile away!
BJ's Wholesale Club – You can use manufacture coupons plus the coupons BJ's Wholesale Club provides too. So that means you can double your savings. You can receive a free day pass to shop, too. BJ's oftens offers a free 3-month trial membership.
Sam's Wholesale Club – Most will let you get a free day pass to shop and see if you like what they have before committing. I find the ribs in the meat section from time to time.
GSC Food Services – This is a wholesale like shopping but without the membership.
Costco Wholesale Club – I don't always find baby back ribs at my Costco, but when I do I make sure to stock up!
I got two slabs for $16! That's the best deal around town. Even my mom said I got the baby back ribs for an incredible price. She typically buys her baby back ribs at the grocery store when they go buy-one-get-one free.
FAQs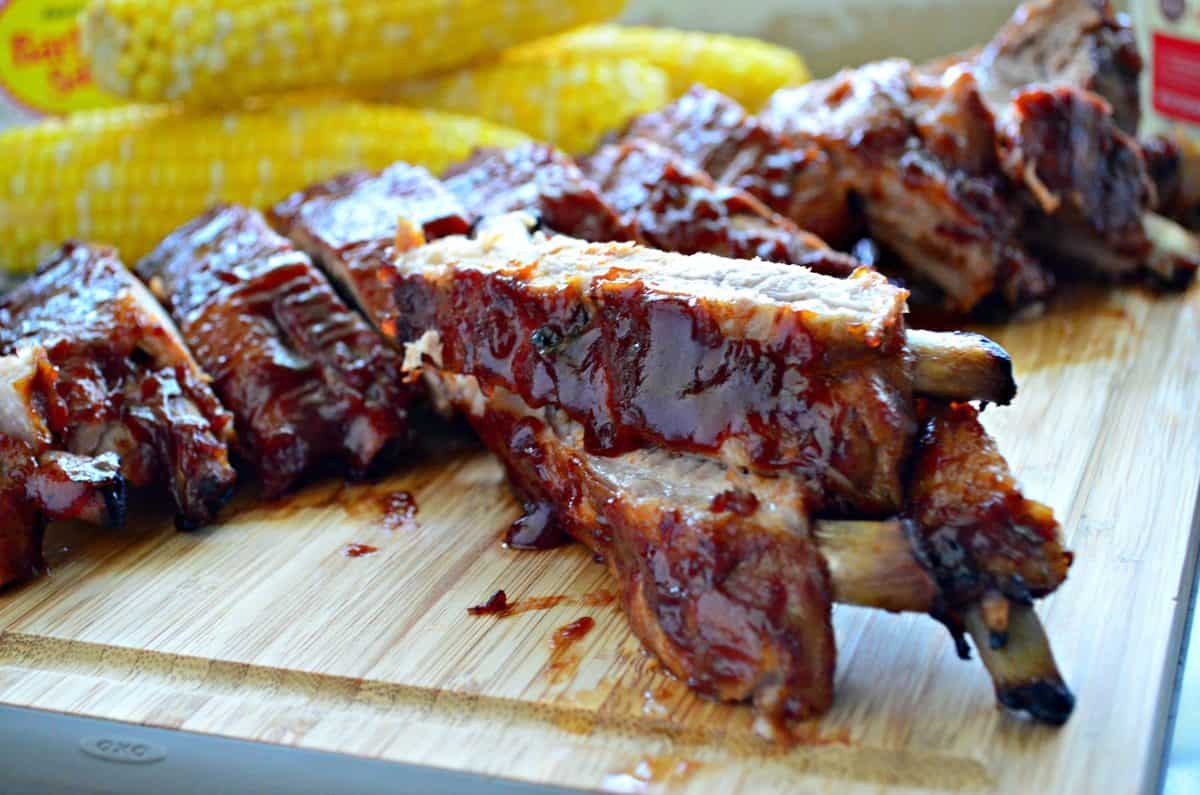 How many ribs should I make per person?
I would recommend ¾ pound to 1 pound of pork ribs per person.
What is another name for baby back ribs?
Baby Back Ribs are also called loin ribs, back ribs or riblets. These ribs are typically smaller and size and easy to hold.
Are pork or beef ribs better?
This is all preference. As far as cost pork ribs are cheaper and much easier to find.
Is Sweet Baby Ray's Original gluten free?
Yes, Sweet Baby Ray's barbecue sauce is gluten free. It's also does not contain egg, soy, dairy, fish, shell fish, peanut, or tree nuts. The perfect barbecue sauce for anyone who suffers from an allergy. Like anything, always check the label since ingredients and recipes could possibly change.
How long does it take to cook ribs at 350?
My rib recipes calls for the ribs to cook at 350 degrees for 2 hours. The first 90 minutes they are wrapped in foil, and the last 40-45 minutes the foil is removed so the skin can begin to crisp up.
How do you remove the membrane from ribs?
You should always take the time before cooking the baby back ribs and remove the tough membrane. This is the thin layer of silver skin attached to the bone (underneath the bone). Leaving the membrane attached to your ribs will result in less-flavorful ribs and a tough texture, and will prevent the ribs from fully absorbing the smoky flavor.

Unlike other cartilage and fat, the membrane does not soften when it's cooked. It just comes out tough and chewy. To find the membrane, flip the ribs over so that they are curved toward you. A thin, silver/white tissue is attached. This is what you want to remove. Pull up the corner of the membrane on one of the edges. Then slide a knife underneath it to loosen it. Then, simply pull the membrane off with your hands.

Don't worry about pulling off the wrong thing. The membrane is the only part of the ribs you should be able to easily separate from the ribs.
Tips & Tricks
Here are all my tips and tricks I've learned when making baby back ribs in the oven.
Barbecue Sauce – I love Sweet Baby Ray's barbecue sauce, but you can use whatever barbecue sauce you love.
Ribs – I like to make three large slabs that equals about 8.5 pounds.
Grilling – You can add the ribs on the grill during the last 45 minutes of cook for a crispy grilled taste. Just make sure you grease the grill grates well, and grill on low or even indirect heat to prevent burning.
Yield – I like to serve 1 pound of ribs per person that's about ⅓ rack of ribs.
Side Dishes for BBQ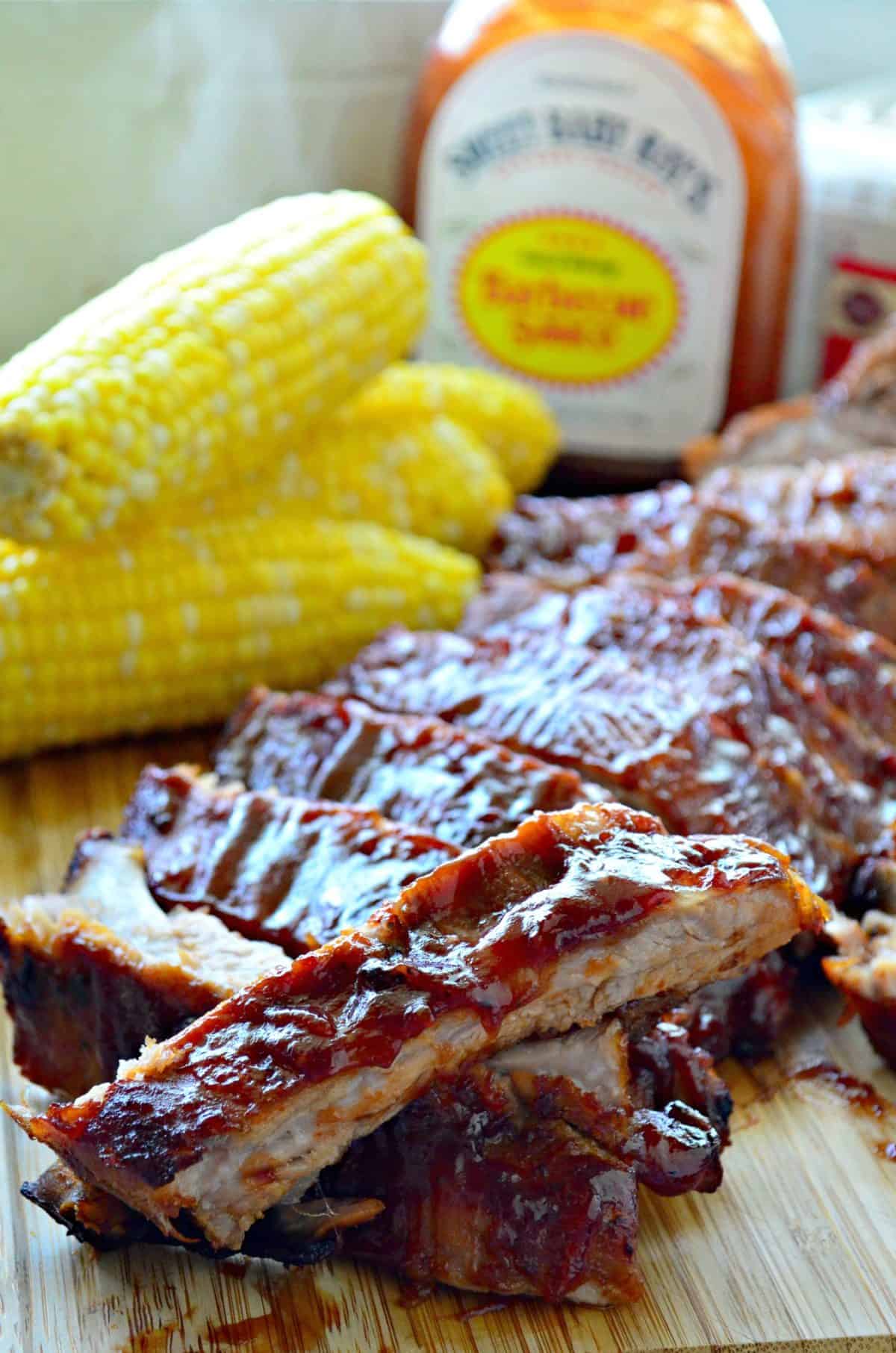 Here are a few of my favorite side dishes that are perfect for a barbecue and pair well with ribs.
If you've ever been intimidated by cooking ribs–fear no more. By baking the ribs in the oven it's a no-fail way to soon be known by friends and family as making the best ribs ever!
If you make my oven baked ribs recipe, I would be honored and love for you to take the time to leave a star rating and comment! I spend hours developing and testing these recipes, and always love to hear feedback and user experience!
Don't forget to FOLLOW ME on Facebook, Pinterest, and Instagram, and subscribe to my email list!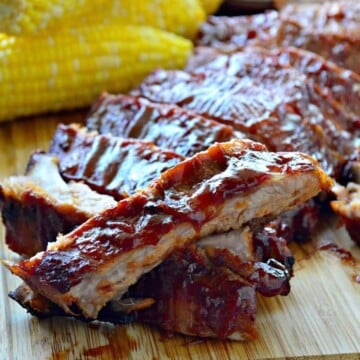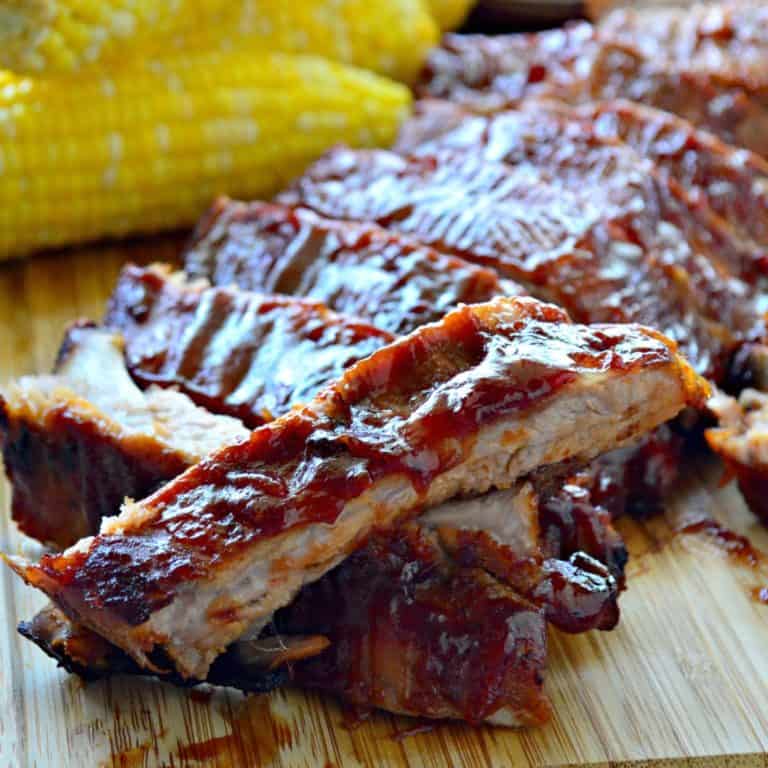 Baked Baby Back Ribs
Baked Baby Back Ribs are the perfect no-fail way to make fall off the bone pork ribs in about two hours time. This rib recipe will be the most popular and requested recipe at your next barbecue!
Print
Pin
Rate
Ingredients
Cooking Spray

8.5

pounds

Baby Back Ribs

3 large slabs

40

ounces

barbecue sauce
Instructions
Preheat oven to 350 degrees Fahrenheit.

Spray 2-3 large rimmed backing sheets with cooking spray. Place two short pieces of foil on top of the baking sheet followed by one long piece on top of the two short pieces (see photo above for wrapping reference). Remove baby back ribs from packaging. Pat dry with a paper towel, then rub with your favorite barbecue sauce on both sides. Tightly fold foil on top of ribs, folding in the ends. Then place on the baking sheet. Repeat until all the racks are slathered with barbecue sauce and packaged.

Bake for 90 minutes. Half way through the cooking time, turn the baking sheets. Remove the baby back ribs from the oven after the 90 minutes.

Brush additional sauce on the ribs and bake for an additional 30 minutes uncovered.

Flip the ribs, brush more barbecue sauce on and cook for an additional 15 minutes.

Remove the ribs from the oven, cut the ribs, and coat with additional barbecue sauce. Enjoy immediately.
Notes
Barbecue Sauce – I love Sweet Baby Ray's barbecue sauce, but you can use whatever barbecue sauce you love.
Ribs – I like to make three large slabs that equals about 8.5 pounds.
Yield – I like to serve 1 pound of ribs per person that's about ⅓ rack of ribs.
Nutrition
Serving:
1
lb
|
Calories:
1323
kcal
|
Carbohydrates:
58
g
|
Protein:
93
g
|
Fat:
80
g
|
Saturated Fat:
28
g
|
Trans Fat:
1
g
|
Cholesterol:
333
mg
|
Sodium:
1875
mg
|
Potassium:
1519
mg
|
Fiber:
1
g
|
Sugar:
47
g
|
Vitamin A:
424
IU
|
Vitamin C:
1
mg
|
Calcium:
196
mg
|
Iron:
5
mg