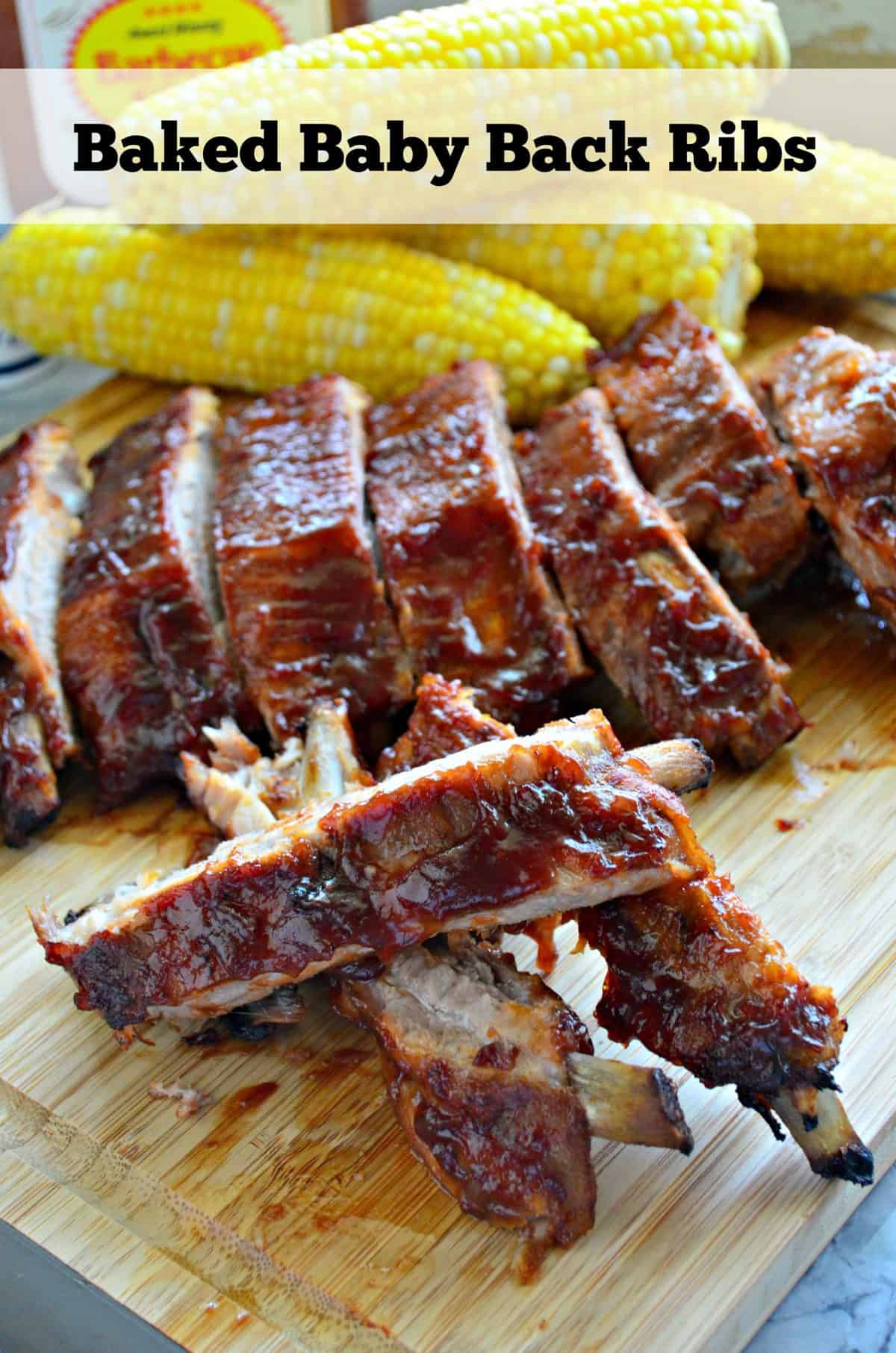 My mom makes the best baby back ribs on the planet. Truth. Whenever we are craving ribs, we call my mom and beg her to make them. My cousin drove up from South Florida over the weekend and we were all craving ribs. Since my mom works on Saturdays it was up to me to bake them. I'll be honest… I've never made ribs until this past weekend. I've always left it up to my mom. For some reason, baby back ribs have always intimidated me! Yes, little old me… intimidated by cooking ribs! The fear of overcooking and drying the juicy meat out would be the culprit for my fear.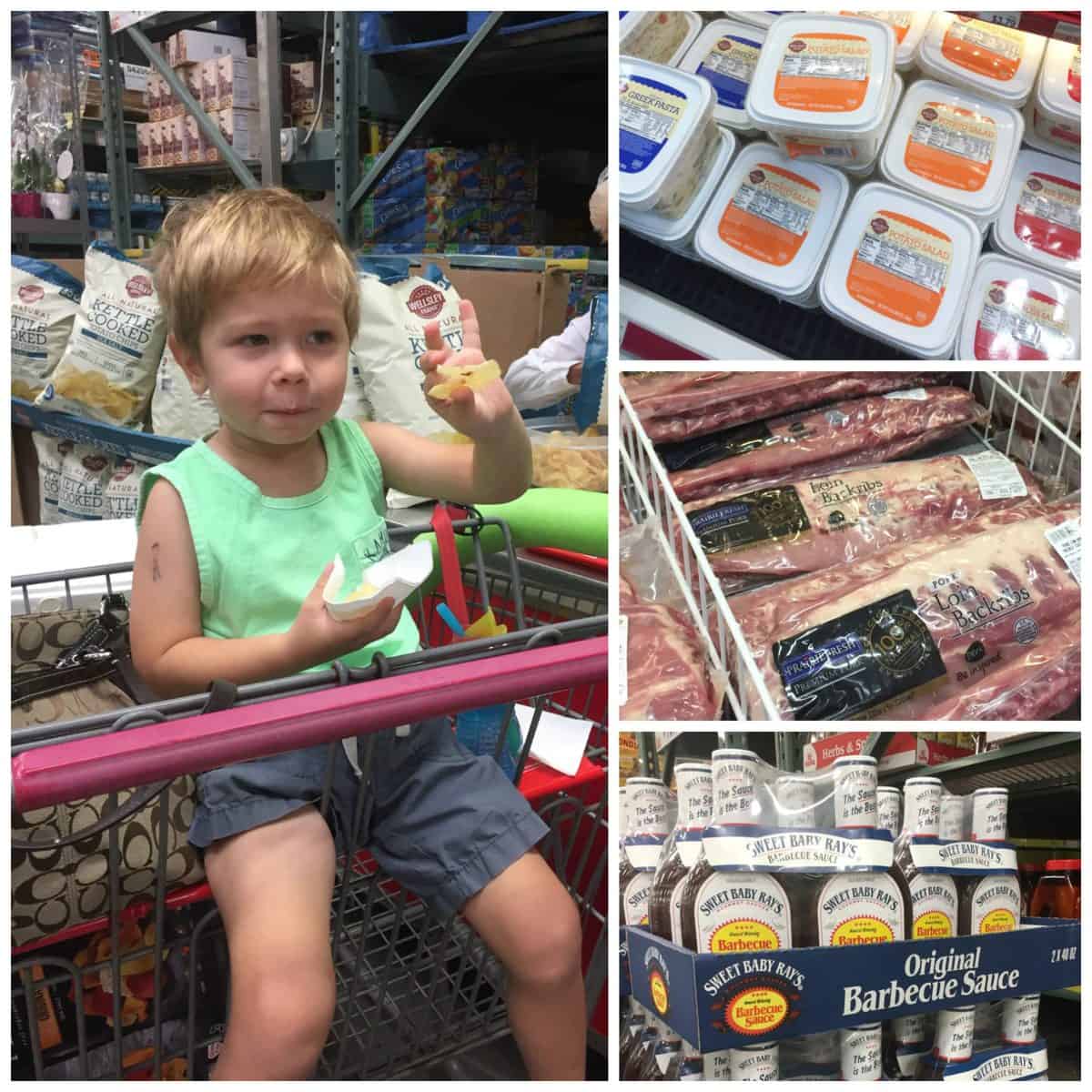 Since it was Memorial Day weekend and we had family in town (and friends who came over) I headed to my local Bj's Wholesale club to grab everything I needed for dinner plus easy lunch supplies and pool supplies. I love that it's a one-stop shop and I can get everything I need! I'm a big advocated of whole sale clubs (the savings can be incredible), and clearly my three year old has been shopping at them since he was born. The kid can spot a sample cart from a mile away! I also like that you can get clothes and toys at BJ's Wholesale Club too! Oh and did I mention you can use manufacture coupons plus the coupons BJ's Wholesale Club provides too! So that means you can double your savings–perfect for items like diapers and other items you frequently find coupons of!
Not a member? No worries–you can get a free 3-month trial membership, so you can test it out for yourself. After your first visit, you'll be hooked on all the money-saving offers!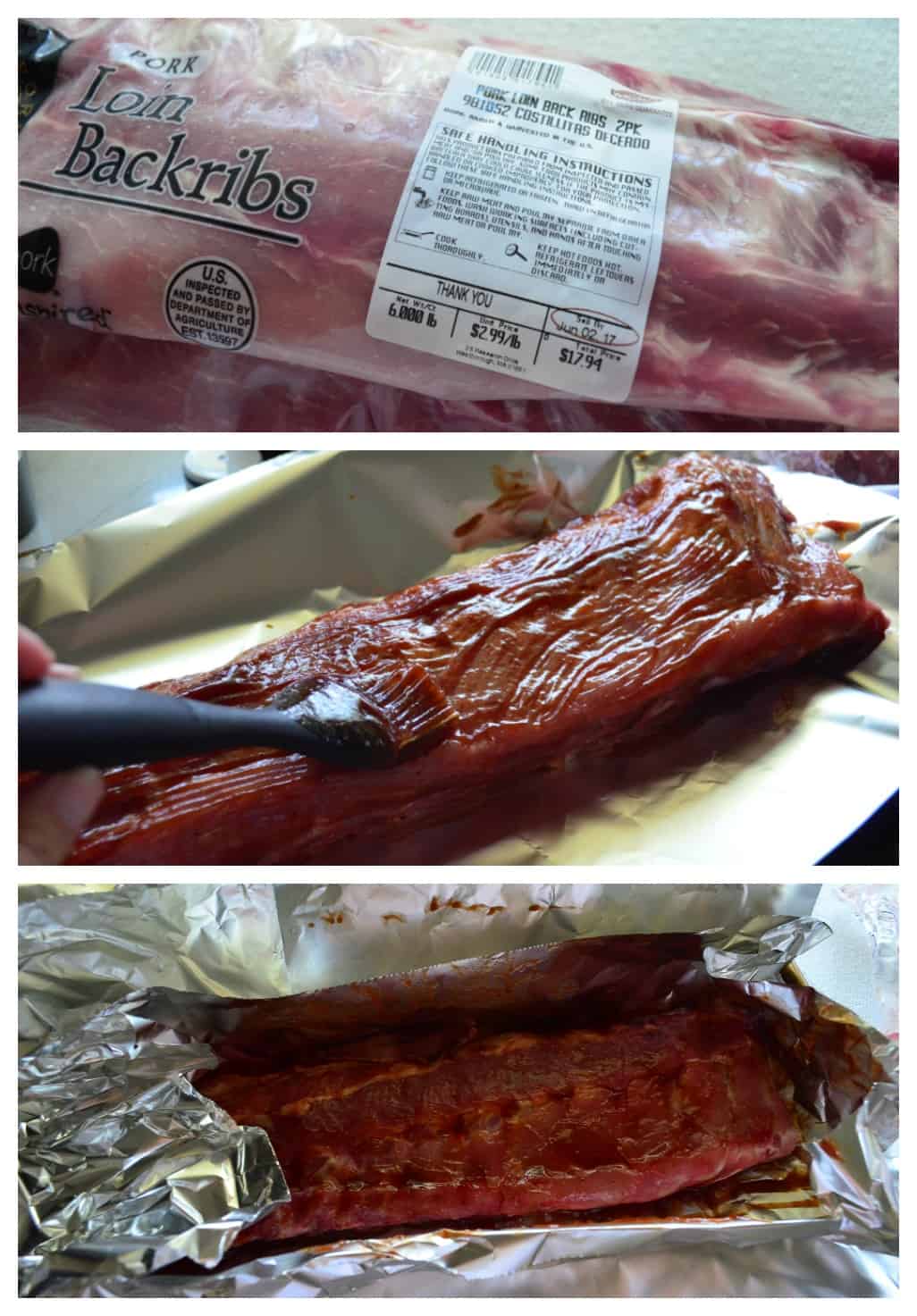 Enough about my love affair with wholesale club shopping. Let's talk about these ribs! I got two slabs for $16! That's the best deal around town. Even my mom said I got the baby back ribs for an incredible price. The secret to these fall off the bone ribs is a simple technique of baking. First, make sure you have a baking sheet that is long enough to fit the ribs. You want to make sure you have a little extra room in the even that your ribs leak the baking sheet will catch the liquid. I like to triple foil wrap my ribs. I place two sheets of foil vertically on the horizontal sheet pan and then a long sheet of aluminum foil down the length of the baking sheet. You'll want to pat the slab of ribs dry with a paper towel. Then place barbecue sauce on one side and transfer rib side down to the aluminum foil. Then brush on additional barbecue sauce on the top of the ribs. Now it's time to wrap them. I wrap the long piece first folding the sides of the foil in first (as pictured above) and then folding over the foil. Then to ensure they are wrapped tight with no ribs exposed I wrap the other two pieces around the ribs. Creating the ultimate foil pack to ensure no meat is exposed to the oven. In the oven they go to bake for a good 90 minutes.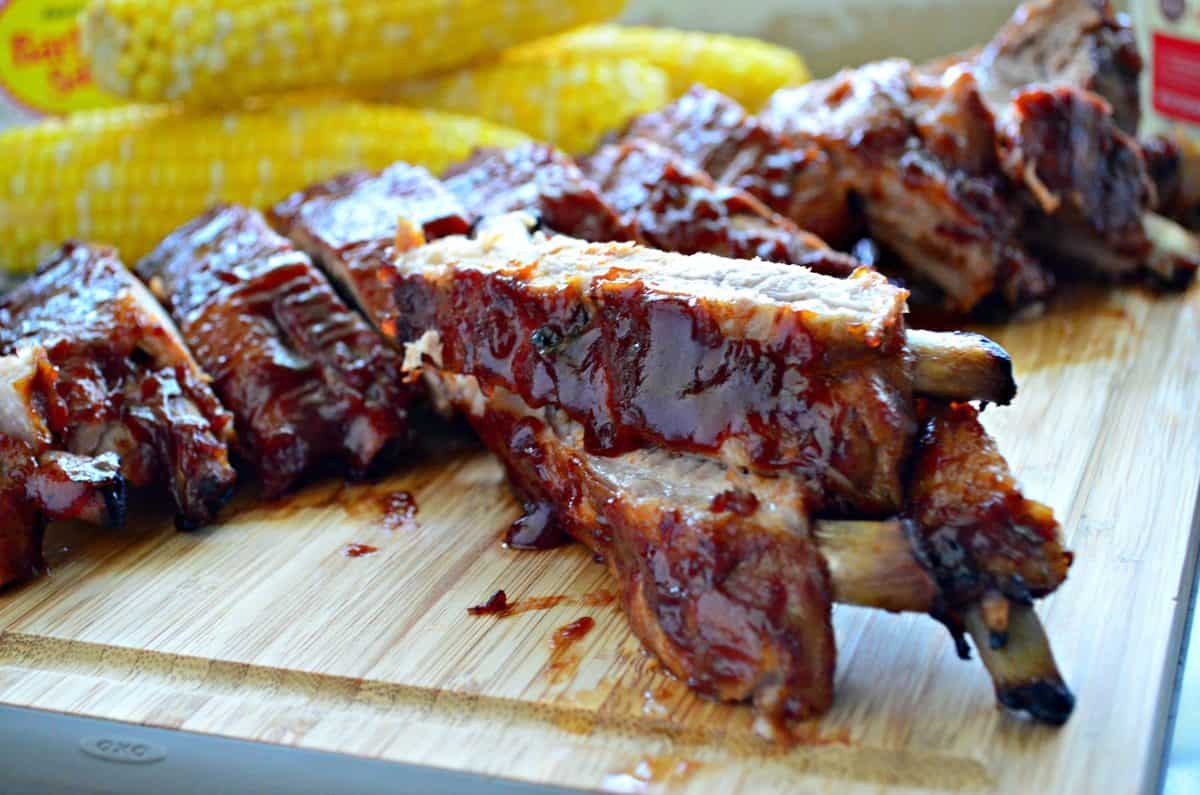 You'll want to add additional barbecue sauce during the cooking process and let the ribs bake uncovered for the last 45 minutes of the cooking process. That way the skin will crisp up. This is why I like BJ's Wholesale Club I can get the extra-large bottles of barbecue sauce and don't feel guilty using a whole 40 oz. bottle of sauce on racks of ribs! I typically have a little leftover to serve on the side with the ribs for those who like it really saucy!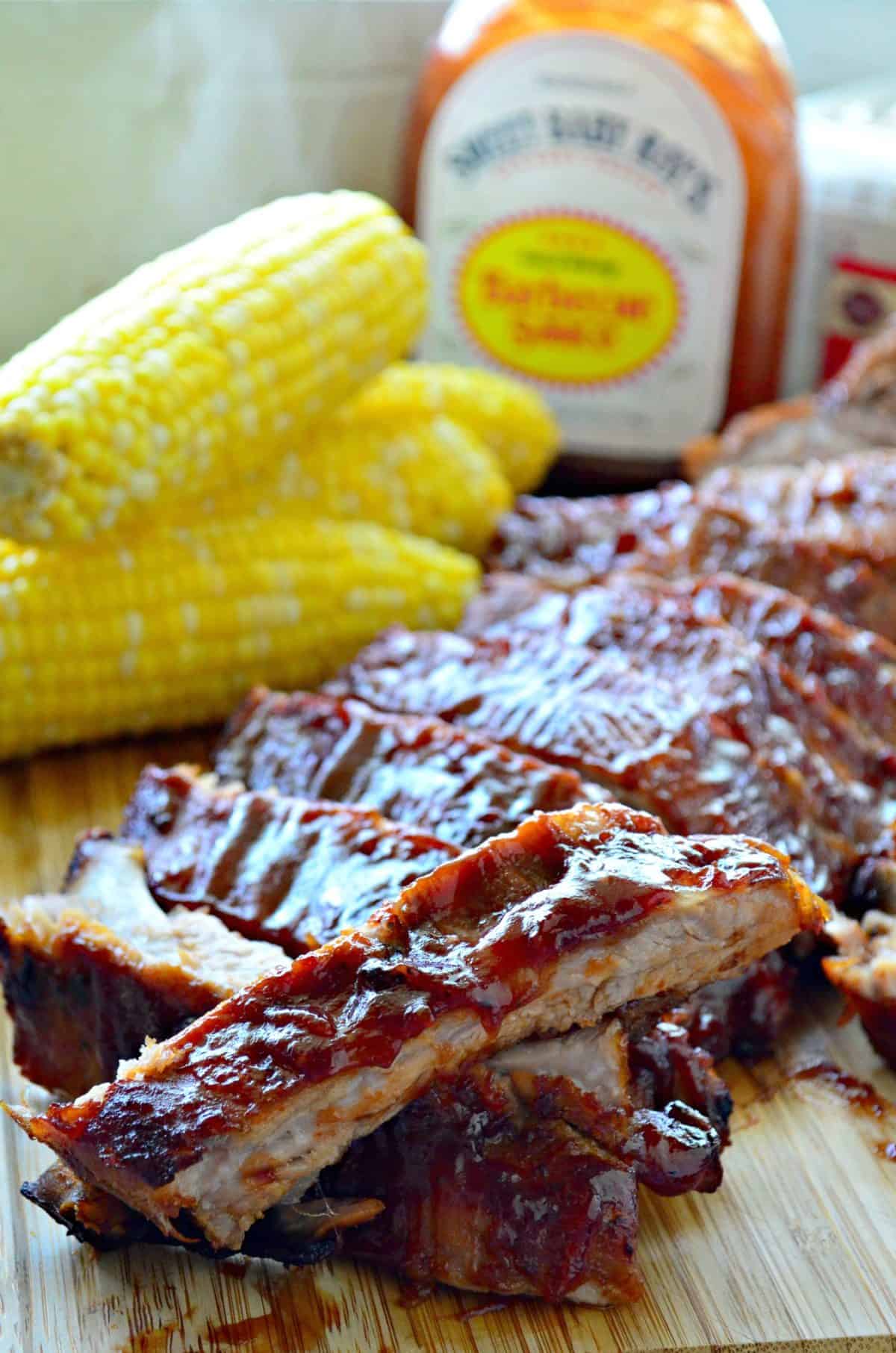 Of course no meal is not complete without all the sides. I picked up corn on the cob, coleslaw, and potato salad at BJ's Whoelsale Club making it an easy dinner for me to pull off for a crowd of people! If you've ever been intimidated by cooking ribs–fear no more. By baking the ribs in the oven it's a no-fail way to soon be known by friends and family as making the best ribs ever!
Save
Save
Save
Save
Save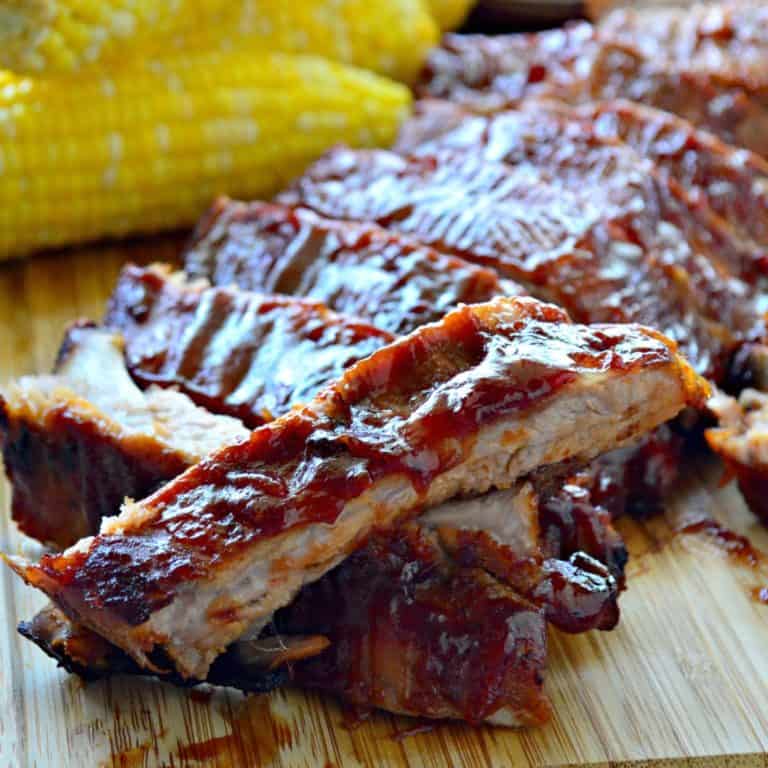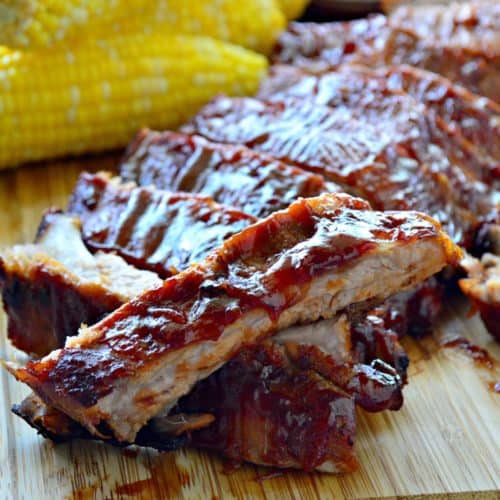 Baked Baby Back Ribs
By baking the ribs in the oven it's a no-fail way to soon be known by friends and family as making the best ribs ever!
Print
Pin
Rate
Ingredients
Cooking Spray

8.5

lbs.

Baby Back Ribs

3 large slabs

40

oz.

barbecue sauce

I suggest Sweet Baby Rays
Instructions
Preheat oven to 350 degrees Fahrenheit.

Spray 2-3 large rimmed backing sheets with cooking spray. Place two short pieces of foil on top of the baking sheet followed by one long piece on top of the two short pieces (see photo above for wrapping reference). Remove baby back ribs from packaging. Pat dry with a paper towel, then rub with your favorite barbecue sauce on both sides. Tightly fold foil on top of ribs, folding in the ends. Then place on the baking sheet. Repeat until all the racks are slathered with barbecue sauce and packaged.

Bake for 90 minutes. Half way through the cooking time, turn the baking sheets. Remove the baby back ribs from the oven after the 90 minutes.

Brush additional sauce on the ribs and bake for an additional 30 minutes uncovered, flip the ribs, brush more barbecue sauce on and cook for an additional 15 minutes. Remove the ribs from the oven, cut the ribs, and coat with additional barbecue sauce. Enjoy immediately.
Nutrition
Calories:
1323
kcal
|
Carbohydrates:
58
g
|
Protein:
93
g
|
Fat:
80
g
|
Saturated Fat:
28
g
|
Cholesterol:
333
mg
|
Sodium:
1875
mg
|
Potassium:
1519
mg
|
Fiber:
1
g
|
Sugar:
47
g
|
Vitamin A:
424
IU
|
Vitamin C:
1
mg
|
Calcium:
196
mg
|
Iron:
5
mg