slow cooker Black Eye PeasCelebrate a New Year with a home cooked southern meal including these easy to make slow cooker Black Eye Peas. Let the slow cooker do all the work!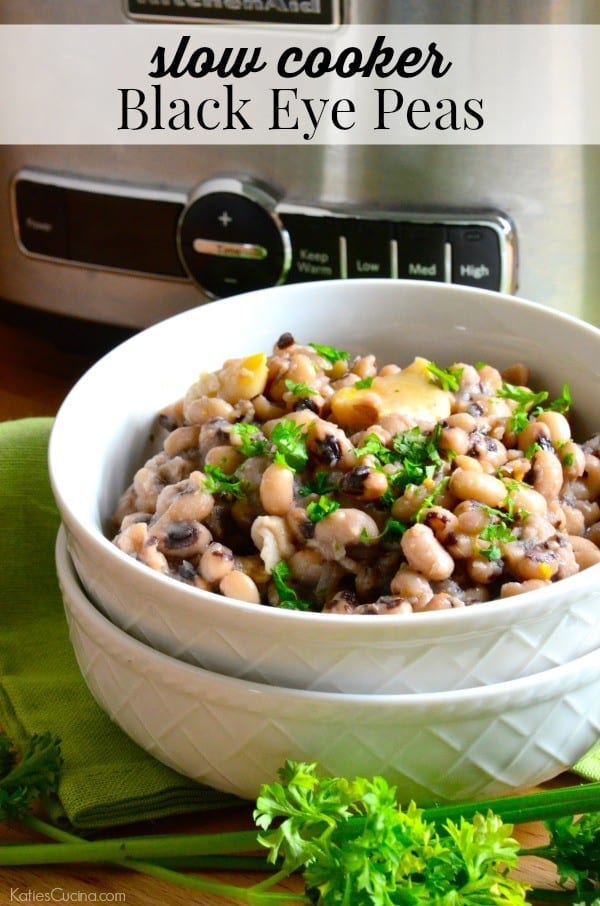 Do you make Black Eye Peas on New Years Day? If so, this recipe for my Slow Cooker Black Eye Peas is a must to make!
If you're from the south you might be familiar with this New Years day Southern tradition. You'll find most homes in the south dining on a dinner that consist of ham (or pork roast), black eye peas, greens, and cornbread. Each dish is symbolic in hopes to bring you good luck and fortune for the new year. I grew up in the north and never knew about this tradition until I moved to the south some 17+ years ago. You would never know that my husband and I grew up in the north with all the southern food we love to dine on from hot pimento cheese dip to collard greens, cornbread, and cheesy shrimp and grits!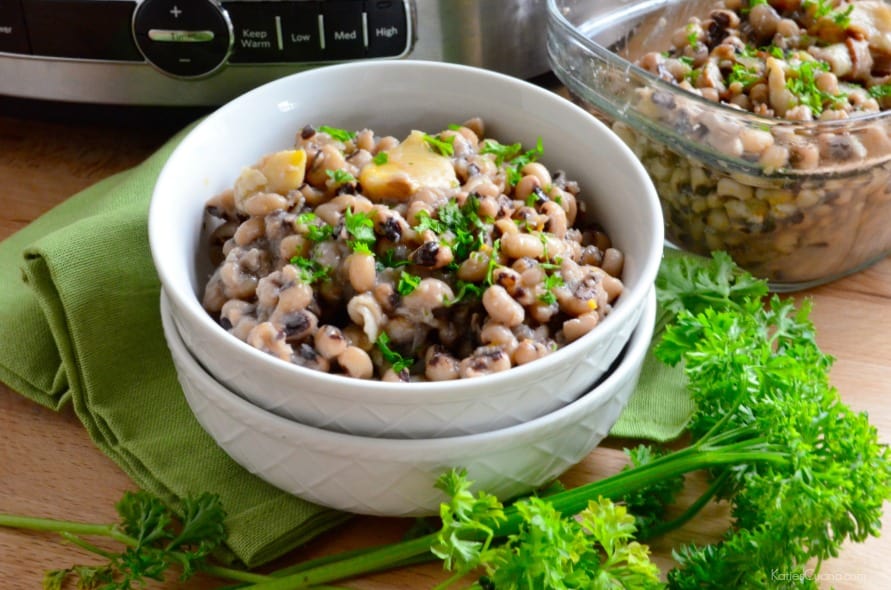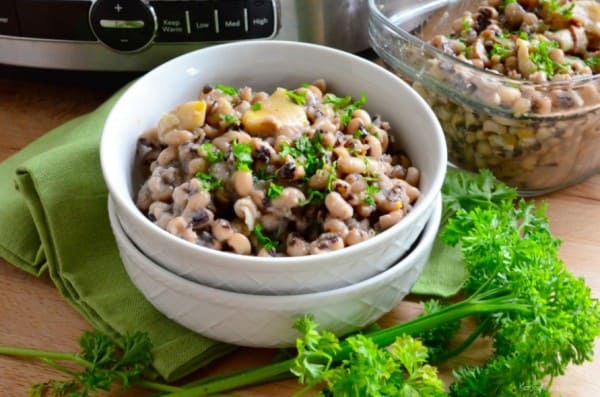 Is it easy to cook black eyed peas in the slow cooker?
I love when I can simplify a recipe and use my slow cooker. I let it do all the cooking for me. I've made this recipe countless times. I prefer to cook the black eyed peas in the slow cooker instead of the stove top!
When I would cook them on the stove top I found that I couldn't leave my house to run errands (of course minimal errand running is normally done on New Years day). I also had the issue that the water would dry up or I would have beans burnt on the bottom of the pot.
One day I got the hair brain idea to try cooking my black eye peas in the slow cooker. And boy did it work… it worked like a gem and now I won't cook them any other way! This is now the only way I ever cook black eyed peas!
How long do Black Eyed Peas last in the fridge?
You might be wondering How long do Black Eyed Peas last in the fridge? Like any leftovers you should only store them in an air-tight container in the refrigerator for 3-5 days max.
Can you freeze cooked Black Eyed Peas?
You can freeze your leftover cooked black eyed peas. I like to freeze them within 3 days of cooking. I'll place into freezer bags, laying them flat in the freezer. Make sure you label your bags with the recipe title and date they were made. You can enjoy them up to 6 months after you froze them.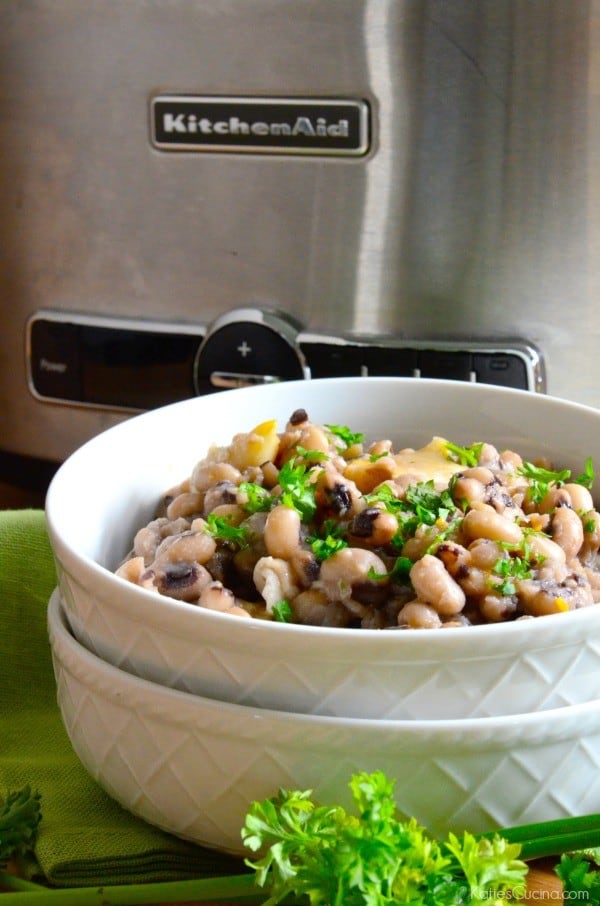 What can you do with leftover Black Eye Peas?
I'm going to warn you now that this recipe makes a lot of black eye peas. Like it can feed an army, so if your hosting a big family dinner this is the perfect recipe for you. And if your not–don't worry. You can freeze the leftovers. I like to make this big post of black eye peas on New Years day and then freeze a few small bags to use throughout the year!
Here are a few other ways you can use up leftover black eye peas.
If you are looking for an easy no-fail recipe. I hope you'll give this recipe for slow cooker black eye peas a try!
Disclaimer: There are affiliate links in this post. Any sales made from my link means I make a percentage from the sale.