Brown Bag Microwave Popcorn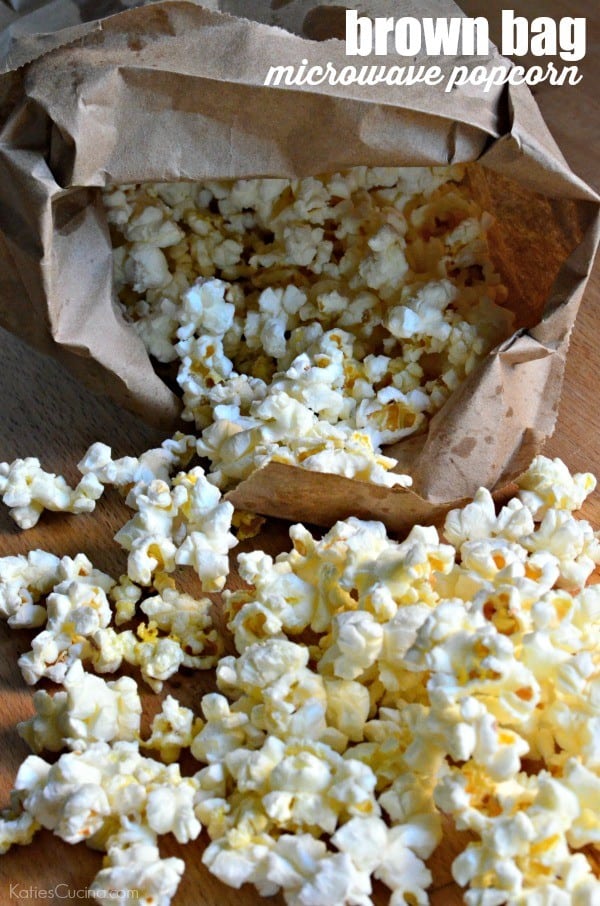 I hope everyone had a wonderful holiday and a very happy new year. I've taken the last week off to enjoy time with family, recipe develop, and just get myself ready for the new year. I never really make "resolutions" mainly just yearly goals. I'm happy to say that "loosing weight and getting in shape" really aren't on my goal list this year. I've been doing a good job of getting myself in shape ever since giving birth last spring. In fact, I'm below my pre-pregancy weight. I haven't been this skinny in gosh… I have no idea how long. It's an amazing feeling. I still have six pounds to loose. My overall goal is to be back to wedding weight by June. I know I can do it. I also want to really tone my body this year. Now that I've lost the weight its time to make it look like I've lost it! Another goal of mine this year is to eat cleaner than I have in past years. Ever since watching GMO OMG
! I'm all for cleaner eating–really reading packaging and making conscious choices about the food that I'm putting into my body.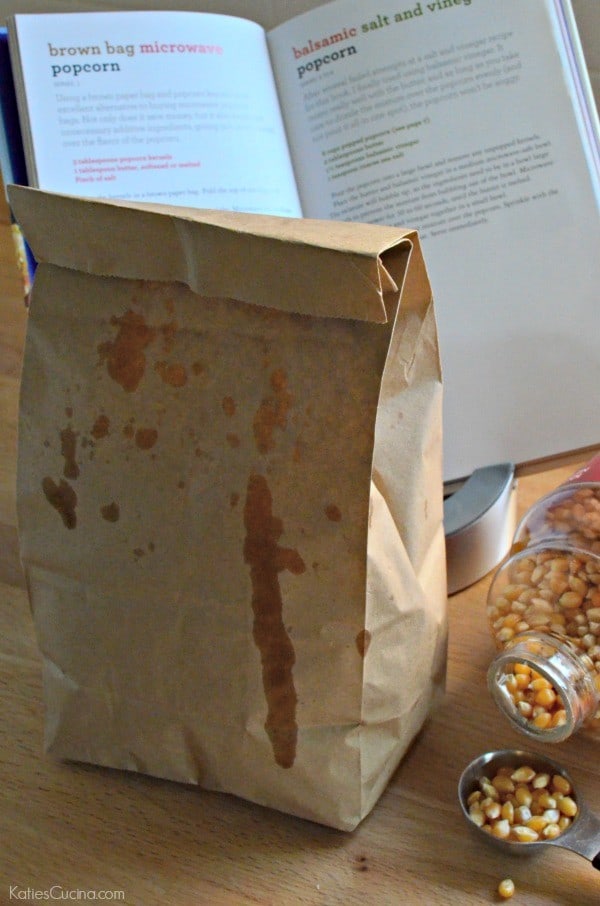 Today, I'm sharing a recipe for Brown Bag Microwave Popcorn. I love popcorn and could snack on it 24-7. However, in the recent years I've tried to stay away from microwaved processed popcorn. Tons of additive ingredients that I can't pronounce needless to say that I have no clue what they are. Using this recipe for brown bag microwave popcorn is a great way to cut out the packaged snacks and make your own popcorn in minutes still using the microwave.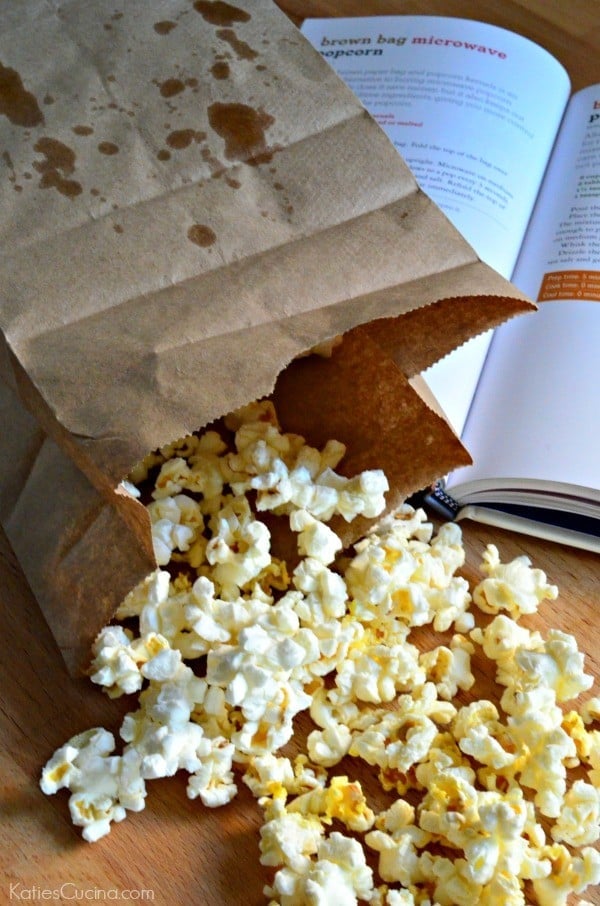 I recently was sent a copy of my friend Ashton's book, Party Popcorn: 75 Creative Recipes for Everyone's Favorite Snack
. She is the author of the food blog, Something Swanky. Have you been to her blog before??? It's amazing and all the recipes she shares look oh-so tasty. I've read Party Popcorn cover-to-cover and can't wait to "pop" my way through the book… all 75 recipes. Maybe I should add this to my goals for 2015… try all 75 recipes! Ashton has your popcorn cravings covered from sweet, savory, holiday popcorn, and popcorn for kids to make you'll find a recipe or two, or three that you'll want to instantly make! She even has a whole chapter on "pop and shake" recipes. So you could make this brown paper bag popcorn and shake on some seasoning (I'll have a few of my own creations later this month to share).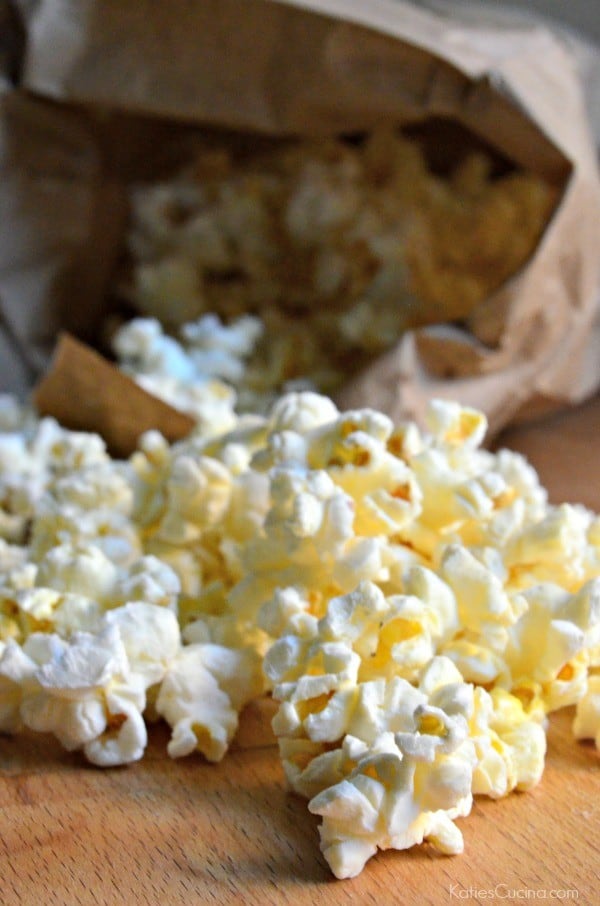 If you want more recipes from Party Popcorn you can buy the book on Amazon or come back later this week and I'll be giving away a copy to one lucky reader! 

Brown Bag Microwave Popcorn
Learn how easy it is to make your own Brown Bag Microwave Popcorn at home with no mystery chemicals to worry about!
Yield: 3 cups
Prep Time: 5 minutes
Cook Time: 2.5 - 3 minutes
Total Time: 8 minutes
Ingredients:
Brown Paper Bag
3 tablespoons popcorn kernels
1 tablespoon butter, softened or melted
Pinch of Salt
Directions:
Place the kernels in a brown paper bag. Fold the top of the bag over three times.
Place the bag in the microwave standing upright. Microwave on medium power for 2.5-3 minutes, until the popping slows to a pop every 3 seconds.
Open the bag (see Note) and add the butter and salt. Refold the top of the bag and shake the bag to coat the popcorn. Eat immediately.
Be careful of the steam escaping the bag when you first open it.
Disclaimer: I received a book to review and share a recipe with my readers. I was not compensated to write this post. There are affiliate links in this post. As always all opinions are my own. 
Warning
: Use of undefined constant rand - assumed 'rand' (this will throw an Error in a future version of PHP) in
/home/kjasiewicz21/webapps/katiescucina/wp-content/themes/katiescucina/single.php
on line
74
14 Responses to "Brown Bag Microwave Popcorn"
Leave a Comment