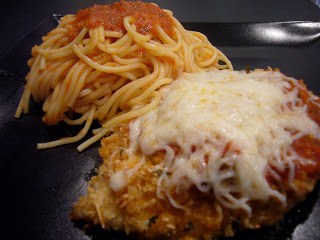 This is my version of a "no-fry" aka healthy version of Chicken Parmigiana using my
Parmesan Chicken
recipe that I featured back at the end of March, and making my own pasta sauce and adding a little sauce and cheese at the end! The sauce recipe comes from
Bobby Flay
. I've been using it for a few years now and really like it!
Prep: 10 minutes
Cook: 40 minutes
Serves: 4
Ingredients:
recipe for Parmesan Chicken
½ cup of freshly grated mozzarella
2 tablespoons olive oil
1 large Spanish onion, finely chopped
4 cloves garlic, finely chopped
2 (28-ounce) cans plum tomatoes and their juice, pureed in a blender
1 bay leaf
1 small bunch parsley
Pinch red pepper flakes
Salt and freshly ground pepper
6 basil leaves, chiffonade
1 lb spaghetti
Freshly grated Parmesan cheese
Directions:
1. Follow the directions for the Parmesan Chicken.
2. While the Parmesan Chicken is baking heat olive oil in a medium saucepan. Add onions and garlic and cook until soft. Add pureed tomatoes and juice, bay leaf and parsley, pepper flakes and salt and pepper and bring to a boil. Reduce heat, and let simmer for 30 minutes, until the sauce has thickened. Remove the bay leaf and parsley, add the basil and get ready to serve.
3. Take the Chicken out of the over, spoon some red sauce on top and then sprinkle some mozzarella cheese. Broil on high for 5 minutes or until the cheese has melted.
4.Bring salted water to a boil. Add spaghetti and cook until al dente. Drain well in a colander, toss in sauce, serve with Parmesan chicken and top with Parmesan cheese.
Side Suggestions: Insalata Caprese w/ Balsamic Reduction Sauce, Garlic Bread