Mini Beef and Pork Meatballs
Learn how to make Mini Beef and Pork Meatballs perfect for soups, stews, or pastas. This recipe makes 100, so you'll have plenty to freeze for future meals!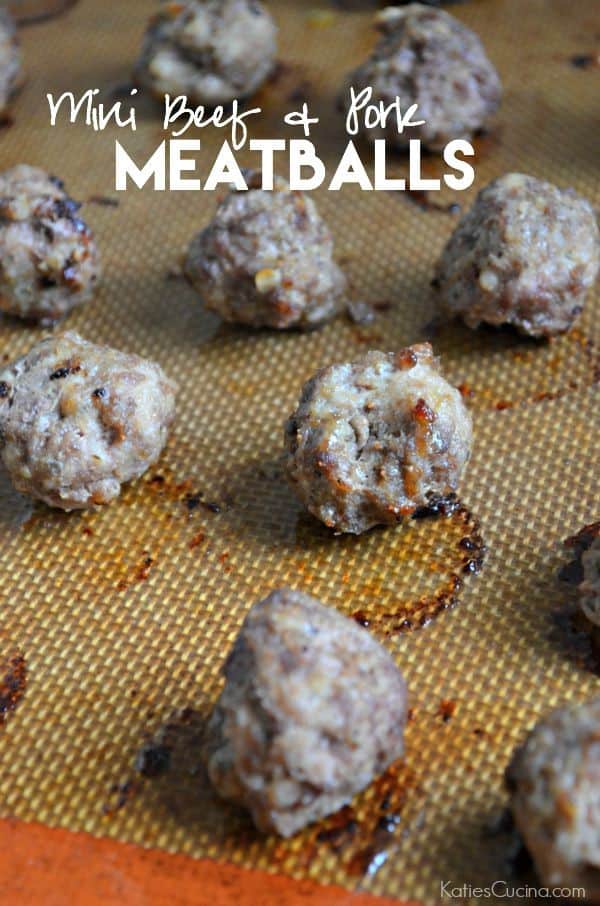 It's officially soup season, although it's always soup season in my home. Today, I'm sharing my recipe for my mini beef and pork meatballs. You might be wondering, what does this have to do with soup? Well these mini meatballs make for a hearty Italian Wedding Soup. They are the base to the soup. So if you love Italian Wedding Soup you'll want to visit again next week when I share my recipe. Now, if your not into soup, or Italian Wedding soup, no biggie–you can make these meatballs, freeze them and use them with sauce or in any other dish your heart might desire.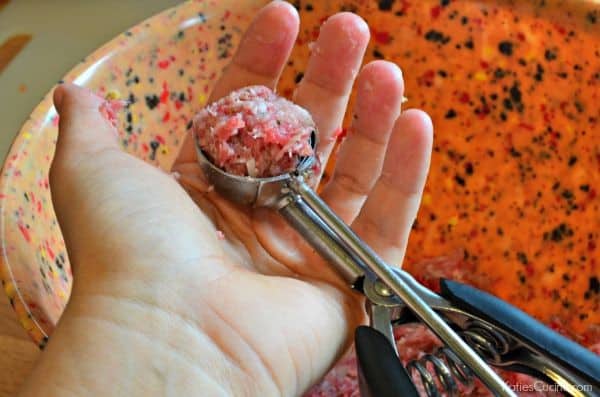 This recipe makes a lot, so be prepared to spend some time mixing and forming little tiny meatballs. Although, I'll tell you a secret on how to make round meatballs, I use the OXO small cookie scoop. I spray it with a little cooking spray, then I scoop the meat mixture. I begin to round it and then release the handle, move the meat just half way and round out the other side. It's a little difficult to explain in writing but it's definitely a two handed process. One hand on the scoop lever, and the other hand on the meat, rounding out the meat. This might take 2-3 times of rounding before it's perfectly round. Then I place it on the baking sheet lined with a Silpat mat (although you can use foil just make sure you spray it with cooking spray first). And start all over again. I like baking the meatballs but you can certainly fry them if your heart desires.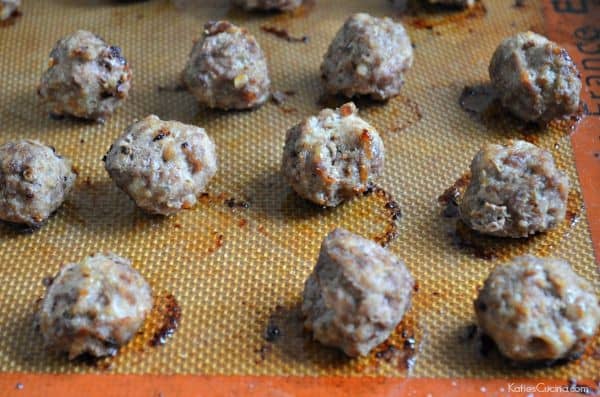 Once they are baked, remove them from the oven and let them cool to room temperature before freezing. Or transfer some of them to a pot of boiling soup on the stovetop. I make a huge batch, freeze about 3/4 of the meatballs to use throughout the next month or two. So whether you are making these strictly for soup or plan to mix it up and use some for soup and some for pasta, I promise you love having your freezer stocked with these mini beef and pork meatballs!

Mini Beef and Pork Meatballs
Yield: 100
Prep Time: 30 minutes
Cook Time: 24 minutes
Total Time: 54 minutes
Ingredients:
1.30 lbs. lean ground beef
1.30 lbs. ground pork
1/2 cup Italian bread crumbs
1 tablespoon onion flakes
1 teaspoon garlic powder
1 tablespoon Italian seasoning
1/2 teaspoon kosher salt
1/8 tsp black pepper
1 egg, beaten
Directions:
Preheat oven to 425 degrees Fahrenheit.
Combine in a large mixing bowl the lean ground beef, ground pork, Italian bread crumbs, onion flakes, garlic powder, Italian seasoning, kosher salt, black pepper, and beaten egg. Using your hands mix the meat mixture together until thoroughly combined.
Begin to roll by using an OXO small cookie scoop and form mini meatballs. Bake in batches on a lined baking sheet (do not over crowd the baking sheet).
Bake for 12 minutes. Remove from the oven and serve immediately or cool to room temperature and freeze. Repeat the baking steps until all the meat has been cooked
*If freezing let sit until cool and at room temperature before dividing and placing into freezer bags. Freeze for up to 3 months.
Disclaimer: There are affiliate links in this post. If you click on the link and purchase I will make a smaller percentage from the sale (but you won't get charged any additional money for the product). 
Warning
: Use of undefined constant rand - assumed 'rand' (this will throw an Error in a future version of PHP) in
/home/kjasiewicz21/webapps/katiescucina/wp-content/themes/katiescucina/single.php
on line
74
Leave a Comment