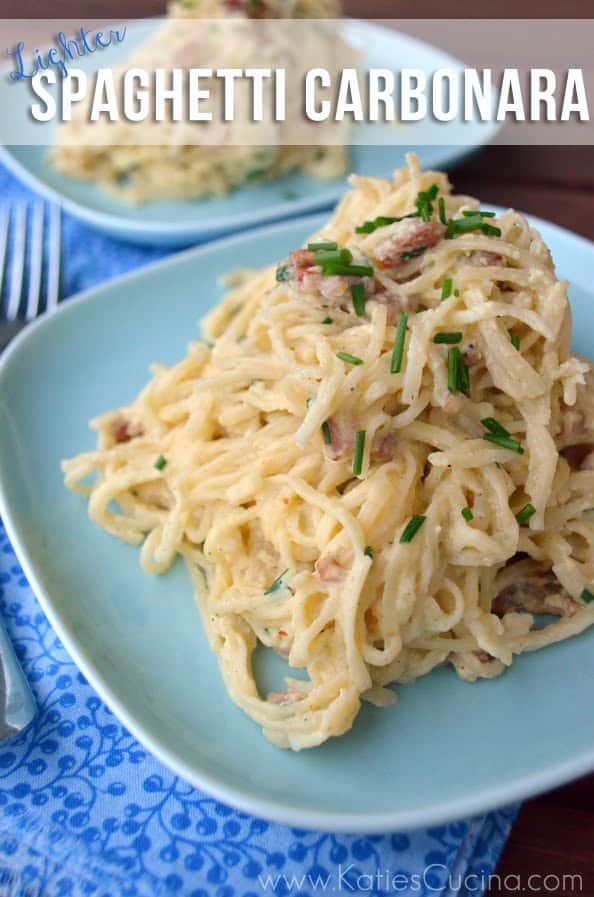 Would you hate me if you knew that I ate my first bowl of Spaghetti Carbonara last year in Europe? Yep totally true. I think the whole egg thing has thrown me off all these years, and thus kept me far, far away from the egg based pasta. But while on vacation I tend to get a little more adventurous. I was craving creamy pasta and I gave it a try… and what do you know? I loved it, and then proceeded to gorge myself until I had a stomach ache (which by the way I don't recommend that).
I was inspired to make a lighter version of spaghetti carbonara at home. I was craving comfort food. I had a busy day at the office and all I wanted to do was eat a quick comforting dinner and then veg on the couch (which lets get real I rarely ever veg on the couch. I typically get my second wind after dinner and start working on blog stuff until the wee-hours of the morning).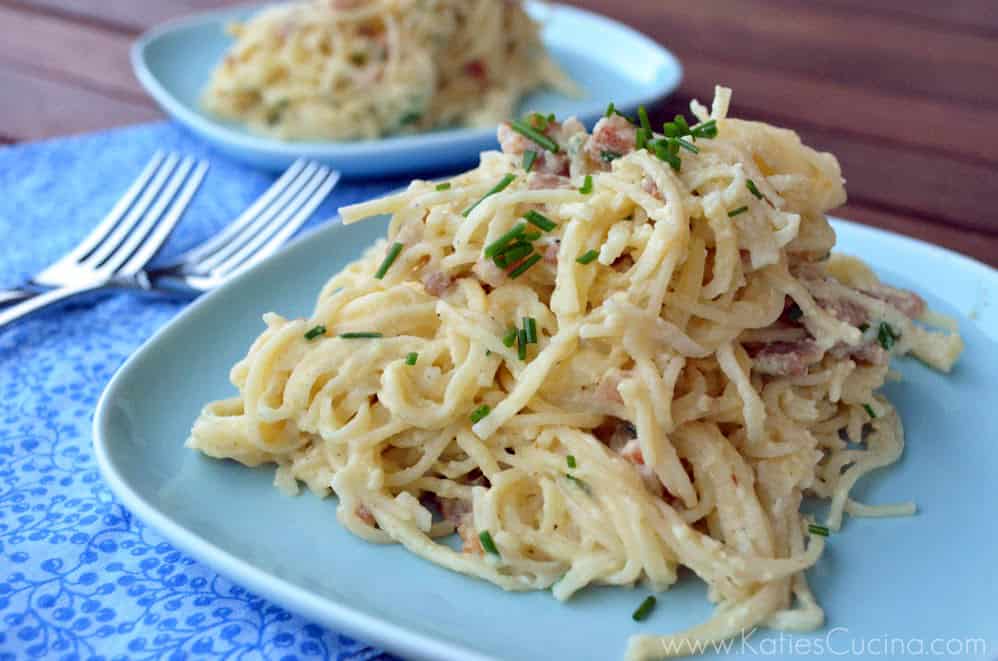 So on that sluggish evening (this happened be right after I made tons of homemade spaghetti) I knew I wanted to make pasta but I didn't know what. I typically make my go-to Shrimp Scampi recipe, but on this particular night I did something I haven't done in a while… I opened a cookbook! gasp! I find myself opening cookbooks less and less and going straight to the internet. And then, of course, once I open the cookbook I tend to get lost in it for hours just as I would the internet. That's when I flipped to this glorious recipe. This was also around Easter time when I had leftover Slow Cooker Ham. Might I add, that I never have ham in the refrigerator, so I felt that this recipe was destine to be cooked. I will tell you that Spaghetti Carbonara is not as scary as it might seem… even if you aren't a fan of egg yolks–its creamy and comforting and brought me right back to Italy!
Adapted from Cooking Light Five Star Recipes
Ingredients
8

oz

fresh spaghetti

1

cup

chopped cooked ham

1/3

cup

Parmigiano-Reggiano

1/4

cup

reduced-fat sour cream

1/4

cup

skim milk

1/2

tsp

salt

2

large eggs

lightly beaten

1

garlic clove

minced

1/4

tsp

black pepper

coarsely ground

1/4

cup

chives

diced
Instructions
Cook fresh spaghetti for 3 minutes or until al dente. Before draining the pasta, reserve 1/2 cup of pasta water. Drain the pasta and set to the side.

Heat a large pan over medium heat. Add the diced ham and cook for 2 minutes. Add the pasta to the pan and stir well.

In a large bowl, combine the Parmigiano-Reginnao, sour cream, skim milk, salt, and lightly beaten eggs. Mix well, then add the reserved pasta water. Pour the egg mixture over the pasta and stir until incorporated and cook for 5 minutes. You'll want the sauce to thicken--make sure it does not boil. Stir in ground black pepper and fresh chives and serve immediately.
Nutrition
Disclosure: There are affiliate links in this post.