Creamy Pepperoni Pizza Pasta Salad + Giveaway
Summer is upon us and that means picnics and barbecues galore. We have a group of friends who we like to barbecue often with. In order to do this we typically delegate each family to bring a dish or two. The host family almost always provides the main dish. These are small barbecue get-togethers so I'm always searching for a smaller side dish to bring that doesn't necessarily have to feed an army. That's where this Creamy Pepperoni Pizza Pasta Salad came in. Everyone loves pepperoni pizza and pasta salad so why not marry the two together? Genius, right? You can thank me later.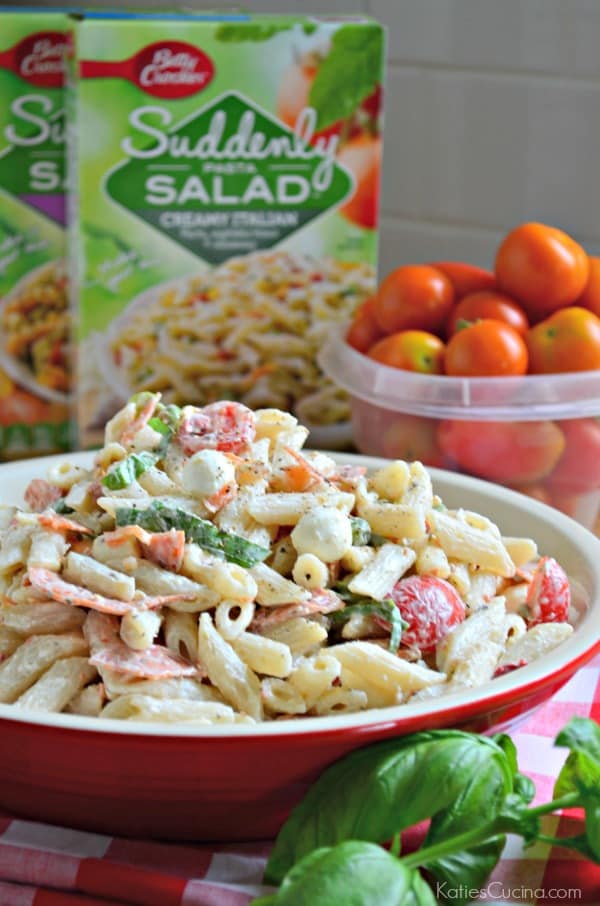 In order to make this a very quick pasta salad side dish I used a box of Creamy Italian Suddenly Pasta Salad. It includes pasta, dried vegetables like carrots, peas, and bell pepper, and a seasoning packet. All you have to do is add mayonnaise and of course all the ingredients you need to bring my Creamy Pepperoni Pizza Pasta Salad to life. I chopped up pepperoni, sliced grape tomatoes in half, and added a half cup of mini mozzarella pearls to the pasta salad. Then just before serving I chopped up some fresh basil. Everything you would need to make a delicious pepperoni pizza.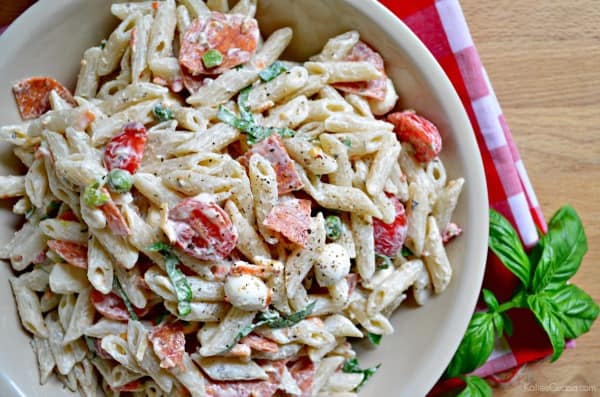 My garden is currently bursting at the seams right now with grape and cherry tomatoes and fresh basil among other things. I'm finding ways to incorporate tomatoes and basil into just about every recipe these days. If you want to make this recipe I encourage you to download and print the digital coupons to save on Suddenly Pasta Salad right now. You can save .50 on two boxes. So if you're entertaining for a crowd you can pick up the two boxes and just double this recipe!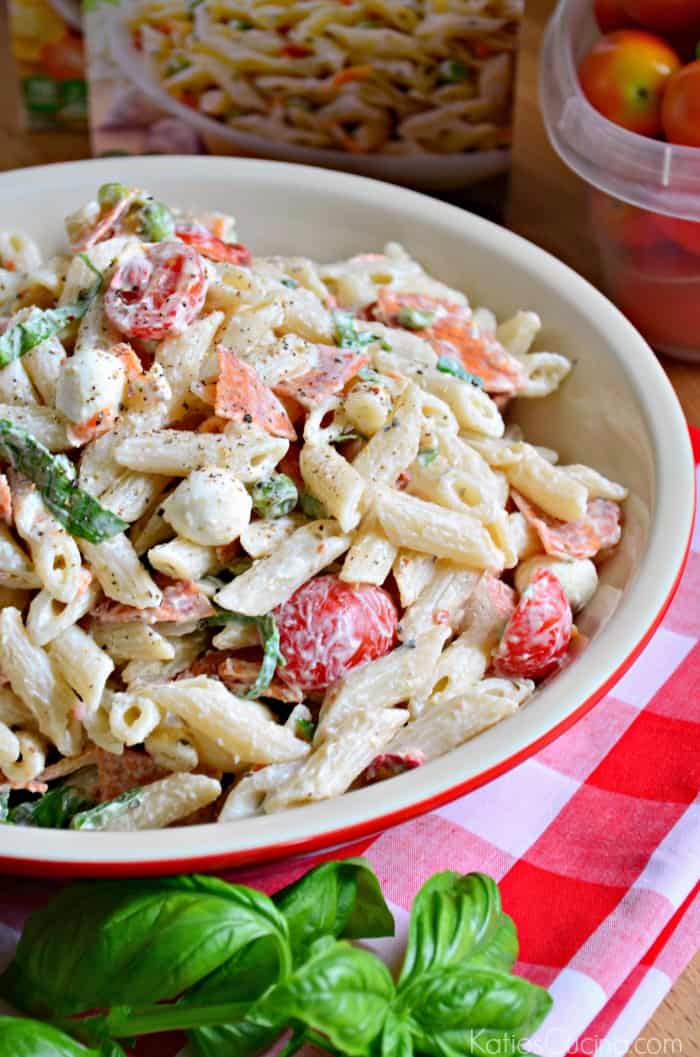 My friends at Betty Crocker want to give $25 in PayPal cash to one lucky reader so they can try Suddenly Pasta Salads, too! Just wait for the rafflecopter widget to load (or click on the link if it doesn't load) and enter to win. Winner will be contacted via email and will have 48 hours to respond. Must have a PayPal account to receive cash prize. Giveaway ends on 5/25/2015.

Creamy Pepperoni Pizza Pasta Salad
Yield: 4
Prep Time: 1 hour 10 minutes
Cook Time: 13 minutes
Total Time: 1 hour 23 minutes
Ingredients:
Suddenly Pasta Salad Creamy Italian
1/2 cup Mayonnaise
13 grape tomatoes, halved
1/4 cup Pepperoni, quartered
1/2 cup fresh mini mozzarella pearls
1/4 cup fresh basil, chiffonade
Directions:
Cook the pasta according to package; boiling for 13 minutes. Drain water and rinse with cold water. Set to the side.
In a large bowl combine mayonnaise and seasoning packet.
Slice grape tomatoes, pepperoni, and fresh mozzarella. Place cooked pasta in the bowl with the sauce mixture and then add in the grape tomatoes, pepperoni and fresh mini mozzarella balls. Mix well and refrigerate for 1 hour.
Before serving chiffonade the basil and mix into the pasta salad.
Warning
: Use of undefined constant rand - assumed 'rand' (this will throw an Error in a future version of PHP) in
/home/kjasiewicz21/webapps/katiescucina/wp-content/themes/katiescucina/single.php
on line
74
52 Responses to "Creamy Pepperoni Pizza Pasta Salad + Giveaway"
Leave a Comment