Instant Pot Meatloaf with Garlic Mashed Potatoes
Instant pot meatloaf with garlic mashed potatoes is pure comfort food. Make a side of vegetables while the meat and potatoes cook and dinner is complete!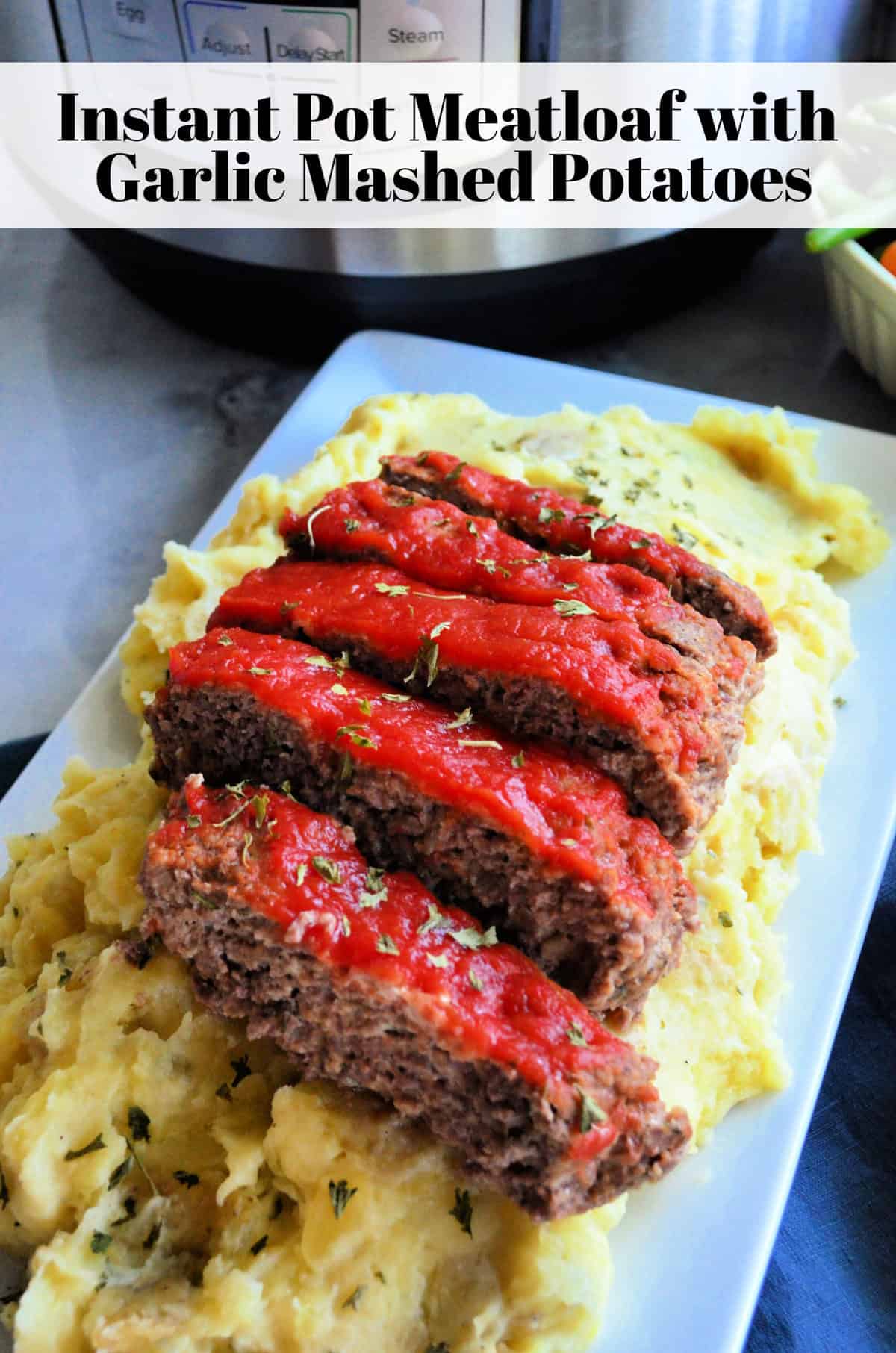 As I think back to my childhood, I don't recall a lot of meatloaf dinners. I don't know if this is because my mom simply didn't like it or if she didn't like making it. Of course, maybe us kids complained about meatloaf for dinner. It wasn't until I was in high school that I ate meatloaf. My great aunt stayed with us while my mom recovered from surgery. Meatloaf was one of the few meals that she would cook for us. I loved it the first few times, but after eating it every week I was so done with meatloaf. I didn't start making it and enjoying it again until I was in college. I've modernized my college day
meatloaf recipe
with this recipe for
Instant Pot Meatloaf with Garlic Mashed Potatoes
.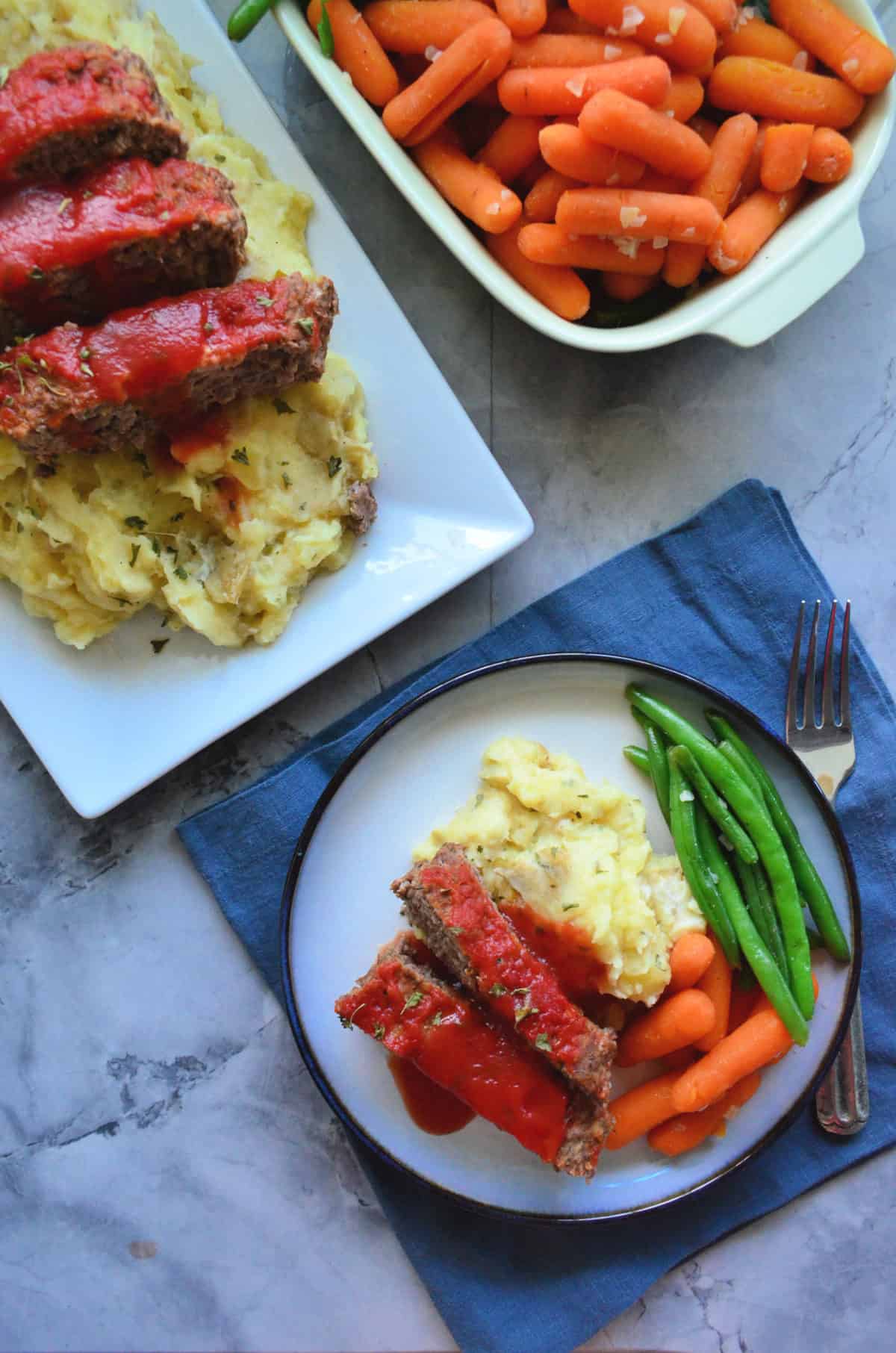 I love how I can cook both meatloaf and mashed potatoes all at the same time. Best of all–this is a fail proof way to ensure you will not have dry meatloaf! No way for you to over cook it! Since I don't like ketchup I've come up with a better solution in my book. I've created a sweet tomato sauce that you pour on top and then enjoy on the side as you dip bite-by-bite into the sauce. My kids have never complained about meatloaf night in my house thanks to this easy two-ingredient sauce!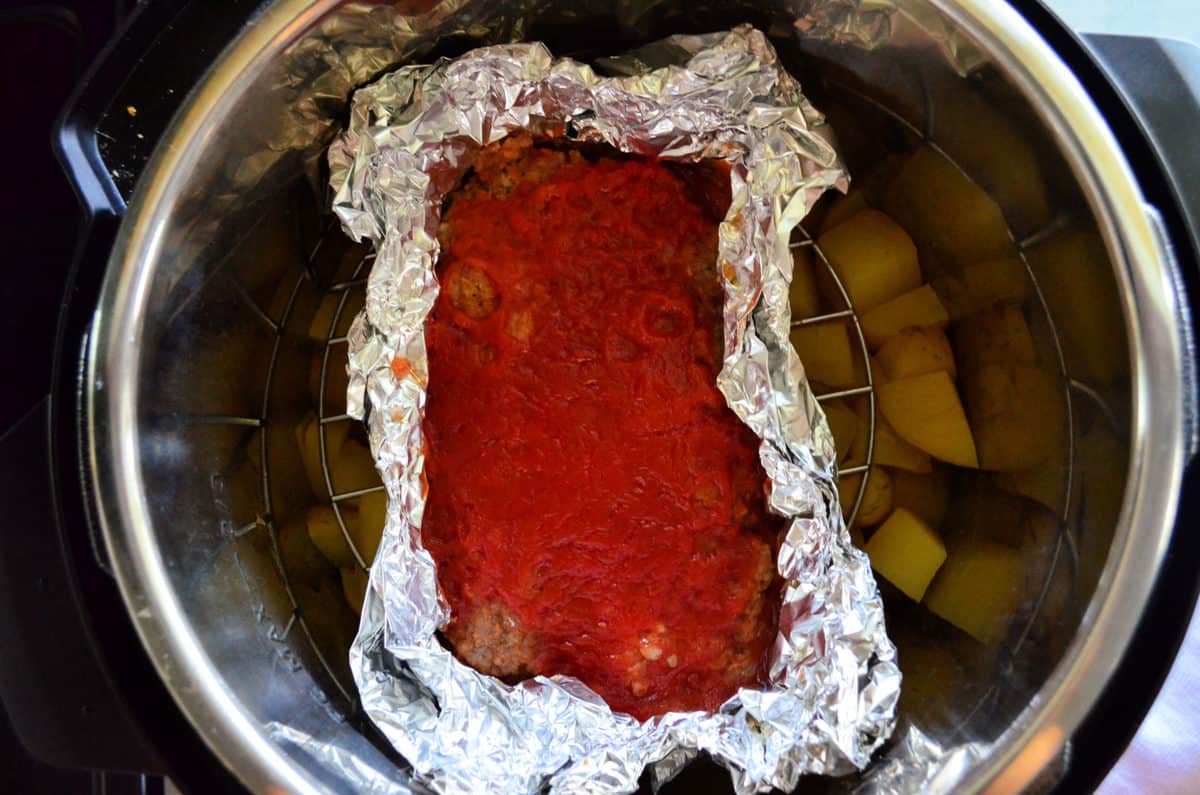 How do you make meatloaf in the Instant Pot?
You might be wondering how the heck you make meatloaf in the Instant Pot? You won't use a traditional loaf pan. instead you'll create an aluminum foil pan.
First you'll want to mix the meatloaf. Make sure you don't over mix. This is what causes a tough meatloaf. Next, create an aluminum foil pan. Place on a rack in the
Instant Pot
. Then, carefully transfer the mixed meat into the foil pan. Shape into a loaf and pour 1/4-1/3 cup of the sweet tomato sauce on top.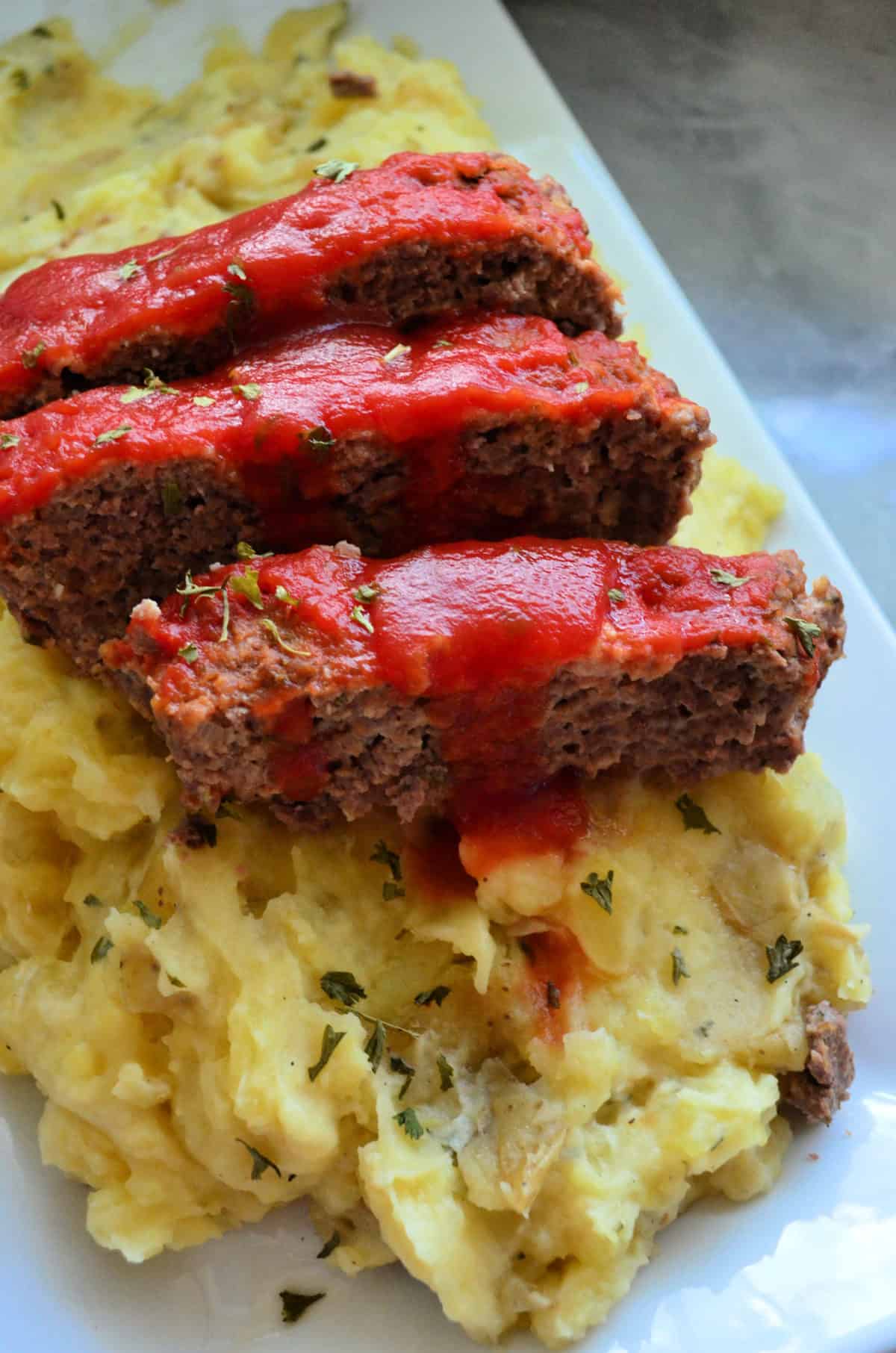 Close the lid making sure the steam valve is closed. Set on "manual" for 15 minutes. Once it's done cooking let it naturally release for 15 minutes. Towards the last few minutes while the pressure naturally releases you'll want to preheat the oven to broil on low.
Next, force any remaining pressure out and carefully remove the lid. Carefully pull the meatloaf out of the Instant Pot. Place the meatloaf on a sheet pan, and place in the oven for 2 minutes or until crisp on top. Once it's done you can slice the meatloaf and serve with additional tomato sauce.
Side dish recipe ideas for Instant Pot Meatloaf with Garlic Mashed Potatoes
Whenever I serve meatloaf and mashed potatoes I always like to make 1-2 vegetable side dishes. Here are a few of my favorite side dishes to serve.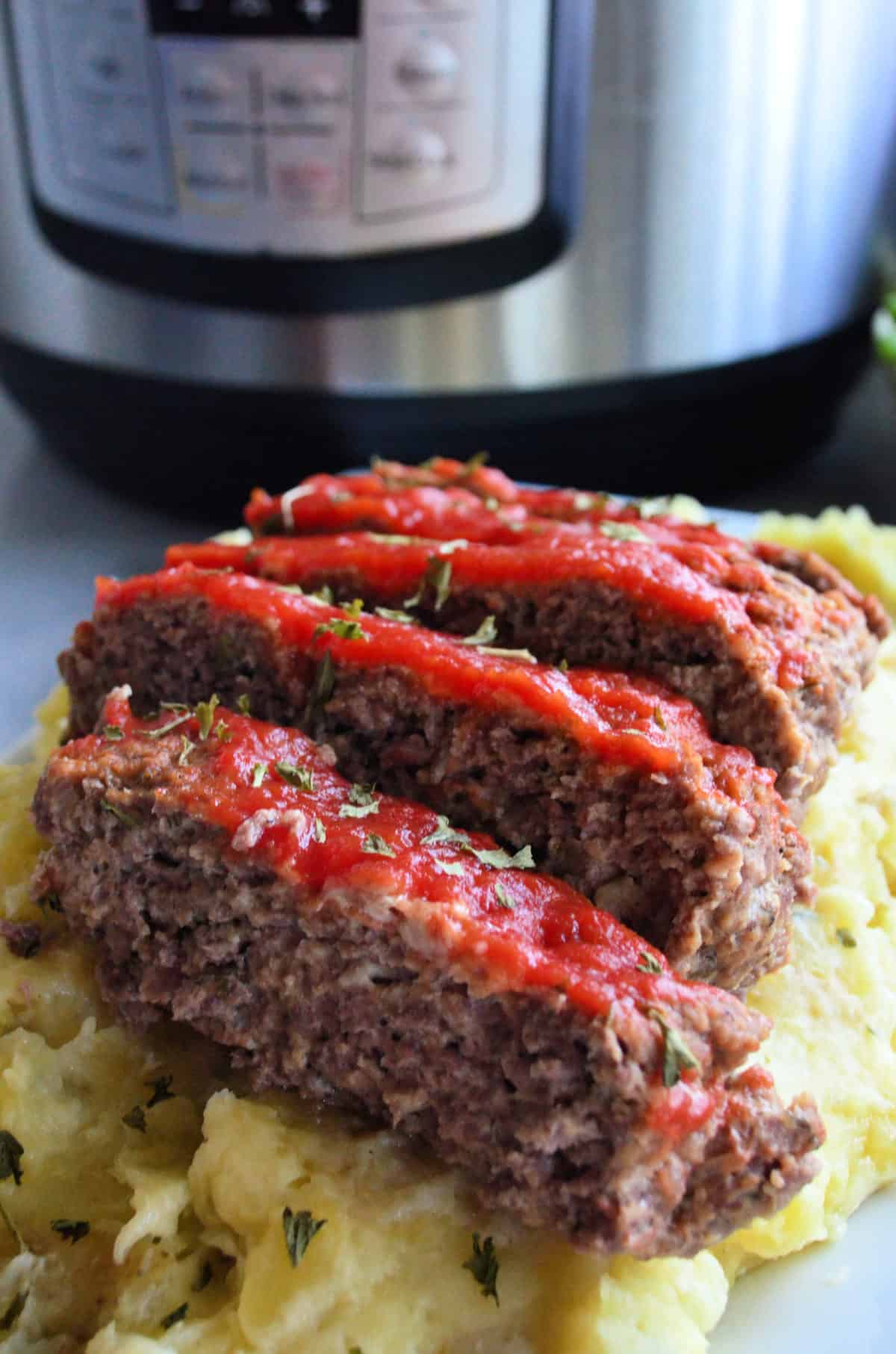 If you're looking to cook two things at once, and have perfectly cooked meatloaf with fluffy mashed potatoes. Then this recipe for Instant Pot Meatloaf with Garlic Mashed Potatoes is the one for you to try!
Warning
: Use of undefined constant rand - assumed 'rand' (this will throw an Error in a future version of PHP) in
/home/kjasiewicz21/webapps/katiescucina/wp-content/themes/katiescucina/single.php
on line
74
Leave a Comment