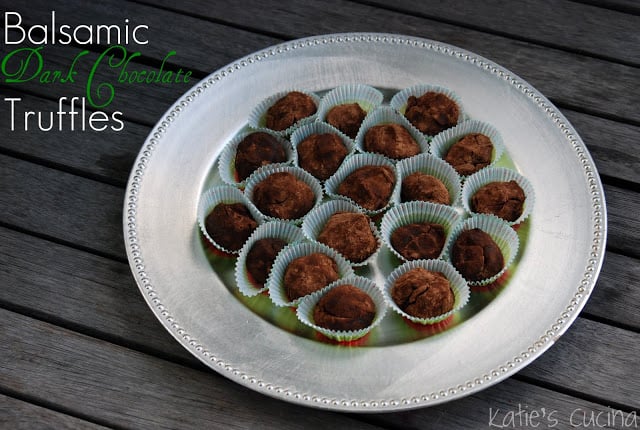 I made these quick and easy truffles last weekend for a tacky sweater Christmas party that my husband and I attended. I renamed these to play along with the tacky Christmas party theme as "Schweddy Balls" after the classic Christmas SNL skit. Everyone at the party got a big kick out of the name and fell in love with these rich mis-shappend balls. Sorry… I had too! I couldn't resist. That skit is probably one of my favorites during the holidays!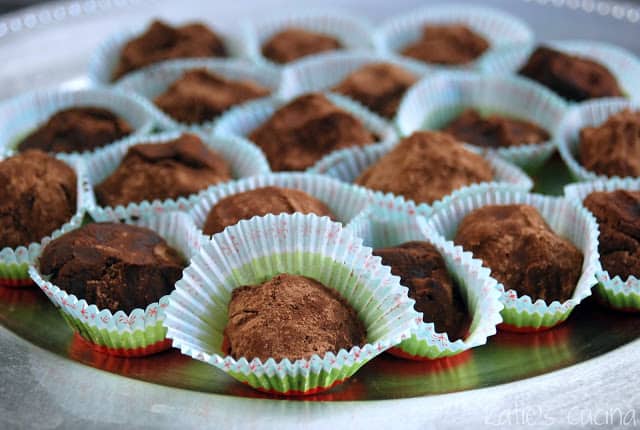 Adapted from: Giada De Laurentiis
Ingredients
10

oz

dark chocolate

chopped

1/4

cup

cream

2

tsps

balsamic vinegar

1/2

cup

cocoa powder

mini cupcake wrappers
Instructions
Melt the chocolate and cream on low in a sauce pan. Make sure you stir constantly and do not let the chocolate come to a boil. You simply want to melt the chocolate. As soon as the chocolate pieces are melted remove the pan from the stove, and place melted chocolate in a small bowl. Stir in the balsamic vinegar. Cool the chocolate in the refrigerator for 1 hour. Remove from the refrigerator and let sit at room temperature for 1-1/2 - 2 hours, until firm but moldable.

Use a teaspoon to scoop out chocolate. Use your fingertips to shape into balls about the size of a cherry. Set the chocolate balls on a parchment-lined tray.

Place the cocoa powder in a small shallow dish. Roll each truffle individually in the cocoa powder; rolling to coat the entire truffle. Return the coated truffles to the baking sheet. Continue with the remaining truffles. Once all the truffles have been coated with cocoa powder place each individual truffle in a mini cupcake wrapper. Refrigerate until ready to serve.