Today's recipe is sponsored by Cost Plus World Market. As always all opinions are my own.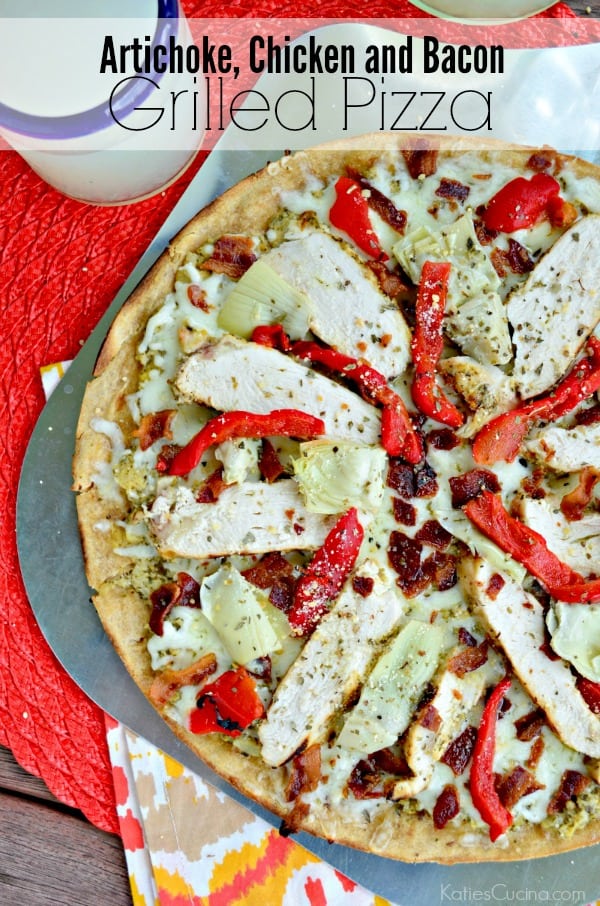 This weekend officially marks summer, and my 7th wedding anniversary–how the heck did that happen so quickly?!?! Yay to both! The days are longer and of course with that comes the heat. The days are already very very very hot here in Florida. Like in the 90's but feels like in the 100's. Melt your skin off hot as I like to refer to it as. So with that being said we are doing everything possible to keep our house as cool as possible. We basically grill every single night. Every Friday is typically pizza night in our house. Except you won't see the pizza delivery man coming to our front door. Instead we are grilling pizzas. We are in love with my most recent creation: Artichoke, Chicken and Bacon Grilled Pizza.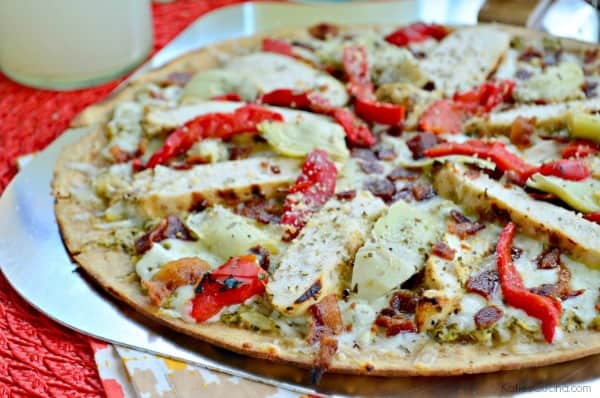 Ryder loves pizza. If he had the choice it would be pizza for breakfast, lunch, and dinner. But I don't think that would be the best decision for his well being. So like everything… everything in moderation. Even non traditional pizza he loves. Like this recipe for Artichoke, Chicken and Bacon Grilled Pizza. We also enjoy making pizza's poolside on the weekend. We always have ingredients on hand like pre-made pizza crust and other delicious toppings like red sauce, pesto, and more. I always tend to stock up when I go to World Market. I love the food aisles (and of course all the cookware and furniture). I could spend hours browsing ingredient by ingredient. Most of the time when we go I bring my mom so she can entertain Ryder so I can really shop.
Let's get back to the recipe. You'll want to marinate the chicken breast in the artichoke lemon pesto. Then grill the chicken breast. You can do this the same day you make the pizza or the day before. Maybe you make a big batch and eat some of the chicken for dinner then slice up the rest for pizza. Either way it's up to you. Once the chicken is cooked it's time to build your pie. Use a whole wheat thin pizza crust, slather on a generous amount of artichoke lemon pesto. Then sprinkle on shredded mozzarella cheese. Evenly divide the sliced chicken and crumble the bacon on top. Then add on the artichoke hearts and roasted red bell peppers. Sprinkle with Italian seasoning and place on the grill. If you are using a pizza stone on the grill it will take just a few minutes. If you don't have a pizza stone for the grill then it might take a little bit longer. Ultimately don't walk away. Babysit that pizza like it's your child because the last thing you want is a burnt pizza. Once the cheese is melted and the crust is crisp (but not burnt) remove it from the grill. I love the folding pizza peel. I found it at World Market and wasn't sure if it was going to be a smart purchase aka impulse buy. But ultimately I'm so glad I bought it. I've always struggled with removing the pizza from the grill. Not any more! Best $30 I've ever spent. Cut your pizza and enjoy immediately. That's it. Super simple foo-foo pizza as my mom would call it. I love mixing up ingredients and making unique pizzas that you typically only find a specialty restaurant. Whether your hanging pool side or want to change up dinner. Give my recipe for Artichoke, Chicken and Bacon Grilled Pizza a try!
I'm sharing the full recipe on the World Market blog today! Click HERE for the full recipe.
Products featured in the photos: Folding Pizza Peel, Coral Round Braided Placemat, Coral Ikat Bungalow Napkin, Blue Rocco DOF Glasses