Treat dad to the ultimate grilled dinner and make my easy and flavorful recipe for Grilled Balsamic London Broil in under a half hour!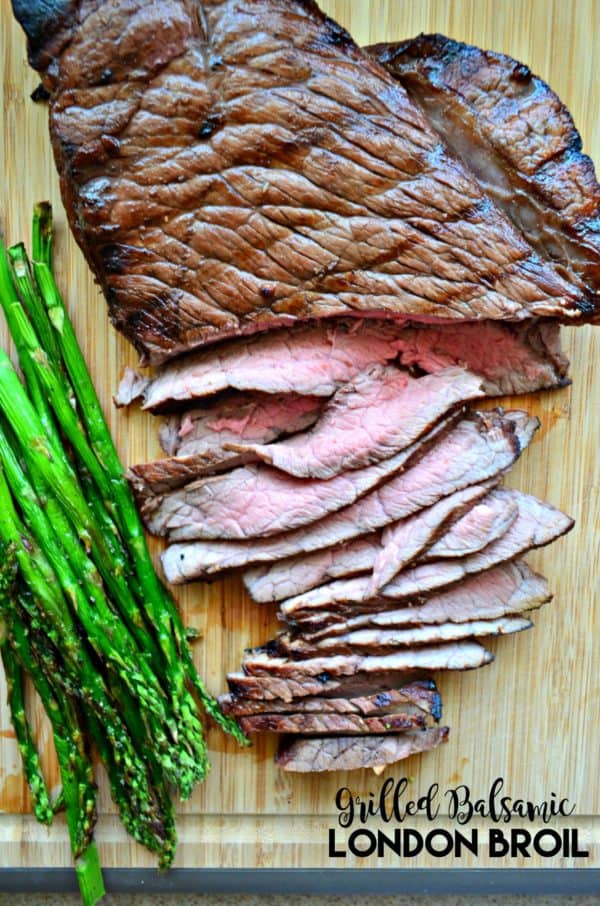 Father's Day is this weekend! This weekend people. That means it's time to fire up the grill and make dad all the grilled meats. Isn't it funny how our culture has dubbed Father's Day as a grilling holiday? Mother's day is all about brunch and Father's day is all about grilling. So it's only fitting that I share my recipe for Grilled Balsamic London Broil.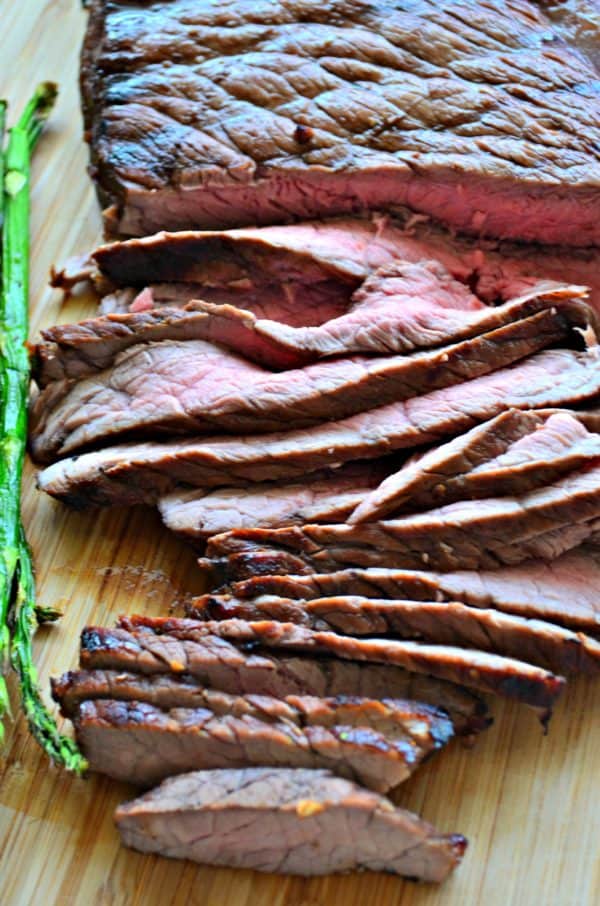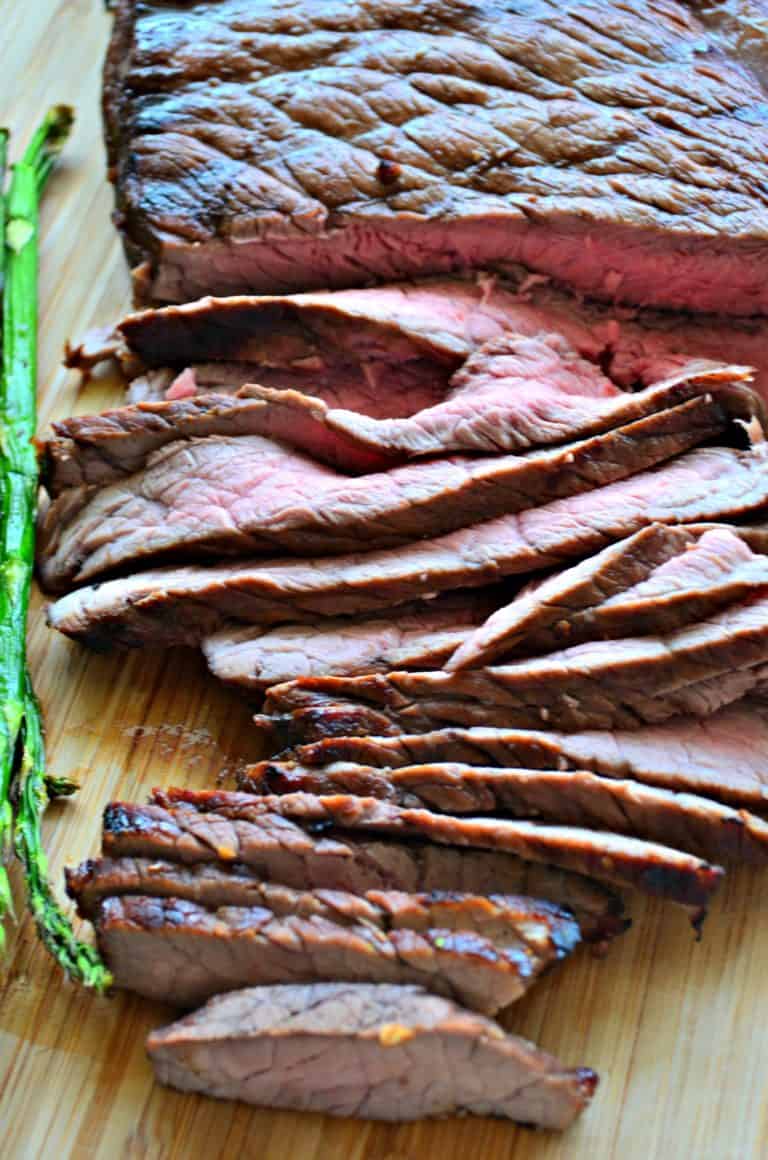 I love London Broil. I feel that this inexpensive cut of meat can get a bad wrap. Especially if it's overcooked and not cut the proper way. You want to cook London Broil to medium rare. It tastes the absolute best at that temperature and it doesn't take that long to cook on the grill. If you cook it any longer it will become chewy and let's face it, no one wants a chewy dry steak. And you must I type… MUST cut this steak in thin slices and against the grain. There is no negotiating with this. If you cut thick slices or chunks of steak your not going to like this cut of beef. Thin slices cut against the grain of the steak is going to give you the optimum flavor and taste your hoping to achieve!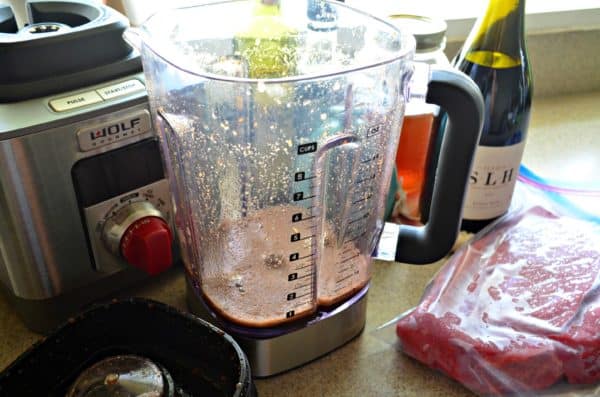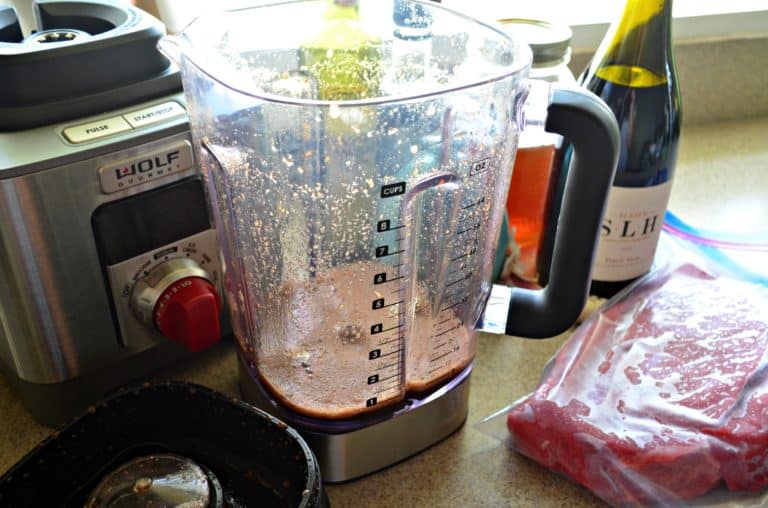 London Broil also needs time to marinate. This is one cut of beef that needs to be marinated in a good sauce. The longer you marinate the more the steak takes on the flavors. Sometimes I can find London broil BOGO (buy one get one free) at my local grocery store (or I buy it at Costco and get 2 in a package). When this happens I place both London Broils in separate zip lock bags, place the steak in the bags, as well as the marinade. I label them and freeze them if I don't plan to cook them within the 24 hour time period. This way, when the steak begins to thaw it thaws right into the marinade. Be careful of highly acidic marinades that cook actually cook the meat making it tough to chew. Think limes and lemons–stay away from those. But I'll be honest I've never used lime or lemon in a London Broil marinade recipe. For this recipe I blended all of my ingredients in my blender. I wanted the marinade 100% pureed. Then I just poured the marinade right into the bag with the London Broil right in it. Let it rest in the refrigerator for a few hours, and turn it every so often so both sides get all the good flavors.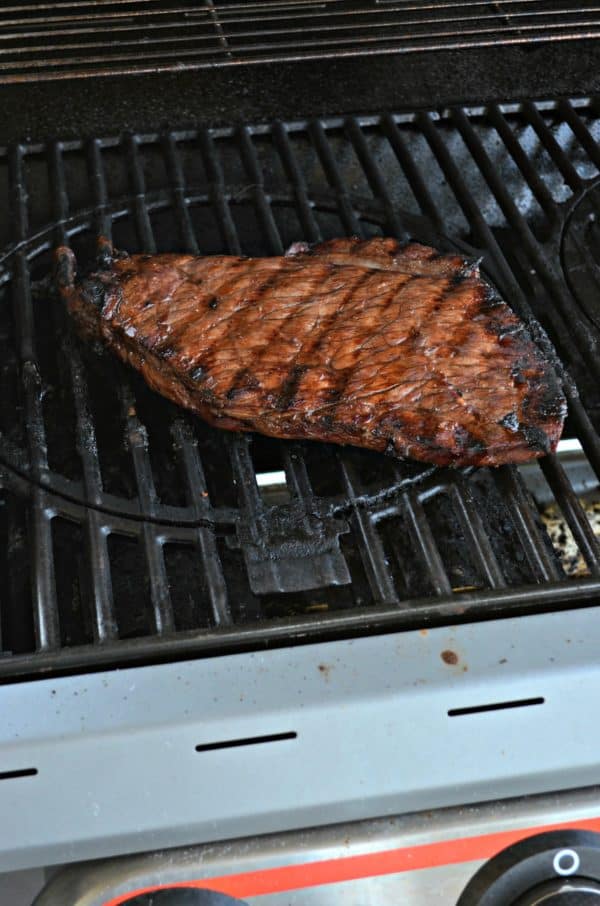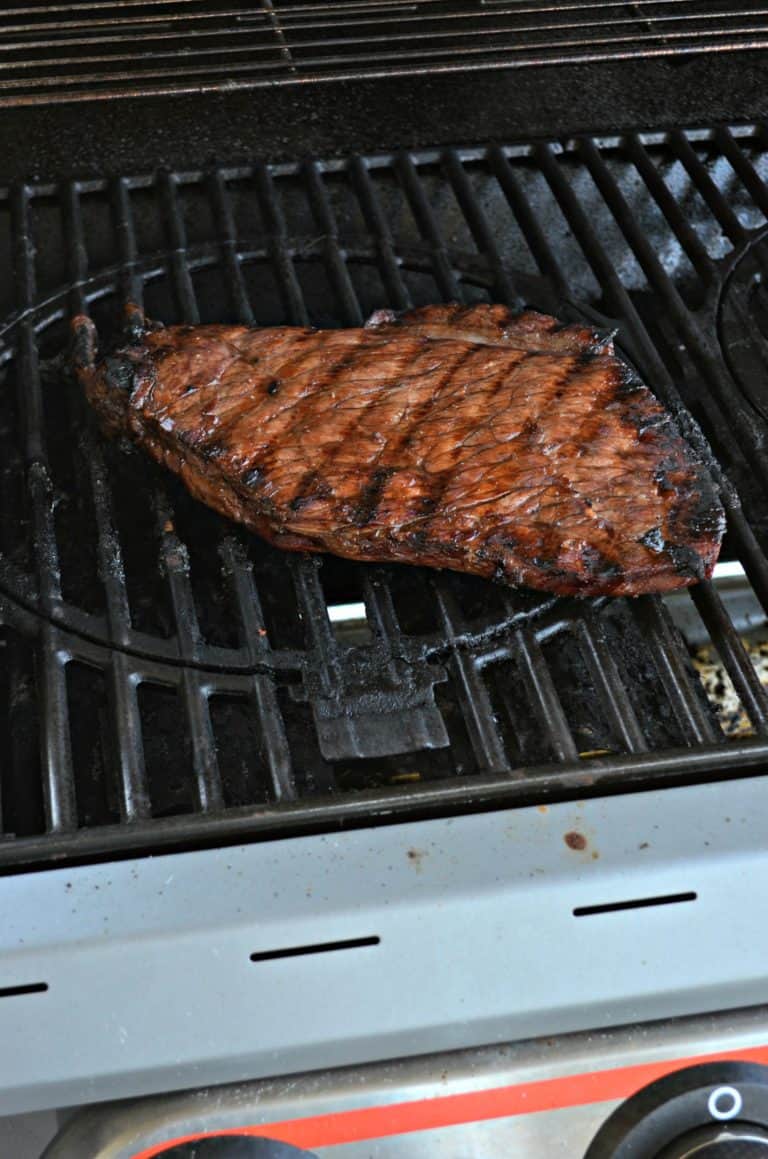 Crank up your STOK grill on high heat and cook the steak. Lot's of controversy around letting your steak get to room temperature or putting it cold on the grill. I put it cold on the grill and confirmed my method with the head chef at Certified Angus Beef. He also agreed to always put on cold because if you let your steak sit at room temperature your just asking for bacteria growth and you don't want to get sick nor have your family and friends get sick. If you want fancy grill marks on your London Broil you can turn your steak twice on each side, turning it at 4:00 and then 10:00 on hot new surface areas on your grill. So if your cooking for dad this Father's Day (or maybe your just craving steak like I do) try my recipe for Grilled Balsamic London Broil!
Disclosure: There are affiliate links in this post. That means, if you click on the link and buy something I receive a small percentage of the sale–at no additional cost to you.
Save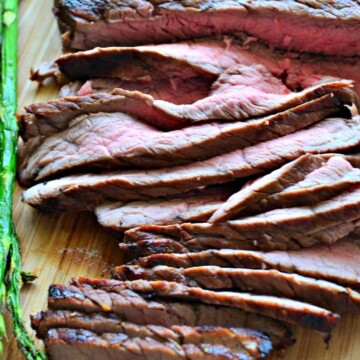 Grilled Balsamic London Broil
Treat dad to the ultimate grilled dinner and make my easy and flavorful recipe for Grilled Balsamic London Broil in under a half hour!
Print
Pin
Rate
Ingredients
4

garlic cloves

¼

cup

dry red wine

¼

cup

balsamic vinegar

2

tablespoons

soy sauce

1

tablespoon

honey

2

lb.

top-round London broil

grilling cooking spray
Instructions
Place the garlic, red wine, balsamic vinegar, soy sauce and honey in a blender and puree for 30 seconds.

In a gallon ziplock bag, pour the marinade in bag and place the London broil in the bag. Seal the bag and make sure to remove all the excess air. Marinate steak in the refrigerator for at least 4 hours (turning occasionally).

Preheat your grill on high heat. Oil the racks with grilling cooking spray. Reduce the heat to medium heat (about 400 degrees Fahrenheit and grill stead for 7 to 9 minutes on each side for medium-rare. Transfer steak to a cutting board and let stand 10 minutes. Cut thin slices of steak against the grain by holding a very sharp knife at a 45-degree angle. Enjoy immediately.
Notes
This is an inexpensive cut of beef, so some people give it a bad rap. However! Make sure to cook no more than medium rare, and slice against the grain. This ensures you have a wonderfully tender cut of beef.
Nutrition
Calories:
230
kcal
|
Carbohydrates:
6
g
|
Protein:
36
g
|
Fat:
5
g
|
Saturated Fat:
2
g
|
Cholesterol:
92
mg
|
Sodium:
435
mg
|
Potassium:
597
mg
|
Fiber:
1
g
|
Sugar:
5
g
|
Vitamin C:
1
mg
|
Calcium:
40
mg
|
Iron:
3
mg