Grilled Zucchini Caprese Panini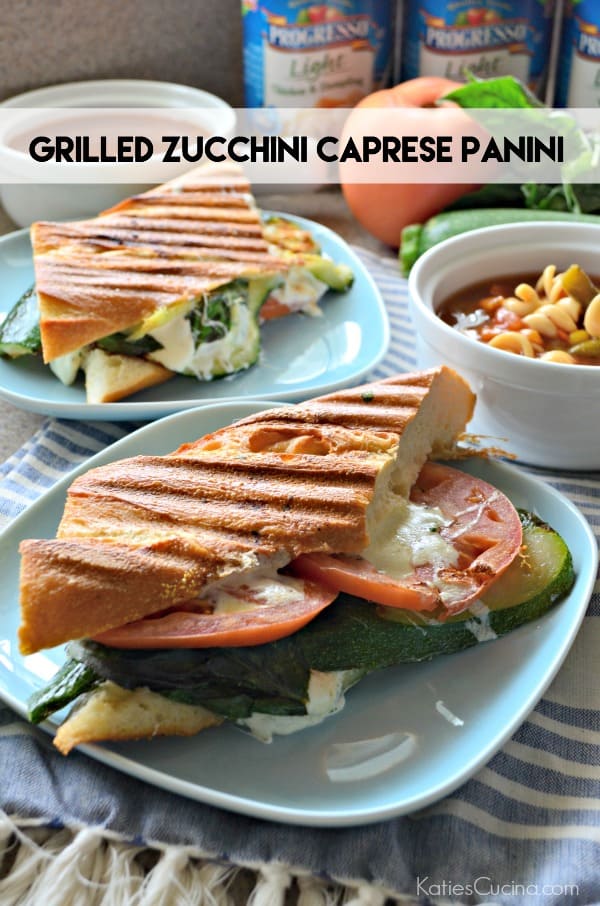 The new year is here and that means eating a little healthier for most of us. Being a work-at-home mom I struggle to eat a healthy and nutritious lunch. My son naps right after lunch so normally its a struggle to get him to eat. Lunch is fast and furious and most days I make my self a quick bowl of soup.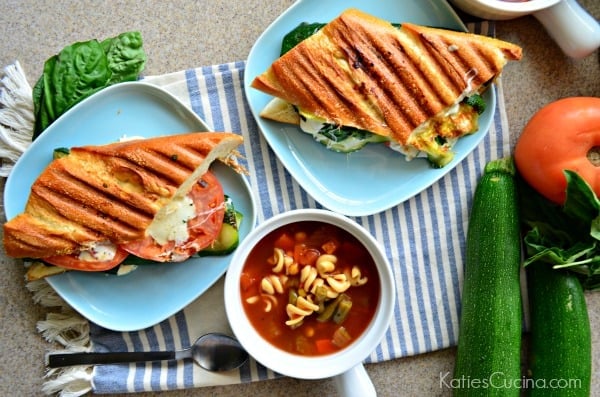 I have found though that he is starting to like to eat sandwiches. Anything with cheese on it and he's a happy camper. I recently made this Grilled Zucchini Caprese Panini that we split with a bowl of Progresso Light soup and he loved it both. I strain the broth for Ryder and give him a few pieces of the vegetables and noodles along with bite-size pieces of sandwich.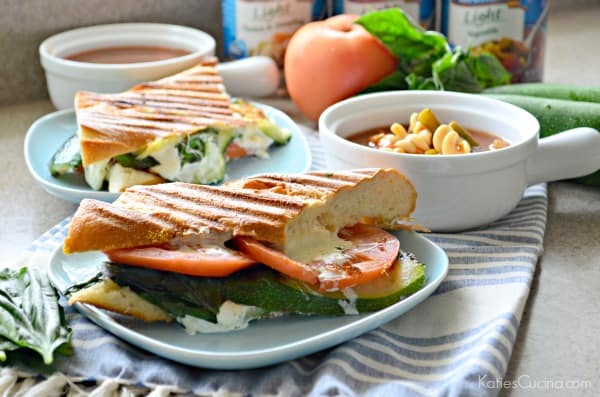 He normally never likes vegetables but I can get him to eat them if they are in soup or in a pressed sandwich. I'll take whatever tricks I need to do, so he can get in some veggies. And yes these sandwiches are as messy as they look. They stack high and then once you press them the insides tend to slide a little. But I assure you that these Grilled Zucchini Caprese Panini sandwiches are totally worth all the mess.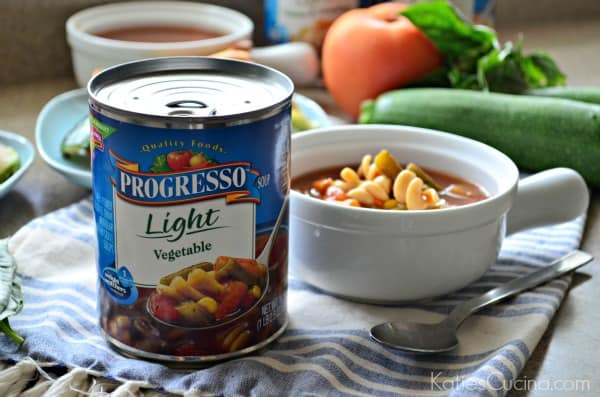 And the panini's pair wonderfully with Progresso Light vegetable soup. If you live in the south,  make sure you head over to your local Publix to stock up on Progress Light soups. Today is the last day that they are BOGO! Either way make sure you download a coupon to save $1 on any 4 cans! The coupon doesn't expire until the end of the month.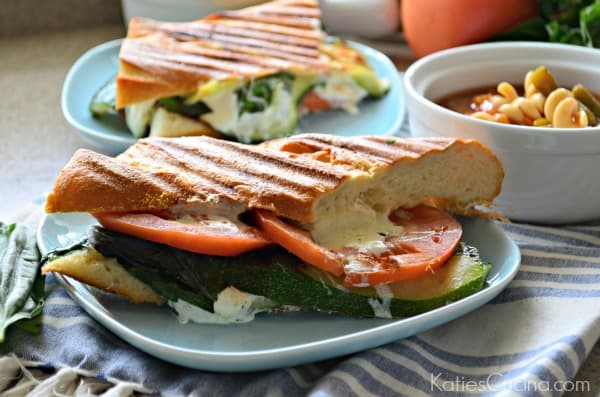 My friends at Progresso are giving one of my lucky readers $15 to start off the new year with Progresso Light! Leave a comment below and tell me how Progresso Light can help with your New Year's health resolutions?

Grilled Zucchini Caprese Panini
Yield: 2
Prep Time: 5 minutes
Cook Time: 15 minutes
Total Time: 20 minutes
Ingredients:
1 large zucchini, sliced into 4 pieces
Olive Oil Spray
2- 6-inch pieces of french baguette
1 large beef steak tomato, sliced into 4 pieces
4 slices of fresh mozzarella
6 basil leaves
salt and pepper
Directions:
Preheat grill pan to high heat. Then spray zucchini slices with olive oil and season with salt and pepper. Place the zucchini slices on the grill pan and grill for 5 minutes, flipping half way through. Remove from grill pan.
Begin to layer the panini; with the slices of cooked grilled zucchini, fresh mozzarella, basil, and sliced tomatoes.  Repeat the same steps for the second panini. Place in a panini press and cook for 10 minutes on medium-high heat or until the bread is toasted and the cheese is melted. Enjoy immediately.
Warning
: Use of undefined constant rand - assumed 'rand' (this will throw an Error in a future version of PHP) in
/home/kjasiewicz21/webapps/katiescucina/wp-content/themes/katiescucina/single.php
on line
74
3 Responses to "Grilled Zucchini Caprese Panini"
Leave a Comment