Slow Cooker Chicken And Potato Dinner
Slow cooker chicken and potatoes with a delicious pan gravy can be ready with just a few minutes of prep. Simply, set it and forget it. Don't skip the carrots and Brussels sprouts either for a complete meal!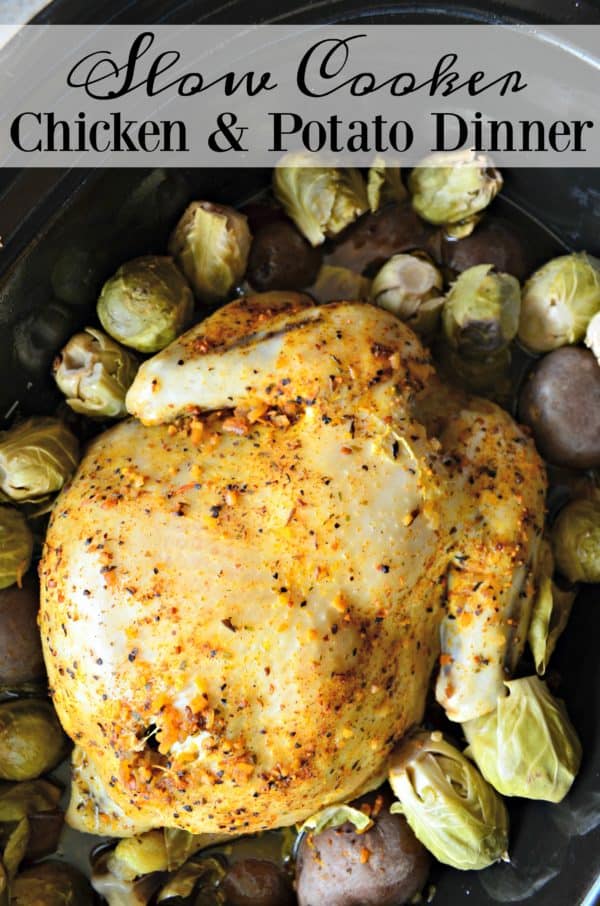 I've got a new go-to slow cooker dinner that I think you're going to love! The prep takes a whopping 10 minutes and you only need a few ingredients. I love cooking a whole chicken for my family because it always means I have leftovers whether it's to make chicken enchiladas the next might or chicken chili the sky is the limit! And if your family is like mine, all the vegetables will be gone, leaving you with just enough chicken for the next day!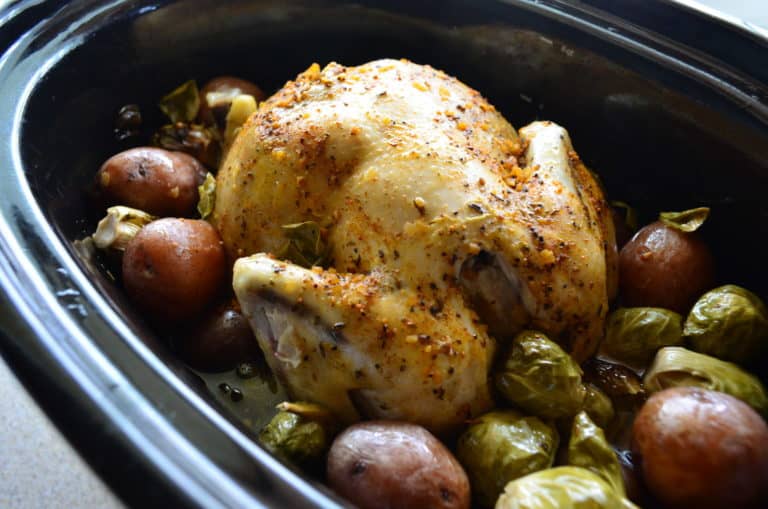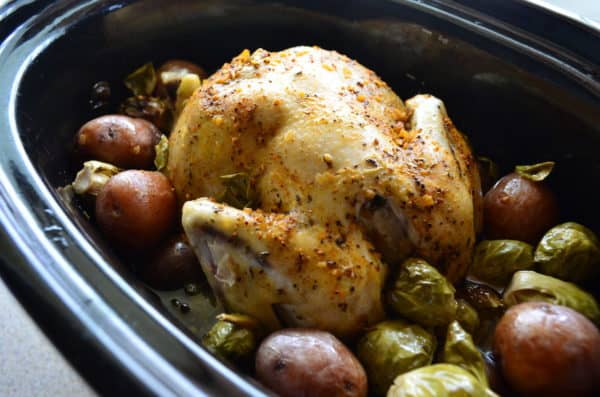 Let's talk about how I put together this meal. I layer the whole baby carrots on the bottom, and line the edge of my oval shaped slow cooker with baby red potatoes. Then I rinse, remove organs and the neck, and pat dry the chicken. I carefully place it in the slow cooker. Rinse my hands with hot soapy water, and then sprinkle with the garlic and herb seasoning and black pepper. It's okay to let the seasoning get on the potatoes–that's what I do to give it a little extra flavoring. I slice the stems off the Brussels sprouts and place those around the chicken. Place the lid on and set the slow cooker to low! That's it – dinner will be ready in eight hours. No need to add water because the water and moisture in the chicken and vegetables will be pulled out and you'll have a good 2-3 cups of broth!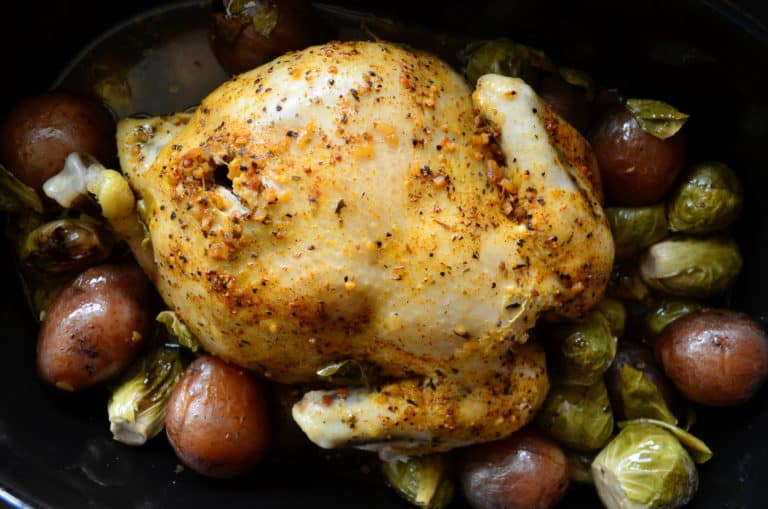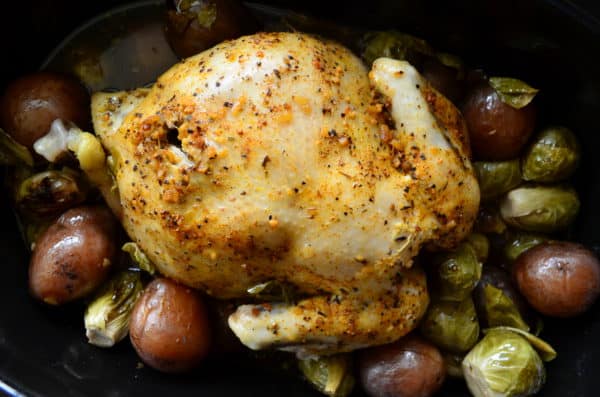 This chicken is fall-off-the-bone delicious, and surprisingly, the vegetables aren't mush. They are cooked to perfection. But like some slow cooker meals, it can lack flavor. That's why I made pan gravy with some of the stock made from the meal. I use cornstarch to thicken the stock, and add a little butter because, let's face it, everything is better with butter! I like to use cornstarch because it doesn't give you a pasty taste, and it keeps the meal gluten free. The pan gravy is exactly what this meal needs to complete it. Oh, and if you need a crispy chicken skin, you can throw the chicken under the broiler to crisp up the skin while you make the gravy. I typically don't do it though because it just means one extra dish to clean and I'm all about the least amount of dishes!
When I serve this dinner I make a side of fresh green beans or asparagus and a salad to go with dinner. If you're looking for a new slow cooker meal, I suggest you try this slow cooker chicken and potatoes, with carrots, Brussels sprouts and pan gravy.
Warning
: Use of undefined constant rand - assumed 'rand' (this will throw an Error in a future version of PHP) in
/home/kjasiewicz21/webapps/katiescucina/wp-content/themes/katiescucina/single.php
on line
74
Leave a Comment