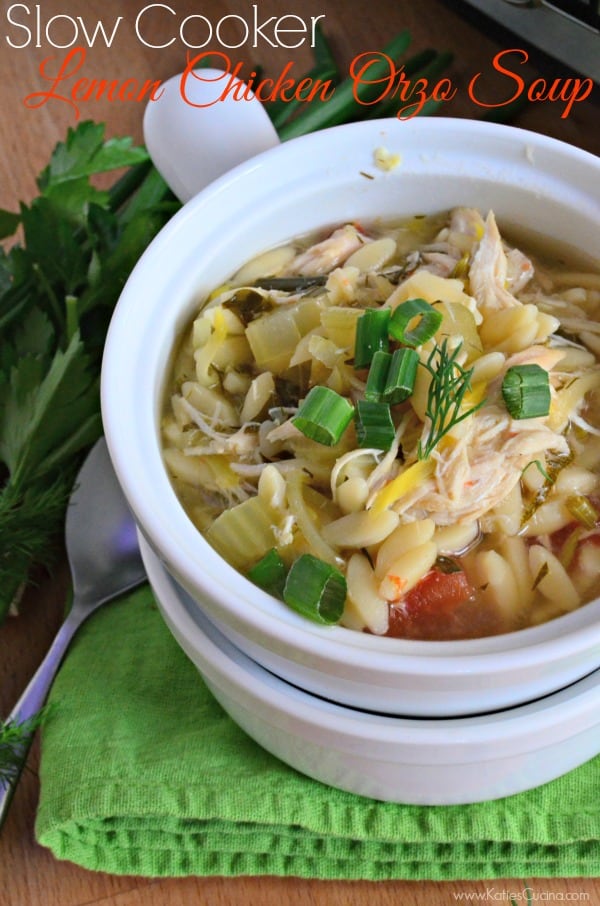 I'm back today with a slow cooker lemon orzo soup recipe. I've made this recipe a few times now over the past 9 months and its been a big hit. Plus, who doesn't love to let the slow cooker do all the work? I adore my KitchenAid Slow Cooker. It is perfect for entertaining because of the easy serve lid. Each side lifts and locks which is convenient for one-handed serving. No need to find a place to put the lid! I also love that my slow cooker has 4 temperature settings! I also love that its oval and not round. Not that it matters when you're cooking soup, but if you're roasting meet it's a nice feature to have.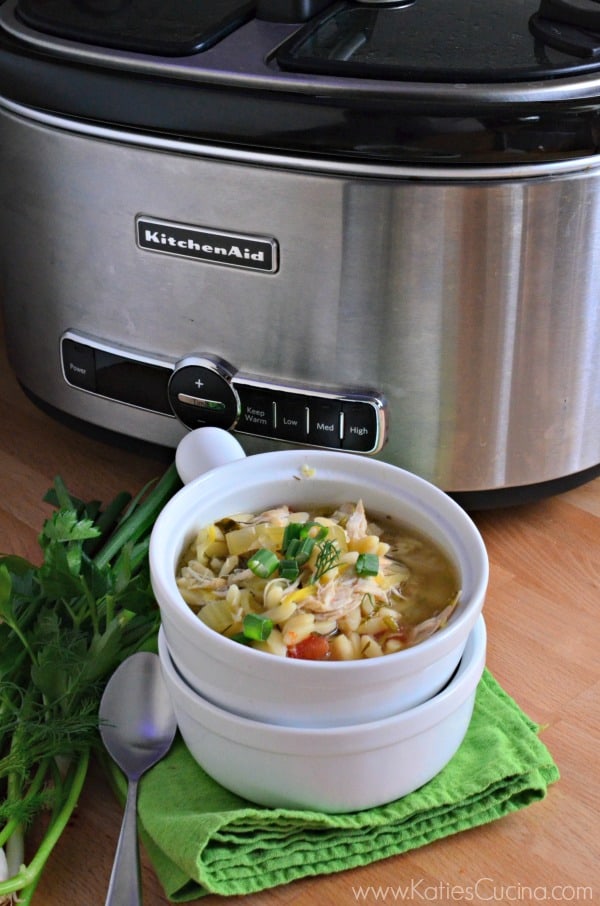 The slow cooker lemon chicken orzo soup is chocked full of veggies, chicken, and flavor and makes enough to feed an army! I also love that it doesn't really require a lot of ingredients. For instance, you only need 2 boneless skinless chicken breast. From the looks of the soup you would think I used a few pounds of chicken. A few veggies, nothing over the top, plus one cup of orzo pasta and you've got yourself a heart soup! You can prep your veggies the night before and place them in a container or a baggie to dump into the slow cooker the next morning or spend a few extra minutes in the morning prepping dinner.
Each time I've made this soup I've given a nice large container to my neighbor to enjoy. One of the times, she was sick and it just worked out perfect. Who doesn't love a big bowl of homemade soup when your sick? So whether your up north and still battling the frigid temperatures, starting to come down with a cold, or maybe just craving a simple comforting meal; give my recipe for slow cooker lemon chicken orzo soup a try!
I created this original recipe for Food Fanatic.
Disclaimer: I'm a contributor to Food Fanatic and receive compensation for developing recipes. As always all opinions are my own.