Today, we have Kim from Cravings of a Lunatic. We had the chance to meet at Food Blog Forum a few years ago and have kept in touch ever since! I participated in Kim's cancer awareness recipes from the heart, food blog hop last summer sharing my recipe for spicy beef sliders. Today, Kim shares with us her no-bake recipe for Raspberry Fool.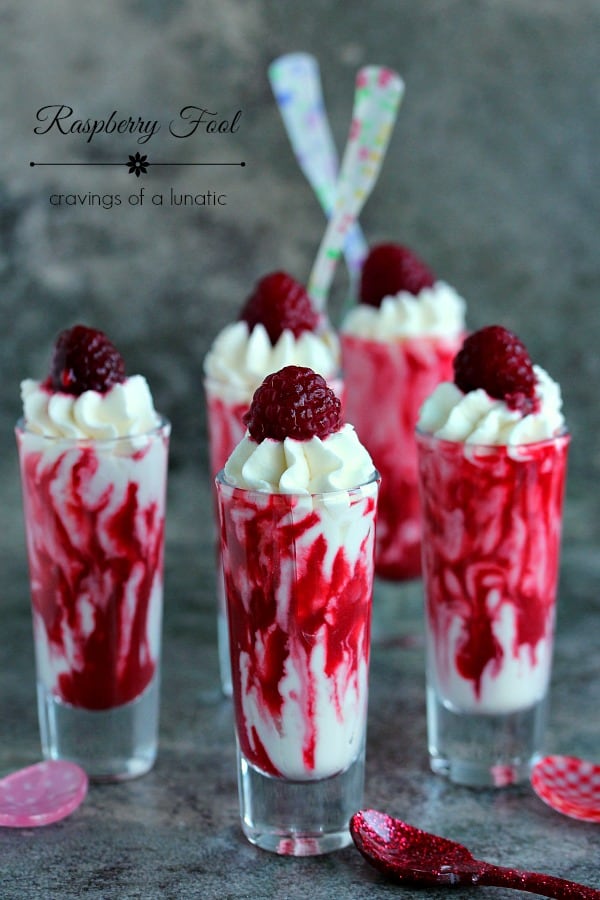 Hello there Katie's Cucina readers. I'm pleased as punch to be here today. When Katie asked for guest posters for her maternity leave I was honoured to be included. I adore this gal. There's just some folks you meet trough blogging that you instantly love. Katie is one of those people. Kind, caring and so incredibly talented.
Since you're here my guess is you know all that. You know Katie is awesome. She's also a great planner. I think it's a cool thing that she invited her friends to guest post while she spends some much-needed time being a mommy. Honestly there is no greater gift in the world than becoming a parent. I know Katie is going to be the most amazing Mom, and I look forward to following along as pregnancy photos make way for baby photos. So excited for Katie and Jon, this will be their best adventure yet.
I dreamed up a ton of recipe ideas for the post. Obsessive compulsive is my middle name, I tend to get really stressed out for guest posts. I never know whether to be serious so I don't freak out someone else's readers, or whether I should just be myself, which involves being a bit of a spaz. Hopefully I find some middle ground today.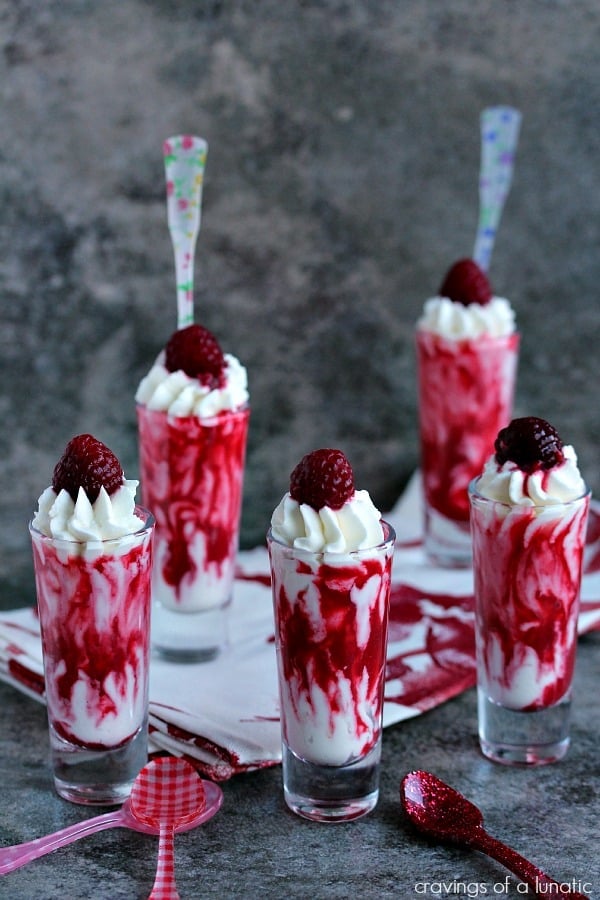 When I can't sleep I tend to spend huge amounts of time on pinterest. I love Pinterest, more than life itself most days. I enjoy using it for work and personally as well. It's my down time at the end of the day. So one night I was cruising Pinterest, pinning everything from cute men, to DIY project ideas, to recipes. I happened upon this Raspberry Fool recipe from Martha Stewart. It was not the recipe itself that drew me in, it was the presentation. Her Tangy Raspberry Fool photo that was stunning. I knew I wanted to try the technique to swirl the raspberry mixture.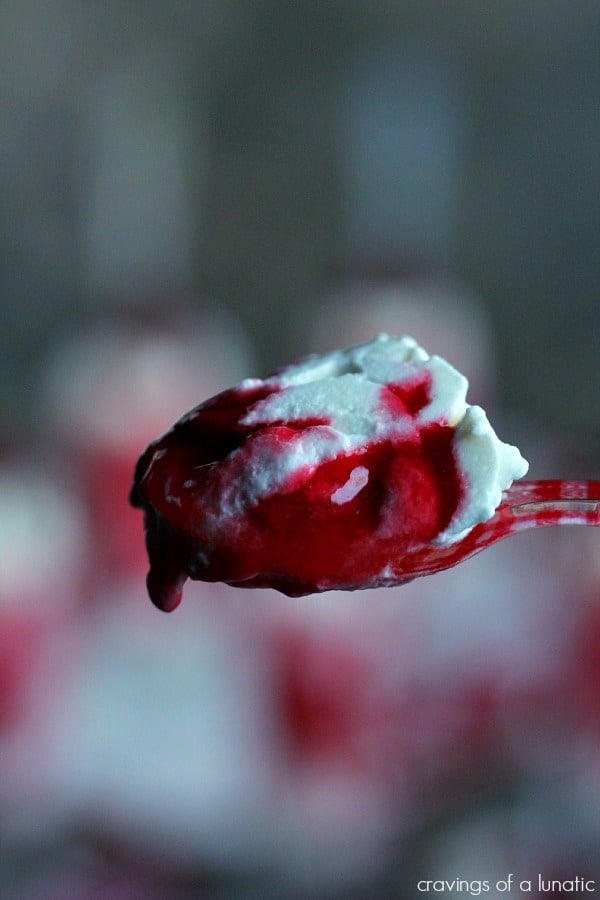 Fool is something we make quite often. It's easy and my daughter loves it. She hates cream cheese so when I make no bake cheesecake recipes for my site I tend to make a couple without cream cheese. That way Mini-me is happy and gets her fool, but we still get to have lots of no bake cheesecakes. It's a total win-win.
Fool is super easy to make, the recipes are all very similar. Essentially it's cream, confectioners' sugar and fruit. You can mix up the fruit, you can add nuts or granola to it. For me I like it as plain as possible. Let the fruit stand out as the star.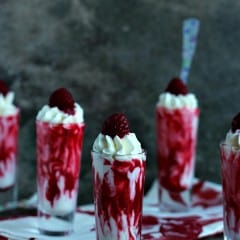 Raspberry Fool
Today, Kim shares with us her no-bake recipe for Raspberry Fool.
Print
Pin
Rate
Ingredients
12

ounces

frozen raspberries

thawed

½

cup

sugar

or vanilla sugar

¼

teaspoon

salt

or vanilla salt

2

cups

heavy cream

½

cup

confectioners' sugar
Instructions
Combine the raspberries, sugar and salt in a blender, or food processor with the chopping blade. Turn on pulse or puree for about 1 to 2 minutes. You want the sugar to dissolve and the raspberries to become as smooth as possible. Now pour the raspberry mixture through a fine sieve, and discard any seeds caught in it. It helps to use the back of a spoon to press the berries into the sieve. It will make the process faster.

In a stand mixer (or large bowl and hand mixer) whip the heavy cream and the confectioners' sugar. Start slow until it thickens slightly, then amp the speed up to high. Whisk on high until stiff peaks form, which will take about 3 to 4 minutes.

Take decorative glasses and alternate adding the whipping cream mixture and the raspberry mixture. Once you fill the glasses take a knife or wooden skewer and swirl and pull so the mixture starts to show patterns. I found pushing the skewer down in a rapid movement worked really well for the fun lines down the sides.

Top with extra whipping cream and raspberries for garnish if desired.

You can serve these immediately or pop them in the fridge for about an hour. If you're going for the dramatic look serve them as close to making them as possible. The longer they sit in the fridge the more the color becomes muted and not as striking.

Serve with a big old raspberry smile!
Nutrition
Calories:
610
kcal
|
Carbohydrates:
53
g
|
Protein:
3
g
|
Fat:
45
g
|
Saturated Fat:
27
g
|
Cholesterol:
163
mg
|
Sodium:
192
mg
|
Potassium:
218
mg
|
Fiber:
6
g
|
Sugar:
44
g
|
Vitamin A:
1777
IU
|
Vitamin C:
23
mg
|
Calcium:
99
mg
|
Iron:
1
mg
I hope you like these. I'm a total fool fanatic. I make it every chance I get. Feel free to experiment and play with flavours. Use what you love and you can never go wrong.
Thanks so much to Katie for having me today. It was a total pleasure spending the day in the Cucina.
Feel free to stop by my blogs to check them out. I blog at Cravings of a Lunatic, and also Kiss My Smoke. I'm a pinterest spaz and have also recently become obsessed with instagram. I have no idea what I'm doing but with 2 kids, 3 cats, a puppy and a horse I never run out of photo material. Occasionally I even toss some food photos up just to keep things interesting.
Toodles and smoochies! xx