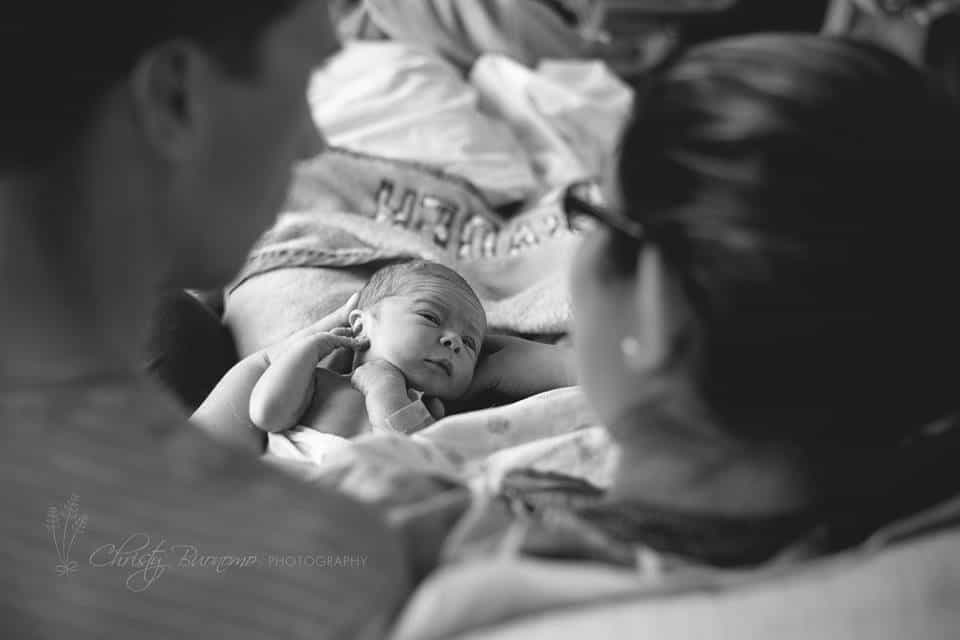 Last Saturday, March 29, 2014 my husband and I welcomed the birth of our son, Ryder Thomas. He was three days "late" from my predicted due date (that bounced around through the course of my pregnancy. Let's rewind back to my 40 week appointment of how this little guy got here. My blood pressure was a little elevated and my midwife wanted me to undergo a few extra test just to make sure that all was well with myself and the baby. By that Friday morning we found out that I was very low on amniotic fluids and well, my blood pressure never went down. That afternoon my midwife called me and told me to head to the hospital that my wish was coming true and I would soon be meeting my baby.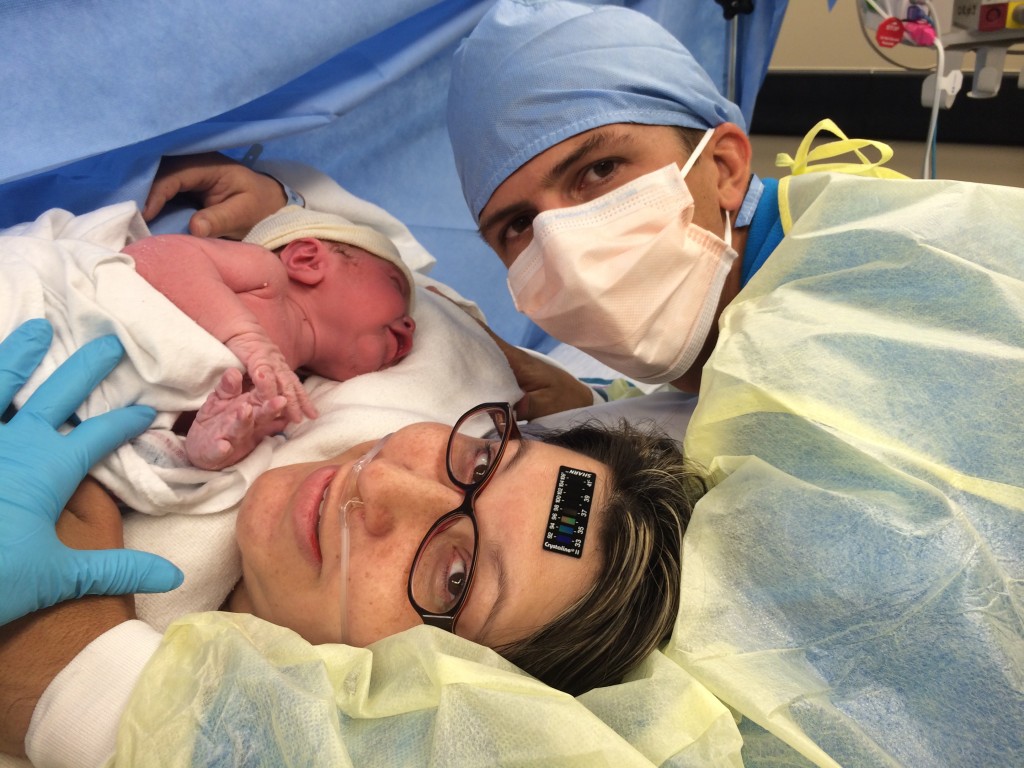 After 22 hours of labor (11 of those with no epidural) I had not progressed and was starting to spike a fever (as well as my blood pressure was still on the high side). We made the decision around 6pm on that Saturday to have a c-section. Not by choice, but this baby was not moving down and I had not dilated past 7 cm for over 5 hours. By 6:55 pm our son, Ryder Thomas was born. I will have a full birth story (with a ton more details) on my DIY blog, Sew Woodsy, in the coming weeks. Ryder weighted in at 6 lbs, 9 oz and 19-¼inches long! If you ask me he looks just like his daddy–long and lengthy and a total heart throb already. But then again, I'm a little biased!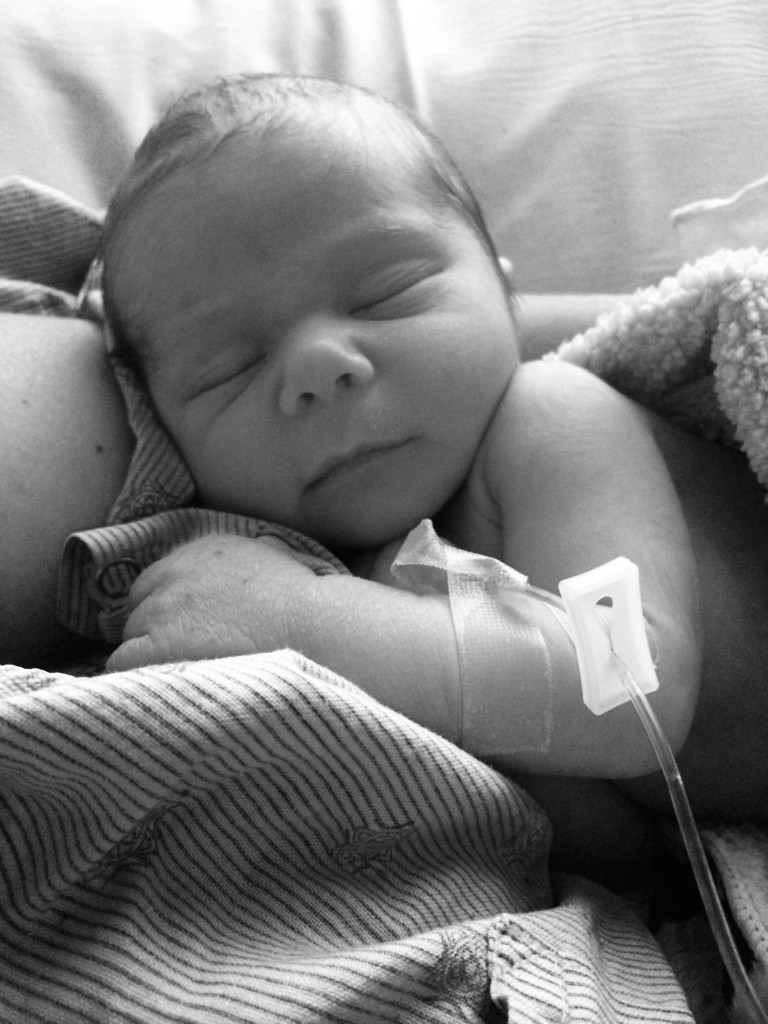 We spent 4 (long days) in the hospital until they finally allowed us to discharge. Because I spiked a fever during labor, Ryder had to get antibiotics through an IV every 8 hours for 48 hours. Making this mama sad and already blaming herself for not opting for a c-section earlier in the laboring. But what can you do, if that's the worse that was wrong with him, I'll take it! I was so ready to get home and get the show on the road.
My super talented friend, Christy, came to visit us in the hospital and did what is called a "fresh 48" photo shoot. This is a great way to document the first 48 hours in the hospital as a new family. The first photo up top was taken by Christy as well as this one she posted on Instagram. I can't wait to see the rest of the photos!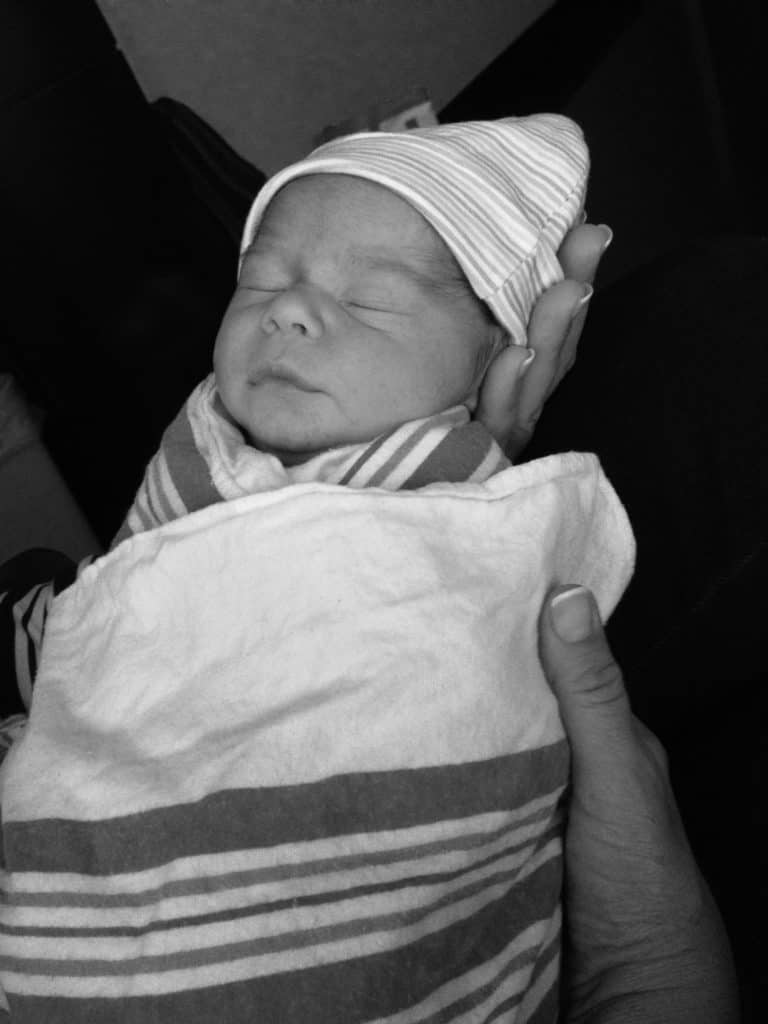 I will leave you with one more photo of Mr. Ryder Thomas. My father in-law took this photo of Ryder on his iPhone in the black and white setting (on accident). We absolutely loved the photo and made him send it to us ASAP. We have been at home for almost a week now and are getting adjusted to the new "normal". We made it through the first week and everyone is still alive! I even managed to cook a freezer meal (a post on that coming soon) as well as cook a few breakfasts'. And not just cereal or a store bought pastry for breakfast in our home. Ryder is also doing great. He eats like a champ (I've chosen to exclusively breast feed) and sleeps pretty darn well. He sleeps 3-5 hours at a time. Which most people tell us in unheard of. He really only cries when he is hungry or has a dirty diaper and if he starts to have a crying fit it really freaks us out because we have no clue why else he is crying. We have only experienced 2 of those crying fits in his first 9 days of life. I consider myself crazy lucky.
For the remainder of the month I'll have my closest blogging friends helping out while I get adjusted to this new thing called parenthood. I'm so incredibly grateful for the help of our parents, family, and friends while we adjust to being a family.