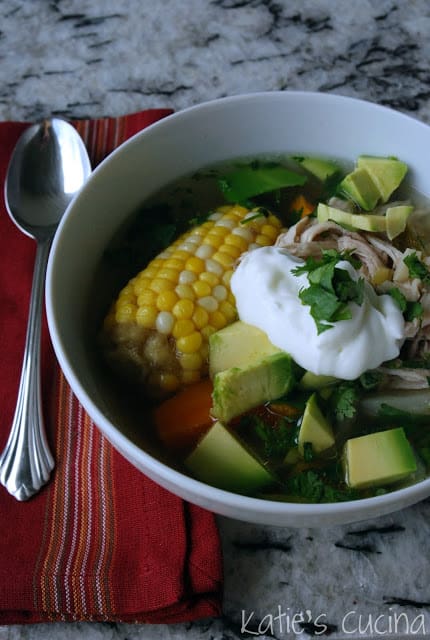 I am a soup fanatic… I could live on soup. As a kid, I preferred to eat soup for breakfast instead of waffles! In the dog days of Florida summers you will still find me eating soup! I typically try to make at least one pot of homemade soup each week. Most of the times it's my go-to recipes that I've made for years now, and other times I'm working on a new recipe! I am always looking for new soup recipes, and even better crock pot recipes. This soup reminded me of a soup I had when I visited Austin, Texas last February. I went to a super authentic tex-mex restaurant and ordered the chicken soup. It just so happened to be sleeting in Texas while I was there and this Florida girl was freezing! I had never had an ear of corn in my soup before until that day. I must admit… it gave great flavoring to both the soup and the ear of corn, and from that point on I was hooked! This is a very basic chicken soup recipe, so if you are looking for bold flavors you may be disappointed and will definitely want to add more spices. You'll notice that this is a pretty simplistic pot of soup, but a delicious one none-the-less!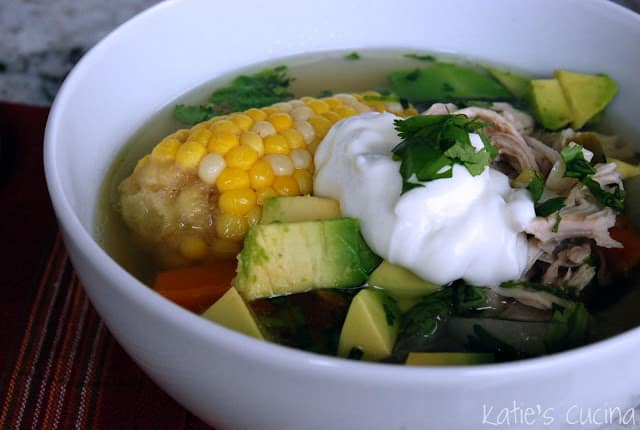 Adapted from: Rachael Ray Magazine, Oct 2011


Author:
Total time:
8 hours 30 mins
Ingredients
1 lb yukon gold potatoes, peeled and cut into cubes
1 lb sweet potatoes, peeled and cut into cubes
1 whole chicken
4 cups chicken broth
4 scallions
1 medium white onion, diced
1 teaspoon salt
¼ teaspoon pepper
1 tablespoon maggie seasoning
3 ears corn, cut into 3-inch pieces
¼ cup chopped cilantro
2 avocados, cubed
tbsp sour cream *for each bowl of soup
¼ cup chopped cilantro
Instructions
Place the yellow potatoes and sweet potatoes into a crock pot followed by chicken, broth, scallions, onion, and garlic. Add 4 cups water then season the pot with salt, pepper, and maggie seasoning. Tuck the corn around the chicken. Cover and cook on low heat for 8 hours.
Transfer the chicken to a shallow bowl. Using a large slotted spoon run it through the soup pot a few times to make sure no bones have fallen into your soup! Using a fork carefully begin pulling the meat off the bone. Once you've picked all the meat off the bone discard the carcass and place the chicken back in the crock pot. Stir in a ¼ cup of cilantro. Serve each bowl of soup with cubed avocados, dollop of sour cream, and more fresh cilantro.