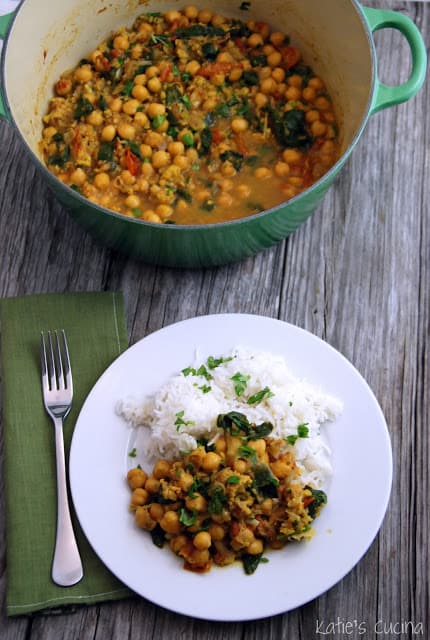 In recent years I've become a lover of all things curry. It has taken my husband a while to warm up to this fragrant spice. I've been cooking up quite a few new vegetarian dishes to add to my recipe book, and this is one that will be a keeper! Loaded with protein and veggies–it's full of flavor and sure to warm the soul on a cold winters night.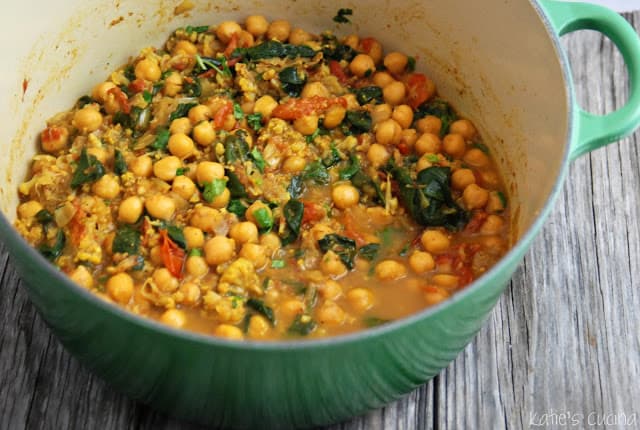 This recipe calls for roasted cauliflower and tomatoes. You can roast them the night you make this dish or a few days prior cutting your cook and prep time in half! I had roasted the veggies a few days prior and whipped up this meal in no time during the work week. "Toasting" the curry powder for the minute the recipe calls for helps intensify the flavors. I am a salt-phene and found myself adding quite a bit of salt to my dish. This in my opinion is a low sodium dish.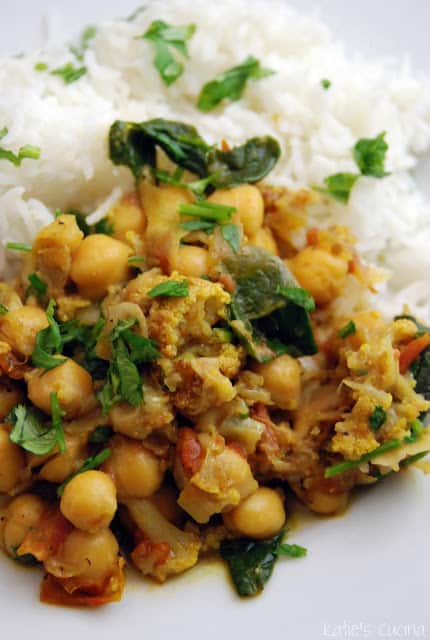 *If your concerned about your carnivorous counterparts add a grilled breast of chicken to their plate. Season the chicken with olive oil, salt, pepper, and a dash of curry powder; cook until internal temperature reaches 165 degrees. You could even grill shrimp on skewers and add it to this dish.
Adapted from: Everyday Food, Janu/Feb 2012

Author:
Ingredients
1 cup basmati rice, cooked
2 teaspoon olive oil + 1 tbsp
1 onion, diced
3 garlic cloves, minced
1 tablespoon ginger, grated
4 teaspoon curry powder
2 cans Chickpeas, rinsed and drained
2 cups cauliflower, roasted
1 pint cherry tomatoes, roasted
4 cup spinach
1 tablespoon cilantro, chopped
salt and pepper to taste
Instructions
Preheat oven to 400 degrees. Toss cauliflower and tomatoes in one tablespoon of olive oil, salt and pepper. On a baking sheet roast cauliflower and cherry tomatoes until golden brown for about 20 minutes.
Meanwhile, in a medium pot, heat oil over medium heat and add onion; stirring occasionally, until golden brown, about 10 minutes. Add garlic, ginger, and curry powder; stirring until fragrant about 1 minute. Add chickpeas, roasted tomatoes, and 2 cups water; bring to a boil over high. REduce heat to medium, cover, and gently simmer for 8 minutes.
Add cauliflower and cook until cauliflower is warmed through and chickpeas are tender about 8 minutes. Stir in spinach and cilantro and season with salt and pepper. Serve immediately on a bed of basmati rice and sprinkle with additional cilantro if desired.