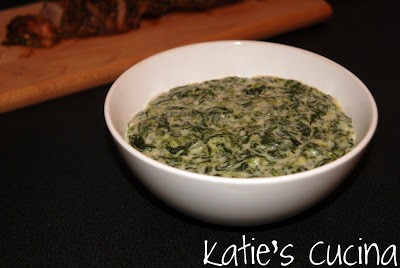 I've ate creamed spinach a few times before while out at restaurants but it's never something I would think to make. For some reason I was craving it, and was ultimately ready to finally tackle this recipe. I'll tell you, (if you didn't know already) creamed spinach in general is not for someone who is calorie counting. The fattening ingredients is what makes this side dish! You can't skimp! I'm so glad I tried this recipe because not only was it easy but it was so tasty, and the leftovers made for a great baked spinach artichoke dip (recipe to come)!!!
1 stick butter

8 tablespoon Flour

½ medium onion, diced

3 cloves garlic, minced

2 cups milk

salt & pepper to taste

1 pinch ground nutmeg

3 tablespoon butter

24 ounces baby spinach
1.
Melt 1 stick of butter in a pot. Sprinkle in flour and whisk together. Cook over medium heat for five minutes or until light golden brown. Throw in onion and garlic and stir together, cooking for another minute. Pour in milk, whisking constantly, and cook for another five minutes while you cook the spinach.
2. To cook spinach, melt 3 tablespoons butter in a separate pot. Add spinach in increments until all incorporated, and cook until wilted but not soggy, about 4 to 5 minutes.
3. Season the cream sauce with salt, pepper, and nutmeg. Add spinach to the cream sauce, stirring gently to combine. Serve immediately.