Slow Cooker Turkey Breast with Carrots & Parsnips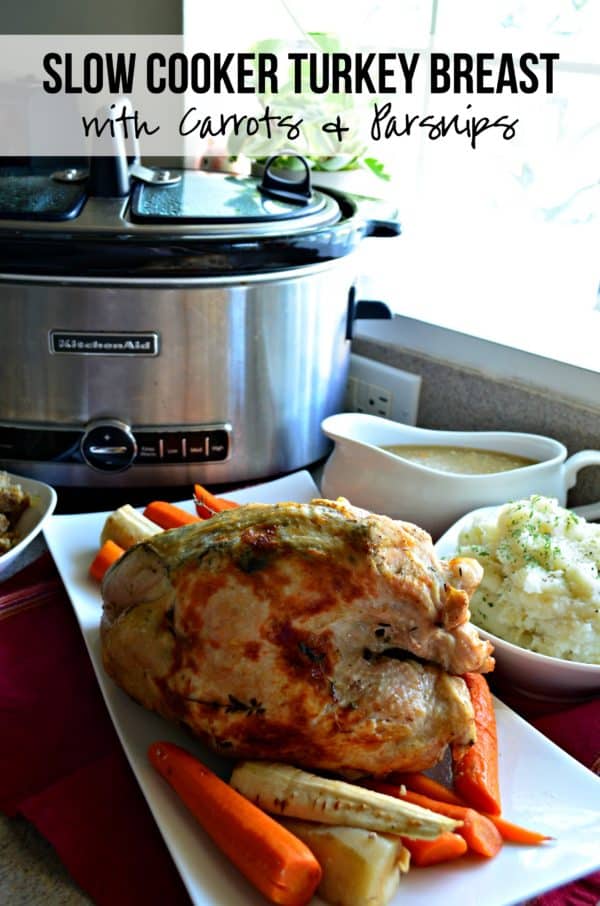 Thanksgiving is right around the corner and if your not planning to cook for a large crowd I have an easy no-fuss method to share with you today. I'm sharing my recipe for Slow Cooker Turkey Breast with Carrots & Parsnips. You get your main dish plus a side all in one slow cooker meal! That gives you extra time to celebrate the day with the ones you love and just worry about a few side dishes and dessert!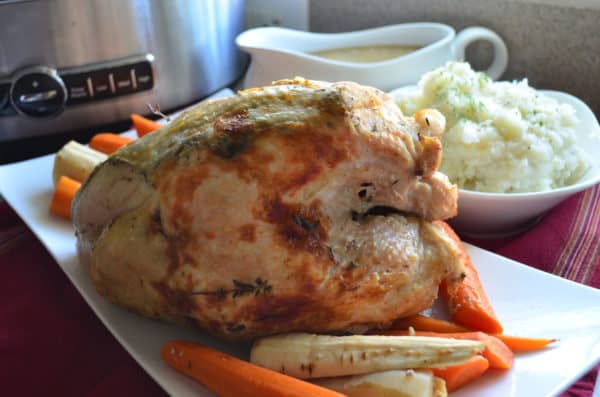 I have a love affair with my slow cooker and am always looking at new ways to cook meals. That's when I got the idea to cook a turkey breast in the slow cooker. Since I'm not a big fan of the skin anyways, having a crisp skin doesn't bother me. However, you can remedy that by throwing it under the broiler for a few minutes once the turkey breast is done cooking. Then you get the best of both worlds. A moist turkey plus crispy skin that tastes like it's been baked in the oven for a few hours!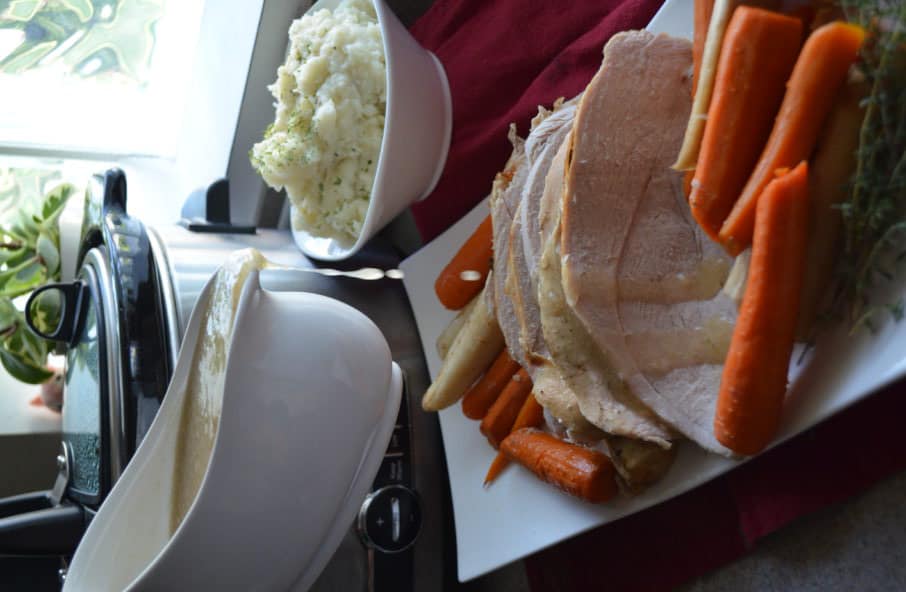 I also will note that I always brine my turkey. It results in moister meat giving me less chance of drying out my beloved bird. That's the whole point to brineing. You brine to prevent the turkey from drying out. Depending on what you brine the bird with it can also take on an extra layer of flavoring. I alternate between a sage buttermilk brine and a buttermilk thyme and garlic brine. Both are delicious and perfect for pairing your dinner with Thanksgiving side dishes.
For this turkey recipe I used my thyme buttermilk brine recipe. Then I used the same bundle of thyme that I brined the turkey in and placed it in the cavity of the turkey breast. I also used a few cloves of garlic to add additional flavor. I like to place a few tablespoons of unsalted butter under the turkey breast skin with a combination of salt, black pepper, and poultry seasoning. This will flavor the meat of the bird. If you just put the seasoning on the skin you won't taste it in the meat.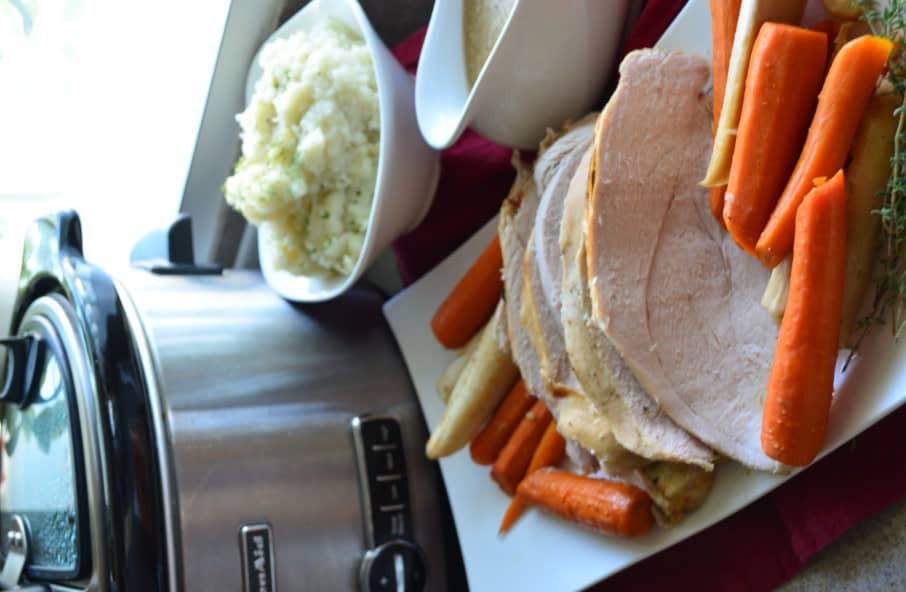 Once the turkey breast is done cooking I remove it along with the carrots and parsnips into an oven safe dish and place it under the broiler for about 5 minutes to allow the skin of the turkey to crisp up. The carrots and parsnips are on the bottom of the pan to hold the turkey breast in place. Just watch your turkey breast to make sure that the skin doesn't burn. Every oven temperature and time will vary. Start with 2-3 minutes and then keep adding on a minute until the skin is to your desired color. While the turkey browns in the oven I make the pan gravy using the liquid in the slow cooker mixed with a slurry of cornstarch and water. This will cook up in a few minutes and be ready by the time the turkey is ready. I like to use an electric carving knife to carve the turkey breast—but a plain knife will work as well. If your looking to switch up your turkey cooking this year, I challenge you to try my recipe for Slow Cooker Turkey Breast with Carrots & Parsnips.
Warning
: Use of undefined constant rand - assumed 'rand' (this will throw an Error in a future version of PHP) in
/home/kjasiewicz21/webapps/katiescucina/wp-content/themes/katiescucina/single.php
on line
74
Leave a Comment