Looking for an easy 24-hour Refrigerator Bread and Butter Pickles recipe. No canning skills needed to make this recipe!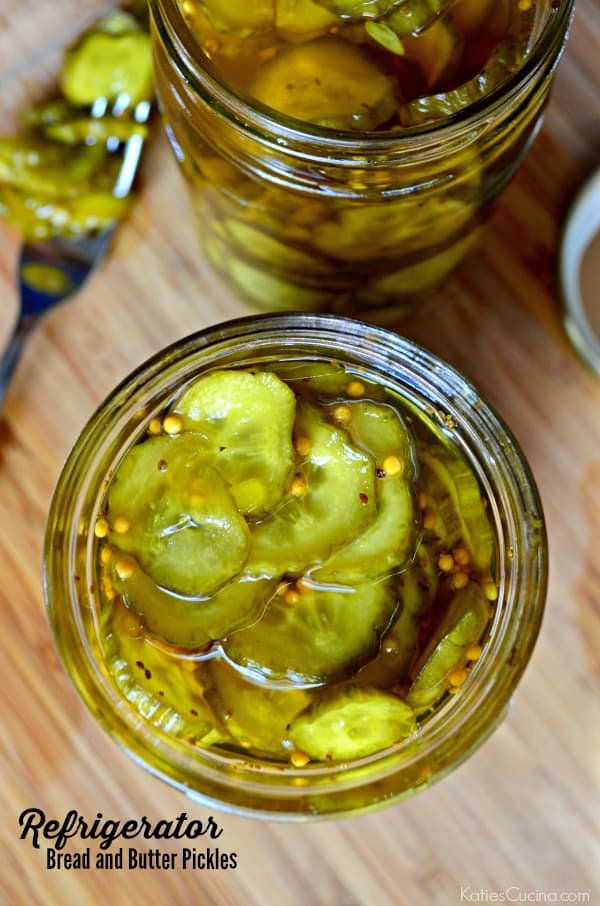 Get ready for the easiest most delicious Refrigerator Bread and Butter Pickles you've ever had. Sweet yet still a little tangy and perfect to eat by the forkful or top on burgers, dogs, and chicken sandwiches to name a few. I've always loved pickles as long as I can remember. A few years back when Facebook was just starting to get popular a childhood friend found me on Facebook and asked if it was the Katie who would only eat a plain burger with tons of pickles on it. Yep, that's me! And although I still load my burgers and just about any sandwich on this plant up with pickles I do enjoy other toppings now, too.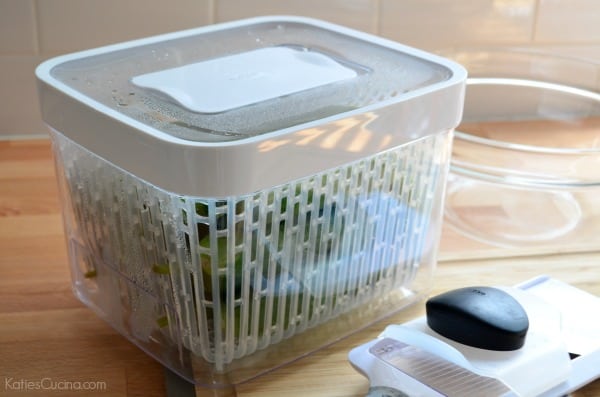 Let's talk about the new OXO GreenSavers. I had the chance to review the OXO GreenSaver Produce Keeper – 4.3 Qt. Perfect for storing mini cucumbers! Did you know that more than 25% of the fresh fruits and vegetables purchased by U.S. consumers are wasted annually before being consumed. That equates to more than 226 pounds per the average U.S. family! Why do we waste so much produce? When you bring produce home, you usually keep it in the plastic bags or the container it comes in. Storing your produce like this is actually causing it to go bad faster — this is the reason you often find rotten and slimy lettuce when you go to make a fresh green salad.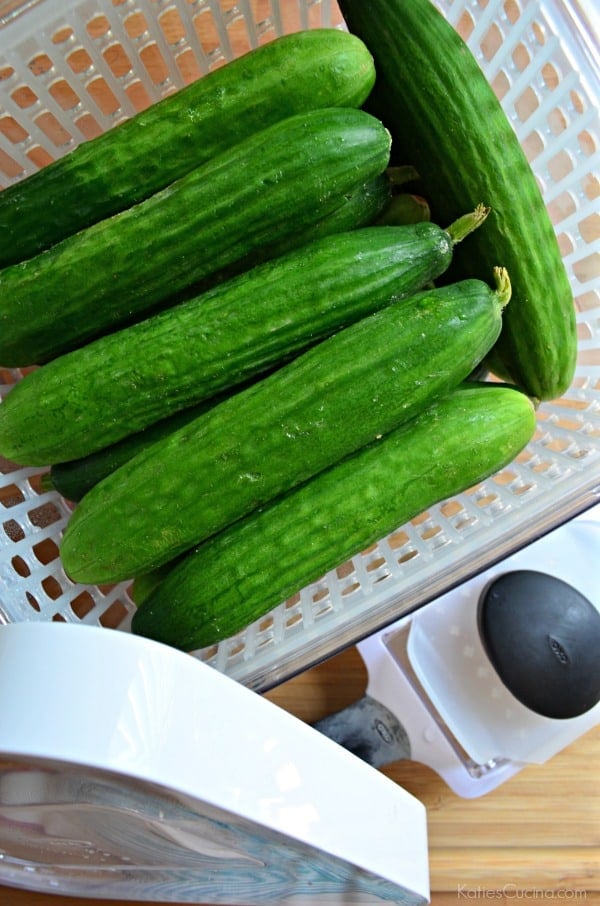 There are three main reasons produce rots and spoils:
– Ethylene Gas: Fruits and vegetables give off ethylene gas. Exposing produce to ethylene gas speeds up the ripening process, causing it to overripen and go bad.
– Improper Airflow: When produce rests against the walls of containers, bags or crispers, moisture can build up and cause rotting.
– Uncontrolled Humidity: Fruits and vegetables require the perfect balance of humidity to keep them crisp and prevent wilting. To make things more difficult, different kinds of produce require different humidity levels.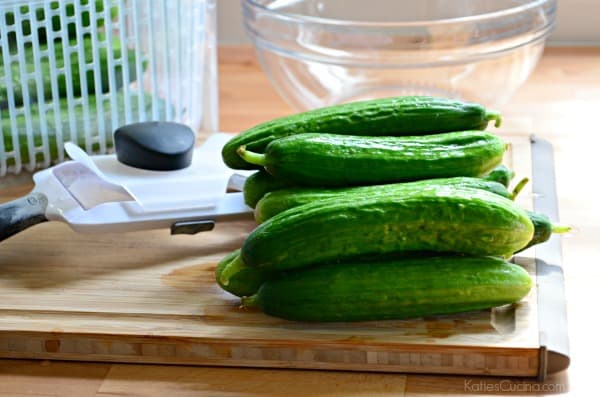 How gorgeous are these Mini Cucumbers from Melissa's Produce? They sat in my GreenSaver Produce Keeper for over 2 weeks. I kept meaning to get around to my recipe, but at the same time I wanted to test the Produce Keeper. Really put it to the test. Out of all the cucumbers only one was starting to go bad! That's it! And I'm happy to announce that I was able to cook up the rest (split between a batch of these bread and butter and a delicious batch of dill pickles that I'll be sharing next week).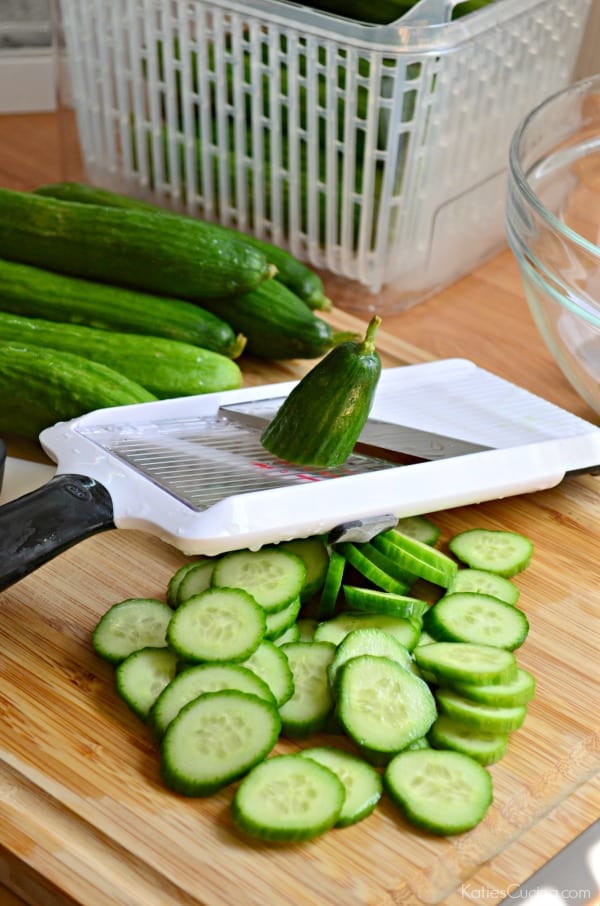 I used my OXO Hand-Held Mandoline Slicer to slice the mini cucumbers. Makes perfect-size slices every time! Once I was done slicing I placed the cucumbers in a bowl and added in the salt. Gave it a good mix and let it rest for 1 hour. Then I worked on making the brine. After the brine was done and the cucumbers were done soaking in its salt solution I drained and rinsed them and then placed them into the pot with the brine. They rested for an additional hour, mixing every so often… And then I placed the pickles into 2 mason jars.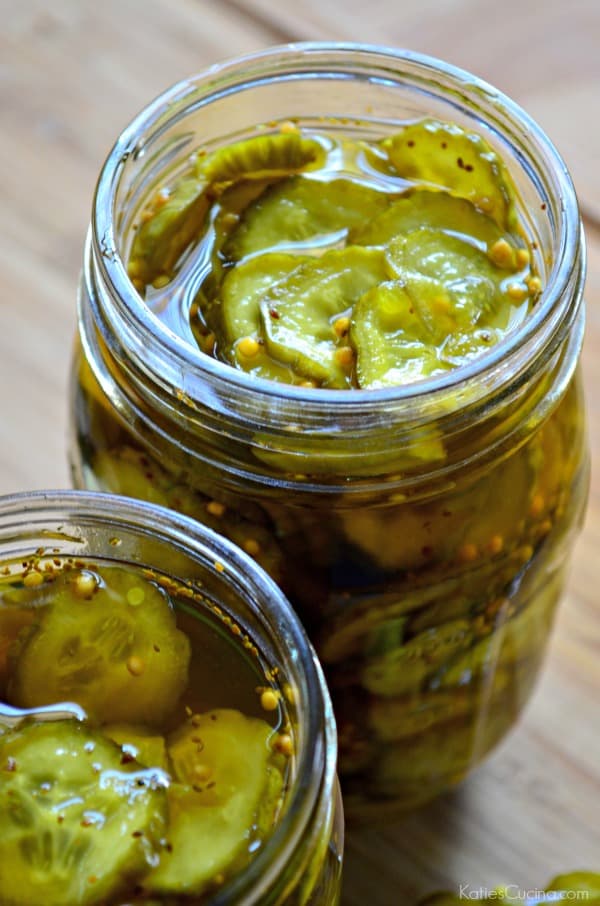 In the refrigerator they went and rested for an additional 24 hours. Although, I can't lie… I did eat quite a few right after they were done soaking for an hour. They are so good. Trust me. If you like bread and butter pickles you won't be able to resist the urge to "test" a few!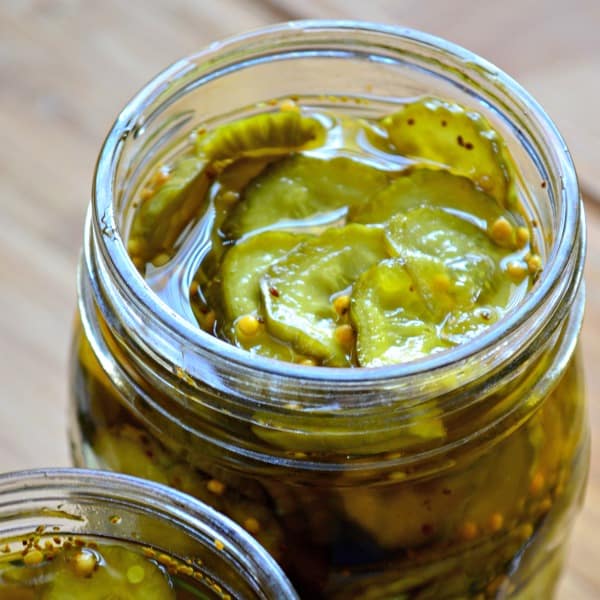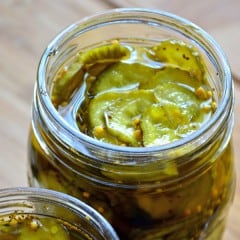 Refrigerator Bread and Butter Pickles
Looking for an easy 24-hour Refrigerator Bread and Butter Pickles recipe. No canning skills needed to make this pickle recipe!
Print
Pin
Rate
Ingredients
10

Mini Cucumbers from Melissa's Produce

sliced ¼-inch thick

1

tablespoon

kosher salt

1

cup

white sugar

½

cup

brown sugar

packed

½

cup

white vinegar

1-½

cup

apple cider vinegar

1

tablespoon

mustard seeds

1

teaspoon

celery seeds

¼

teaspoon

turmeric

ground

1

tsp

dried onion flakes
Instructions
In a large bowl, combine sliced cucumbers and salt. Mix well and then let sit for 1 hour.

In a medium saucepan, combine white and brown sugar, white vinegar, apple cider vinegar, mustard seeds, celery seeds, turmeric, and dried onion flakes. Simmer over medium-low heat until sugar is completely dissolved, stirring often.

Rinse salted cucumber slices and drain well.

Place the drained cucumbers in with the hot vinegar mixture. Stir and cover. Let stand at room temperature for 1 hour.

Transfer cucumber mixture and brine to jars, pouring brine into jars until covered to the top. Cover with a lid and refrigerate. Pickles are ready to eat in 24 hours and will hold refrigerated for up to 3 weeks.
Notes
*Recipe makes 2 pint canning jars worth.
I've never personally canned this recipe. However, I had a reader write-in sharing how she did it. THIS HAS NOT BEEN TESTED BY ME!
To Can:
Soak whole cucumbers in a pickling Lyme solution (1 cup Lyme to 1 gallon of water) for 24 hours. (This soaking makes your pickles very crisp).
After 24 hours, remove the cucumbers and rinse them off thoroughly. Be sure to pour the Lyme water out, someplace outside. The Lyme isn't good for your household drain pipes. Slice the rinsed cucumbers and make the vinegar solution as written in the recipe. Fill clean canning jars with cucumber slices and pour the vinegar mixture to within one Half inch of the tops of the jars. Clean off rims and adjust lids. Processing a boiling water bath for 10-15 minutes. Remove jars and cool on a dish towel.
Nutrition
Serving:
1
g
|
Calories:
43
kcal
|
Carbohydrates:
10
g
|
Protein:
1
g
|
Fat:
1
g
|
Saturated Fat:
1
g
|
Sodium:
177
mg
|
Potassium:
116
mg
|
Fiber:
1
g
|
Sugar:
9
g
|
Vitamin A:
54
IU
|
Vitamin C:
2
mg
|
Calcium:
15
mg
|
Iron:
1
mg
Disclaimer: I received an OXO GreenSaver Produce Keeper and Mini Cucumbers from Melissa's Produce in exchange for a review. As always all opinions are my own.