I absolutely love Carrabba's Italian Grill and they are sponsoring today's post. I'm a Carrabba's Influencer for 2016 so you'll see more post like this throughout the year! As always all opinions are my own.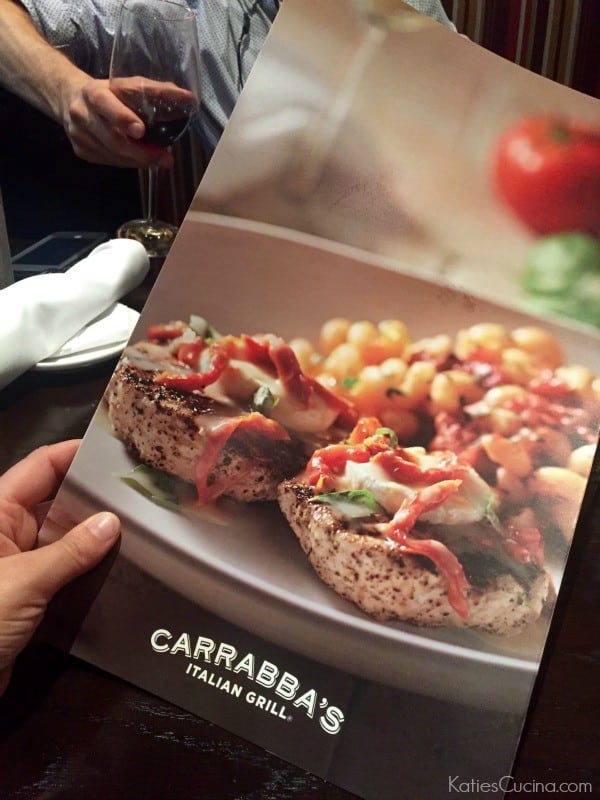 Last Friday, my husband and I got a much needed date night out. My in-laws happily agreed to watch Ryder and we were super excited to go to one of our favorite restaurants, Carrabba's Italian Grill, and sample some of the new menu items! After we sat in the booth we both were trying to think about the last time we dined in the restaurant.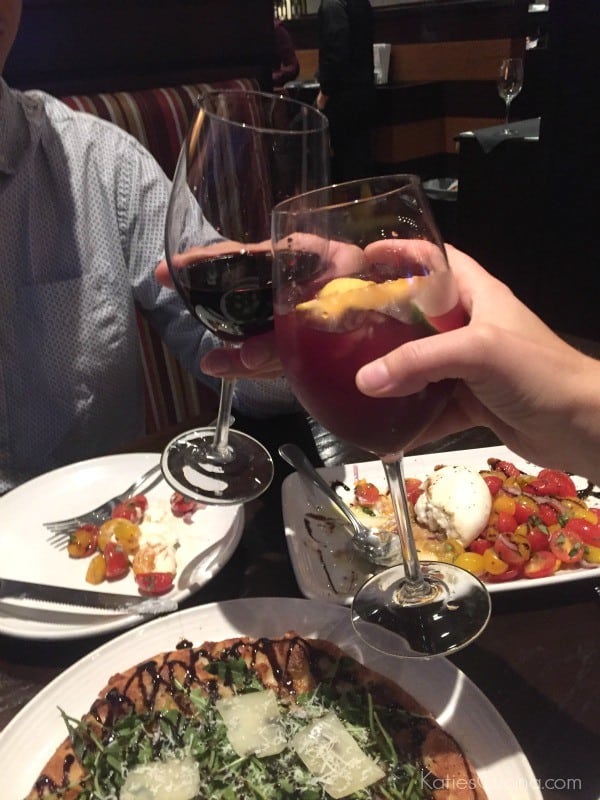 These days we typically do take-out since it's almost impossible to dine out with our rambunctious toddler. We find it's more enjoyable for all parties if we eat at home. Good thing Carrabba's does Car-side Carryout. You don't even have to get out of your car! They come directly to your car, you pay, then they bring your food. GENIUS! Why don't more places have this option!??! So let's get back to our actual date night. Since we had the privilege of dining in you better believe I ordered a quartino of Carrabba's house made sangria! Cheers to date night!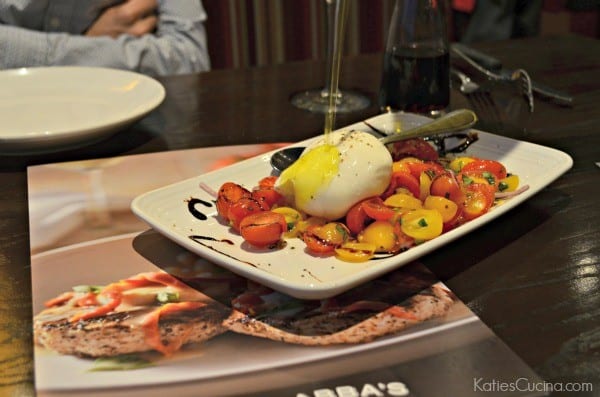 We started with the new Tomato Caprese with Fresh Burrata – Creamy burrata mozzarella, tomatoes, fresh basil, red onions, balsamic glaze, drizzled with extra-virgin olive oil. They had me a burrata and boy was it delicious!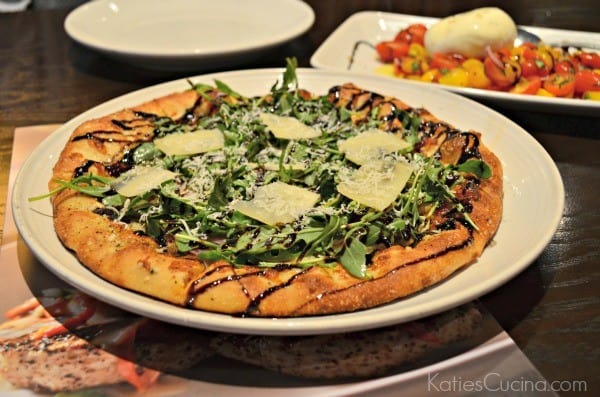 Next up, we had the Prosciutto Arugula Wood-Fired Pizza – Prosciutto, arugula and shaved parmesan drizzled with balsamic glaze. We absolutely LOVE Carrabba's pizzas so we knew we had to try this one.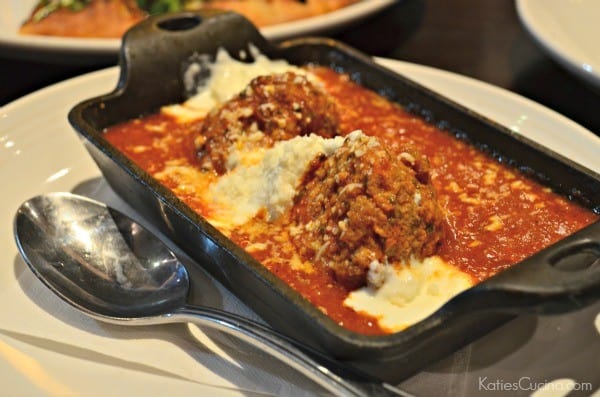 And because we hadn't enjoyed enough food at this point, Jon and I shared the Prosciutto-Wrapped Shrimp – Wood-grilled, topped with lemon butter and served over orzo pasta with roasted tomatoes, kalamata olives, bell peppers, red onion and lemon. We loved this dish. But just know it's not a huge portion like some of the other dishes Carrabba's is known for. It was much smaller than I anticipated. And the bell peppers and red onion were left raw/al dente. Which I didn't mind but my husband was caught off guard. We enjoyed it with a side of Italian Green Beans.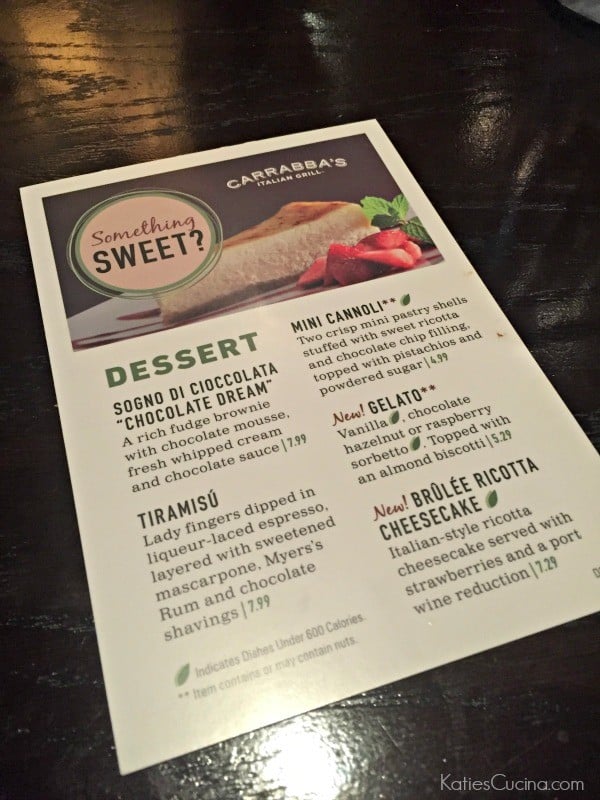 Let's not forget about dessert.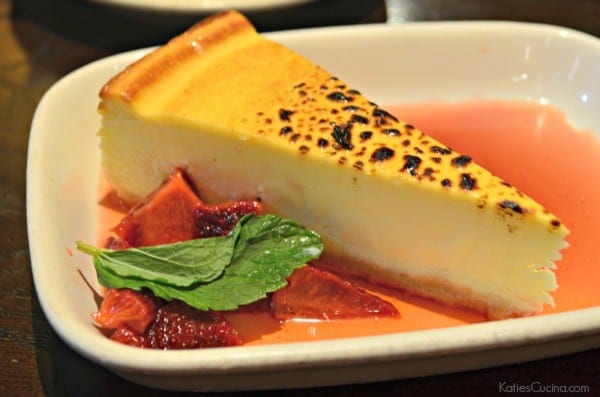 We tried the all new Brûlée Ricotta Cheesecake – Italian-style ricotta cheesecake served with strawberries and a port wine reduction. Heaven in my mouth! So good!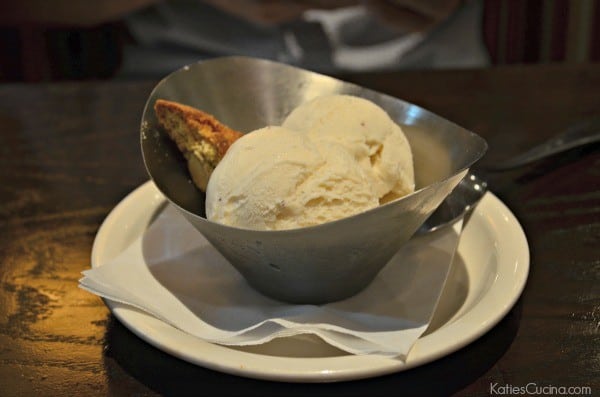 We also had the vanilla gelato which as also delicious!
A few other fun things Carrabba's has going on throughout the week:
Between now and March you can receive 20% off your entire purchase! Make sure you sign-up now to receive your coupon for your next date night out.