If there is one meal out of the day we love the most in my household its breakfast. Even when we are traveling and on the go we make time to have breakfast. We stayed in Barcelona, Spain for 3 days/nights before our Mediterranean cruise. Thanks to an abundance of Hilton points we were able to stay in Spain for virtually free. The Hilton offered a buffet breakfast at a very steep price, so my husband and I decided to venture out each day for breakfast. Thankfully, there was a local restaurant right next to our hotel (that came highly recommended to us by family who stayed at the same Hilton). Restaurante Piscolabis Diagonal served delicious breakfast at a very reasonable price!
They also had English menus. Heck, everywhere in Barcelona had not only English menus but multiple different languages available for a menu. I noticed though, at most places you got one menu for the table. In all the places we dined we also noticed that their were no salt and pepper shakers on the tables. You had to ask for it and it seemed like each restaurant had a very limited number (like 2 or 3). So they would bring it to you and wait for you to salt and pepper your food and then take the shakers from you. Just a tid bit of information in case you ever travel to Spain!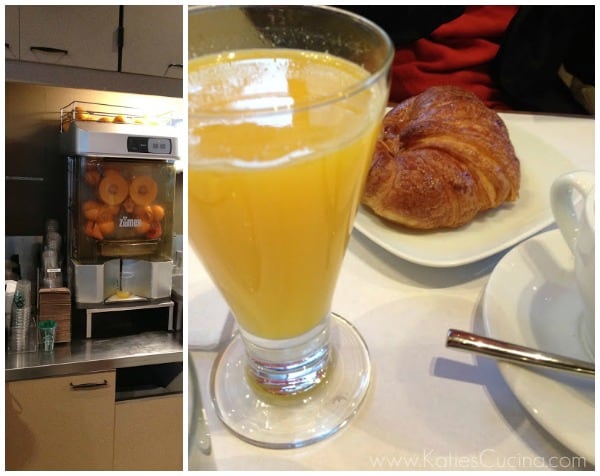 On our first morning in Barcelona we got up late (for us) and didn't wander outside of the hotel until close to 11 am. It had been raining and the day before we had been up for over 24 hours so sleeping in was much needed! We started our breakfast with a little cafe (or coffee in English). I ordered my husband a cafe americano which is a shot of espresso followed by a cup of hot water. I ordered a shot of espresso for me. By far, this was one of the best espressos I had on our trip. It was delicious and I could have easily downed 5 shots, but chose not too since I didn't want to be buzzing around the city!
Everyone that I talked to told us that we had to try the freshly squeezed orange juice while in Spain. Unfortunately, I can't drink orange juice, but my husband can. So he gave it a try and loved it. Although, he said it was much more tart than American orange juice. But I reminded him that's because it is freshly squeezed and no additives are put in the beverage. These machines were in virtually every restaurant we went into (even Starbucks)!
My husband ordered the breakfast special which consisted of fried eggs, bacon, and potatoes (not pictured). Thankfully, our server spoke very good English and understood that I wanted the egg and potato omelet but I wanted it with egg whites only. It doesn't look too appetizing but it was one of my favorite breakfasts abroad! I also learned about tomato bread. It comes with everything in Spain. I instantly fell in love although my husband, Jon, wasn't digging it as much. Which meant more tomato bread for me! I later learned that all it is–is a baguette with fresh tomato rubbed on it. I thought they poached it or did something special but one waitress told me it is fresh tomato.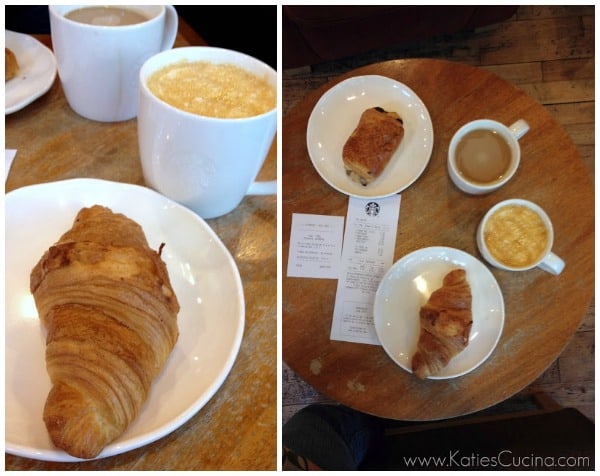 We woke up early (for Barcelona terms) on our second morning in the city, and made our way out of the hotel by 9am. We were sad to see that Piscolabis was not open yet, so we decided to give Starbucks a try in Spain. We vowed before the trip that we would not eat at any American chains during our time in Europe but it was early on a Sunday morning and not too much was open. Plus, Starbucks had free wifi!!! We both enjoyed locally made croissants (way better than the typical ones you would get in the states) and my husband stuck with his cafe americano while I enjoyed a caramel machiatto and a half hour of free wifi. My husband was happy to read that we were limited to 30 minutes of free wifi since he practically had to peal me out of the store. At that point it had been 3 days with no internet. I was jonesing (and maybe even twitching) for internet!
Thankfully on our last morning in Barcelona, Piscolabis was open for breakfast. However, none of the servers on staff could speak/understand English making it so incredibly difficult for me to order my egg white potato omelet. Let's face it… we are creatures of habit. We started our breakfast with a cafe americano and espresso followed by croissants. Then ordered an egg breakfast which I know isn't normal for Europeans or at least in Barcelona. They are content with coffee and croisant. Us piggy Americans have to have a full breakfast!
I knew I was going to have an issue ordering my egg whites from the moment our waiter approached our table. I even tried saying "juevos blanco" which in my mind translated to "white eggs", but that wasn't cutting it. Little did I realize I should have learned how to say "egg whites only please" in Spanish. I tried drawing a picture, but apparently my drawing is just as good as my Spanish! ha! So my husband ordered the fried egg special again and I ordered tomato bread. When all else fails I at least know I like that. And of course had an uber carb filled breakfast. My sweet husband, cut some of his egg whites from his fried egg and gave it to me (pictured above, taken from our iPhone).
I hope you enjoyed my breakfast foodie travels in Barcelona!