Greek Yogurt Deviled Eggs
Thank you Stonyfield, Le Creuset, and KitchenIQ for sponsoring today's recipe. As always, all opinions are my own.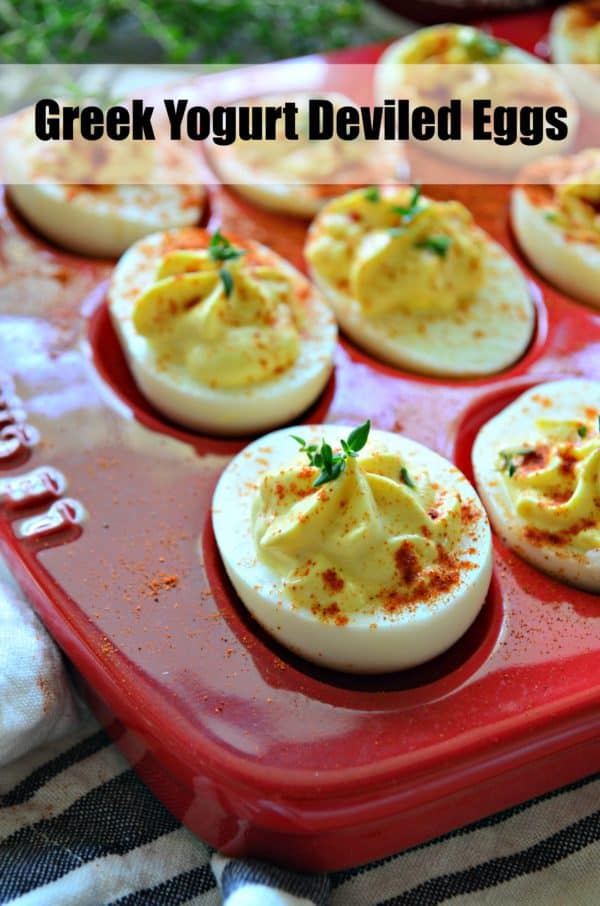 Today I'm sharing a tangy and lighter version of the classic deviled egg recipe. The secret ingredient is Stonyfield Whole Milk Plain Greek Yogurt! You won't find a drop of mayo in this recipe–it's all Greek yogurt. So if your a lover of Greek yogurt and love deviled eggs I think you'll love my recipe for Greek Yogurt Deviled Eggs.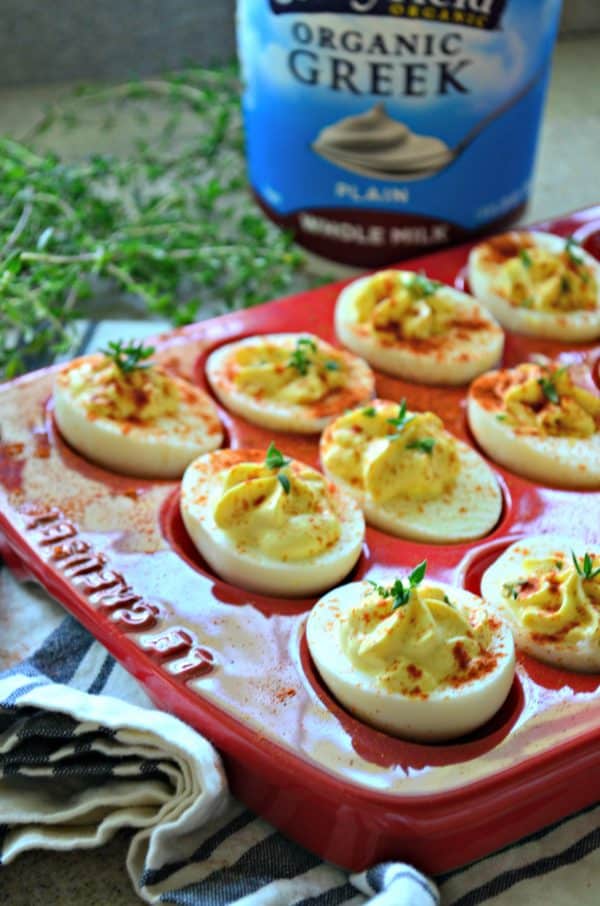 My husband and his family love deviled eggs. I did like deviled eggs when I was younger (like elementary school) and then my love for eggs quickly fizzled. I will make them for my husband for special occasions. Because of that I'm not the best hard boil egg cook. Yep, it's true I'm really bad at the peeling portion. I subbed out whole milk Greek yogurt for mayonnaise in this recipe and left out the vinegar since the Greek yogurt can be a little on the tart side.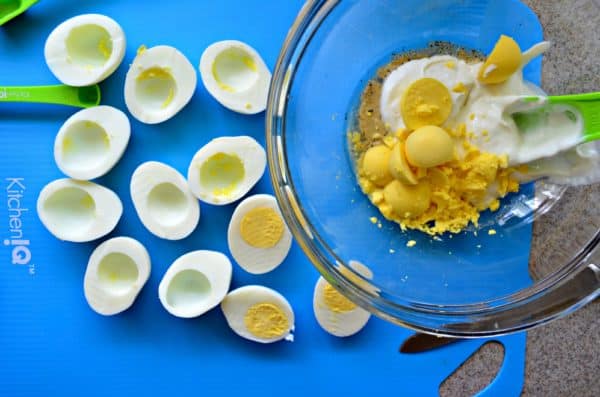 I like to use the prepackaged hard boiled eggs you can get in the grocery store. It saves so much time and lots of frustration. Putting the recipe together takes about 20-25 minutes depending on if you get distracted and how you want to pipe the filling in. I love the measuring spoons and flexible cutting boards from KitchenIQ. They make cooking a breeze! They are light weight and stack easy making it super convenient for storage in the kitchen.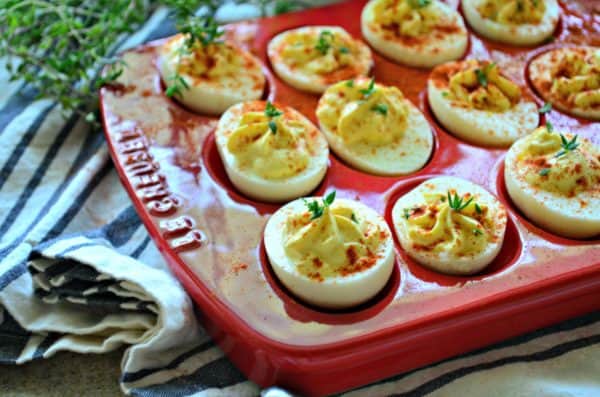 And what better way to store the Greek Yogurt Deviled Eggs then to use the platter of all deviled egg platters by Le Creuset! It holds 24 deviled eggs! I've never seen a deviled egg platter this large before. Since my mother in-law is the queen of deviled eggs I already told her she's getting this mega platter and when I showed her it she was so excited her response "that's incredible". You can't go wrong with the high quality of stoneware products that Le Creuset has. So if your looking to switch up your deviled eggs give my Greek Yogurt Deviled Eggs recipe a try!

Greek Yogurt Deviled Eggs
Yield: 12
Prep Time: 25 minutes
Total Time: 25 minutes
Ingredients:
6 hard boiled eggs
3 tablespoons Stonyfield Whole Milk Plain Greek Yogurt
1/2 teaspoon Dijon Mustard
salt and pepper to taste
Paprika for garnish
Fresh thyme for garnish
Directions:
Slice the hard boiled eggs in half. Scoop out the yolk into a bowl.
In the same bowl as the yolk add in the Stonyfield Whole Milk Plain Greek Yogurt, dijon mustard, salt and pepper. Mix well with a hand mixer until smooth and creamy.
Place the creamy yolk mixture into a plastic bag with a large piping tip. Carefully, pipe the creamy yolk mixture into each of the egg whites. Repeat until all the eggs are filled. Sprinkle paprika on top and garnish with fresh thyme. Refrigerate for at least 30 minutes. Enjoy immediately.
*If you don't have a piping tip you can just cut a small corner out of a plastic sandwich bag and pipe in the mixture or spoon the mixture into each egg.
Looking for more deviled egg recipes using yogurt? Check out these recipes:
Save
Save
Warning
: Use of undefined constant rand - assumed 'rand' (this will throw an Error in a future version of PHP) in
/home/kjasiewicz21/webapps/katiescucina/wp-content/themes/katiescucina/single.php
on line
74
2 Responses to "Greek Yogurt Deviled Eggs"
Leave a Comment