This is post is sponsored by LINDT & SPRÜNGLI (USA) Inc. As always all opinions are my own.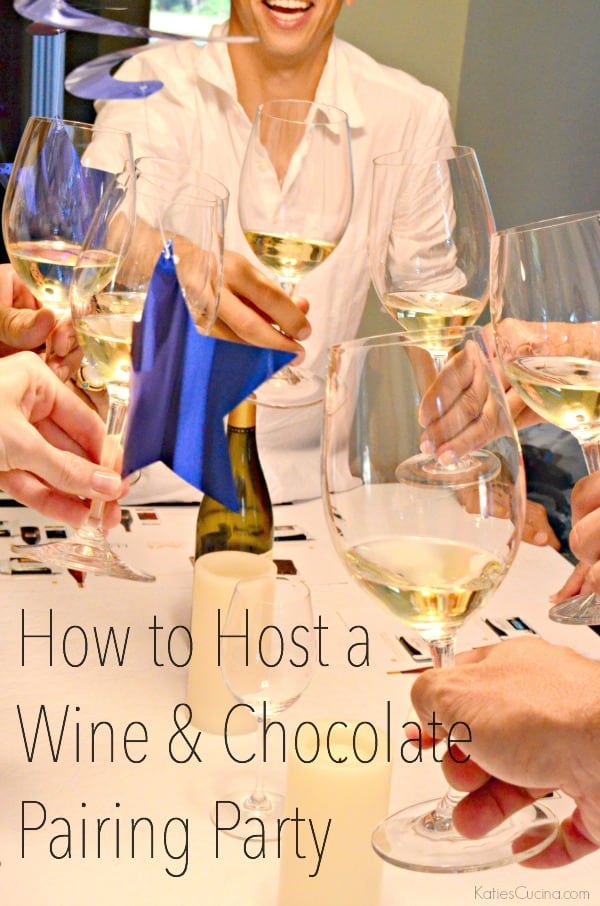 If you love dark chocolate and love wine then you are going to love todays post. Not only am I going to show you how to host the perfect wine and chocolate pairing party, but I have a pretty sweet giveaway, too! Last month, LINDT contacted me and asked me if I wanted to host a wine and chocolate pairing party… um yeah! I didn't think twice when the opportunity came about. I love Lindt EXCELLENCE chocolate and I drink J. Lohr Estates wine often. It was a match made in heaven. When I started to think about where and when to host this event I decided this would be the ideal event for my brother in-law's 35th birthday. He is a huge fan of J. Lohr Estates wine and of course loves dark chocolate. My mother in-law and husband had been hard at work on the menu and when I told them I would add in and do a little wine and chocolate pairing after dinner they both got excited. We kept it secret from everyone attending and when the rest of our family and a few friends arrived they are were all shocked and super excited. And also asking when we could start the wine and chocolate tasting! If you follow me on Instagram then you got a sneak peak of the wine and chocolate pairings we indulged on over the weekend.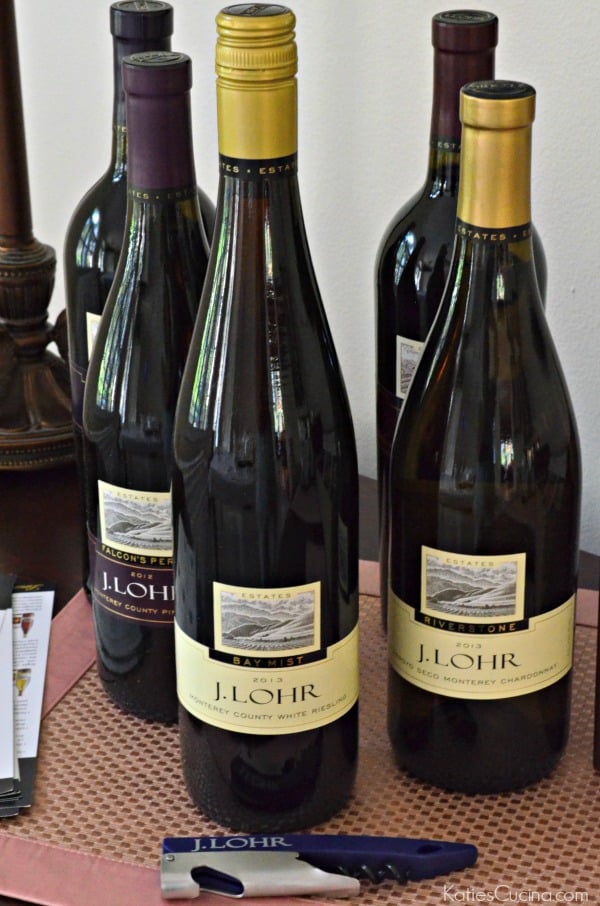 Here are a few tips on how to host a successful wine and chocolate pairing party:
Set-up everything before your guest arrive. This is a given, but to be honest nothing like running around while guest are arriving to your home. I set this up as soon as I arrived to my mother in-laws house so I wasn't trying to set up the party while everyone was arriving and/or already at the house.
Don't forget to chill your wine. As soon as I arrived to my mother in-laws I placed all the bottles of the wine in the wine fridge (my mother in-law is quite the wine connoisseur). Red's went in the red area and whites in the white area. Give them a few hours to get to the correct temperature. If you don't have a wine fridge you can place your whites in a regular refrigerator and I like to place the reds in the refrigerator for at least 20 minutes before drinking. But it's all preference.
Remove the foil from the bottles prior to the party starting. This will help cut down on time wasted tending to wine bottles and give you more time to tend to your guest.
If at all possible have both red and white wine glasses available. I didn't have this option, so everyone drank from the single glass I gave them. But if you have enough glasses pair the correct glasses with the correct style of wines.
Have a "dump" bucket available for guest. This is good to have at your table in case your guest don't decide to drink the sampling of wine you pour for them. Most of my guest would go to the kitchen and rinse out their glasses before we moved on to the next wine.
Keep it casual. Most people are intimidated by wine–not so much by chocolate. So keep it casual. It will make your guest feel more welcomed and they will be interested and not intimidated about learning about the wine and chocolate pairings.
Do your homework. Learn about what wines pair well with what chocolates. You can learn about the five J. Lohr Estates and Lindt EXCELLENCE Chocolates we paired for our party below.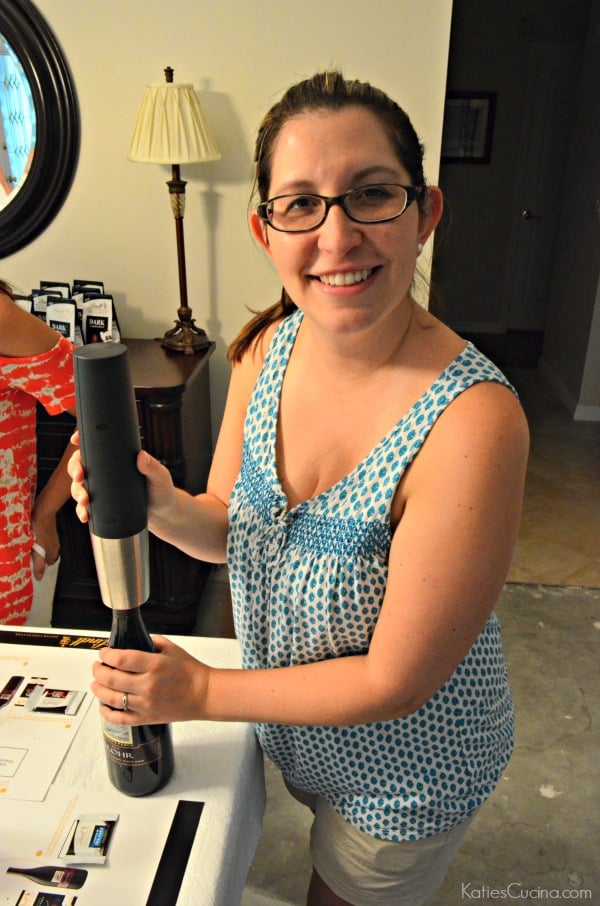 My guest were excited to learn more about Lindt EXCELLENCE and how it allows you to elevate yourself to the ultimate chocolate pleasure experience. I think everyone has heard about the Lindt Master Swiss Chocolatier's. Every single piece of chocolate is created by the Lindt Master Swiss Chocolatier's unmatched expertise to perfectly combine the most refined intense dark chocolate and the finest ingredients into thin shapes. After we were done with dinner we all headed to the formal dining room where I had our party set-up. Everyone found a spot at the table. My husband is currently installing wood floors for his parents so we all stood around the table (hence the concrete in the background in the above picture). We kept our party super casual. Everyone had been swimming earlier in the day–no one was dressed up. I think it's important to keep it casual when dealing with wine. Especially for those who might enjoy drinking an occasional glass but feel intimidated. For the purpose of our party and by the request from some of my guest they asked that I not photograph their faces, so I respected their wishes!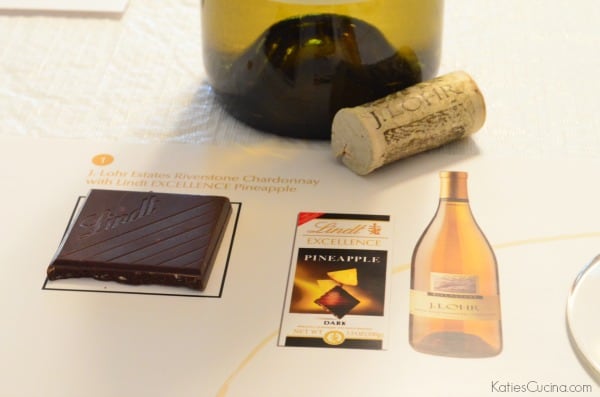 Lindt EXCELLENCE Pineapple paired with J. Lohr Estates Riverstone Chardonnay
This by far was my favorite pairing of the evening. The brand new EXCELLENCE Pineapple was delicious. I'm so glad I have a bar leftover from our party because I've been eating a square each day as a little daily indulgence. At least half of my guest loved this pairing the best as well!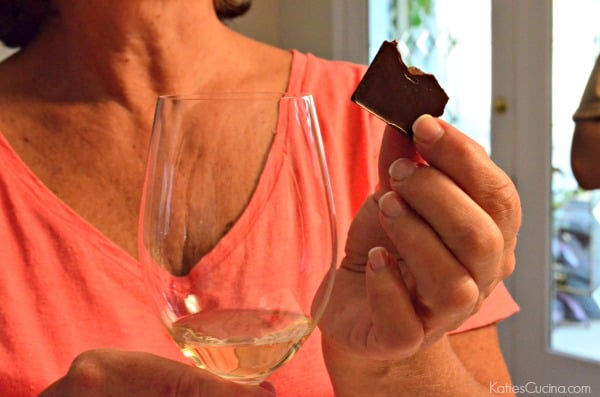 Here is what you need to know about this wine and chocolate pairing: Bright aromas of apples, pears and lemons in this rich, well-balanced Chardonnay pair perfectly with the naturally sweet pineapple and roasted hazelnut pieces in the EXCELLENCE Pineapple bar, providing a delightful finish of caramel and cream. EXCELLENCE Pineapple, masterfully made to pair perfectly with Chardonnay, provides the perfect pairing for lovers of both Chardonnay and dark chocolate.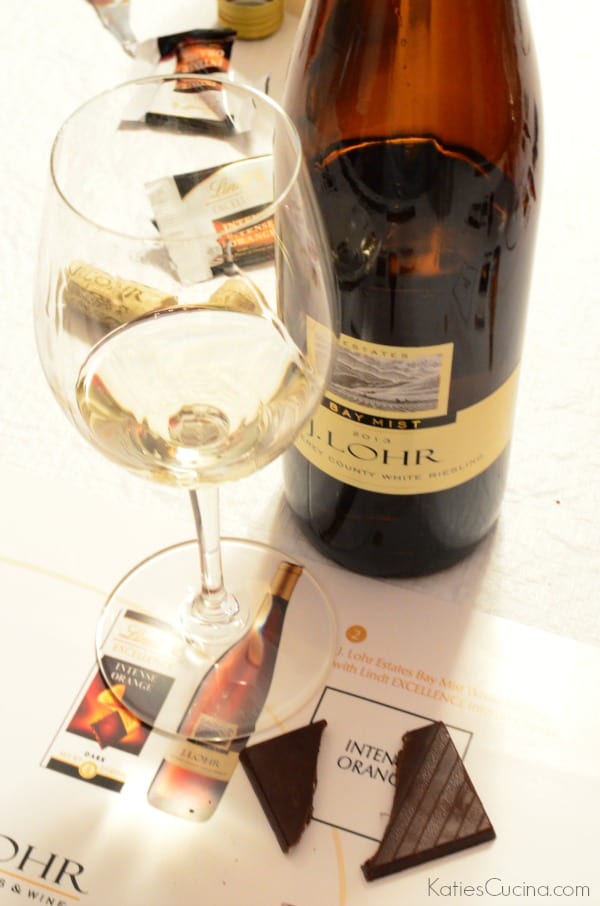 Lindt EXCELLENCE Intense Orange paired with J. Lohr Estates Bay Mist White Riesling
The EXCELLENCE Intense Orange is intense and full of flavor. It paired beautifully with our second wine of the night. Reislings are on the sweeter side and worked well with this chocolate. It was a toss up as to who loved this pairing, but the end result–everyone was happy they got to try the two together.
Here is what you need to know about this wine and chocolate pairing: Enticing notes of lychee, pear and orange are present in this bright and luscious wine. It is the ideal match for the sweet citrus profile and equally complex EXCELLENCE Intense Orange. Full fruit flavors and a balanced seam of refreshing acidity work in harmony to create perfection!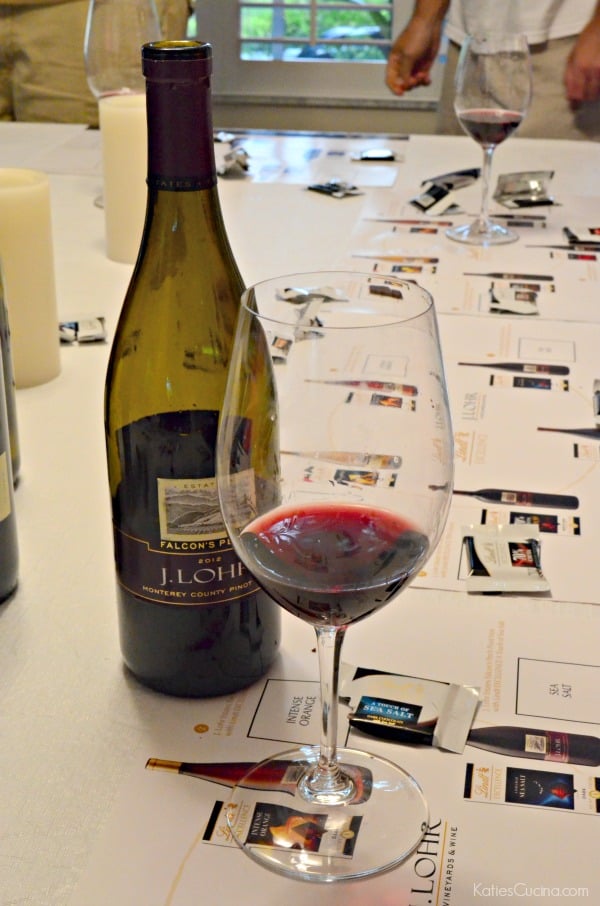 Lindt EXCELLENCE Sea Salt paired with J. Lohr Estates Falcon's Perch Pinot Noir
This was my husband's favorite pairing of the night. He loved the sea salt in the EXCELLENCE chocolate.
Here is what you need to know about this wine and chocolate pairing: The fresh ripe berries in this wine are accompanied by a touch of earth and brown sugar that complement the sharpness of the Fleur de Sel and sweet cacao characteristics of EXCELLENCE A Touch of Sea Salt. Together they invoke flavors reminiscent of fresh cream, butter and finish with a pleasant tanginess.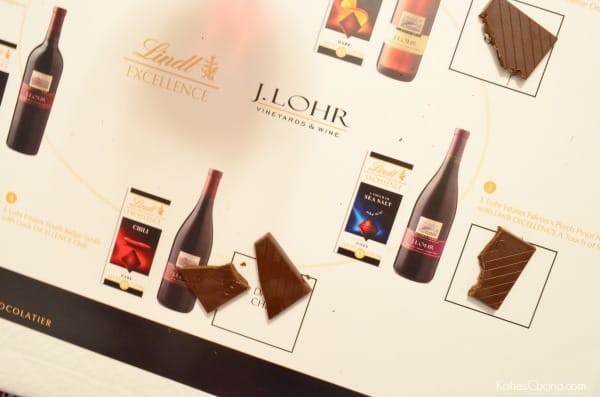 Lindt EXCELLENCE Chili paired with J. Lohr Estates South Ridge Syrah
You have to like spicy food to like the EXCELLENCE Chili! Just keep that in mind with this pairing.
Here is what you need to know about this wine and chocolate pairing: This is an elegant red wine with deep, rich fruit aromas and flavors of pomegranate, blueberry and prune with a spicy finish. Experience it with EXCELLENCE Chili, a fine aromatic sweet dark chocolate perfumed with premium red chili. Enjoyed together they create spicy warmth that bursts onto the palate.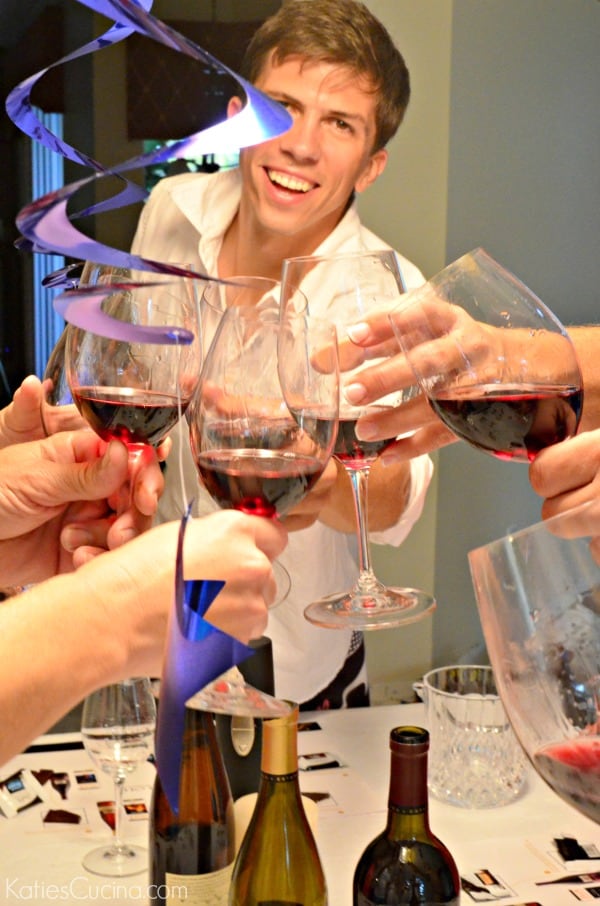 Lindt EXCELLENCE 70% Cocoa paired with J. Lohr Estates Seven Oaks Cabernet Sauvignon
Everyone decided to clink glasses one last time since we were on our last pairing.
Here is what you need to know about this wine and chocolate pairing: Ripe aromas of blueberry and black plum meld with a bouquet of chocolate and hazelnut in this superb wine. Pair it with the balanced and rich EXCELLENCE 70% Cocoa, which features notes of tobacco, leather and roasted nuts. They are a match in both depth and body and finish with a creaminess that coats the palate.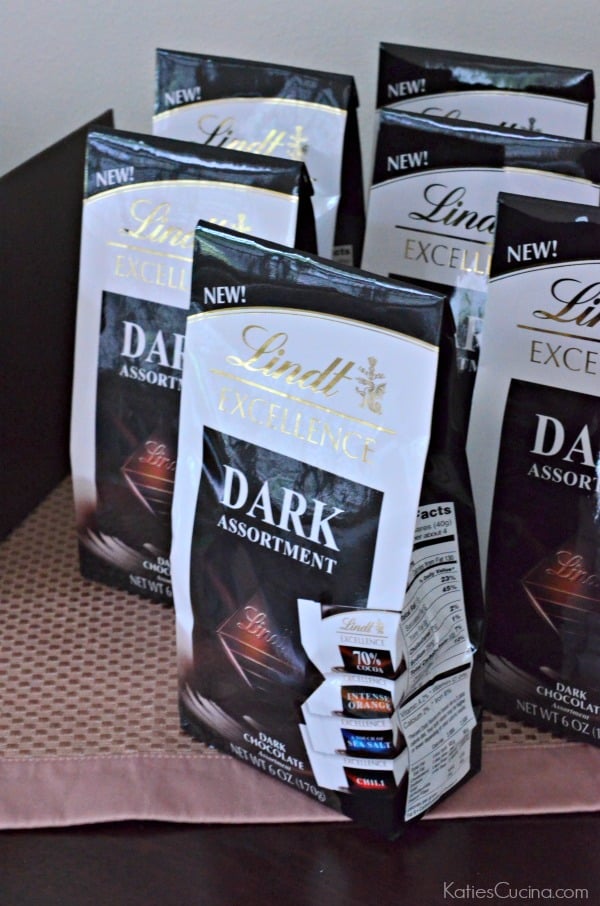 The next time you want to host a party think about how you can master the art of refinement, and host your very own wine and chocolate pairing party. All of my guest got to go home with a bag of Lindt EXCELLENCE Dark Assortment bags of chocolate as well as a chocolate bar or two of their choice.
Everyone had a great time. The next day, my father in-law was still talking about how much he loved the wine and chocolate pairing party. And then insisted that my mother in-law start opening up multiple bottles at a time so he can have his own wine tasting.
Now, for the giveaway. One lucky winner will receive a Lindt Chocolate Gift Box (retailed at $45)! All you have to do is fill out the rafflecopter widget below for a chance to win. United States residents only, must be 18 years of age or older. One winner will be selected at random. If the widget does not load, please click on the link to enter.