Learn how easy it is to make this Egg White & Chive Soufflé recipe for your next brunch party!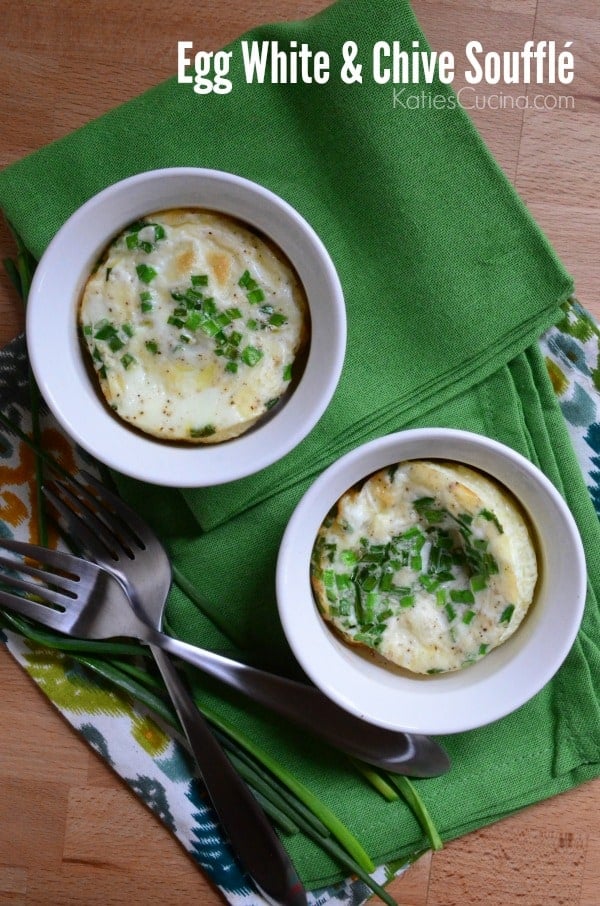 I've loved egg whites from as long as I could remember. My mom tells me that she would serve me sunny-side up eggs when I was ¾ years of age. I would eat around the yolk and only eat the egg white. So she finally realized that I didn't like the yolk. And that's how I began eating egg whites. It's definitely not a decision I made at the ripe age of 4 to eat healthier. It was simply by taste. To be honest, to this day, the yolk repulses me. I finally learned how to make scrambled eggs in my 20's. My husband will tell you it took me a lot of practice, because I refused to taste them. So I learned by him telling me what it needed. Now I can make mean scrambled eggs. Just in the past two years I've learned how to make eggs over medium or easy… my husband loves them and tries to make them he says he can never make them as good as I can. So I've totally mastered cooking the yolk filled eggs, but it's just not my thing. When I was pregnant I pretty much stopped making my husband eggs because I would gag wayyyyy too much during the 2 minute cooking process. The yolk was repulsing me even more so than ever before. Even making egg whites would give me challenges some days.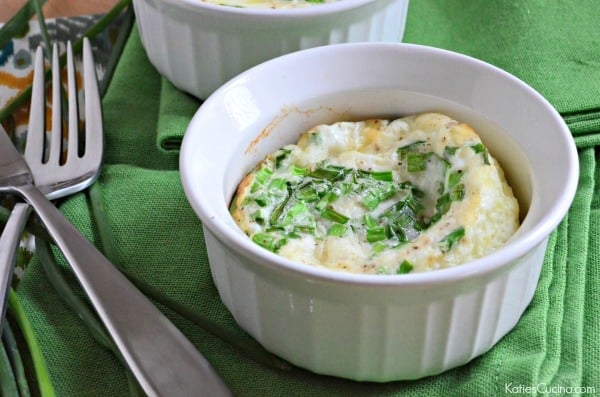 So I was happy once I gave birth that I could finally eat some eggs! Egg whites to be exact.
The same morning I made my husband and cousin the
ham egg and cheese breakfast casserole
is whipped up two lovely egg white and chive soufflés. Light and fluffy and full of flavor. The best part is that I made an extra one and reheated the next morning for a quick breakfast. I've yet to make individual soufflés while entertaining but one of these days I plan too. They are so easy to make and seem fancy enough to impress others!
Katie Original Recipe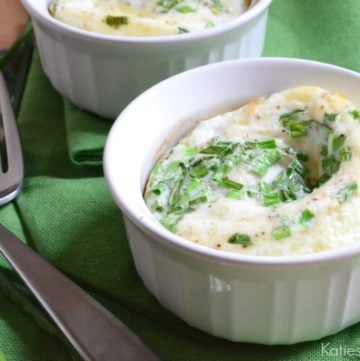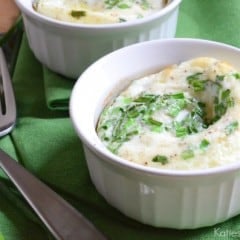 Egg White & Chive Soufflé
Learn how easy it is to make this Egg White & Chive Soufflé recipe for your next brunch party
Print
Pin
Rate
Ingredients
4

Large Egg Whites

2

tablespoon

2% Milk

1

tablespoon

Chives

2

tablespoon

White Cheddar Cheese

Salt & Pepper to taste

Cooking Spray
Instructions
Preheat oven to 400 degrees Farenheit.

In a bowl, whisk together egg whites until bubbles appear. Then add in the 2% milk, chives, and salt and pepper.

Coat ramekins with cooking spray. Then pour in the egg white mixture, and top each ramekin with one tablespoon white cheddar cheese.

Bake for 400 degrees for 20 minutes until golden brown on top and egg whites have risen. Enjoy immediately, or cool to room temperature and reheat the next day to eat!
Nutrition
Calories:
100
kcal
|
Carbohydrates:
1
g
|
Protein:
11
g
|
Fat:
5
g
|
Saturated Fat:
3
g
|
Cholesterol:
17
mg
|
Sodium:
200
mg
|
Potassium:
119
mg
|
Sugar:
1
g
|
Vitamin A:
216
IU
|
Vitamin C:
1
mg
|
Calcium:
126
mg
|
Iron:
1
mg