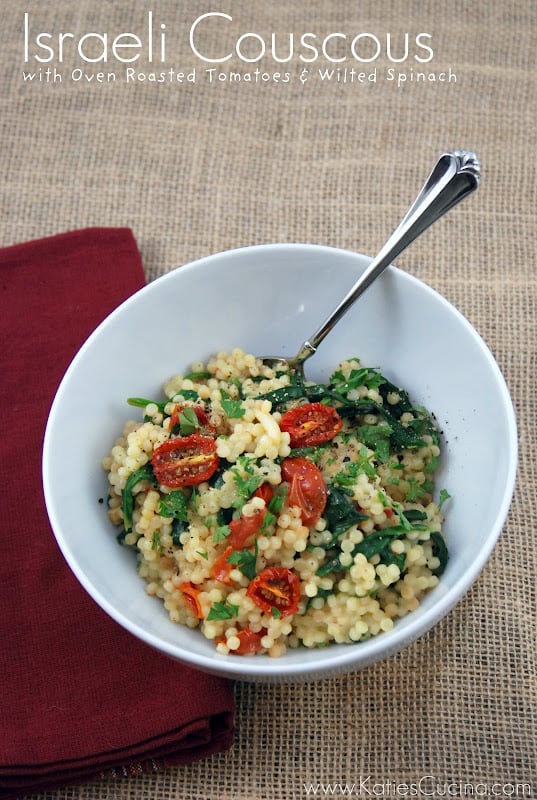 Just about every day at my office I eat lunch with my coworkers. We are a social group of people and we all share various tidbits about our lives. The other month one of my co-workers joined us after heating up his food. Instead of saying hello like a normal human being the first thing I blurted out was "Is that Israeli Couscous you have their"? Of course multiple coworkers started laughing, because only I would ask such a random question. Well, random not to me, but to my coworkers its random. My coworker responded yes and began explaining how his Israeli couscous was prepared. At that point I had never cooked with Israeli couscous–only the finer couscous that could indeed resemble sand as my husband frequently likes to point out.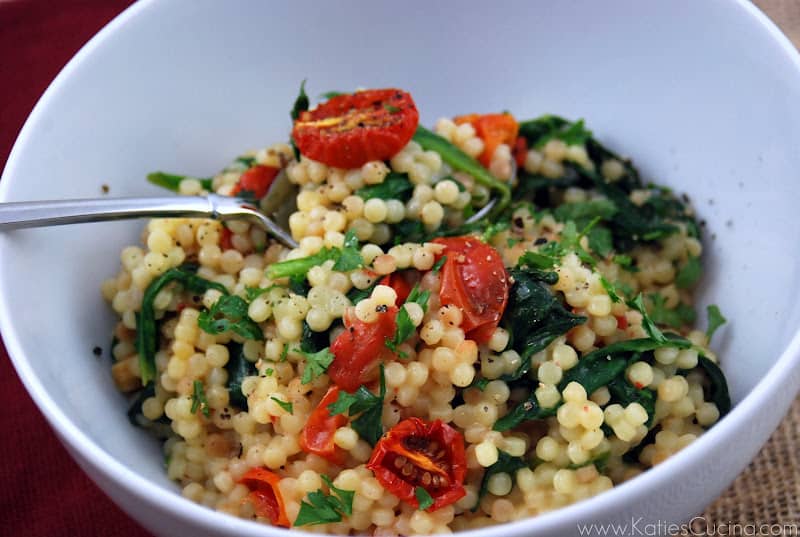 That same evening after talking with my coworker, on my way home from work, I stopped by the grocery store to purchase a container of Israeli couscous. I needed this pearl like pasta to be in my life… pronto. The canister of couscous sat in my cabinet for a few weeks until I was home for the afternoon a few weeks ago and needed to make myself something to eat. I had just finished making a batch of oven roasted cherry tomatoes and that's when it hit me. I knew I wanted to incorporate those mouthwatering gems into an Israeli Couscous dish of sorts. I brainstormed while I cooked the pearl pasta and within a few short minutes I had created one of my new favorite dishes.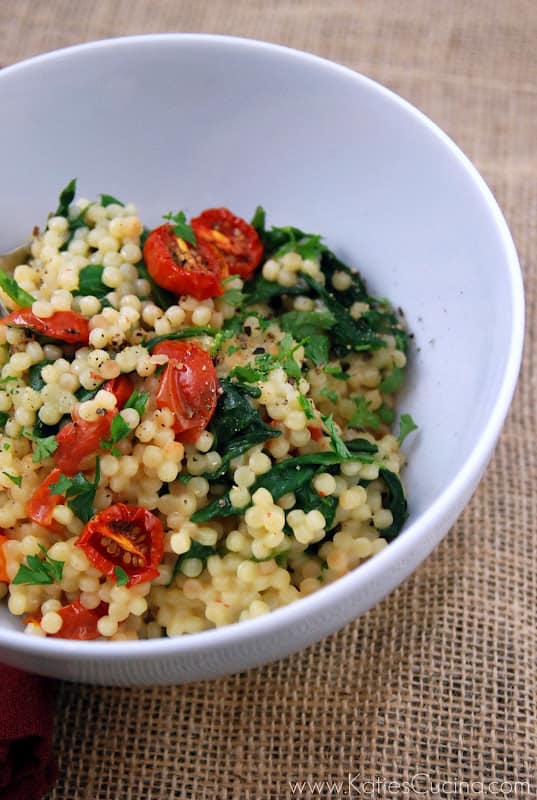 Original Recipe from Katie's Cucina
| | | |
| --- | --- | --- |
| Israeli Couscous with Oven Roasted Tomatoes and Wilted Spinach | | |
Author:
Ingredients
1 tablespoon olive oil
1 tablespoon chopped garlic
1 cup Israeli Couscous
2-½ cup chicken broth
¼ cup Oven Roasted Cherry Tomatoes
¼ cup spinach
1 tablespoon heavy cream
1 tablespoon butter
Salt & pepper to taste
Instructions
In a sauce pan add the olive oil and chopped garlic and cook on medium-high heat for 1 minute. Then add the Israeli Couscous and toast for 2 minutes (stirring constantly). Add the chicken broth and bring to a boil. Reduce the heat to a gentle boil and cover to continue cooking (stirring occasionally) for about 10-12 minutes. Couscous will be done once most of the liquid is absorbed and pasta is soft to the bite.
Mix in ¼ cup of fresh spinach into the couscous along with the ¼ cup oven roasted cherry tomatoes. Mix well and then add 1 tablespoon butter and 1 tablespoon heavy cream. Season with salt and pepper to taste and serve immediately.
Notes
You can make a batch of Oven Roasted Cherry Tomatoes and keep the stored in the fridge until ready to be used for this dish.
Oven Roasted Cherry Tomatoes: https://www.katiescucina.com/2012/03/oven-roasted-cherry-tomatoes/
Here is the recipe for Oven Roasted Cherry Tomatoes