Who loves glorious freshly baked bread? Italian Bread to be exact. 2013 is a year of self-enrichment. I'm so happy to say I've accomplished one of the many goals I made for myself this year; baking fresh bread at home. I contacted the amazing people over at King Arthur Flour to assist me in my bread making endeavors. They sent me an Italian Bread Pan, product coupons, and instant yeast to get me started! I knew if I was going to introduce bread to my readers I wanted it to be in partnership with King Arthur Flour.
Some of you might remember the bread making class I took in January. That is really what jump started it for me. I waited a whole 2 months from the class until I tried bread on my own. The first time I made this Italian Bread it tasted delicious but was very flat. After talking with my friend Terri from Love and Confections she told me I probably over-proofed. So I went back to the drawing board and made it again. This time cutting my proofing time by 15 minutes each round. The bread still came out a tad flat, but not as bad as last time. So when I go to make this recipe again–I will have cut the proofing time in half. Third time is a charm, right?
Making your own bread at home to me is very satisfying. Just last week I made my entire dinner from scratch. I had this leftover Italian Bread, I made spaghetti from scratch, a hearty bolognese, harvested my own lettuce and tomatoes and even made my own dressing. 100% from scratch. I had to pat my self on the back–it made me very self satisfied. Like I've accomplished a lot in life. The little things right? Oh, and I also realized that this isn't ideal oh about 95% of the time. Because who has all day to cook a meal that is gobbled up in less than 30 minute?
Regardless, if you have time or not. Make time–if you're cleaning on a Saturday, work on making a loaf of bread. You'll impress everyone who consumes it and you'll be satisfied at the end of the day with the fruits of your labor.
Head on over to King Arthur Flour for this Italian Supermarket Bread recipe.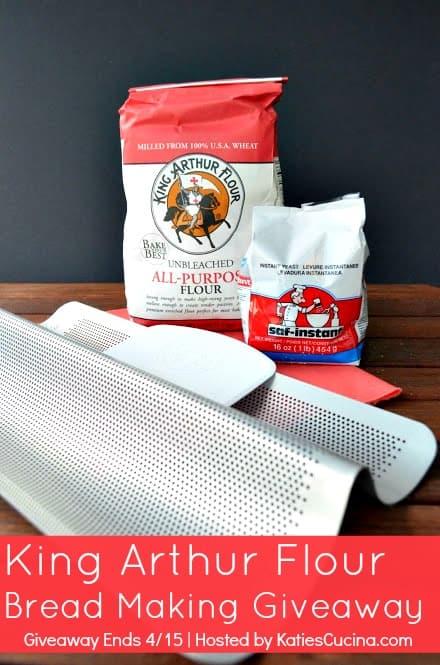 Now, for the giveaway: One lucky reader will be able to start making bread in the comforts of their own home thanks to King Arthur Flour!
1 product coupon to purchase a bag of King Arthur Flour at your grocery store

King Arthur Bowl & Dough Scraper
Please wait for the rafflecopter widget to load. If it does not load please click on the link below. Giveaway ends on 4/15 at 12:00pm. Open to US residents ages 18 and up. One winner will be chosen at random.
Dislaimer: I received one giveaway package from King Arthur Flour. I was not compensated nor required to use one of their recipes. As always all opinions are my own.