Thank you Florida Beef for sponsoring today's recipe. There are affiliate links in this post–that means if you purchase from my link I receive a small percentage at no additional cost to you. As always, all opinions are my own.
Enjoy a classic and easy to make traditional recipe for Roast Beef. Whether its for holiday entertaining or a Sunday dinner your family will love it!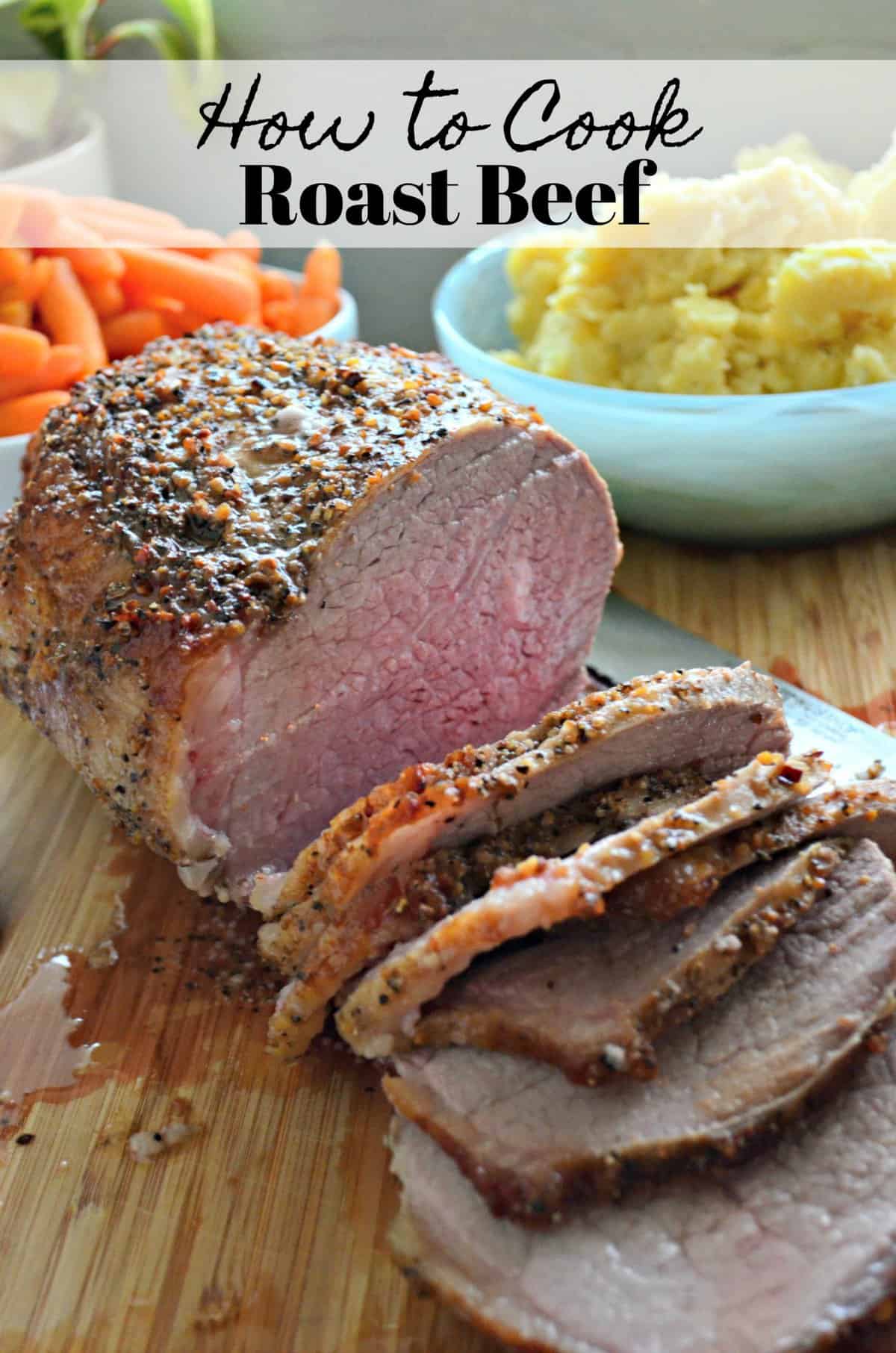 Enough with all the turkey talk. Today, we are talking about roast beef. It's a classic and easy-to-make recipe that is perfect for entertaining for the holidays or even a traditional Sunday dinner. Although Thanksgiving is associated with all things turkey another great alternative is making beef for Thanksgiving (whether it sits next to the prized bird or is the main course). My friends at the Florida Beef council want you to think about beef, too! It's okay to break tradition and try something new.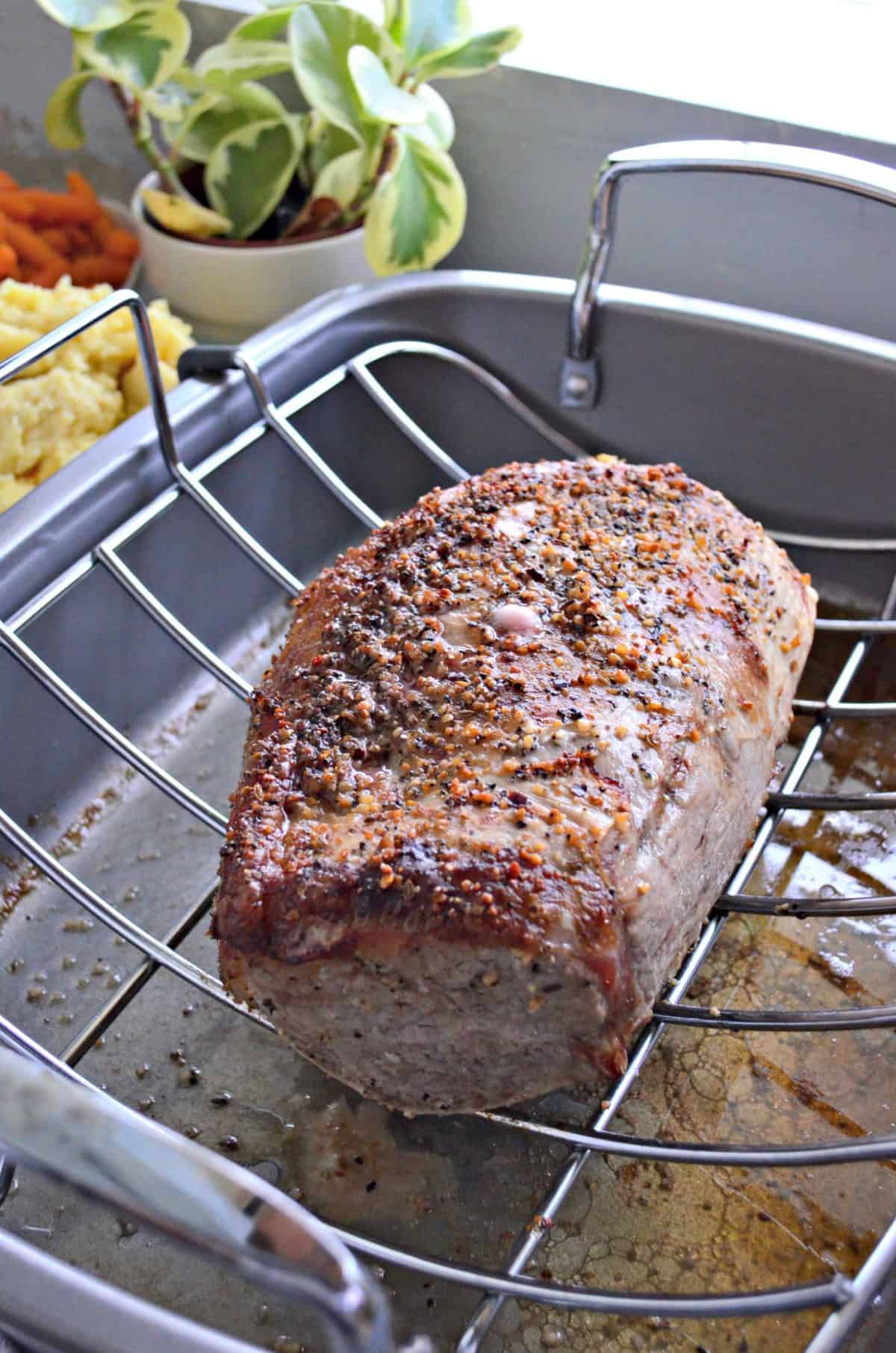 I feel like Roast Beef is one of those recipes that EVERYONE should know how to make. It's super simple and with the right equipment; roasting pan with roasting rack, leave-in thermometer, and a carving knife you can cook a perfect mouth-watering roast. I keep the seasoning very simple. I use Montreal Steak Seasoning. I feel like it has all the spices you need and cuts down on having to make a mix. You can use salt, pepper and garlic powder if you don't have any of the steak seasoning on hand. I've found that works just as good.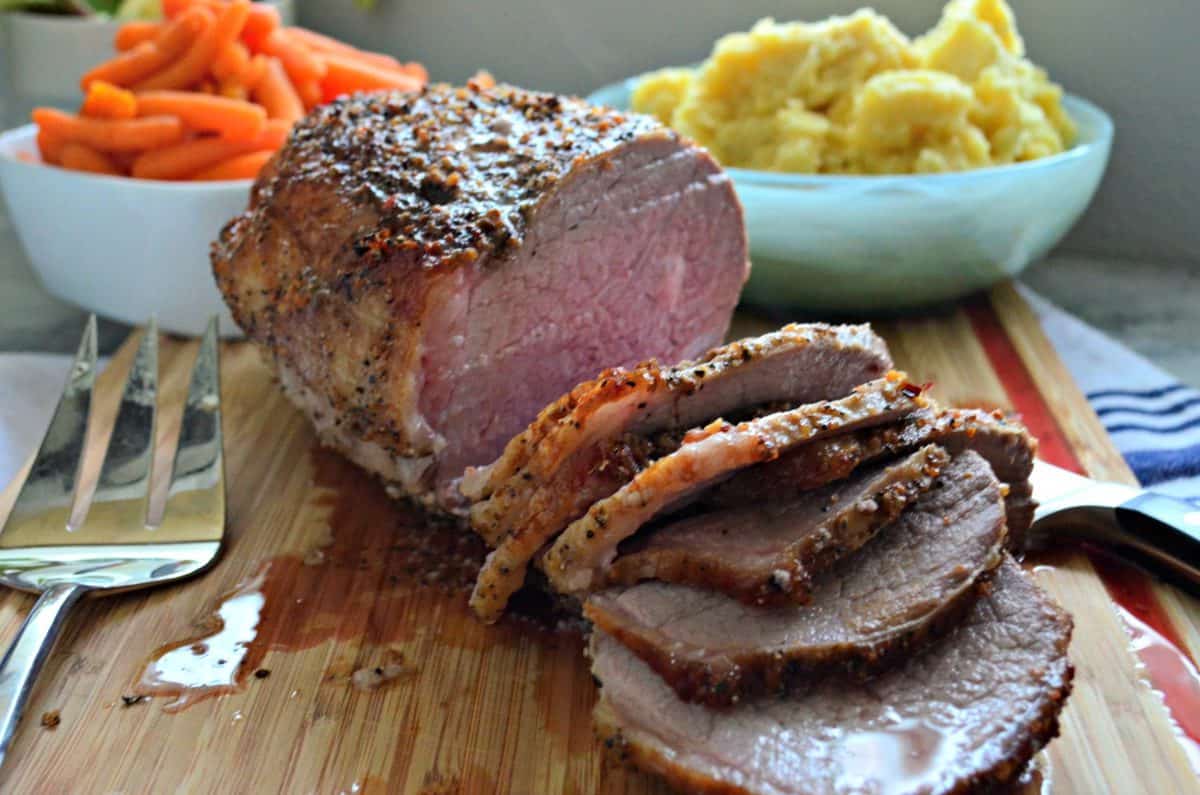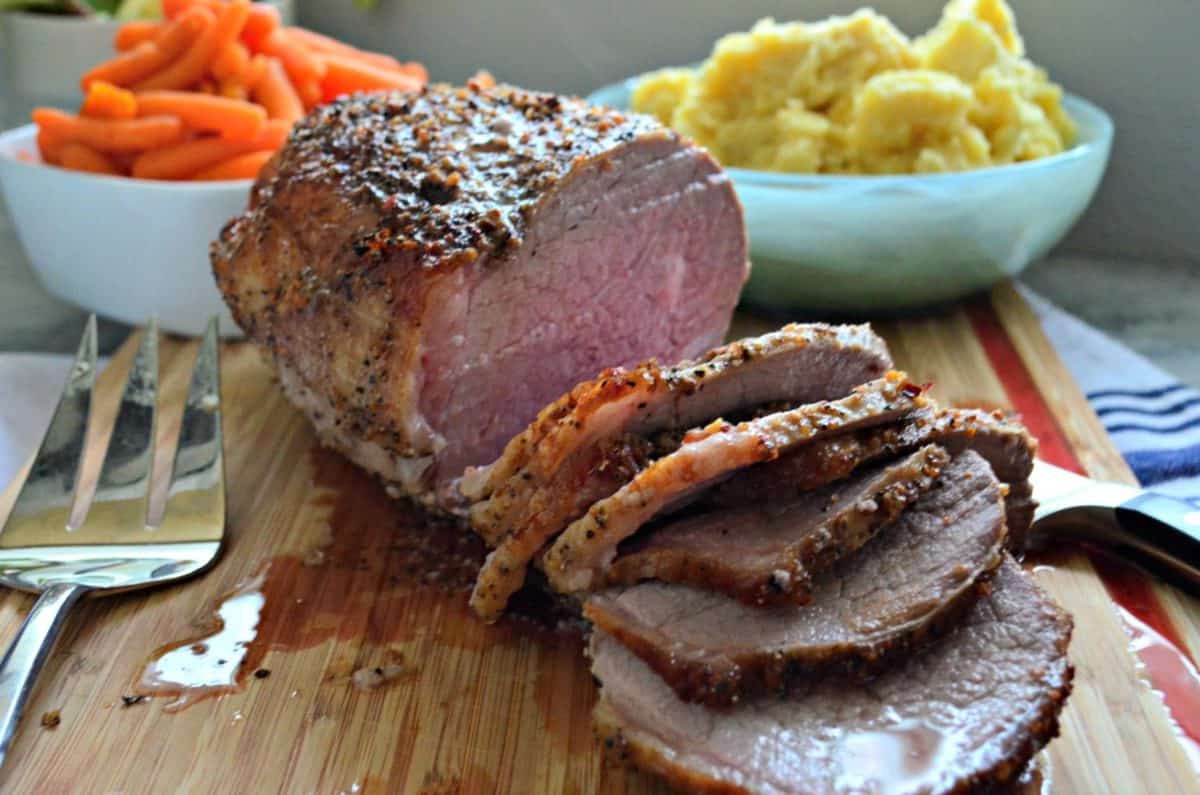 A few tips:
The key to cooking thicker cuts of meat like Round Eye or even a Prime Rib is to cook at high temp first and then lower the heat for the remaining portion of cooking. This will ensure you get a nice juicy center. You'll also want to pull the piece of beef out when the internal temperature reaches 135 degrees and let it rest for 10 minutes. The longer you let it rest the more it will continue to cook. When you let it rest for 10 minutes it typically will get to 145 degrees Fahrenheit which will give you that perfect pink center. Keep the digital thermometer in the roast at all times so you know an accurate internal reading and don't have to guess. It's all about knowing that internal temperature my friends.
Cuts of Beef: For Roast Beef I like to use Round Roast–and I like to use the fattier cut so that I get all those glorious drippings to make a delicious gravy with (or save those to caramelize vegetables for a versatile quick and easy vegetable beef soup). For more info on different cuts of beef, visit the Florida Beef Councils website. They have a wide-variety of resources to help you decipher all the cuts out their.
Slicing: Make sure you ALWAYS slice against the grain. If you slice with the grain of the beef you are going to experience a very tough and chewy piece of beef. If I can't automatically tell on the outside which way I should cut I will cut the roast in half. Then I can tell exactly the way the grain is going and begin to slice. Remember, ALWAYS slice against the grain!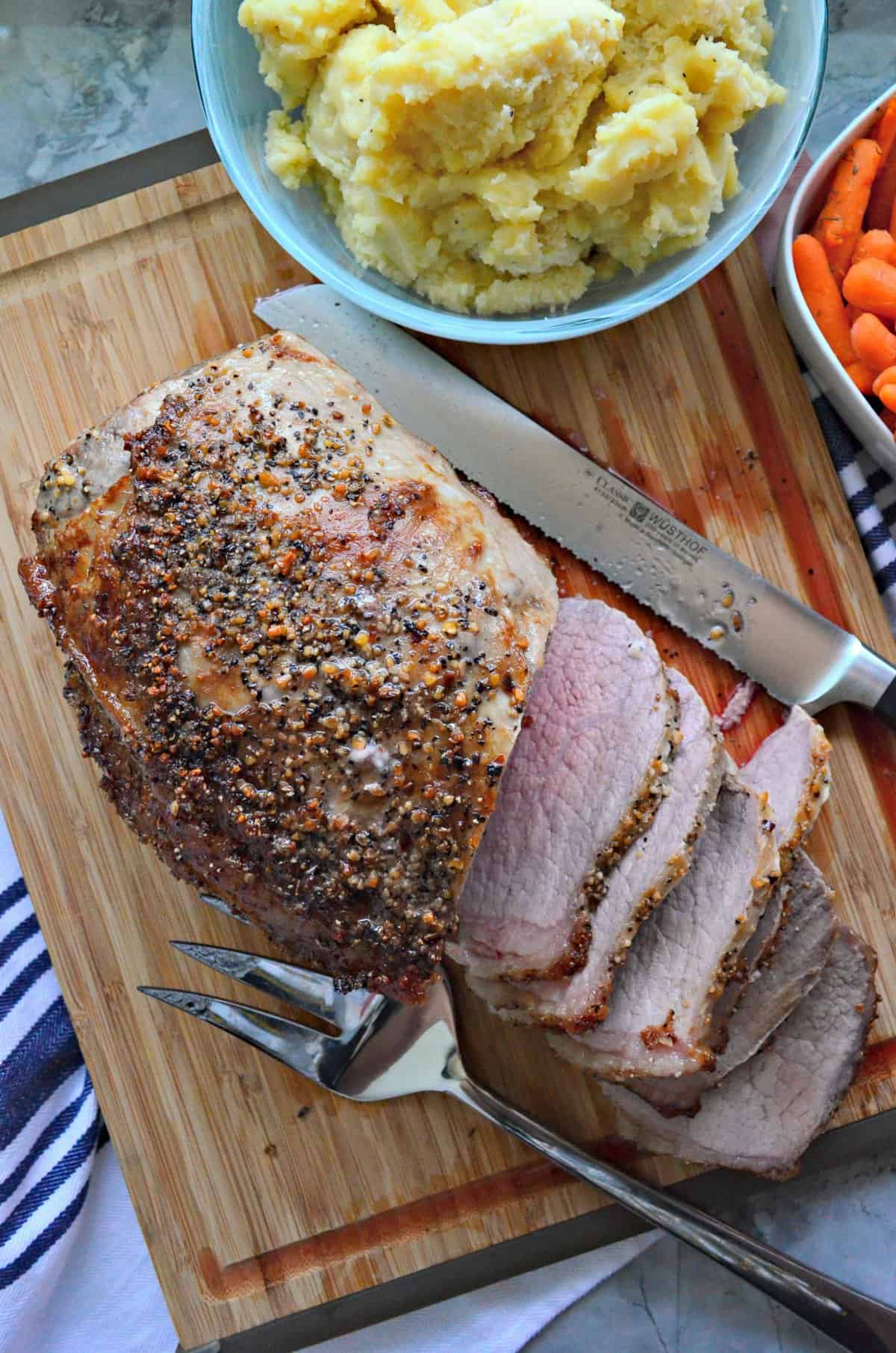 If your looking to switch up your Thanksgiving tradition, I invite you to try making a classic recipe for Roast Beef. Make sure you head over to the Florida Beef Council website and follow them on Facebook, Instagram, Pinterest, Twitter, and YouTube.
Beefsgiving Recipes:
Cranberry Orange-Braised Instant Pot Beef Brisket from The Crumby Kitchen
Epic Beef Wellington from Go Epicurista
Instant Pot Beef Roast from April Go Lightly
Italian Beef Braciole from Love and Confections
Roast Beef from Katie's Cucina
Slow Cooker Beef Bourguignon from Girl Abroad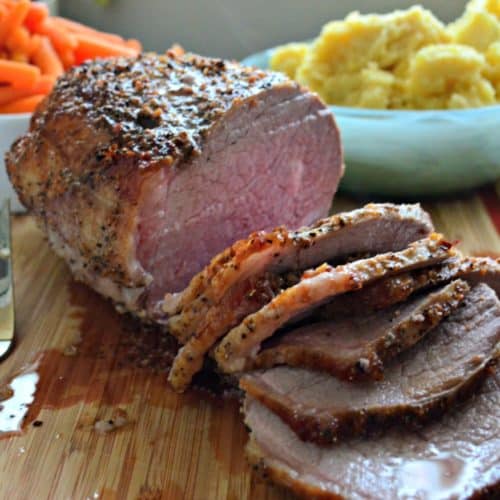 Roast Beef
Enjoy a classic and easy to make traditional recipe for Roast Beef. Whether its for holiday entertaining or a Sunday dinner your family will love it!
Print
Pin
Rate
Ingredients
5

lb.

Round Roast

1

tablespoon

Grape seed oil

¼

cup

Montreal Steak Seasoning

1

cup

water
Instructions
Pull the roast out of the refrigerator, sprinkle ¼ of the Montreal seasoning on the non-fatty side. Re-wrap and let rest for a half hour outside of the refrigerator.

Preheat the oven to 375 degrees Fahrenheit.

While oven preheats, Place the roast fat side up in a roasting pan fitted with roasting racks. Drizzle with grape seed oil and rub the roast with all the Montreal Steak seasoning. Make sure the seasoning is coated on all sides of the roast. Pour the water in the bottom of the roasting pan.

Place the roast in the oven and cook for 1 hour, 10 minutes. *Place an oven-safe thermometer in the roast to ensure internal cooking temperature. Then, reduce the heat to 250 degrees Fahrenheit and cook for an additional 20-30 minutes or until internal temperature reaches 135 degrees Fahrenheit.

Remove from the oven and let rest for 10 minutes until internal temperature reaches 145 degrees. Slice against the grain and serve immediately.
Nutrition
Calories:
419
kcal
|
Carbohydrates:
1
g
|
Protein:
63
g
|
Fat:
16
g
|
Saturated Fat:
5
g
|
Cholesterol:
176
mg
|
Sodium:
161
mg
|
Potassium:
982
mg
|
Fiber:
1
g
|
Sugar:
1
g
|
Vitamin A:
58
IU
|
Vitamin C:
1
mg
|
Calcium:
76
mg
|
Iron:
7
mg