Dairy-Free Green Bean Casserole
Turn a classic holiday side-dish casserole into a dairy-free delight, and make my easy homemade recipe for Dairy-Free Green Bean Casserole.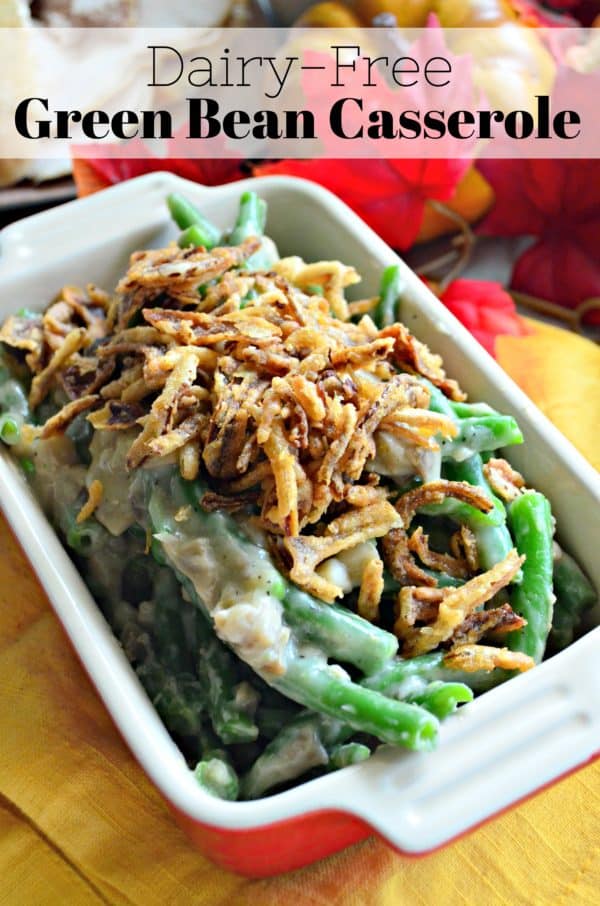 One of my absolute favorite holiday side dishes is green bean casserole. To me nothing screams the holidays more then this beloved traditional casserole. It's what I grew up on and it's what my kids will grow up on. I took my favorite gluten free green bean casserole recipe and made a few tweaks to make it dairy free. Best part–I can still have those delicious crunchy fried onions. I've made this a few times now and each time my husband can't believe that it's dairy free!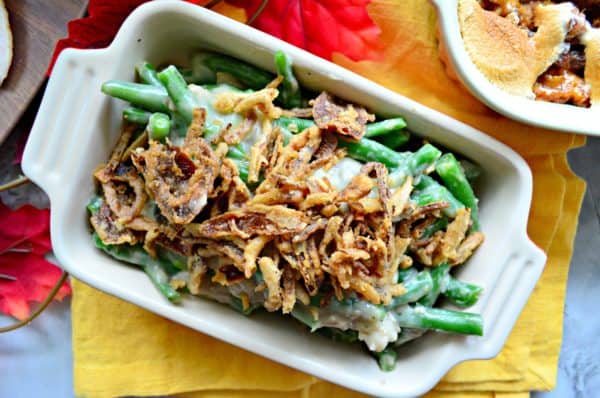 I love that I can even get my picky toddler to eat this because I call it "cheesy" which let's face it –it's not cheesy but creamy from the slurry of almond milk and cornstarch mix that I make to give it the "creamy" texture. I use the cornstarch so that it's still gluten free. I have a cousin with a gluten allergy so I'm always trying to make side dishes that she can eat too. I bake the crispy fried onions for a few minutes in the oven just to brown them and then top on each individual plate. Those definitely have gluten so you'll want to omit if you need this casserole gluten free and airy free. Check out the caramelized shallots I make in the gluten free version.  They are the perfect substitute if you can't have the fried crunchy onions.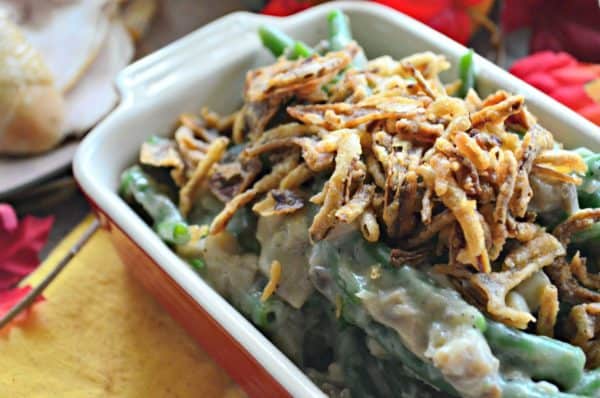 Dairy-Free Green Bean Casserole
Yield: 4
Prep Time: 10 minutes
Cook Time: 15 minutes
Total Time: 25 minutes
Ingredients:
1 tablespoon dairy-free butter
1 lb. green beans
1/2 cup white mushroom diced
1 teaspoon dehydrated minced onions
1/2 cup water
1 teaspoon chicken bullion paste
salt and pepper to taste
1/2 cup unsweetened almond milk
1 tablespoon cornstarch
Crispy Fried Onions for topping
Directions:
In a large skillet with a lid, melt the dairy-free butter on high heat. Then reduce the heat to medium, and add in the green beans, diced white mushrooms, and dehydrated onions. Add in the chicken bullion and water. Salt and pepper the green beans to taste. Mix well, place the lid on the skillet and cook on medium heat for 10 minutes.
Preheat the oven to 350 degrees Fahrenheit.
While green beans are cooking, mix together the almond milk and cornstarch. Set to the side. Once the green beans are done cooking (to your liking), reduce the heat to low. Carefully begin to mix in the almond milk mixture.
Place the crispy fried onions on a baking tray and bake for 5 minutes or until golden brown. Set to the side.
As soon as the sauce is thick remove from the heat. Transfer into a dish and top with crispy fried onions.
Note: Leave the crispy fried onions on the side if you have guests with a gluten allergy.
Warning
: Use of undefined constant rand - assumed 'rand' (this will throw an Error in a future version of PHP) in
/home/kjasiewicz21/webapps/katiescucina/wp-content/themes/katiescucina/single.php
on line
74
4 Responses to "Dairy-Free Green Bean Casserole"
Leave a Comment