Strawberry Orange Flax Smoothies
Start your day off with a vitamin C packed strawberry orange flax smoothies. Both kid and adult approved and made within 5 minutes from start to finish!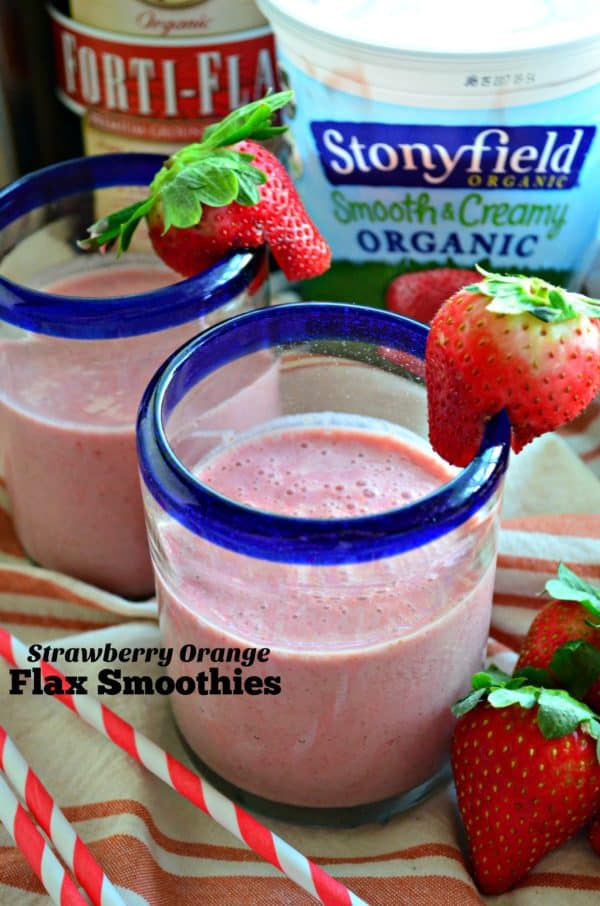 Who doesn't love a good smoothie recipe? My husband happens to be the smoothie king in our home. He makes the best smoothies. A lot of the smoothie recipes I share on the blog are created by him. He doesn't always make them healthy though, so that's where I come in and do my job to make it a little on the healthier side. I'm excited to share a new smoothie recipe today, Strawberry Orange Flax Smoothies! We loves both strawberries and oranges in our home so this is the perfect match for a delicious smoothie! Best of all, he approves of this combo and they are actually kind of healthy!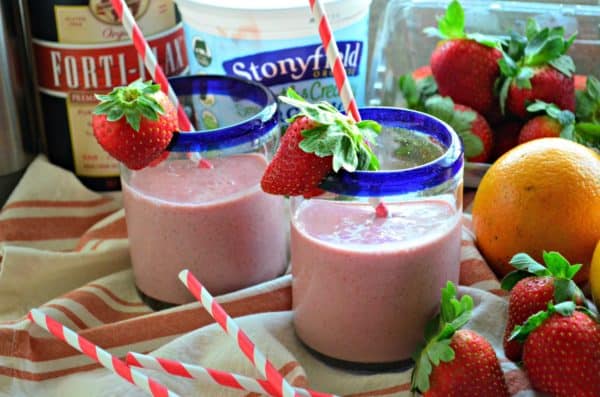 We try to and typically have at least a handful of smoothies throughout the week. Depending on the day it's either with breakfast or as an afternoon snack.  I'm excited to share my recipe for Strawberry Orange Flax Smoothies. They are delicious and only contain a few ingredients making it the ideal smoothie in my book. My toddler loves smoothies , but I'll be honest I think he likes the sound of the blender more so then actually drinking them! It's always my goal to create a smoothie that he will actually drink since he's not a big fan of fruit (and veggies). I call it a win when he drinks at least half a cup, and that is what he did with this smoothie! I love using
Stonyfield Lowfat Strawberry Yogurt 
for this smoothie recipe because it adds the extra strawberry flavor to the smoothie. I also "beef" it up with
Barlean's Ground Forti-Flax
. It delivers both omega-3 fatty acids plus fiber! Then we add in the fresh strawberries and orange juice and we have a vitamin C powerhouse smoothie. Just 8 Florida Strawberries have more Vitamin C then a glass of orange juice!  Perfect for cold and flu season! Nothing like getting an extra shot of vitamin C packed into a smoothie.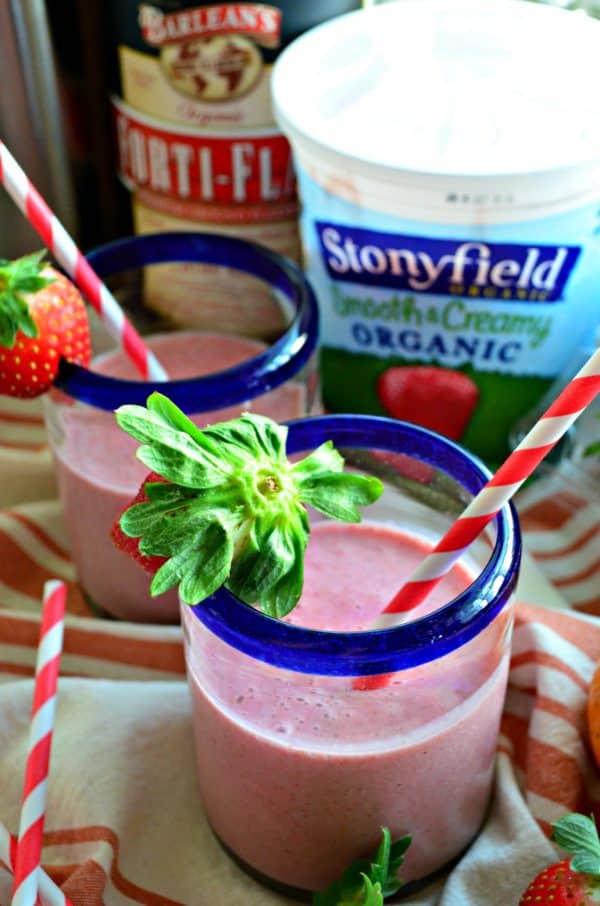 My toddler actually loved this smoothie and I think it's because he picked the strawberries and got to add in everything into the blender. Nothing like getting kids cooking in the kitchen! If your looking to change up your smoothie routine I invite you to try my recipe for strawberry orange flax smoothies.

Strawberry Orange Flax Smoothies
Yield: 2
Prep Time: 5 minutes
Total Time: 5 minutes
Ingredients:
1 cup frozen strawberries
1/4 cup orange juice
2 tablespoons Barlean's Forti-Flax
1 tablespoon honey
Fresh strawberries for garnish
Directions:
Combine all the ingredients in a blender--blend on high for 45 seconds until puréed, divide among two cups and garnish with a fresh strawberry.
Save
Warning
: Use of undefined constant rand - assumed 'rand' (this will throw an Error in a future version of PHP) in
/home/kjasiewicz21/webapps/katiescucina/wp-content/themes/katiescucina/single.php
on line
74
2 Responses to "Strawberry Orange Flax Smoothies"
Leave a Comment