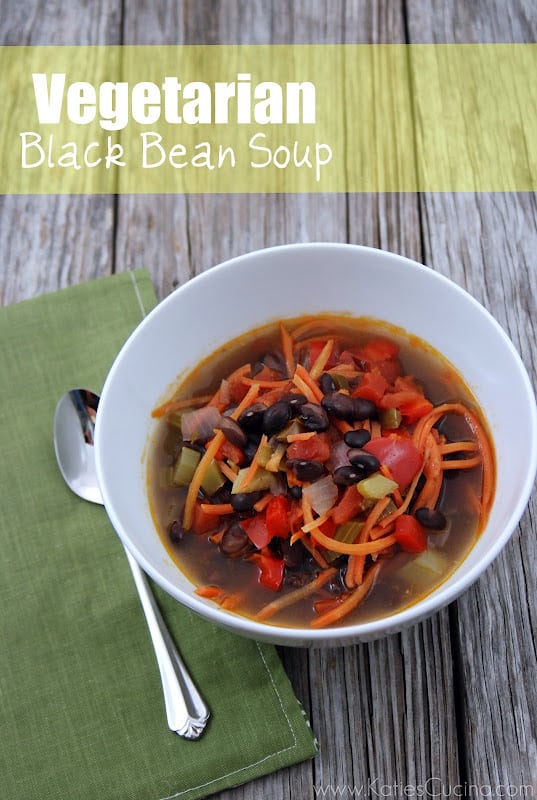 I've blogged about this recipe before, but that was back in 2010 when my photos were… well, let's face it on the embarrassing side. Back when I had no idea about food photography and lighting. This is absolutely one of my favorite soups. I easily make a large pot of this every other month.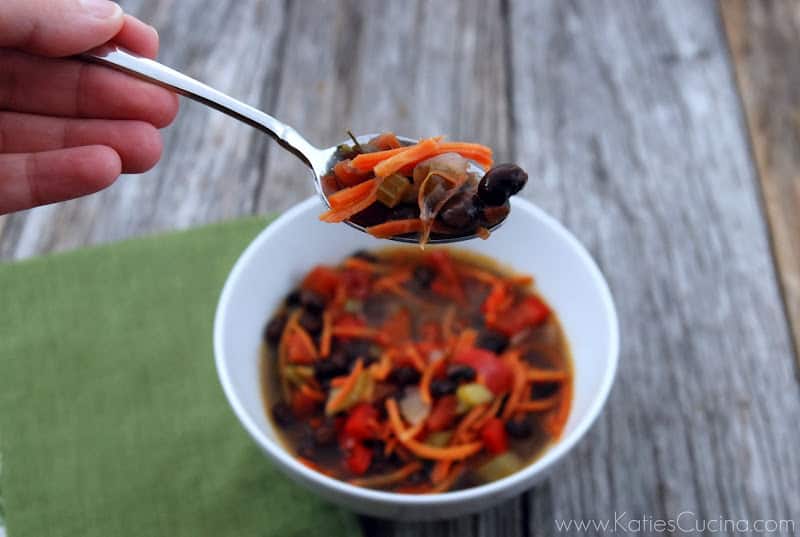 I created this soup at least 5+ years ago, after watching an episode of Rachael Ray. She made a version of black bean soup that required a variety of spices and additional ingredients. Over time I've simplified this recipe so much that it has truly became my own.
The star ingredient to this soup is the shredded carrots. It just doesn't taste as good without them. Trust me use the shredded carrots–I've made the recipe before with diced carrots and I couldn't even eat it. The other great thing about this recipe is that no one will need to add anything to this soup… the flavors are that robust.
You see, I didn't grow up eating beans. The only beans I ate were baked beans and even those were hard to force down my throat. It wasn't until my early 20's when I started embracing the wide variety of beans out in this massive world of ours.
The beans weren't the only thing that caught my eye. This soup is chocked full of veggies and its a "souper" hearty meal.
Sorry I had to put the pun in there. I know my good friend Jaclyn would be proud of me.
Back to this soup… I've entertained with this soup. I've served this to friends who are carnivores and anti-veggie, and somehow they loved this soup. So I know it's not just me.
My mom has finally started eating black beans all because of this soup. This recipe in fact was the one recipe I had to show her how to make before I moved out of the house 5 years ago. All because my dad and her loved it so much.
I know I've already instructed you to trust me in this post, but I really do want you to give this recipe a try. If you love veggies and black beans you won't be disappointed!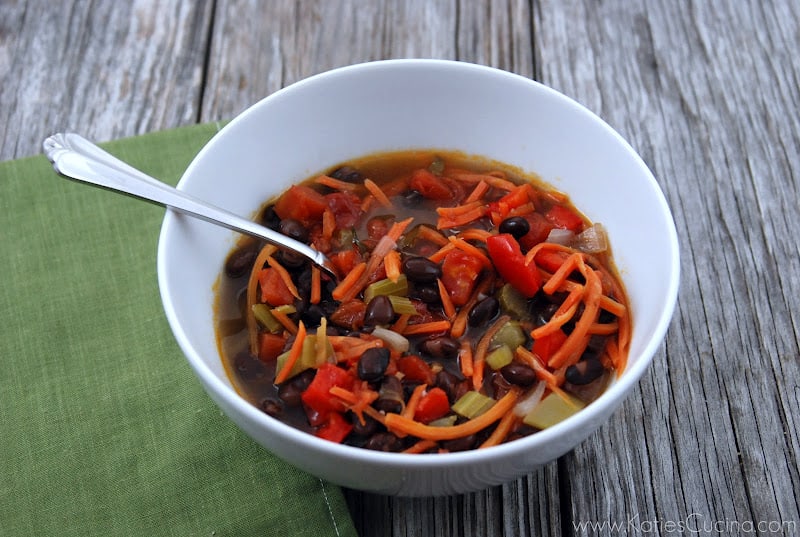 | | | |
| --- | --- | --- |
| Vegetarian Black Bean Soup | | |
Author:
Ingredients
1 tablespoon olive oil
1 onion, diced
1 tablespoon minced garlic
2 cups shredded carrots
2 stalks of celery, diced
1 red bell pepper, diced
1 can of rotel (depending on how spicy you want it will depend on which can you buy–Original will give you a kick)!
2 cans of black beans
2 (32 oz) boxes of chicken stock (vegetable stock if you are a true vegetarian)
Instructions
Combine the oil, garlic, and onion in a large soup pot over medium heat and cook, stirring occasionally, until the onion is translucent, 2 to 3 minutes. Add the shredded carrots and celery and cook for an additional 5 minutes with the lid on. Add the bell pepper and can of rotel. Stir well, and cook on high heat for 5 minutes. *At this point we are doing a quick sweat of the vegetables.
Once the celery looks semi-transparent, add the two cans of black beans *no need to drain the liquid it adds flavor to the soup and the broth.
Bring to a boil, and then simmer for 20 minutes.
Ladle the soup into bowls, and enjoy!