Love the flavors of lasagna but looking for a low-carb solution? Try my easy recipe for Zucchini Lasagna made in just 30 minutes!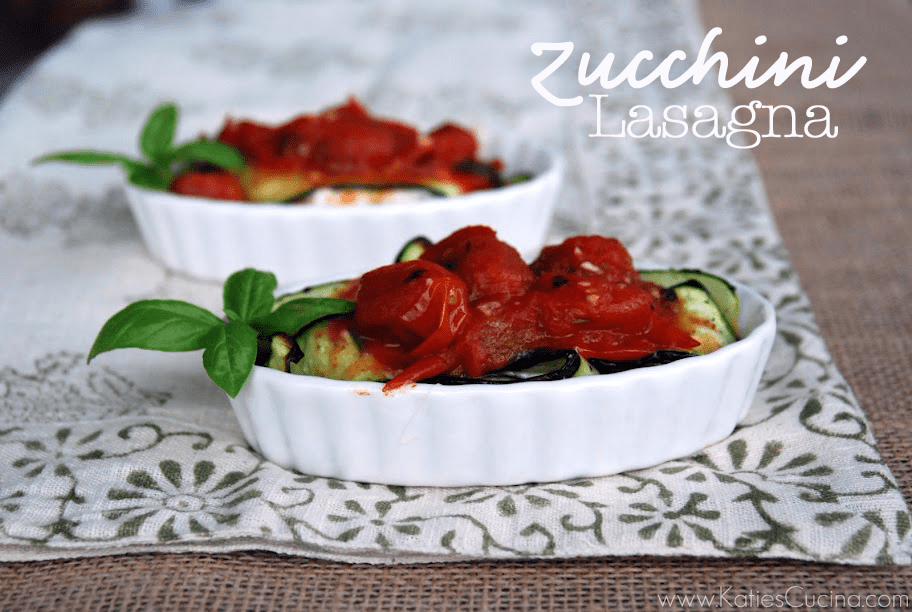 I'm sure some of you are wondering what this dish is about. Zucchini Lasagna? Say what? I'm going to preface; I've been tending to and nurturing a rather large garden this spring. My husband and I planted not one but two zucchini plants–thinking that we might yield 3 or 4 zucchini's. Boy, were we wrong. Just in the past week we've yielded 5 large zucchini's and then there is a plethora of yellow squash which I'm not even going to ramble about in this post. With our abundance of zucchini growing in our back yard I've started coming up with a few new zucchini recipes. If your a lover of zucchini your going to be a big fan of the upcoming zucchini recipes! I've been dreaming up this little side dish for a while now. It all started when I received the OXO Hand-Held Mandoline Slicer in my swag bag at Food Blog Forum in March, and that's when I learned about the OXO Slice It Up contest. Grand prize recipe wins $500 in OXO products. I'm going to be honest here–I'd love to redo my entire pantry with a million POP containers!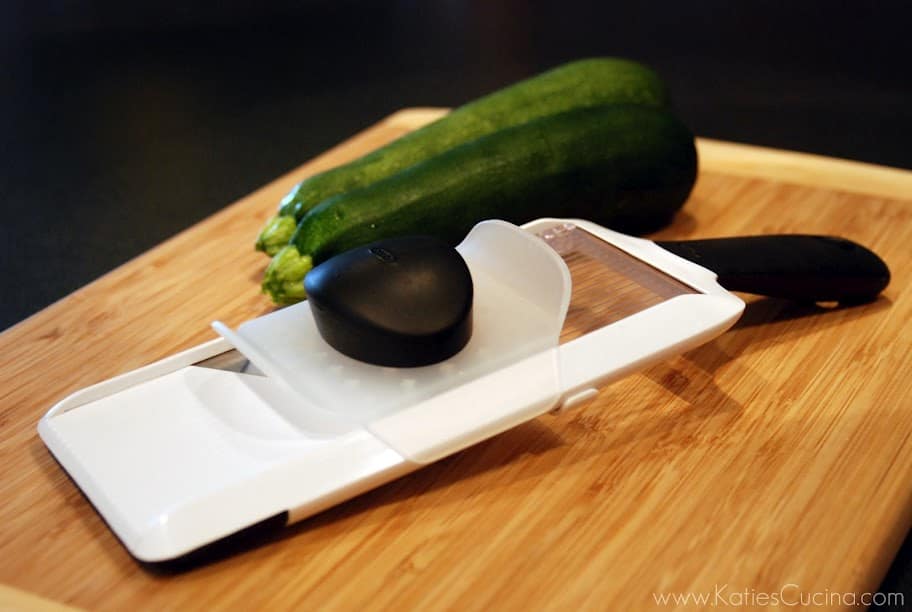 It is the most amazing and gorgeous tool that has came into my kitchen in the past year. I'm in love and my husband is totally aware that my love I share for him is also being shared right now with a kitchen gadget. Meet OXO's Hand-Held Mandoline Slicer!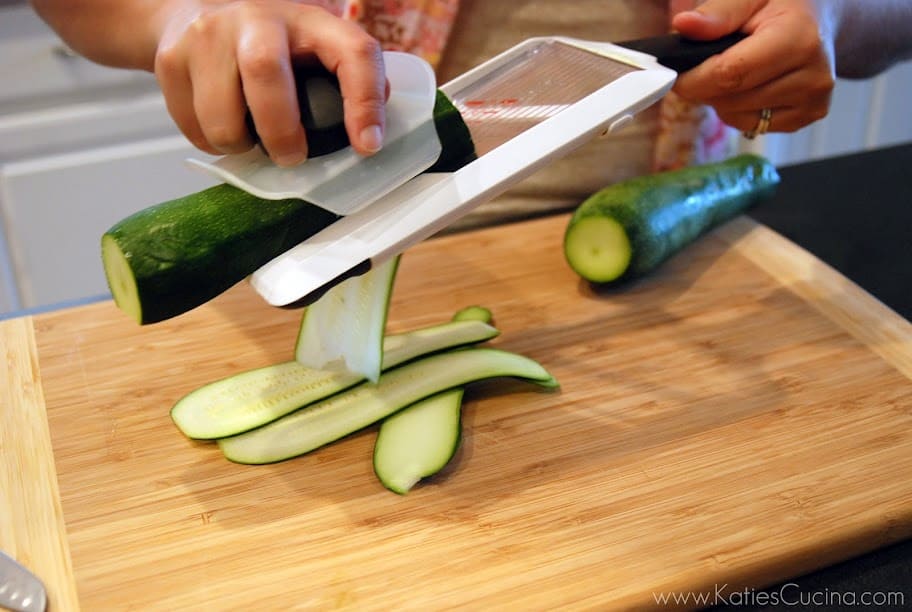 I don't think I've chopped anything in the past 2 months–everything has been sliced. It's easy to slice and easy to clean and I can have a cucumber and tomato sliced in half the time it would take me to chop. This hand-held slicer is adjustable for slices in 3 thicknesses. You can rest the bottom against a cutting board or for picture purposes like I'm doing hover it over a cutting board or the way I best like to use it is by hooking the edge over a bowl so that all of your food contents slice in one place!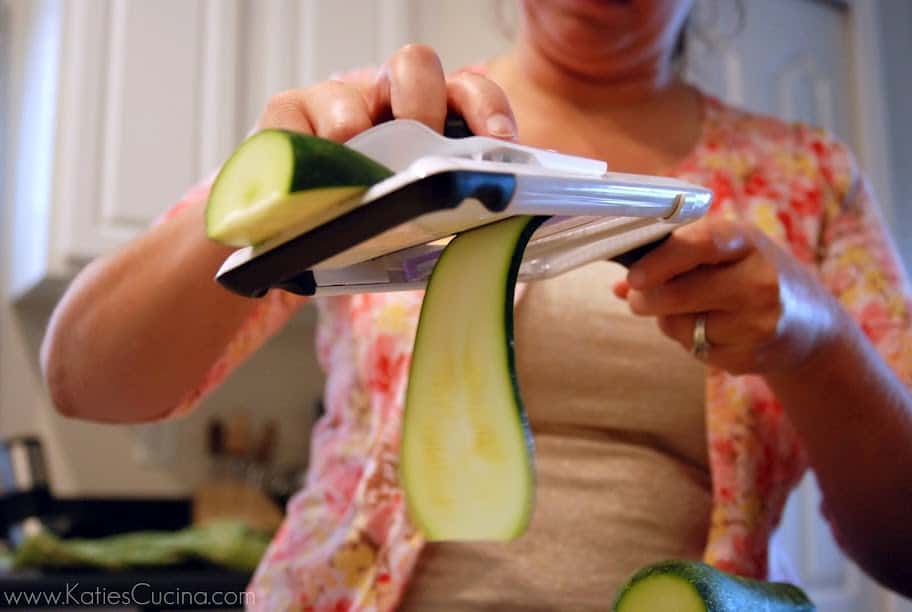 I think one of the main concerns that has kept me from investing in a mandoline was the fact that I'm terrified of sharp objects, and I could envision myself slicing a finger off. I know–I'm odd. Naturally, when I got the Hand-Held Mandoline Slicer I was excited and terrified all at the same time–until I inspected the kitchen tool and saw the handy dandy food holder! It protects your hands and covers the blade when your not using it! Pictured above is me slicing my home-grown zucchini on the level 3 of the slicer!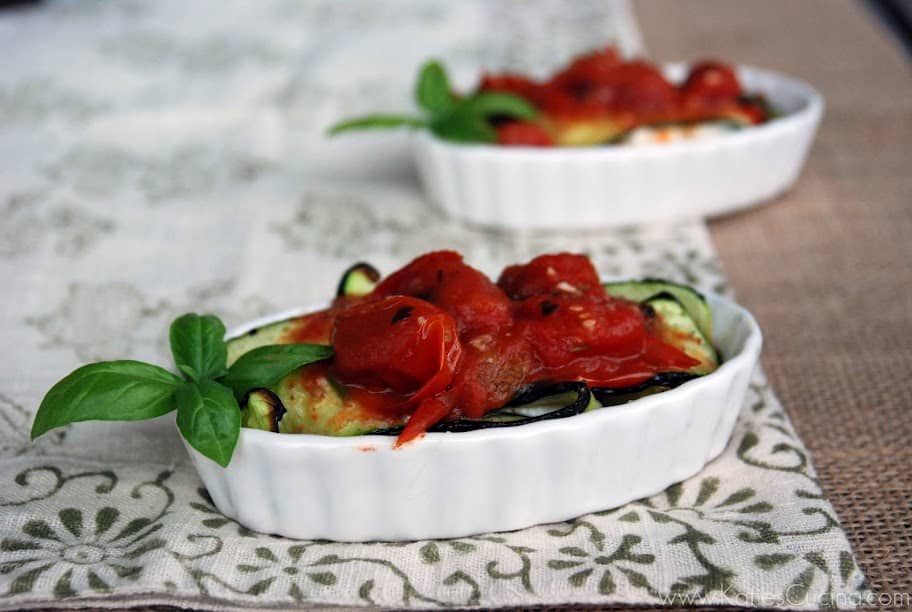 Now, let's get back to the fab side dish. Yes, that's right this is a delectable side dish that mimics a classic pasta based lasagna. Instead of starchy noodles I've supplemented them for thin-roasted slices of zucchini. I made an herb cheese that is out of this world and a simple tomato sauce to top it off! I used small 6-inch creme brule ramekins to make individual side dishes. Before I could even sit down to the dinner table my husband had already devoured his side and was asking for a second helping.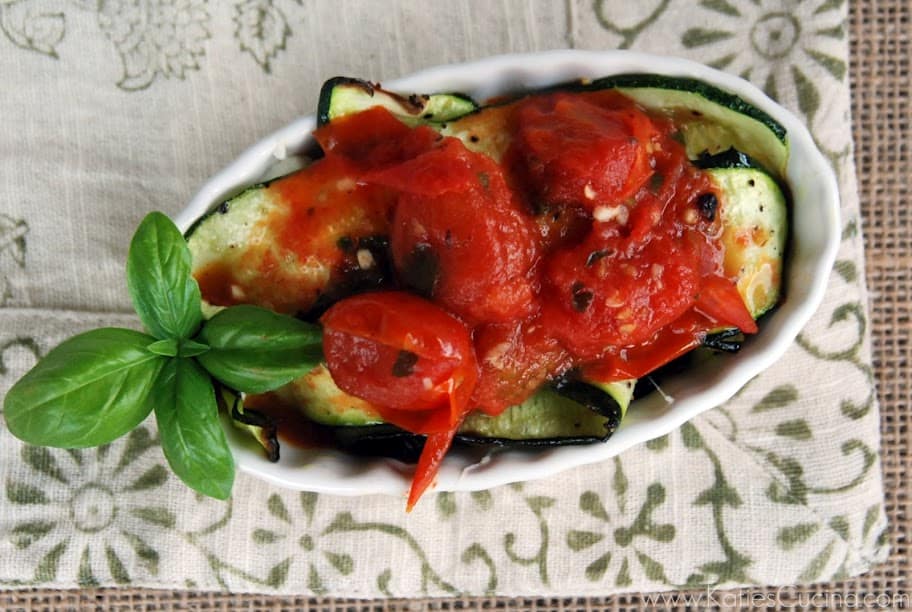 Look at the pure beauty of this dish! Admire those gorgeous ribbons of roasted zucchini and the deep red grape tomatoes. You'll notice I didn't drown the layers of zucchini in sauce. I wanted to be able to taste all the flavor profiles that I created. Take note, that you will have sauce leftover. Don't be afraid to toss some pasta with it or dip a crusty loaf of Italian bread in it!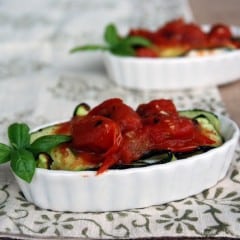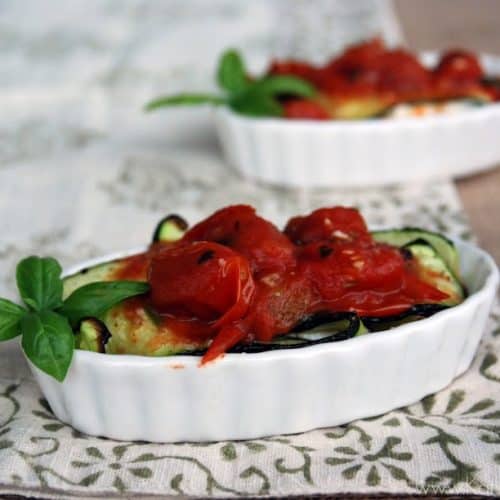 Zucchini Lasagna
Love the flavors of lasagna but looking for a low-carb solution? Try my easy recipe for Zucchini Lasagna made in just 30 minutes!
Print
Pin
Rate
Ingredients
4

Zucchini

(thinly sliced)

1

tablespoon

Olive Oil

1

pint

Grape Tomatoes

½

cup

Ricotta

5

oz.

Garlic & Herb Boursin Cheese

3

tablespoon

Basil

(divided)

1

tablespoon

Parsley

2

tbsp

Parmesan cheese

2

Garlic Cloves

Minced

¼

cup

Chicken Broth

¼

cup

White Wine

1

teaspoon

Granulated White Sugar

⅛

teaspoon

Red Pepper Flakes
Instructions
Preheat the oven to 425 degrees. While the oven is preheating begin thinly slicing your 4 zucchini's. Lay them out on a large baking sheet and drizzle with olive oil. Make sure ever zucchini has been lightly coated. Then sprinkle with salt and cracked black pepper. Roast for 8-10 minutes or until golden not burnt.

While the zucchini is cooking; in a medium size pot heat 2 tablespoons of olive oil on high heat for 1 minute. Then add the pint of grape tomatoes and reduce heat to medium. Mixing the tomatoes well and then place a lid on the tomatoes. *The tomatoes will begin to sweat; bursting in the pot creating the most aromatic sauce, ever!

While the tomatoes sweat let's make the cheese! In a small sauce pan add ½ cup of ricotta and a ½ package from a 5.2oz package of Boursin Garlic and Herb cheese on medium heat. Stirring until the cheeses have melted and combined. Add chopped basil and parsley along with the Parmesan cheese and cook until hot and well combined.

At this point your zucchini should be ready to be pulled out of the oven — if you haven't done so already take the zucchini out of the oven, turn off the oven, and set the zucchini to the side.

Let's finish the sauce! Mix the tomatoes then add the chopped garlic along with the chicken broth. Mix well then add the sugar and red pepper flakes. Mix well again and at this point most of the chicken broth should have evaporated at this point–lastly add the ½ cup wine and bring the sauce up to high heat. Mix well–all tomatoes should be soft and not true to original form. Turn the heat off and place a lid on the pot.

Let's put this dish together; Using a small ramekin layer 3 pieces of zucchini on the bottom and then a dollop of the cheese mixture (about a tablespoon) then another 3-4 layers of zucchini, followed by another dollop of cheese, and lastly another 3-4 layers of zucchini followed by a dollop of tomato sauce. Repeat this step until you have 4 ramekins. Serve immediately with a sprig of fresh basil, and indulge.
Notes
Notes:
*To make this vegetarian substitute the chicken broth for vegetable broth
*If you don't have wine or don't want to cook with it substitute it for more broth.
*You will have left over sauce–toss the remaining sauce with pasta and call it a day!
Nutrition
Serving:
1
c
|
Calories:
316
kcal
|
Carbohydrates:
15
g
|
Protein:
10
g
|
Fat:
24
g
|
Saturated Fat:
13
g
|
Cholesterol:
54
mg
|
Sodium:
364
mg
|
Potassium:
847
mg
|
Fiber:
3
g
|
Sugar:
11
g
|
Vitamin A:
2082
IU
|
Vitamin C:
54
mg
|
Calcium:
166
mg
|
Iron:
1
mg