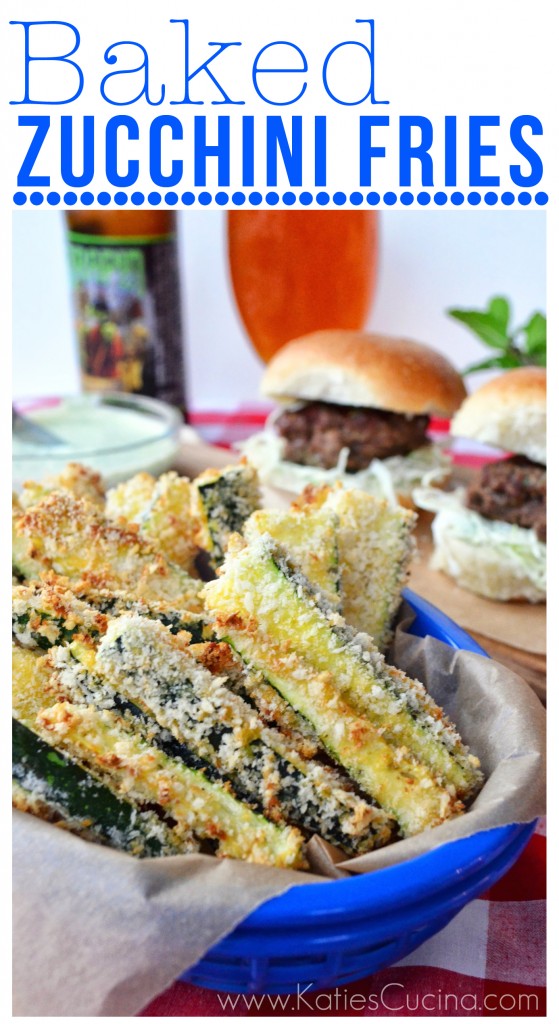 Looking for a healthy alternative to french fries? Why not try my baked zucchini fries? Much healthier than the fried variety and gives your brain an illusion that you are eating steak fries. I served these up last week when I made the spicy beef sliders. My husband is a big fan of zucchini so I didn't expect any gripes or moans to come from him when he saw I was serving up a side of zucchini fries with our burgers. We do not eat french fries often and since making these zucchini fries over the past year we rarely ever eat traditional french fries with our burgers.
I digress.
As I suspected, I was correct. He was actually really excited to have zucchini fries with his burger! Which I think, secretly is partly why I married the man. He loves his veggies just like I do! I served up a side of the cilantro jalapeno sauce I served with the burgers. I recognize this makes these "healthy fries" a tad bit worse for you, but listen… you have to live a little! These fries are good on their own but great with the sauce! The next time you fire up the grill and cook burgers–think about making these baked zucchini fries instead of the traditional potato french fry!
Adapted from Weight Watchers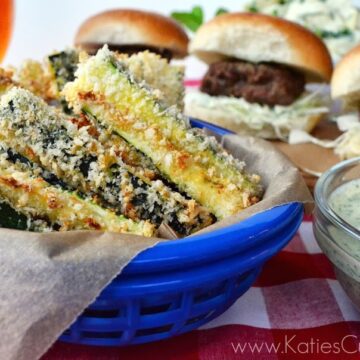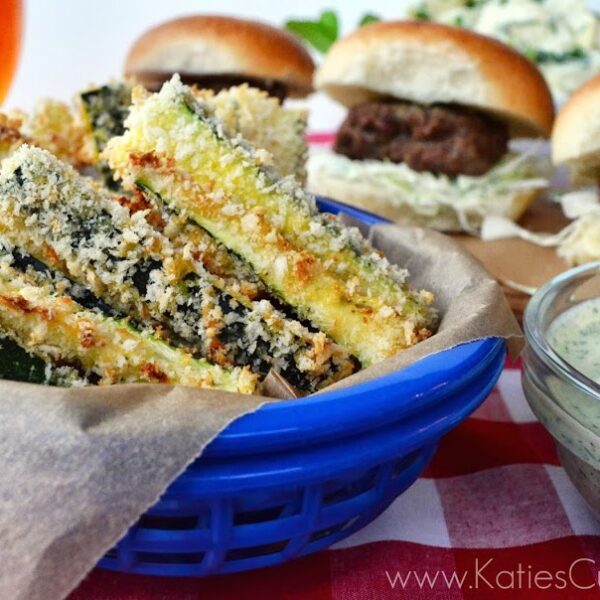 Equipment
1 Oven

3 Mixing Bowl

1 Food Processor
Ingredients
For the Fries:
Cooking Spray

¼

cup

all-purpose flour

1

teaspoon

salt

1

teaspoon

Italian seasoning

1

tablespoon

parmesan cheese

grated

1

cup

panko breadcrumbs

3

large eggs whites

whisked until bubbles form

2

medium zucchini
For the Sauce:
½

cup

mayonnaise

1-½

cups

cilantro leaves

1

jalapeno

seeded

1

tablespoon

lemon juice
Instructions
Preheat the oven to 425 degrees Fahrenheit.

Spray a baking sheet with cooking spray. Then in a shallow bowl combine all-purpose flour, salt, italian seasoning, and parmesan cheese, mix well. In another shallow dish place panko breadcrumbs. In another bowl whisk egg whites until frothy. Place egg whites in a shallow bowl.

Slice the zucchini in half (lengthwise) and then each half into 2 pieces (widthwise). Then, slice each zucchini chunk into 4 fries. Dredge the zucchini fries in the flour mixture and then dip into egg whites followed by the panko bread crumbs. Place coated zucchini on baking sheet and repeat with the remaining ingredients. Bake for 12 minutes until golden brown.

For the Sauce & Slaw: In a large food processor add the mayonnaise, cilantro leaves, jalapeno and lemon juice. Puree for 30 seconds until cilantro leaves and jalapeno are mere specs!