BLT with Mozzarella and Sundried Tomato Panini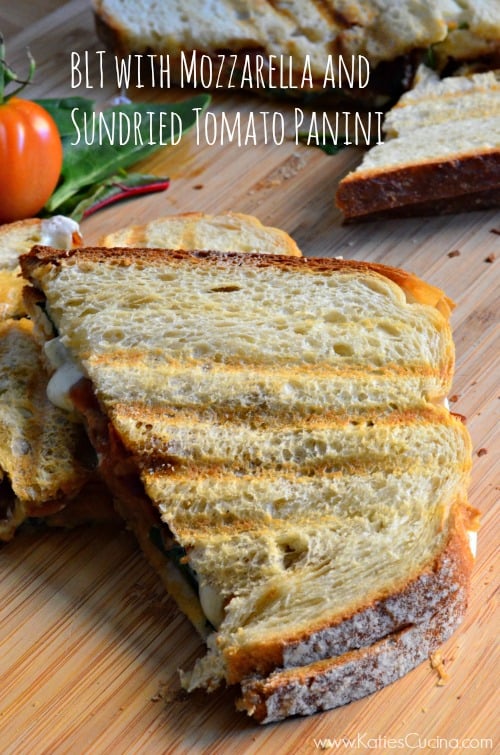 I rarely post sandwich recipes on Katie's Cucina. I don't know why either. I love making panini's at home. Before Christmas I made a killer BLT with Mozzarella and Sundried Tomato Panini and before I took the first bite I decided to snap a few photos just in case it was delicious. Of course, it was, and I'm glad I snapped the photos.
We love to make panini's at home. Whether its a quick lunch or diner its the way we like to make sandwiches at home. I've never been a big sandwich person, but panini's do it for me! Something about toasted bread and melted cheese… ahhh and now I think I'm craving one. Fun fact, we don't keep bread in our house. For most homes it's a staple. For us, we simply don't really eat a lot of it, so I don't buy it. I guess that actually better for our waistlines. Although, right now watching my waistline is the very last priority of my life. Don't get me wrong–I'm watching what I eat… as it goes into my mouth. Only kidding. I'm still eating relatively healthy, but on days I crave bacon cheddar fries or even an apple pie milkshake… I make it and eat it with no regrets.
Either way, whether or not your watching your waistline… give my recipe for BLT with Mozzarella and Sundried Tomato Panini a try! I promise it makes for the best lunch or dinner and while your at it pair it with a delicious soup or maybe even a salad!
Katie Original Recipe
BLT with Mozzarella and Sundried Tomato Panini
Ingredients
4 slices cottage bread
1 tbsp (each sandwich) Gallic with sun-dried tomato spread
6 slices of bacon, divided
arugula/spinach mix
1 roma tomato, thinly sliced
6 slices of fresh mozzarella
Directions
Preheat panini press.
Lay four slices of bread on a counter, begin to slather one tablespoon garlic and sun-dried tomato spread on one side of the bread. Then layer with 3 slices of bacon each, a handful of arugula/spinach, roma tomato, thinly sliced, and lastly fresh mozzarella. Place the bread on top and then cook on panini press for 5-7 minutes until golden and toasted and cheese is melted. Cut in half and serve immediately.
https://www.katiescucina.com/blt-mozzarella-sundried-tomato-panini/
This recipe is brought to you by Katie Jasiewicz of Katies Cucina
Disclaimer: Their are affiliate links in this post.
Warning
: Use of undefined constant rand - assumed 'rand' (this will throw an Error in a future version of PHP) in
/home/kjasiewicz21/webapps/katiescucina/wp-content/themes/katiescucina/single.php
on line
74
7 Responses to "BLT with Mozzarella and Sundried Tomato Panini"
Leave a Comment