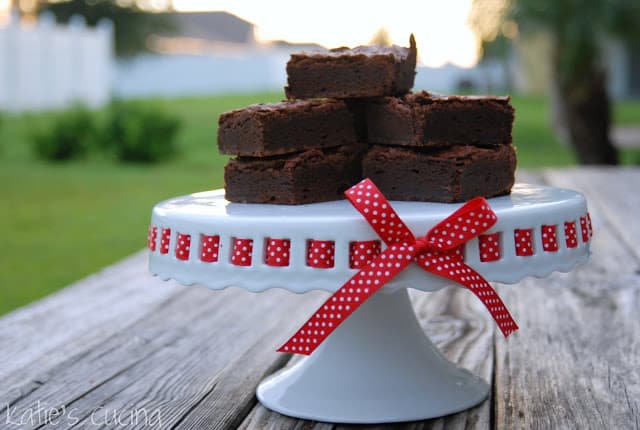 I was in need of a quick dessert a few months back (to be exact I believe it was around mother's day) and ran to twitter as I always do to ask other foodies what I could make. Suggestions poured in, and my foodie blogger friend in real life, Terri, suggested I make these fudge brownies. I never made brownies for my mother's day dinner, but I did book mark them, and the other week I decided to finally give these brownies a try. They are decadently rich. Not creamy smooth rich, but dark chocolate rich–if that makes any sense! I think the espresso powder at times can give it a tart after taste. I have to preface that I grew up eating brownies that came from a box mix, so making brownies from scratch is a totally different field for me. I don't think my taste-buds have quite matured to the dark chocolate–fudge brownies, but they are slowly getting there. These were rich and immediately after taking a bite you knew they were homemade. Even my mom said "These are delicious–but I can tell they are homemade."I definitely look forward to making these again when I'm craving dark chocolate!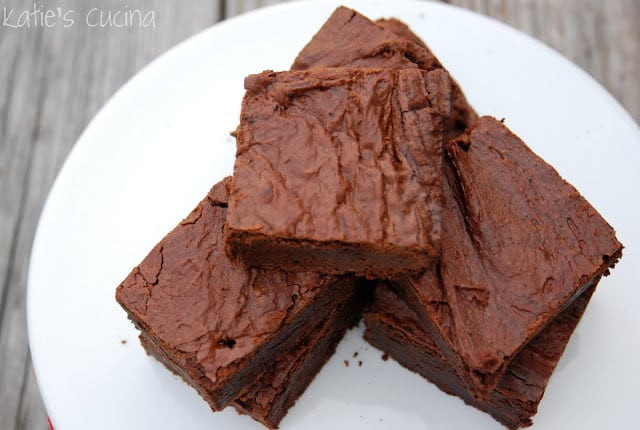 Source: Love & Confections via King Arthur
Prep Time: 10 minutes
Cook Time: 30 minutes
Servings: 24 brownies


Ingredients:
2 sticks unsalted Butter
15 ¾ ounces granulated Sugar
4 large Eggs
3 ¾ ounces Dutch-Process Cocoa
1 teaspoon Salt
1 teaspoon Baking Powder
1 teaspoon Espresso Powder
1 tablespoon Vanilla Extract
6 ¼ ounces All-Purpose Flour
12 ounces Chocolate Chips
Directions:
1. Preheat the oven to 350F. Lightly grease a 9″ x 13″ pan.

2. In a saucepan set over low heat, melt the Butter, then add the Sugar and stir to combine. Return the mixture to the heat briefly, just until it's hot (about 110F to 120F) but not bubbling. It will become shiny looking as you stir it. Heating this mixture a second time will dissolve more of the sugar, which will yield a shiny top crust on your brownies.

3. While the sugar heats a second time, crack the 4 Eggs into a bowl – or your stand mixing bowl, and beat them with the Cocoa Powder, Salt, Baking Powder, Espresso Powder and Vanilla Extract until smooth.

4. Add the hot butter/sugar mixture, stirring until smooth.

5. Add the Flour and Chocolate Chips, again stirring until smooth. Note: if you want the chips to remain intact in the baked brownies, rather than melting in, let the batter cool in the bowl for about 20 minutes before stirring in the chips

6. Spoon the batter into the lightly greased pan 9″ x 13″ pan.

7. Bake the brownies for 30 minutes, until a cake tester inserted into the center comes out clean, or with just a few moist crumbs clinging to it. The brownies should feel set on the edges, and the center should look very moist, but not uncooked. Remove them from the oven and cool on a rack before cutting and serving.