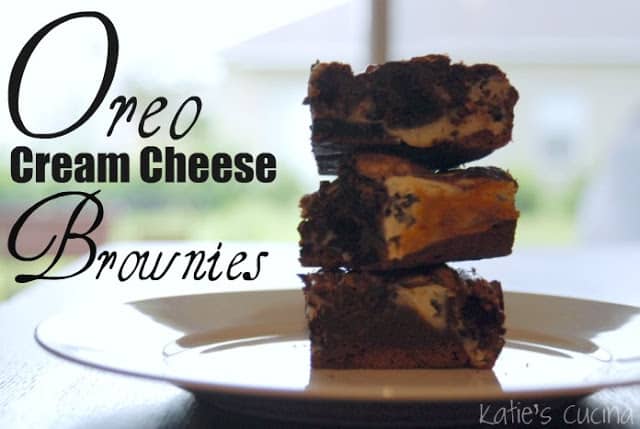 If you love chocolate and cream cheese you will love these brownies. Even for those of us (the rare few) who do not care for oreo's they are actually very good in this brownie. I've only made but a few brownies from scratch. Each time they have been ok, but not great. These brownies are great. If only my picture looked great. I was in a rush to photograph these bad boys before leaving for a dinner party (where they were a huge hit)! I guess it just gives me an excuse to make them again just so I can re-photograph!


Source: Annie's Eats via Sugar Plum
Prep Time: 15 minutes
Cook Time: 24 minutes
Servings: 9


Ingredients:
8 tablespoon unsalted butter
¾ cup sugar
1 cup all-purpose flour
½ cup unsweetened dark cocoa powder
½ teaspoon salt
2 large eggs
¼ cup milk
1-½ cups coarsely chopped Oreo cookies
6 oz. cream cheese, room temperature
½ cup confectioners' sugar
1-½ teaspoon vanilla extract


Directions:
1. Preheat oven to 350 degrees. Using an 8×8 baking pan, generously, spray cooking spray on the pan.


2. In a small saucepan over medium heat, combine the butter and sugar. Bring to a boil, whisking frequently. Boil for 1 minute, then remove from the heat and set aside to cool slightly.


3. In a medium mixing bowl, combine the flour, cocoa powder and salt; whisk together to combine. Add the eggs to the pan with the butter-sugar mixture and whisk until well blended. Whisk in the milk. Transfer the wet ingredients to the bowl with the dry ingredients and mix just until incorporated. Fold in the oreo cookie pieces. Spread the batter into the prepared pan.


4. To make the cream cheese mixture, combine the cream cheese, confectioners' sugar and vanilla extract. Beat on medium-high speed in an electric mixer until smooth. Drop the cream cheese mixture over the brownie batter in dollops. Use the blade of a knife (or a skewer) and gently swirl the cream cheese mixture together with the brownie batter, creating a marble effect.


5. Bake for about 22-24 minutes. Transfer the pan to a wire rack and let cool completely before slicing and serving.


Note: The brownie batter is thick–very thick. It's a tad difficult to spread the thick brownie batter plus swirl the cream cheese. Get ready for a challenge!