I don't know about you, but I love olive oil. There is something about this flavorful oil that makes me go crazy. Many people infuse olive oil, and for some reason it never occurred to me to do the same until I was on the train heading to New York City this past summer while reading the July/August edition of Every Day Food. Two of my favorite ingredients wrapped up into one jar of amazingness! I used this canister of garlic infused olive oil for a good two weeks (although I recognize that the recipe states you should only use for a maximum of 3 days. I kept my oil refrigerated and (when I would remember I would use it in my cooking). I also used ever single garlic clove that was soaking in that oil. It added even more flavor to my dishes! My next infused olive oil I want to try is rosemary! If you love olive oil and garlic I hope you will give this a try.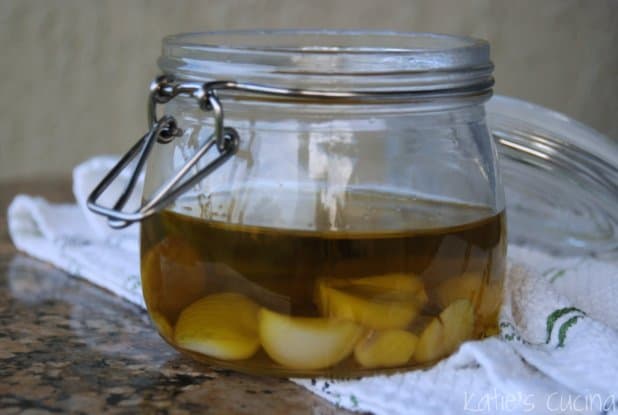 Source: Every Day Food, July/August 2011
Prep Time: 10 minutes + 45 minutes cooling time
Cook Time: 10 minutes
Servings: 1 cup


Ingredients:
1 head garlic
1 cup extra-virgin olive oil


Directions:
1. Smash and peel cloves of garlic. Transfer to a medium pot, add olive oil, and heat over medium-low until bubbles form around garlic, 3 minutes. Let cook 10 minutes, reducing heat to low if garlic begins to brown. Remove from heat and let cool to room temperature, 45 minutes.


*Store in refrigerator for up to 2 weeks.