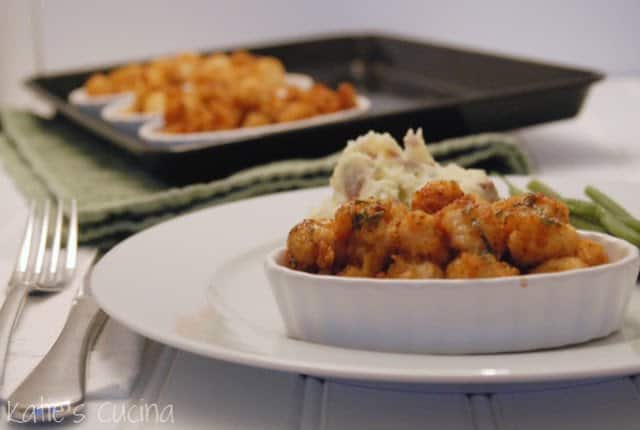 On our way home from scalloping I started dreaming up a variety of recipes. I decided to kill a little time on our 4 hour drive home, and look at some already existing recipes out in cyberspace. I found this recipe and although it's simple I figured it would be delicious. I was correct on both assumptions. Simple and delicious really sum up this meal. The original recipe calls for plain bread crumbs. I only had Italian Style on hand so that's what I used. I also added some freshly grated parmesan cheese to the scallops prior to them going in the oven. I also plated them in separate ramekins instead of scooping them onto a plate. These little bay scallops were like candy, and addicting. We ended up both eating 2 ramekins of bay scallops. They were that good. If you love bay scallops I suggest you give this recipe a try!


Adapted from: Food & Wine
Prep Time: 5 minutes
Cook Time: 10-15 minutes
Servings: 4


Ingredients:
2 tbsp Italian Style Bread Crumbs
1 tbs plus 1 tsp Old Bay Seasoning
1-1/2 lbs bay scallops
salt & pepper
2 tbsp vegetable oil
2 tbsp fresh lemon juice
2 tbsp water
2 tbsp unsalted butter
2 tbsp chopped parsley
freshly grated Parmesan Cheese


Directions:

Preheat the oven to 350°. In a small bowl, mix the bread crumbs with the Old Bay. Lightly season the scallops with salt and pepper. Coat the scallops in the seasoning mixture.

In a large nonstick skillet, heat 1 tablespoon of the oil until hot but not burning. Add half of the scallops and cook over moderately high heat until browned, about 3 -5 minutes. Transfer the scallops to individual oven-safe ramekins (or one large oven-safe dish). Wipe the skillet clean. Add the remaining 1 tablespoon of oil and cook the remaining scallops. Transfer the cooked scallops to the ramekins.

Add the lemon juice and water to the skillet, bring to a boil and cook over moderate heat, scraping up the browned bits on the bottom of the skillet. Remove from the heat and swirl in the butter, 1 tablespoon at a time. Add the parsley and season with salt and pepper.

Pour the butter sauce over each ramekin. Sprinkle a dash of freshly grated parmesan cheese on top of the scallops. Place in the oven for 5-10 minutes until cheese has melted.